Traveling to Scotland and Fish and Chips
When in Scotland, we found several places to get gluten free items for me, and super helpful, knowledgeable waitstaff which always makes me feel at ease when dining in a restaurant (if you can imagine being sick while traveling, this is not a good time). If I accidentally eat gluten, it takes around two to four weeks for the myriad of symptoms to be completely gone (and three months to be out of my system). So you can see the hesitation in eating out when traveling, because one wrong move and I may be sick for the rest of the trip. But thank you Scotland, for being so amazing in offering so many gluten free items on restaurant menus! 
Great Gluten Free Food Choices in Scotland!
Honestly, this was definitely the easiest place to safely eat on a gluten free diet, next to San Diego, which has so many offerings! The food I got was very good quality also, the fish and chips was amazing as was the smoked haddock chowder, Cullen Skink, and the traditional chicken soup, Cock-A- Leekie Soup. I'm hoping to come out with a recipe for the Cullen Skink chowder soon, but I'll start with the batter for making crispy, yummy, fried fish. You can also whip up some crispy onion rings or battered tempura vegetables with this batter.
Fish and Chips in Edinburgh ~ Even Gluten Free!
We got this wonderful gluten free fish and chips in Edinburgh, Scotland at Bertie's Restaurant and Bar, thanks to the Find Me Gluten Free App! Find Me Gluten Free is an incredible tool for locating gluten free restaurants all over the world. It also lists the ratings that other Celiac or gluten intolerant customers gave on the food. And the most important review for those of us that can't tolerate it, whether or not they got sick after eating at the establishment.
Bertie's was fantastic, I had delicious fish and chips that were cooked in a separate fryer for their gluten free options, and Paul had the regular batter. They delivered to the table and it was hard to tell the difference just by sight, but the waiter assured me which was mine. I believe there may have been a marker on the plate noting that it was gluten free (but I'm not positive). This is something I think more restaurants should do. Often when you order with one waitstaff and your meal is delivered by another, plus the chef's instructions are in their somewhere, you can sometimes wonder if you meal is indeed gluten free.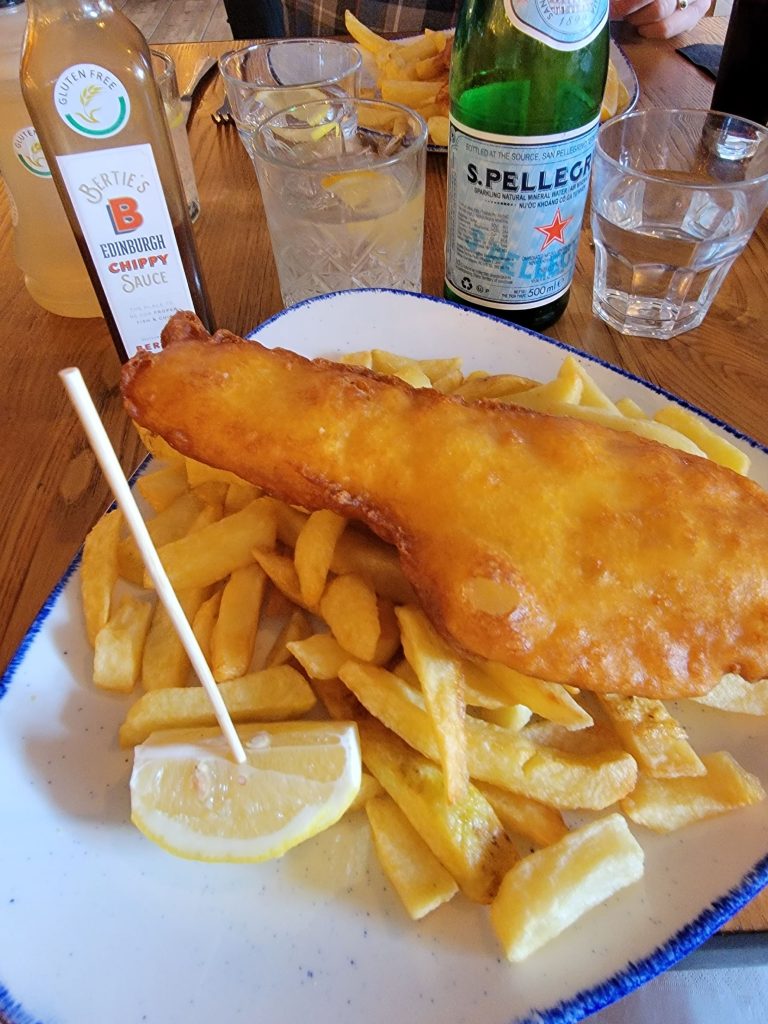 Fish and Chips in Santa Cruz, California
When we arrived home from our trip, I wanted more of the delicious fried fish! I decided to try to replicate the what we had in Scotland. I did have a gluten free batter recipe for frying, already, so it wasn't difficult. This recipe turns out so yummy! And living in Santa Cruz, California, on the coast, we have loved going out to the Santa Cruz Wharf, and particularly to our favorite restaurant, Riva's, for fried fish and calamari. I have had to pass on enjoying this for the past 18 years, since I've not been able to find anywhere to get this gluten free.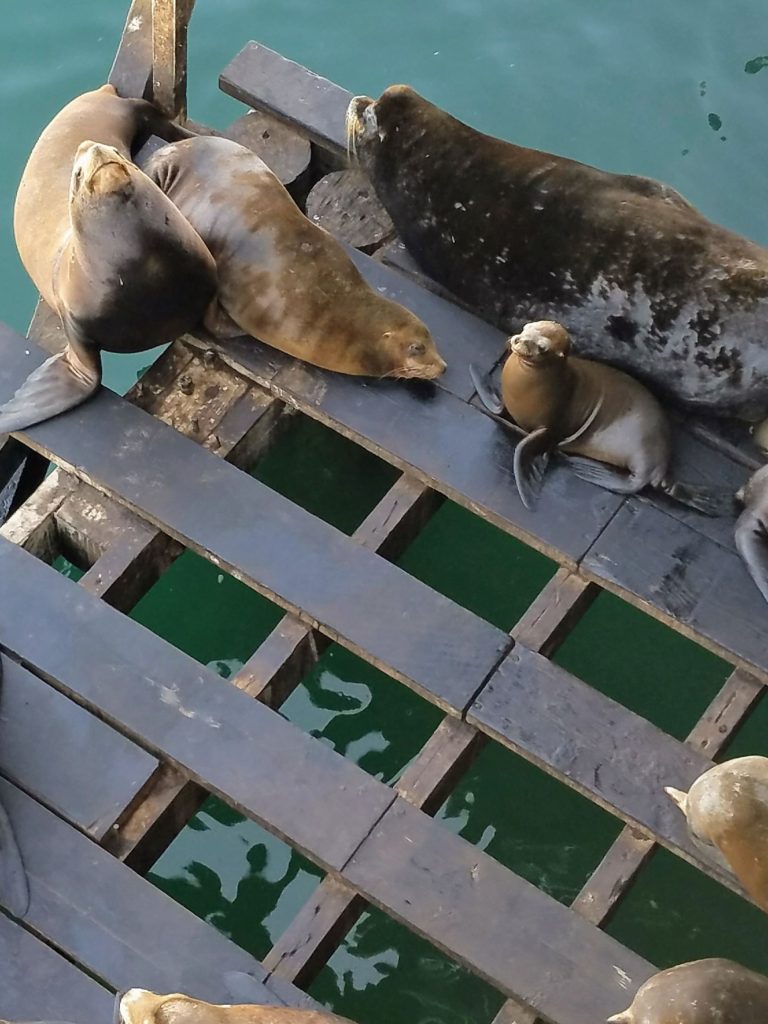 Now I can enjoy easily again! I still miss not having malt vinegar to accompany my fish and chips, but I have found that balsamic vinegar is a decent substitute for those of us that can't eat malt (made from barley which is high in gluten). I'm so thankful to get to enjoy this once again! And onion rings have always been a favorite too. Such a treat to get to enjoy them once again!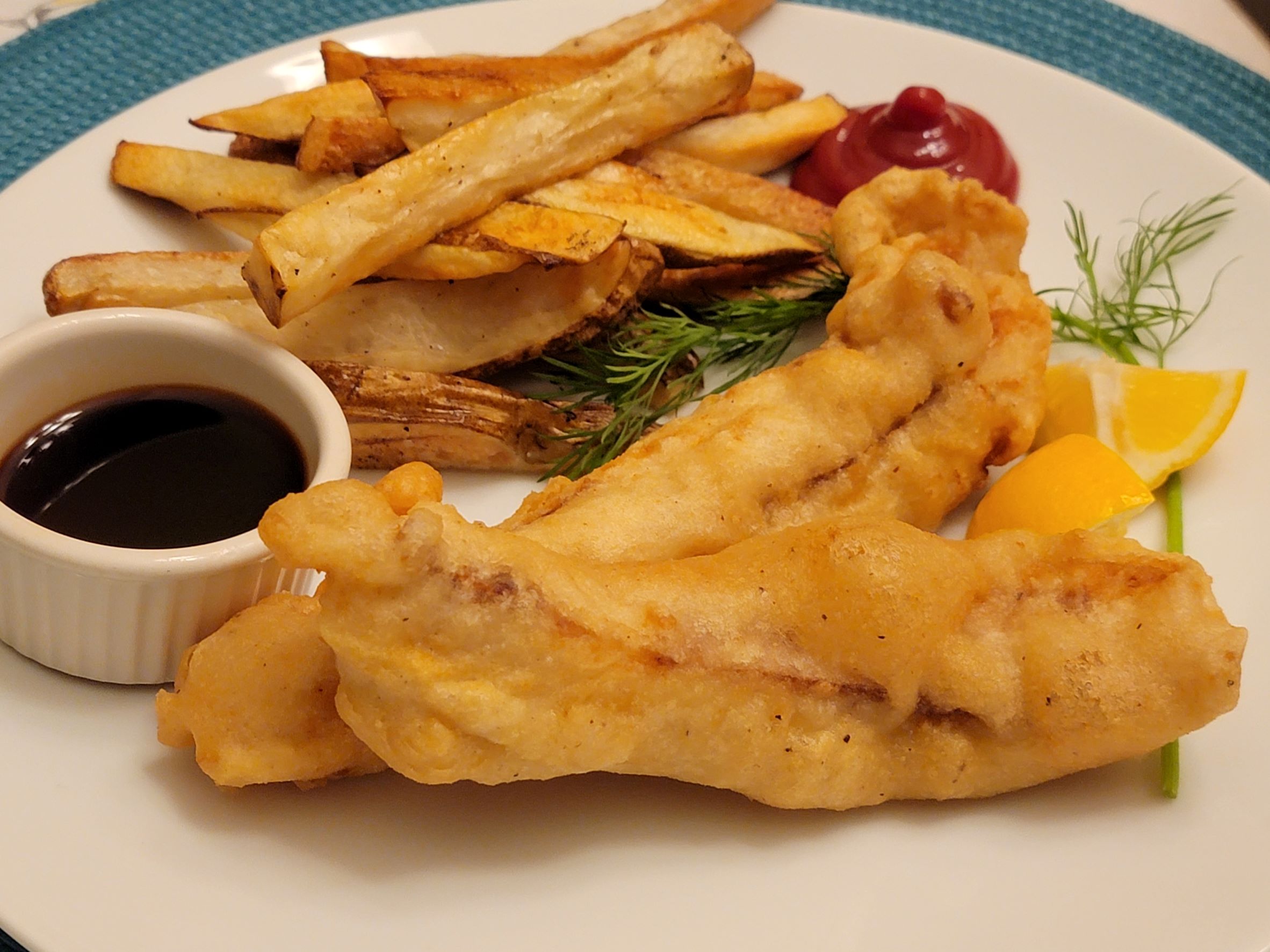 Gluten Free Batter for Fish and Chips, Onion Rings or Tempura Vegetables
It is a bit difficult to find gluten free fish and chips or onion rings in a restaurant, but now you can easily make either of these deliciously at home!
Ingredients
 1 1/2- 2 lb

white fish, such as cod, halibut or haddock, cut into 1 1/2 -2 inch thick pieces, fresh

or frozen (if frozen, completely thawed) rinsed and dried completely

or 1 large onion for making onion rings

or an assortment of vegetables for tempura vegetables (about 2 – 3 cups cut vegetables, broccoli, potatoes, carrots, onion or sweet potato)

1/4 cup almond meal, gf

1/4 cup tapioca starch, gf

1/4 cup 1 to 1 gluten free flour blend (with xanthan gum)

3/4 teaspoon garlic powder

1/4 teaspoon fresh ground black pepper

1/2 teaspoon salt

1/2 cup plus 2 tablespoons sparkling water

1/4 cup cornstarch, gf to coat the fish, onion, or vegetables (coat each piece well, before dipping in batter, and let dry)

1 1/2 – 2 quarts vegetable oil, canola, or a mix of the two

**if needing to prepare these gluten free, be sure to use gluten free spices and tapioca starch
Instructions
Dry the fish or onion or vegetables very thoroughly, and coat well with the cornstarch, then set on a large plate or platter and put aside for a few minutes to let dry. Set a wire rack out over a platter lined with several layers of paper towels. 

In a medium bowl (flatter works well), stir the almond meal, tapioca starch, gluten free flour, garlic powder, pepper and salt. Add the sparkling water and stir until smooth.

Heat your frying oil slowly on medium or medium high heat in a deep, large saucepan, Dutch oven, or a deep fryer. I like to use a combination of vegetable oil and canola oil. Use enough oil so the saucepan is half full with oil. Use a deep fry or candy or thermometer to check the oil temperature bring to temperature of 350 to 375 degrees. You want to keep it at that temperature, which means when you add fish or vegetables, you may need to adjust the heat on the burner.

When the oil is up to temperature, dip a piece of fish (onion or vegetables) in the batter shake off the excess batter and set carefully in the oil with a tongs or slotted spoon. Repeat for 2 more pieces of fish. Fry three pieces in each batch. Turn after 1 or 2 minutes each side. They should be very nice and golden brown. Remove with tongs to the wire rack and fry the remainder of the fish or onion rings/vegetables in small batches. Sprinkle lightly with salt and pepper.  
Notes
Tip #1:
You want to make sure to fry a small amount at a time if frying in a large saucepan. Your oil will stay at temperature better and the fried food will not stick together. Since every stove range is different you will need to adjust the burner of your stove to keep the oil at an even and correct temperature. Sometimes, I will raise mine to high heat under and then lower to a medium high to get the temperature down a bit. 
Tip #2:
Enjoy the fried fish or vegetables immediately after frying! If you need to keep any amount hot while frying in batches, put on a cookie sheet with a wire rack over it in the oven on a low temperature (225 degrees) for up to 15 minutes.