Jump to Recipe
Print Recipe
Quick, Easy, Delicious!
Gluten Free Rice Noodles and Vegetables is not only super easy, but also, quick and delicious! It's also one of those dishes I rarely get to enjoy, because most of the time, chow mein or other noodle dishes are not made gluten free. Chinese cuisine or Asian cuisine food, in general, is very difficult to find gluten free.
Enjoying Gluten Free Chinese or Asian Cuisine
I'm happy to say that P.F. Chang's is one restaurant I can eat this cuisine at! Of course, it's not quite the same as going to a small Chinese food restaurant. But at least now, with this dish and many others being very easy to make, I can enjoy this cuisine. Since I can readily find certified gluten free soy sauce, tamari, and other labeled gluten free sauces or Asian flavored products to use from nearby markets, I have been making this type of cuisine at home! I have been able to find gluten free hoisin sauce and gluten free sriracha sauce, but I'm still searching for gluten free oyster sauce! In this recipe molasses works great in place of the hoisin sauce, if you don't want to purchase it or you can't find it. I think I may even like the flavor better using the molasses in this dish.
Add Some Cooked Protein to the Dish
This dish is perfect to add some pan fried or sauteed shrimp to, or sauteed chicken pieces. You can also just load it packed with assorted vegetables for a perfect vegetarian meal, or add in some tofu. I like to serve it alongside gluten free orange chicken or Mongolian beef.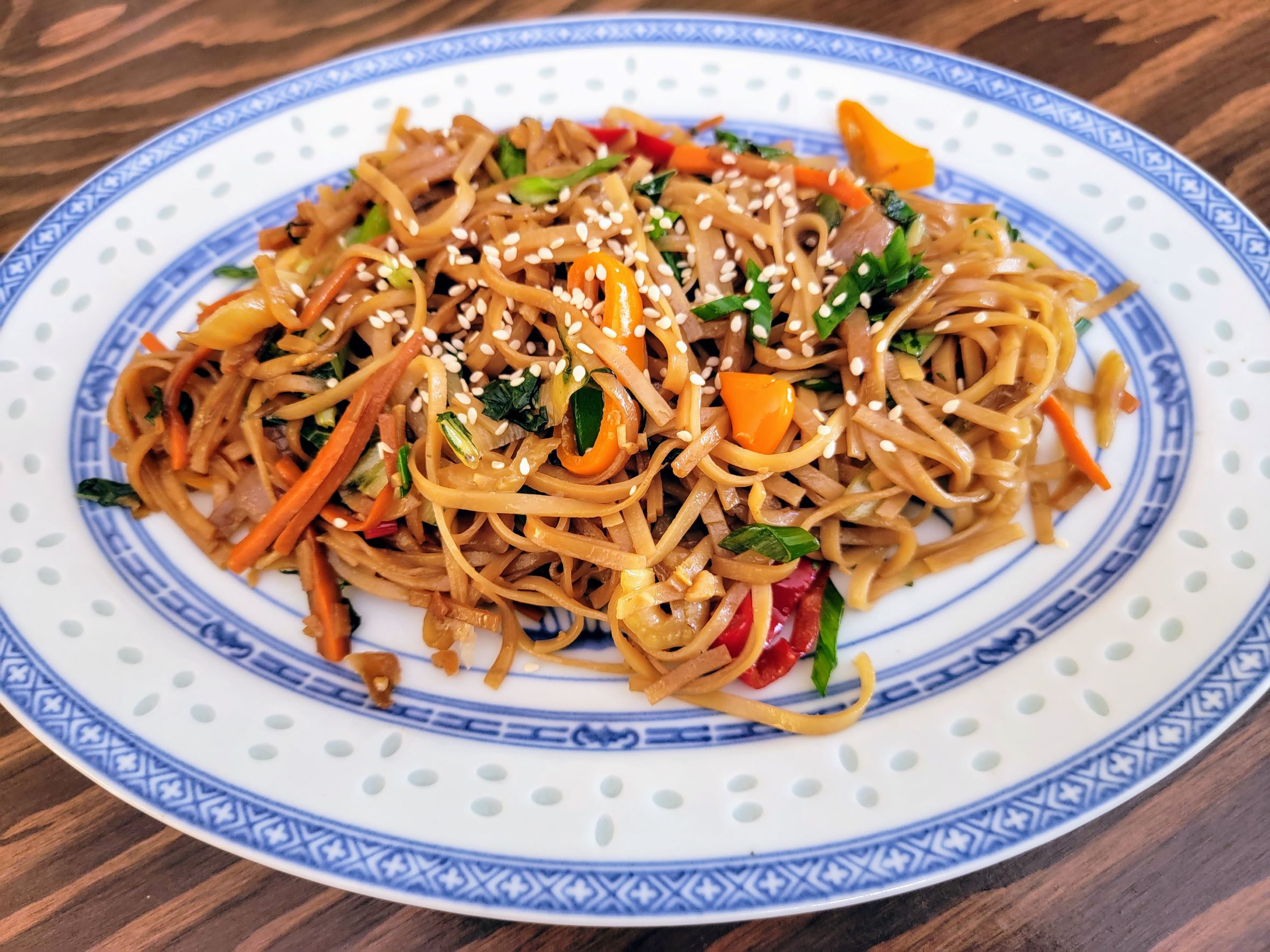 Gluten Free Rice Noodles and Vegetables
This recipe is so easy, quick, and satisfying! Loaded with vegetables, this can either be made as a side dish or a main dish. You can add shrimp, chicken, or tofu to the dish also.
Equipment
1 wok, cast iron, or skillet
Ingredients
1

package

rice noodles (gf), (I use Thai Kitchen Stir-Fry Rice Noodles, Gluten Free or Annie Chun's Pad Thai Rice Noodles, Gluten Free)

2

carrots, julienne cut 

2

stalks

celery, diced

6

mini peppers (red, yellow, and orange), seeded and sliced in rounds 

1

baby

bok choy, sliced into ¼" thick pieces

1

shallot, diced

1

clove

garlic, minced

1

8 oz. can

bamboo shoots

1

handful

cilantro, chopped coarsely

4-5

green onions, green portion only, sliced on a diagonal

½-¾

lb.

large shrimp, optional

see note below

1

chicken breast, sliced ¼" thick, optional

see note below
Sauce
3

large

cloves garlic, minced

2

teaspoons

ginger, finely minced 

2 ½

tablespoons

soy sauce, (gf) or tamari, (gf)

2

tablespoons

molasses (gf) or hoisin sauce (gf)

1

tablespoon

Marukan Rice Vinegar (gf) or other gluten free rice vinegar

2

teaspoons

sesame oil (gf)
Instructions
Cook the rice noodles as directed on the package for "al dente". Rinse and drain well.

Heat 1-2 tablespoons vegetable oil in a wok, cast iron, or other skillet. Sauté the carrots, celery, and mini pepper slices until they are just starting to soften. Add the bok choy, garlic, and ginger and sauté for another minute. Remove the vegetables to a bowl and set aside. 

Add 1-2 tablespoons vegetable oil to the pan. Add the garlic and ginger and stir continuously until they are fragrant. Add the soy sauce, molasses or hoisin, rice vinegar, and sesame oil. Heat to combine, stirring often. Add the cooked vegetables back to the skillet or wok. Add in the bamboo shoots, cilantro, and half of the green onion and stir to combine.

Add the cooked or softened rice noodles. Toss with a pair of tongs or two large spoons to combine. Add the optional cooked shrimp or chicken and toss to combine. Top with more cilantro, remaining sliced green onions, and toasted sesame seeds. Serve and enjoy!
For Adding in Optional Cooked Shrimp or Chicken for a Main Dish
** Optional : To add shrimp or chicken to the dish, first dry the shrimp or chicken with paper towels. Add a small amount of salt and pepper to either the shrimp or the chicken pieces. They don't need much salt due to the salt in the soy sauce. Heat a large skillet with 1½  tablespoons vegetable oil. Or after sautéing the vegetables and once they have been removed to a bowl, heat the skillet or wok to sauté the shrimp or chicken.

For shrimp, add in a single layer to the skillet. Cook in two batches if needed. Cook 1½-2 minutes over medium high heat on one side before turning to cook 1-2 minutes on the other side. The white shrimp will begin to turn pink once they are cooked. Remove to a bowl. 

To cook chicken pieces, heat the skillet or wok with 1½ tablespoons oil. Add the chicken, working in two batches if needed, being sure to not crowd or overlap the pieces. Cook for 2 minutes over medium high to high heat until the chicken is caramelized on the bottom and beginning to look translucent more than halfway up the pieces of chicken. Turn over and finish cooking and browning the second side for another 1½-2 minutes.  If you are unsure if they are done, simply cut a piece open. The juices should be clear. Remove to a bowl. 
Notes
This dish is so versatile! I love keeping one of my favorite brands of gluten free rice noodles on hand. I love both the brands I've suggested, but the Annie Chun's Pad Thai Noodles can just be soaked in hot water instead of boiling them, which was simple. You can swap out any vegetables for those I've used, omit something you don't like or don't have on hand. I love the mini peppers, because I hate when I don't use the entire bell pepper in a dish and it goes bad :(. These little ones look so pretty when sliced in a salad or in this dish. And they are so good for you! Baby Bok Choy is fun to leave a little crunchy and adds color in also. The dish will serve 2 or 3 people if a protein is added or 4-5 if serving as a side dish.