Jump to Recipe
Print Recipe
Summertime Berry Shortcakes (Gluten Free) with Whipped Cream and Thyme Flowers. This dessert is so summer! With sweet summer berries: strawberries, raspberries, and blackberries or blueberries, plus rich whipped cream, how can you go wrong?
Can summer just last forever, please? I'd sit out sipping iced tea and taking bites of this traditional summer cake all day, if I could!
Berry shortcake is low in processed sugar
This dessert is a perfect summer dessert also, because it's not too sweet. For me, when it's really hot, the last thing I want is a very sweet cake or other super sweet dessert.
Shortcakes are more like a biscuit of sort, and have very little sugar. The fruit used is slightly sweetened with sugar, but you can use all honey in place of the sugar. Fruit sugar won't spike your blood sugar as severely as processed sugar. Also, strawberries, blackberries, and peaches are all on the list of lower sugar containing fruit. The whipped cream as well is relatively low in sugar.
That makes this dessert a great low sugar choice!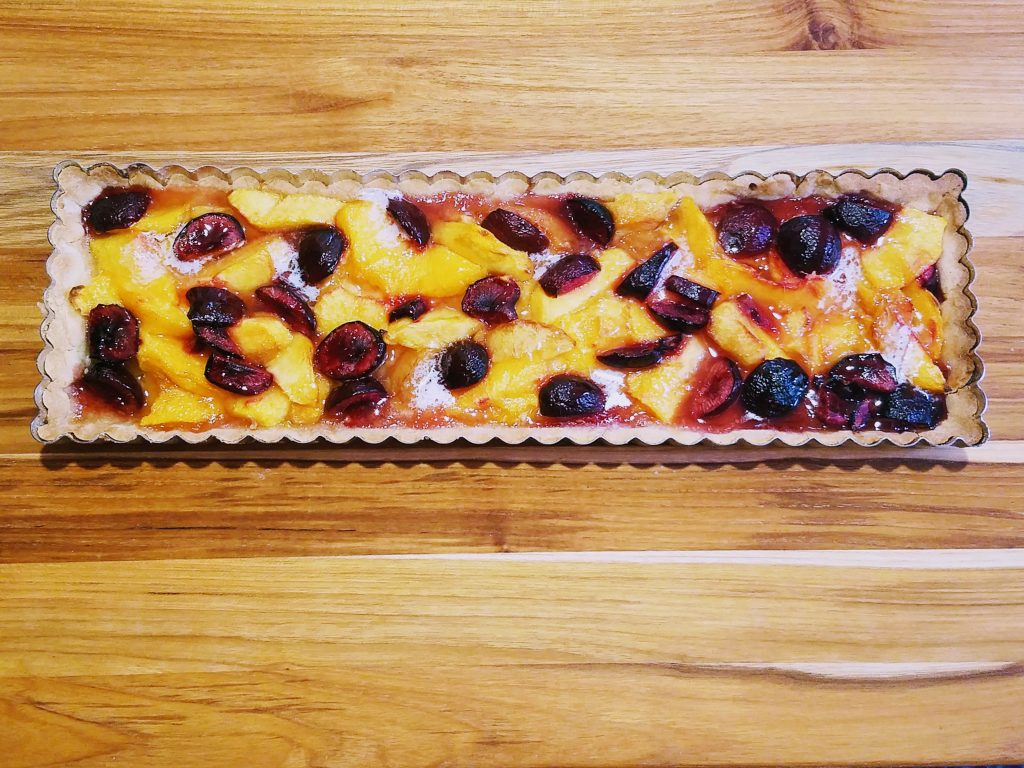 Change this dessert up by switching the fruit to peaches and raspberries
Whether you choose to serve this with the more common strawberries or a selection of mixed berries, or even peaches and raspberries, they'll be no complaining by the eaters! This dessert is so satisfying and not too sweet.
Now you can add in more sugar to the berries if you'd like, but for me this amount of sugar is the perfect amount. Some berries that are quite ripe may need a little extra sugar, though.
Alternately, ripe peach slices combined with ripe raspberries may need even less sugar.
Cut the butter into the dry ingredients easily using a pastry blender tool
The pastry blender tool makes cutting the butter into the dry ingredients a snap. There are so many different versions of this tool, both in kitchen stores, kitchen section of department stores, or online. The Nordic Ware Brush Pastry Blender, with Beechwood Handle, Stainless Steel Blades, I thought looked especially nice with a wooden handle. My pastry blender is probably around $10. compared to this $15 one, but it still works very well.
If you make a lot of pastry, you need this tool! I cut the butter in with two knives for so long before purchasing this! That was silly because it's very inexpensive and speeds the process up incredibly.
With the pastry blender tool or without, this is still one of the easiest desserts to make and it's such a popular and loved one, too. I hope you enjoy it!
~Laura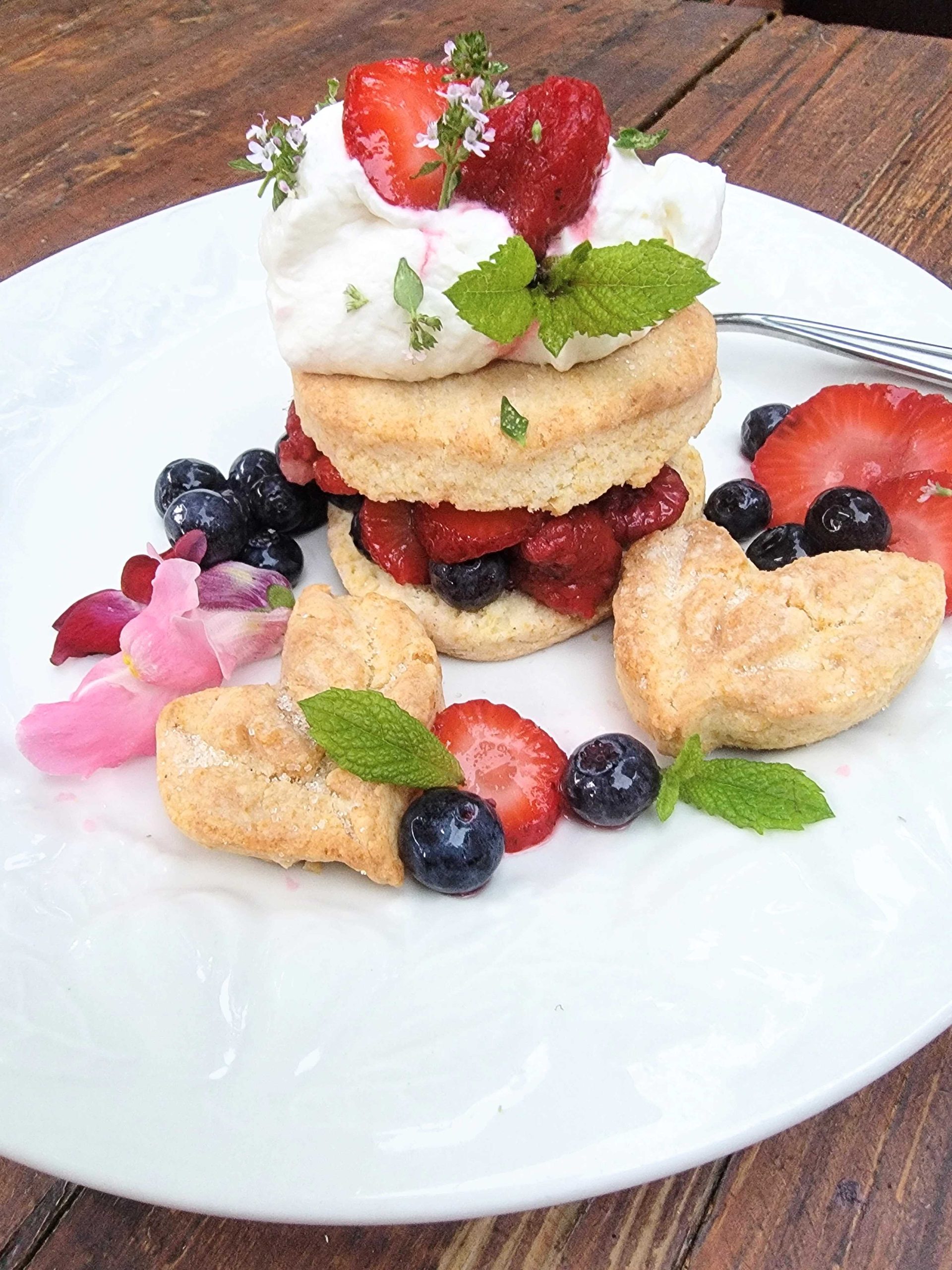 Summertime Berry Shortcakes (Gluten Free)
Summer desserts are some of the best in my opinion! Maybe because we are often enjoying them out of doors with friends and family when the days are longer and more relaxing! These Summertime Berry Shortcakes (Gluten Free) will bring a smile to those enjoying them. Make them for all your guests to save time. They won't even guess they are gluten free!
Equipment
1 Baking sheet

1 pastry blender

or two knives
Ingredients
1½

cups

Bob's Red Mill 1 to1 Gluten Free Flour

3½

teaspoons

baking powder

gf

1

tbsp

plus 1/2 teaspoon sugar

¼

teaspoon

fine salt

½

cup

salted butter, chilled, cut into pieces

1

tbsp

Argo cornstarch, gf

or other gf brand

¼

cup

milk

⅓

cup

heavy cream

½

teaspoon

vanilla

gf

1

tbsp

heavy cream

to brush the tops during baking

1

tbsp

coarse sugar

to sprinkle on during baking
Lightly Sweetened Berries
2

pints

mixed berries

2 1/2 cups sliced peaches and 1, 6 oz. container of raspberries

2

tbsp

sugar

or to taste

1

tbsp

honey

1

teaspoon

lemon juice

thyme leaves and flowers

organic and rinsed and dried
Whipped Cream
1

pint

heavy cream

2

tbsp

sugar

1

tbsp

vanilla

gf
Instructions
In a medium bowl, stir together the berries, or peaches, with the sugar, honey, and lemon juice. Set aside. Or refrigerate for 1-2 hours.

Preheat the oven to 450℉.

Stir the flour, baking powder, sugar, and salt together in a large bowl.

Cut in the butter using a pastry blender tool or two knives. Cut butter until fine crumbles remain.

Add the milk, cream and vanilla. stir to combine with a fork. Using clean hands, bring the dough together. Turn onto a floured board. Knead for a couple minutes. Pat or roll to 1/2" thick.

Using a floured cutter, cut out 2 1/2" short cakes. Place on an ungreased baking tray 1 1/2" apart.

Bake at 450 degrees for 10-12 minutes. At 9 minutes, brush with the 1 tablespoon of cream and sprinkle with the one tablespoon of sugar. Bake for a minute or two more until golden brown. Remove from the oven. Slice in half and set put together on a wire rack.

Set the bottom of one shortcake on a plate. Top with berries. Add the shortcake top. Add whipped cream or ice cream to the top. Add more berries around the plate. top with thyme leaves and flowers.
Whipped Cream
Whip the cream in a bowl with a hand mixer or using an emulsion blender with the whisk attachment until it's beginning to thicken. Add the sugar and cream and continue beating until soft, fluffy, and pillowy. Give a few stirs to set. Cover and refrigerate until ready to serve.