Gluten Free Cinnamon Swirl Sweet Bread…This variation of a cinnamon swirl bread. Okay, so it's really more like a cake than a bread! It is made perfectly with gluten free flours. I've blended several here to for taste and lightness, and have used gluten free sourdough starter also.
This bread does not have a sourdough taste, however, due to the amount of sugar in the loaf. I'm always trying to think of new ways off using my sourdough starter. You could reduce the amount in the dough if you wish the sourdough flavor to come through.
The taste is similar to a cinnamon roll, but calling it a bread doesn't make you feel as guilty enjoying it! I read a food article recently that said with the New Year here, we should put away the cinnamon and spice flavors, but I don't agree! We need these flavors, which not only accelerate other flavors in recipes but are a source of comfort for us. Cinnamon is also a natural way to boost our metabolism!
Here's one last sweet bread recipe for you before we move to some healthier treats or recipes.
(Updated 1/28/2023)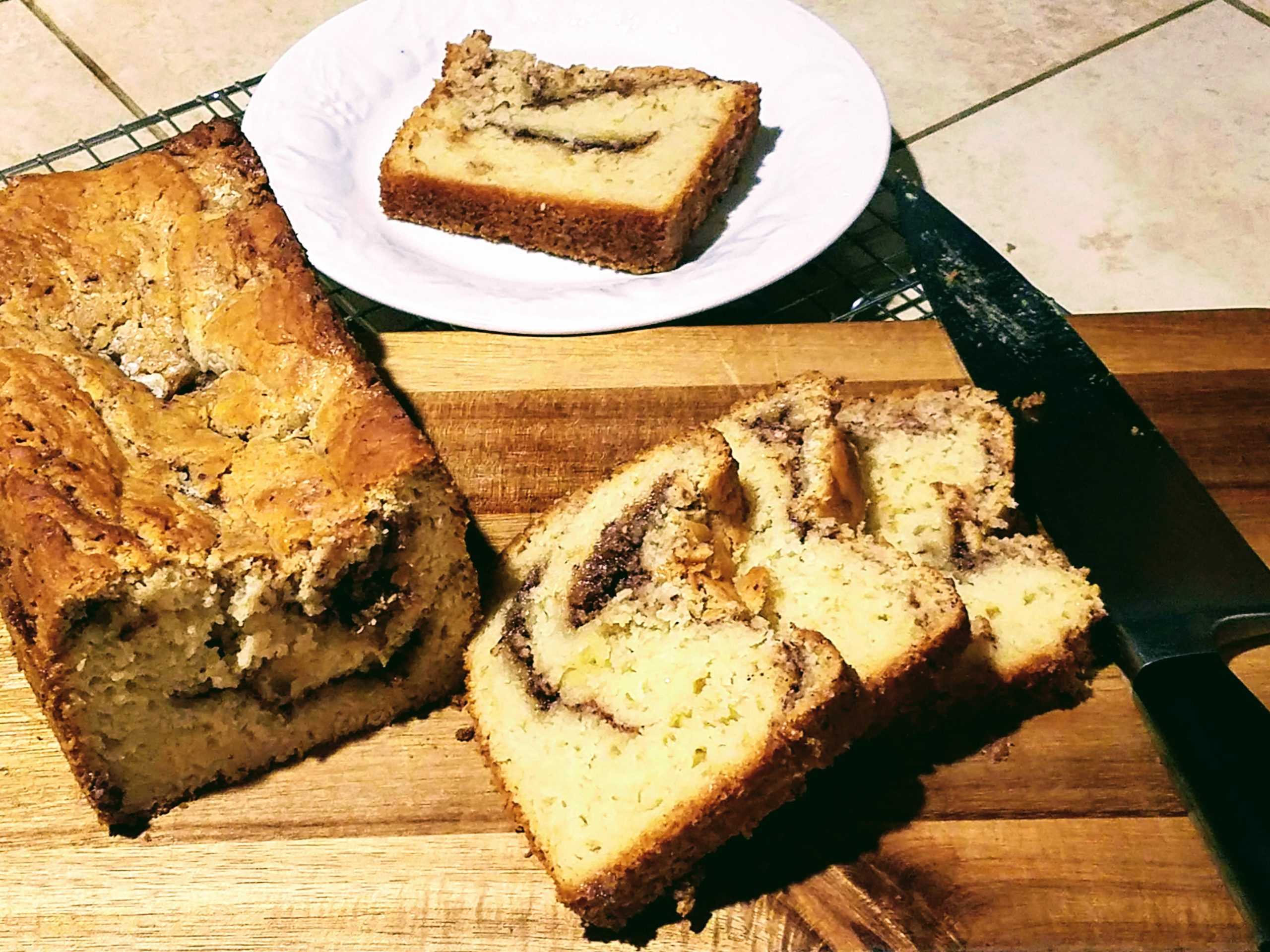 Gluten Free Cinnamon Swirl Sweet Bread (or Gluten Free Cinnamon Roll Loaf)
A gluten free cinnamon loaf that tastes like cinnamon rolls!
Ingredients
For the Dough:
½ cup fed gluten free sourdough starter, at 100% hydration

1 cup (110 grams) Bob's All Purpose Gluten Free Flour

½ cup (50 grams) tapioca starch, gluten free

½ cup (45 grams) almond flour

1 teaspoon yeast, gluten free

½ teaspoon salt

¾ cup organic cane sugar

¾ cup milk or dairy free milk, warmed to 110 degrees F

4 tablespoons butter or dairy free butter, softened

1 extra large egg

1 tablespoon vanilla, gluten free
For the Filling:
½ cup granulated or organic cane sugar

¼ cup packed light brown sugar

2 teaspoons cinnamon, gluten free

¼ teaspoon nutmeg, gluten free

¼ teaspoon allspice, gluten free

1 tablespoon Bob's All Purpose Gluten Free Flour

*Top loaf with 1 tablespoon butter, cut up, before baking
Instructions
In a medium bowl stir together Bob's All Purpose Gluten Free Flour, millet flour, yeast and the organic cane sugar in the dough recipe. Make a well in the dry ingredients and pour in the warm milk and softened butter. Stir with a wooden spoon until combined. Stir in the remaining tapioca starch, almond flour, salt. Mix in the egg and vanilla, using a wooden spoon. The dough will be quite soft. Set aside and make the filling.

For the filling, in a small bowl, stir together the sugars, cinnamon, nutmeg, allspice and the 1 tablespoon of Bob's All Purpose Gluten Free flour. 

Oil and lightly dust with gluten free flour, a 9 inch loaf pan. Scoop about one third of the dough into the loaf pan. Spoon half of the cinnamon sugar mixture over the in the loaf pan. Spoon another third of the dough into the pan. Spoon half of the cinnamon sugar mixture over the dough again. Top with remaining dough, smoothing the top after the final addition. Take a knife and run it through the loaf pan in a swirling zigzag motion from side to side. Drop the cut up butter pieces onto the top of the loaf, evenly distributing over the top.

Cover pan with cellophane and let rise for 3 or 4 hours in a warm place, until risen and near the top of the pan (or a little below the top if you use a taller " King Arthur Gluten Free" loaf pan). 

Preheat oven to 350 degrees F.

Bake for 50-55 minutes and until a thermometer registers 208 degrees F when inserted into the center of the loaf.

Remove from the oven and cool for 10 minutes before turning out unto a wire cooling rack. Allow loaf to cool completely before slicing ¾" thick and serving with butter.
Notes
This is perfect toasted lightly the day after or slice a piece and microwave on high for 25-30 seconds and top with butter! Keeps on the counter 2-3 days. I also like to freeze slices of my bread between parchment sheets. It will last a few weeks this way.