The Pot de Crème, is a delicious, creamy and rich, French custard-like dessert, similar in texture to a crème brûlée. The difference being that instead of water bath cooking the Pot de Crème, it is cooked on the stovetop and then refrigerated until very chilled.
You can dress up these pot de crème with whatever you desire. I've included the recipe for caramel sauce, but feel free to add what you like. A dollop of whipped cream and a drizzle of caramel sauce is delicious and my preference for these!
If you are like my husband, though, pour a large layer of caramel sauce over, then add dollops of very lightly sweetened whipped cream! The caramel sauce here has a little rum in it instead of scotch as a butterscotch would, but you can always omit that if you don't have it or would rather not use it.
Originally, these were little "pots of cream" and while you can definitely serve them in a small ramekin like "pot", but I prefer small stemware or glassware to show these off. The layers and toppings show off so pretty that way!
Lastly, while they aren't low-cal and have a significant amount of fat, serve them in very small port or liqueur glasses and you will be fine!
You can collect vintage or vintage looking glasses at thrift stores in your area. I love to mix and match the glasses, and for a party, everyone takes their favorite!
~Laura
(updated 4/23)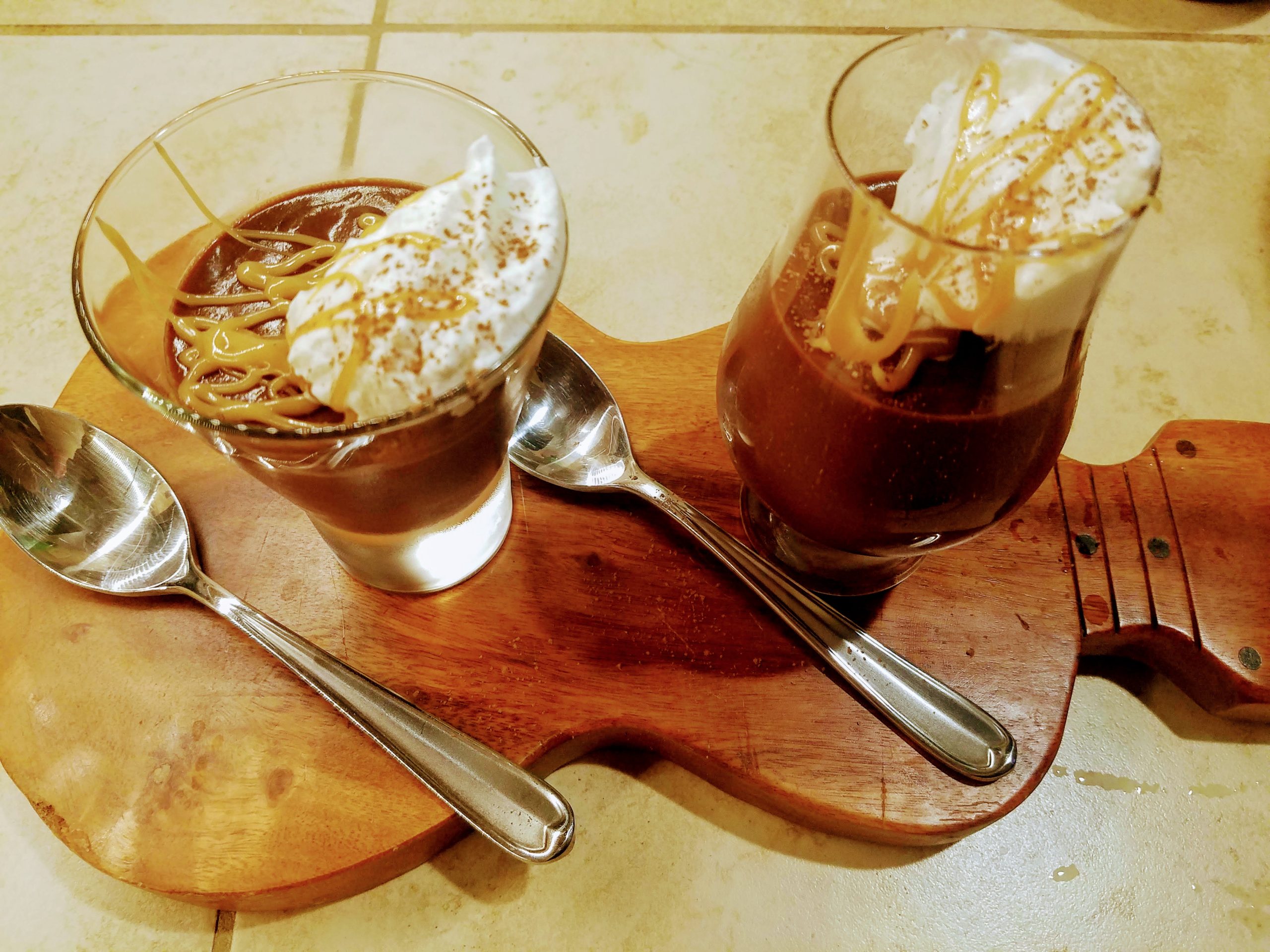 Chocolate Caramel Pots de Crème (Gluten Free)
Ingredients
1 cup heavy cream

3/4 cup whole milk

3 large egg yolks

1/4 teaspoon salt

1/4 cup sugar

1/8 cup brown sugar

1/8 cup honey

6 ounces of 70-72% gluten free dark chocolate, broken into pieces or 70-72% gluten free dark chocolate chips

1 tablespoon of rum, gf

1/2 teaspoon vanilla, gf
Caramel Sauce
1 cup sugar

⅛ cup light or dark corn syrup

¼ teaspoon salt

1 tablespoon of rum, gf

¾ cup heavy cream

3 tablespoons of butter, cut up

¼ cup heavy cream, heated

½ teaspoon of vanilla, gf
Instructions
Whisk together in a medium saucepan the  cream, whole milk, egg yolks, salt, sugar, brown sugar and honey. Cook over low to medium heat, stirring continuously. The mixture should be thick enough to coat the back of a spoon. Remove from the burner.

Add the chocolate chips and stir until the chips have melted and the mixture is very smooth. Add in the rum and the vanilla and stir completely. Pass the chocolate cream through a sieve into a bowl.

Spoon or pour into small glassware or ramekins and cover with cellophane and refrigerate for 4 hours.

When ready to serve, heat the caramel sauce and pour a layer over the chocolate if desired. Add a dollop of sweetened whipped cream and a drizzle of warm caramel sauce over the whipped cream. 
Caramel Sauce
In a small saucepan stir the sugar, corn syrup, salt, rum, and ¾ cup of the heavy cream. Cook over medium low heat, shaking the pan slightly to stir occasionally until a candy thermometer reaches 234 degrees F. It should just be beginning to turn a light amber color. Remove from heat.

Add the butter pieces and stir completely. Add the remaining ¼ cup of heated heavy cream, and vanilla and stir completely. If any chunks form when cream is added, return to the stove over low heat and stir for a few minutes until the sauce is smooth again.

Pour into a glass ball jar and cool, or use after cooling for 20 minutes. If cooled, heat the jar in a pan of hot water. Refrigerate the unused portion of sauce for up to 2 weeks.
Notes
One of my new favorite desserts! You don't have to turn the oven on, if it's too hot out. This dessert is so quick to make, but feels elegant. Just be sure to allow the 4 hours chill time in the refrigerator, because it needs the time to thicken up as it chills. If you don't have time for the caramel sauce, you can always purchase a gluten free one, or add some fresh berries or berry compote to the top.