Jump to Recipe
Print Recipe
It's almost summer here, but it is still not very warm out and we seem to still want that good old-fashioned comfort food. Yesterday, it was extremely windy all over the Bay Area of California, with gusts up to 55 mile per hour. We are praying against the fire season which destroyed so much last year, especially during this extreme drought year.
And yet, with the wind here, there is something calming with the huge chimes hung in the redwood tree ring in our backyard singing gently as if church bells were ringing nearby. A few days ago we went to a local winery, Sones Cellars, a small batch winery in Santa Cruz, which makes lovely wines including a white and red blend which they fill and refill for customers in purchased growlers, a simple bottle that is very eco-friendly. It is called "Hedgehog" and is the wine I used in this recipe for Coq Au Vin, or "Chicken and Wine".
If you are in the area check out Sones Cellars. Santa Cruz and the Santa Cruz Mountain vines produce some wonderful wines. I often make this dish with a white wine. The red wine version calls for something a bit bolder, so I added some delicious bacon here. Pancetta would be lovely in place of bacon as well. And a Pinot Noir wine would also be wonderful for the wine, and maybe also add some Cremini or wild mushrooms.
If you are up for it, write a comment on what your favorite comfort food is. I'd love to know!
~Laura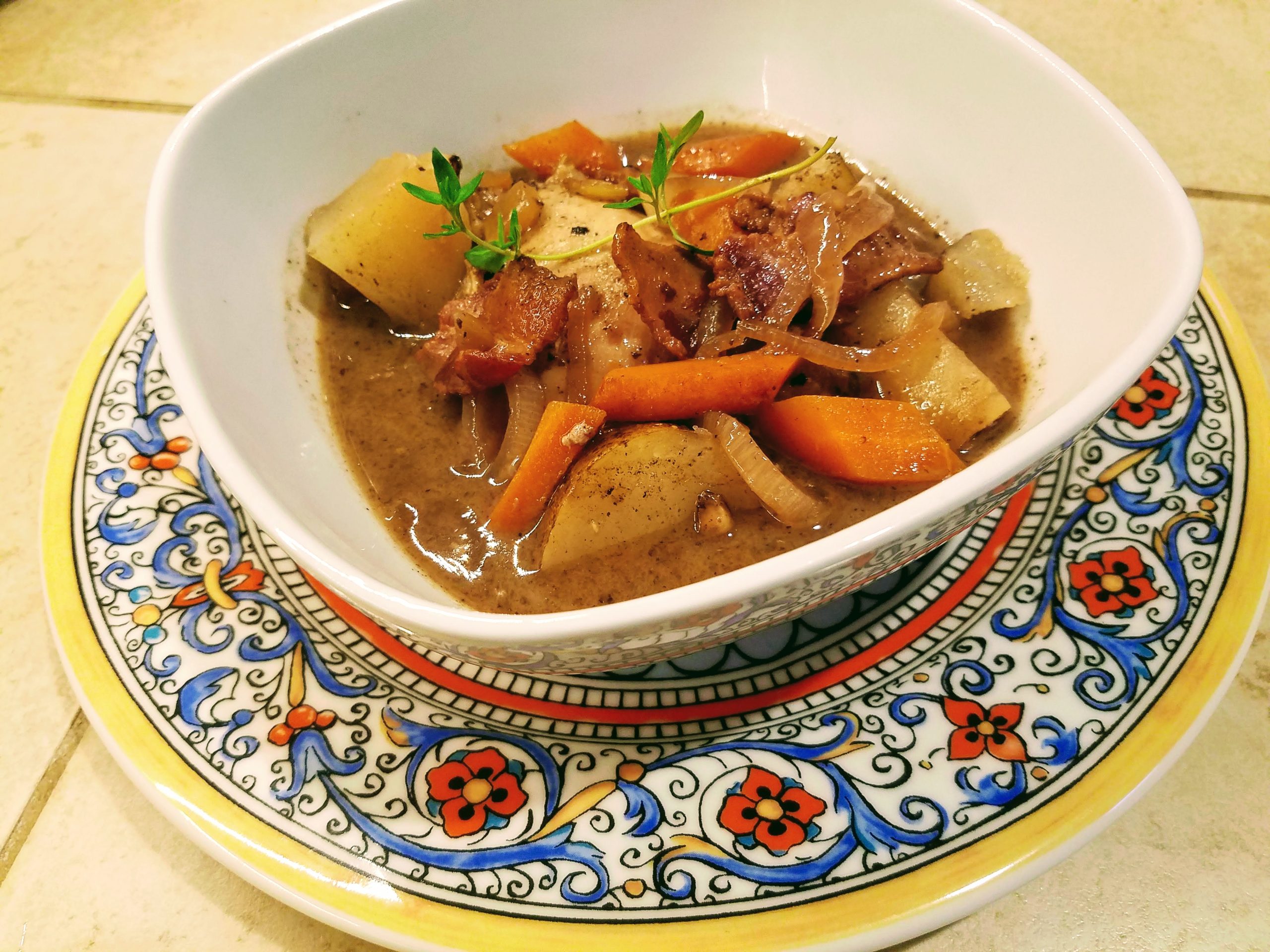 Coq Au Vin (Chicken with Wine) made Gluten Free
Easy Coq Au Vin Stew is a great for a cold winter night meal, but you can certainly enjoy this stew anytime!
Ingredients
1-2 slices of bacon, cut into ¾" strips

gf

3-4 skinless bone-in or boneless chicken thighs

Salt and pepper

1 medium onion, sliced or diced

1 large carrot,  halved or quartered and then 1" long pieces

1 stalk celery, diced

2 cloves garlic, sliced

1 cup Red Blend, Pinot Noir, or Sauvignon Blanc

1 cup chicken broth

gluten free

5-6 sprigs of fresh thyme

1 large sprig of fresh rosemary

2 medium potatoes, cut into quarters lengthwise, then 1 inch chunks

Squeeze of ¼ lemon
Instructions
Preheat the oven to 325 degrees.

Cook the bacon pieces until light crisp in an oven safe skillet, braising pan with a lid, or a Dutch Oven with a lid.

Remove the bacon to a small plate. Salt and pepper the chicken thighs generously.

In the bacon fat sear the chicken thighs over high heat, browning only on all sides. Remove the thighs to a plate.

Heat the skillet, braising pan, or Dutch oven over high heat again and saute the onion slices, carrots, celery, and garlic together in the remaining bacon fat until the onions are light golden brown. Remove to a bowl and set aside. Remove the remaining bacon fat from the pan and discard.

While still over high heat, deglaze the brown bits on the bottom of the pan with the wine. Lower the heat and continue cooking,  stirring the bits off the bottom, then adding the broth and simmering for 5-7 minutes. Add the onion mixture back in, followed by the chicken pieces, and then add the potato pieces and bacon in. Lastly, add the thyme and rosemary in to the pan.

Cover and cook for 45 minutes to 1 hour or until chicken registers 175-185 degrees F with a meat thermometer. **

The chicken will continue cooking and come to temperature after it is removed from the oven. Remove the sprigs of thyme and rosemary. Finish with a squeeze of lemon and more salt and pepper to taste. Add fresh herbs to the top of the dish before serving.

Ladle hot stew into bowls and serve with gluten free bread or rolls and your wine you opened for the recipe, if you like.
Notes
We used local winery Sones Cellars of Santa Cruz, California's Hedgehog Red Blend and this was delicious. You could use a Pinot Noir or a Sauvignon Blanc also. Even a mild Chardonnay would work. Then be sure to enjoy a glass of the same varietal and vintage you are serving for a great wine pairing. 
**Note: If using chicken breasts, cook until 160 internal temperature. The temperature will continue to rise as it sits for a few minutes after removing from the oven.