Jump to Recipe
Print Recipe
The taste of summer is here with vine ripened tomatoes, home grown maybe even if you are incredibly lucky, fresh herbs from the farmer's market or just picked from the garden. It doesn't get much better than a fresh pasta sauce with sweet, sun ripened tomatoes and fresh herbs.
We don't have much room or as much sun here, but you can grow plenty of herbs, tomatoes, citrus, and peppers easily in containers on a patio. Some varieties of tomatoes are ready for harvest sooner and those are the best picks usually for me; Roma, Cherry or Early Girl tomatoes all work great here.
I love to run out to the deck and grab a handle of fresh herbs or tomatoes for a dish I'm making. This year on the herb list we are growing Italian parsley, basil, chives, thyme, cilantro, and rosemary, which means I need to run to the store less to pick up a few sprigs of a needed herb.
We are trying lettuce on the patio also, along with pole beans and snow peas, so I'll let you know how they fare. The lettuce is doing amazing, and we already harvested some. Hopefully, the lemon tree will produce wonderfully and yield a crop big enough to make limoncello! Limoncello is a favorite after dinner Italian sipping liqueur made by soaking the peel of lemons for about eight weeks. It is perfectly served after a garlicky pasta dinner.
We make two types in our household, one made with grain alcohol and one that is really a mock limoncello, as it is made gluten free, replacing the grain alcohol with Tito's Vodka, which is gluten free. There's plenty of debate on whether all the grain is removed in the distilling process, but it certainly bothers me. If you are Celiac and you have tried these types of products and gotten sick after consuming them, I'm sure you know what I am talking about. Hopefully you don't have that sensitivity. This dish is both gluten free and dairy free.
~Manga!
Laura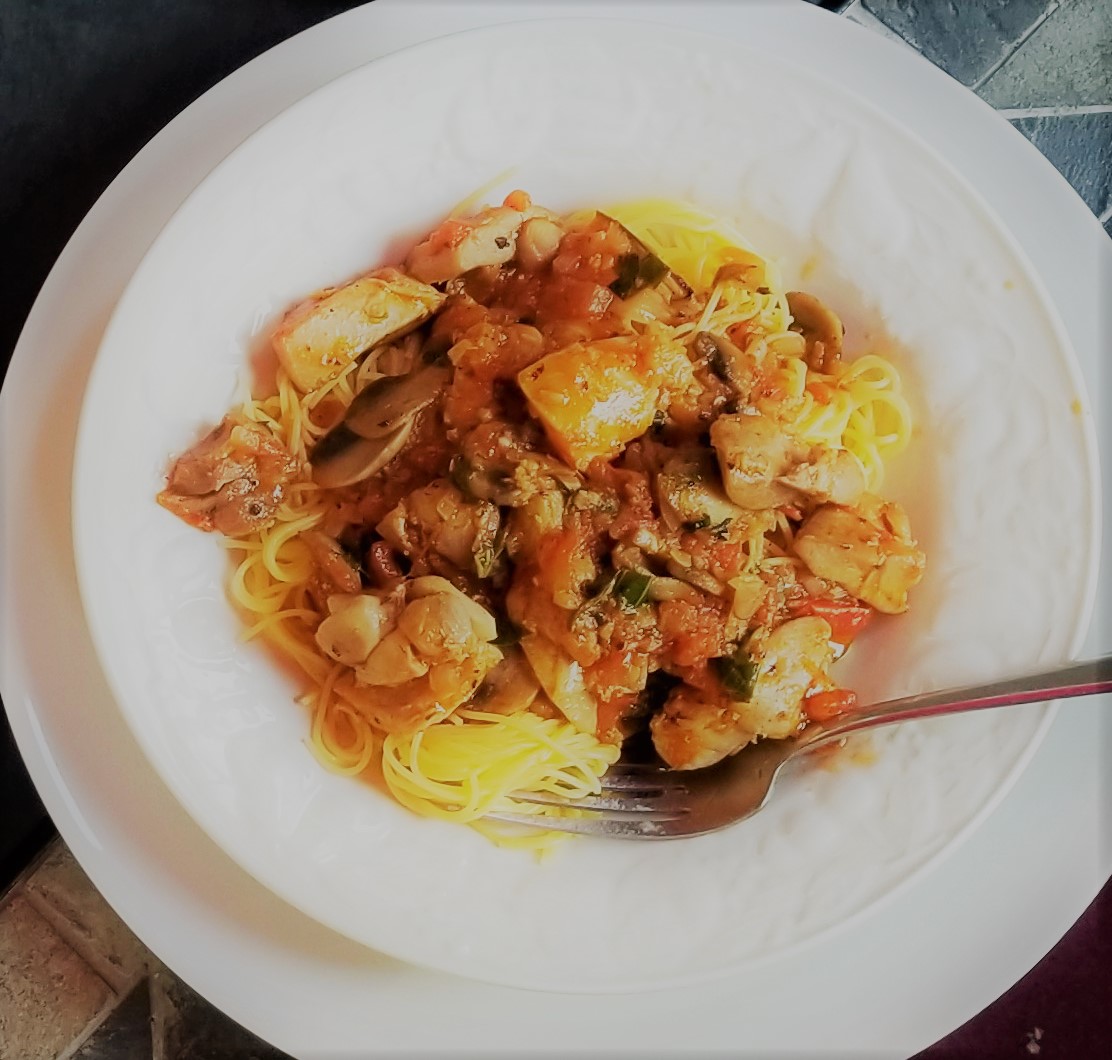 Summer Tomatoes and Chicken Pasta
Ingredients
3 tablespoons olive oil

¼ large onion, minced

½ teaspoon of salt

4 cloves garlic, minced

6 ounces baby bella mushrooms, sliced

3 boneless chicken thighs, cut into ⅜  x 1 ½ inch pieces

⅛ cup torn basil leaves

⅛ cup chopped parsley

½ cup dry white wine

½ cup chicken broth, gluten free

2 tablespoons of limoncello

2 large Roma tomatoes, diced

1 tablespoon of tomato paste

½ teaspoon dried basil, gf

¼ cup Marinated Roasted Artichokes, cut into 1/4 inch thick pieces

1 tablespoon dairy free, gluten free butter, such as Country Crock Plant Butter with Olive Oil

Salt and pepper to taste

1 pound of Veneziane Gluten Free Capellini Pasta, cooked al dente
Instructions
Heat 1 ½ tablespoons of olive oil in a large cast iron or other skillet over medium high heat. Add the onion and salt to the skillet and stir to coat the onion in the olive oil and saute until the onion is soft and just starting to brown a little. Add the garlic and stir for 20 seconds. Remove to a plate.

Add ½ tablespoon of olive oil and brown the mushrooms quickly. Remove to a plate.

Sprinkle the chicken with salt and pepper. Add 1 tablespoon of olive oil to the skillet and brown the chicken thigh pieces in two batches, turning over when the chicken is browned on the first side. Turn over and cook until browned on the bottom and chicken pieces are almost cooked all the way through. Remove to a bowl and cover with a plate to keep warm.

With the burner on medium high temperature, add the wine and stir and scrap the bottom of the pan to get the bits off the bottom. Stir in the chicken broth and the limoncello. Add the tomatoes and low the heat to a simmer, stirring often. Stir in the onion and garlic, tomato paste, fresh herbs, and dried basil. Cover and simmer over very low heat for 20 minutes. Add the chicken pieces back into the skillet along with the artichoke pieces, mushrooms, and dairy free butter and continue cooking for 5-8 minutes more.

Boil water in a stockpot. Add 1 teaspoon of oil. Stir in the Veneziane capellini nests and cook al dente. Drain, rinse gently and drizzle with olive oil. Pour into a large flat bowl and top with sauce. Serve with freshly grated Pecorino cheese for those who can have dairy.