Scones, for me, are a perfect compliment to tea or coffee! Serve them for breakfast, tea time, brunch, or just enjoy as a snack. Serve these delicious Cinnamon Apple Scones plain, with butter, traditional clotted cream (if you can find it), or just drizzled with maple glaze goodness. Bring on a cappuccino for me to have with these scones!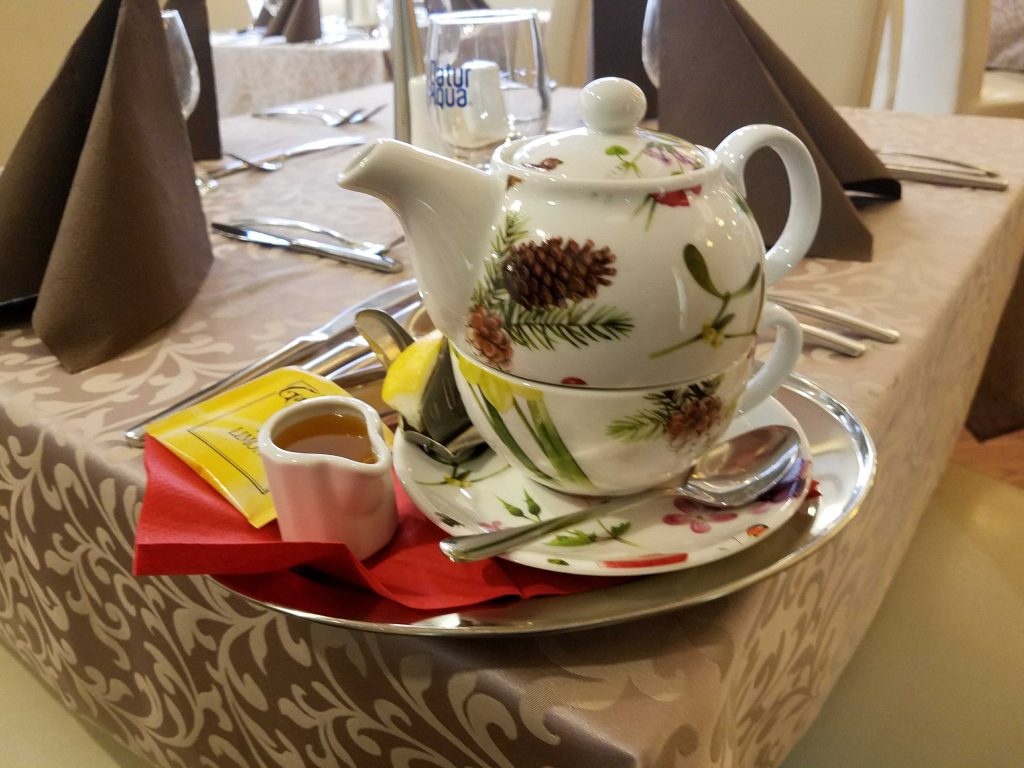 These lightly spiced scones with apples hit the taste buds perfectly. Finished off with a little glaze and topped with a few nuts, they are simple, and ready for the table in just about thirty-five minutes.
Scones ~ the perfect "no fuss" breakfast or brunch item
No fusing with yeast for these! They are easy to make, and while this gluten free version contains a few more ingredients, they are free from any gums that would be added into a gluten free blend. Almost all blends contain some type of gum, and often cellulose, which manufacturers use as a binder. Some people are unable to tolerate these items.
So here, we've brought you a scone with three single gluten free flours. Choose to use sorghum flour or brown rice flour. Pick from either use white rice flour or cassava flour. While these flour are by nature gluten free, check the label to see if they are manufactured in a clean, gluten free facility.
If you stick with Bob's Red Mill, their Bob's Red Mill Organic Whole Grain Brown Rice Flour is certified gluten free and so are their Bob's Red Mill Gluten Free Finely Ground Tapioca Flour and Bob's Red Mill Gluten Free Sorghum Whole Grain Flour.
They also make a cassava flour which is certified gluten free, but I prefer Otto's brand when baking. It seems to be a finer grind and works well in pastry and pizzas.
What is tapioca flour/starch?
Tapioca flour or starch is derived from the root of the cassava plant. It is a great flour, in addition to others, when trying to attain a texture that is softer while working like a gum binder in place of gluten. Bakers have been using tapioca starch and flour for years and it can be found in many of the gluten free blends that are available.
While gluten free blends are great for many baked items, they are unnecessary for many baked goods. After more than twenty years of baking gluten free, I prefer to choose the flours that will work best for a given recipe.
Using a combination of gluten free flours
I typically use a combining of flours to get the perfect texture, flavor, and quality for a given item. Tapioca flour or starch, brown rice flour, white rice flour, millet, sorghum, cassava, and almond are several of the flours I will choose from.
Tapioca is believed to have gained its origin in Brazil. If you've ever had their wonderful cheese bread , Pão de Queijo, it's like heaven! Little cheese balls baked to perfection with a slight amount of doughy-ness and the most delicious browned cheese flavor ever!
Tapioca is typically thought to be easy to digest for most people. It is grain free, as is the cassava flour.
Make these dairy free
If you choose, you can make these cinnamon apple scones dairy free also. Just substitute equal amounts of stick dairy free butter substitute, which is also gluten free. For the creamer or milk substitute with a thick gluten free almond milk or coconut creamer.
Scones for breakfast with tea or coffee
While these do go well with tea, I think with a cup of coffee they are absolutely divine. I love the maple flavor with coffee, so for me I'll pick coffee. Either way, I hope you enjoy them.
This recipe tends to give us a tad firmer scone than some of my other scone recipes, while still being moist and tender. Perhaps these are a little more like a traditional scone. I believe the English scone should hold together and break apart without crumbling into tiny pieces, which is what occurs with these Cinnamon Apple Scones with Maple Glaze (Gluten Free).
If you're interested in other scone recipes, check out these Mama Laura's Kitchen Scone recipes!
Now go grab a cup of tea or a cappuccino to enjoy with your warm scone!
~Laura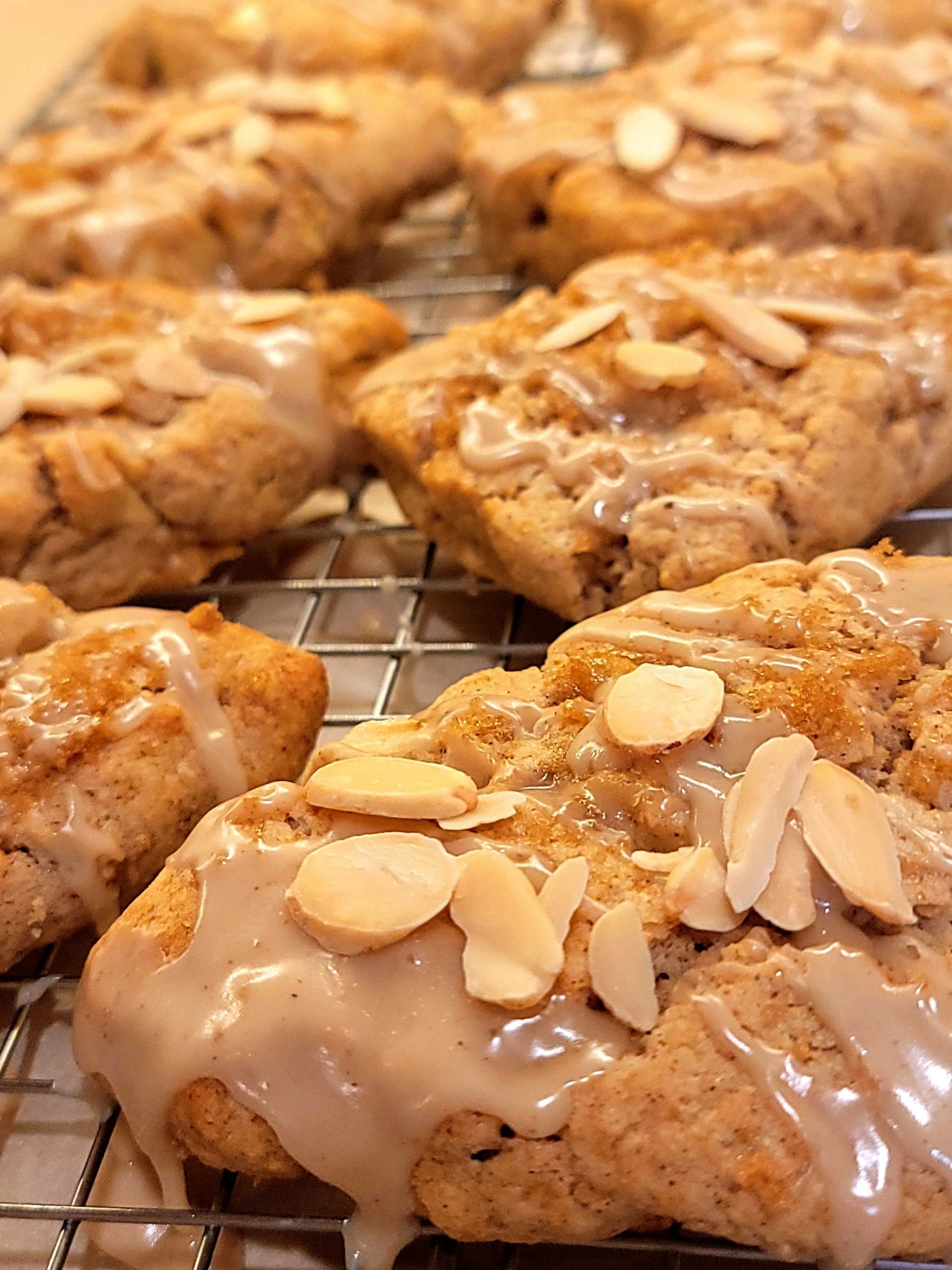 Cinnamon Apple Scones with Maple Glaze (Gluten Free and No Gums)
Whether served as a brunch item, a light breakfast with tea or coffee, these scones are tender and buttery, with hints of spice and maple lingering after you finish the last bite.
Ingredients
6

tbsp

unsalted butter, grated

½

cup

Bob's Red Mill Gluten Free Organic Whole Grain Brown Rice Flour or Bob's Red Mill Gluten Free Whole Grain Sorghum Flour

½

cup

Bob's Red Mill Gluten Free Finely Ground Tapioca Flour

or tapioca starch, gf

½

cup

Otto's Gluten Free Cassava Flour

or other finely ground cassava flour or sweet rice or white rice flour, gf

1

tbsp

plus 1 teaspoon baking powder, gf

¼

teaspoon

fine salt

¾

teaspoon

ground cinnamon, gf

⅛

teaspoon

ground nutmeg, gf

2

tbsp

brown sugar

1

large

egg

¼

cup

plus 1 tbsp heavy cream

½

teaspoon

vanilla, gf

½

cup

apple, peeled and finely chopped

1

teaspoon

lemon juice

up to 1 tbsp milk

as needed, for dough to hold together

1

tbsp

heavy cream

brush the tops after 5 min. of baking

1

tbsp

brown sugar

to sprinkle over cream after 5 min. of baking

¼

cup

toasted blanched almonds or pecans, chopped

to add to top with after glazing
Maple Glaze
⅓

cup

plus 1 tbsp powdered sugar1/2 tbsp maple syrup1/2 teaspoon water1/4 teaspoon vanilla, gf1/8 teaspoon ground cinnamon, gfA few dashes of ground nutmeg, gf

½

tbsp

maple syrup

½

teaspoon

water

¼

teaspoon

vanilla, gf

⅙

teaspoon

ground cinnamon, gf

A few dashes of ground nutmeg, gf
Instructions
Freeze the grated butter for 20 minutes.

While the butter is chilling, in a medium bowl, sift the flours together with the baking powder, salt, brown sugar, cinnamon, and nutmeg.

Add the lemon juice to the cut apples and stir to coat.  Set aside.

Whisk the egg, cream, and vanilla together and set aside.

Add the butter to the dry ingredients and cut in using a pastry cutter or knife until most of the butter pieces are small. Then finish by pressing any larger sized butter pieces between your fingers, until only small crumbs remain.

Preheat the oven to 400 degrees

Pour the liquids in to the dry ingredients and stir with a fork. Bring the dough together with your hands adding 1/2-1 tbsp milk if needed. Add the apple pieces and distribute evenly.

On a parchment or cellophane covered board, form into a rectangle, 4×6 inches and about 1" thick. Cut into 4ths, then each rectangle in half making 8 scones. Place on a parchment lined tray spaced at least 1 ½" apart.

Bake for 5 minutes.  Remove tray from the oven. Brush with 1 tbsp cream and sprinkle with 1 tbsp brown sugar.  Return to the oven to finish baking for 11-13 minutes. The scones should be lightly golden and slightly soft when pressed with your finger.

Remove to a wire rack. Drizzle with Maple Glaze and add almonds or pecans to the top. 
Maple Glaze
In a small bowl, stir the ingredients together until smooth. Drizzle over baked scones.