Jump to Recipe
Print Recipe
Hello Friends! I had high hopes of posting a Thanksgiving recipe each day of the week leading up to Thursday. But, alas, life brings other things that have to be done too! So here's recipe #2 that has a Thanksgiving or fall based theme.
Traditionally, scones can be denser and perhaps drier. These are far from dry and dense! Honestly, you can definitely get your fill of dense type baked goods when needing to eat gluten free. Let the buttery, moist, filled with spice and flavor scone meet your mouth!
How best to enjoy them
These delicious fall scones may be a tad sweeter than a traditional scone, also. Some would say scones should be just lightly sweetened. When paired with a cup of unsweetened coffee or tea, these are perfect. Serve them for breakfast on Thanksgiving; just a little something to hold you over for the main event of the day. Or they are perfect for any day. An easy gluten free breakfast or snack item.
How do you pronounce it and where they originated
Today, we baked up a beautiful gluten free pumpkin scone. Whether you choose to pronounce it 'Skon' and 'Skoan', (rhyming with 'gone' or 'bone'), we know that the scone originated in either Scotland, Ireland or England, with first mention of it appearing in writing in 1513. I also found that scone also means head, the verb, scone: to hit, especially on the head. Scone as a proper noun: A village north of Perth in Scotland; the coronation site of Scottish kings until 1651. British scones are often round as well, but hey, triangles are cuter I think.
Clotted Cream or Not?
And for those of you interested in serving the traditional British clotted cream with your scones, check out this interesting article from the Huffington Post, Clotted Cream: Where Whipped Cream Meets Butter. I'm not certain these scones need it, though.
And lastly, I'm not sure what's at the top of your gratitude list, but l will definitely add yummy gluten free scones to my list (and honestly, just getting to eat delicious food while being on a gluten free diet). Blessings and thanks ~
Laura
(edited 6/2022)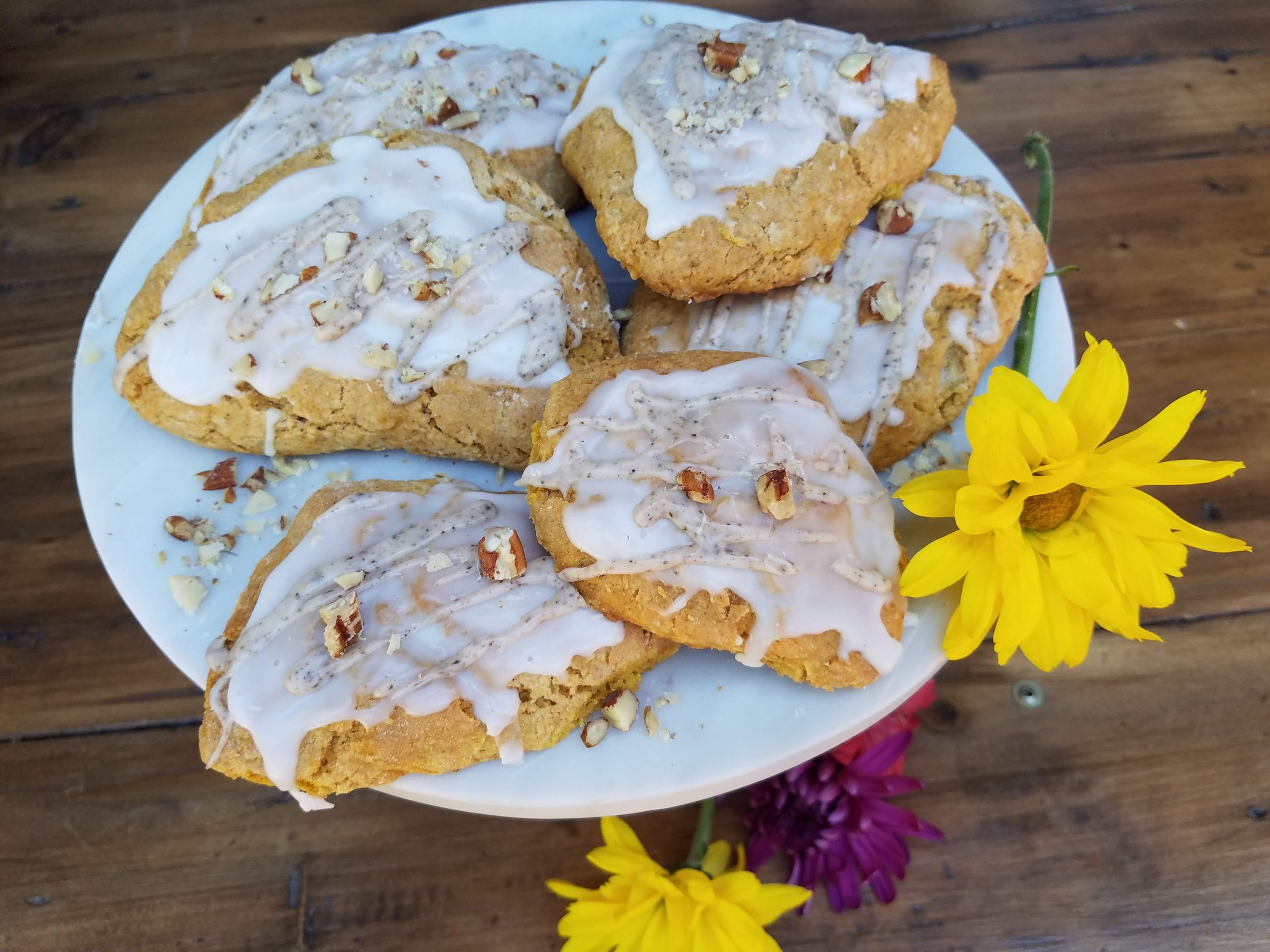 Gluten Free Pumpkin Scones with Spiced Chai Tea Drizzle
Ingredients
1 1/4 cups

1 to 1 gluten free flour blend (with xanthan gum)

plus 1/2 – 5/8 cup more as needed to make a dough that is neither sticky nor dry

1/3 cup

tapioca starch

1/2 cup

packed light brown sugar

1/3 cup

cane sugar

1 tablespoon

baking powder

gluten free

1/4 teaspoon

salt

1 1/2 teaspoons

ground cinnamon

gluten free

1/2 teaspoon

ground nutmeg

gluten free

1/4 teaspoon

ground cloves, gf

gluten free

1/2 teaspoon

ground ginger, gf

gluten free

7 tablespoons

cold butter

cut into very small pieces

1/3 cup

roasted pecan halves

chopped coarsely, plus 8 pecan halves for the top of scones

1/2 cup

pumpkin puree

1

egg

2 tablespoons

heavy cream
vanilla glaze:
1 1/4 cups

powdered sugar

2 tablespoons

whole milk

1/2 teaspoon

vanilla
chai tea drizzle:
3 tablespoons

vanilla glaze (above)

1/8 teaspoon

of finely ground black tea, good quality

1/8 teaspoon

cinnamon

gluten free

1/8 teaspoon

cloves

gluten free

1/8 teaspoon

nutmeg

gluten free
Instructions
Mix the pumpkin, egg and heavy cream together.

In a large bowl, stir together by hand, the gluten free flour blend, tapioca starch, light brown sugar, cane sugar, baking powder, salt, cinnamon, cloves, nutmeg and ginger.

Cut in the butter pieces until there are no pieces larger than a pea. If you don't have a pastry tool, you can cut in the butter using two knives to get the same result, by bringing the knife blades together and pulling away from each other to cut the butter.

Once the butter is cut into the dry ingredients, add the wet ingredients in: pumpkin, egg  and cream mixture. Stir with a fork until just combined.

Scrap the dough out onto a well floured cutting board. With a bit of extra flour on your hands, form the dough into a rectangle, then fold over, turn and flatten, then fold over again. Do this 3 or 4 times adding more of the gluten free flour blend as needed to achieve a pliable dough that is neither sticky nor dry.

Press the dough into a 6 x 8 inch rectangle, 3/4" thick. Set on a piece of parchment a plate or tray and refrigerate for 30 minutes.

Place a parchment sheet on your cookie sheet or stone bar pan. Preheat oven to 400 degrees, with rack in the center of the oven.

Cut the dough in half each direction, so you have 4 rectangles. Cut each smaller rectangle in half so each rectangle is now cut into 2 triangles. You should now have 8 scones. If you wish to make 16 mini scones, simply cut each triangle in half. Place scones on the parchment lined cookie sheet or stone bar pan, at least an inch apart.

Bake for 15 – 20 minutes (or 12-14 for mini scones) or until light golden edges are present. Remove from the oven and cool for 5 minutes on a wire rack.

Spread vanilla glaze evenly over slightly cooled scones. Then drizzle with chai tea drizzle and top with each scone with a pecan halve or chopped nuts.
Vanilla Glaze and Chai Tea Drizzle
While the scones are baking, make your vanilla glaze. In a small bowl stir the powdered sugar, milk and vanilla together. In another small bowl or ramekin, stir together the chai tea drizzle ingredients of 3 tablespoons of prepared vanilla glaze, black tea leaves, cinnamon, nutmeg and cloves.
Notes
Enjoy while warm! Or cool and store in an airtight container. Best when eaten in 2-3 days.