Seafood risotto is a fairly easy dish and completely satisfying for the seafood lover. Make this dish with a simple salad and you don't need much else! All it will need is just some good bread to accompany it or a gluten free bread for those that need it. You can enjoy this scrumptious risotto (made gluten free) without worrying about any of its ingredients!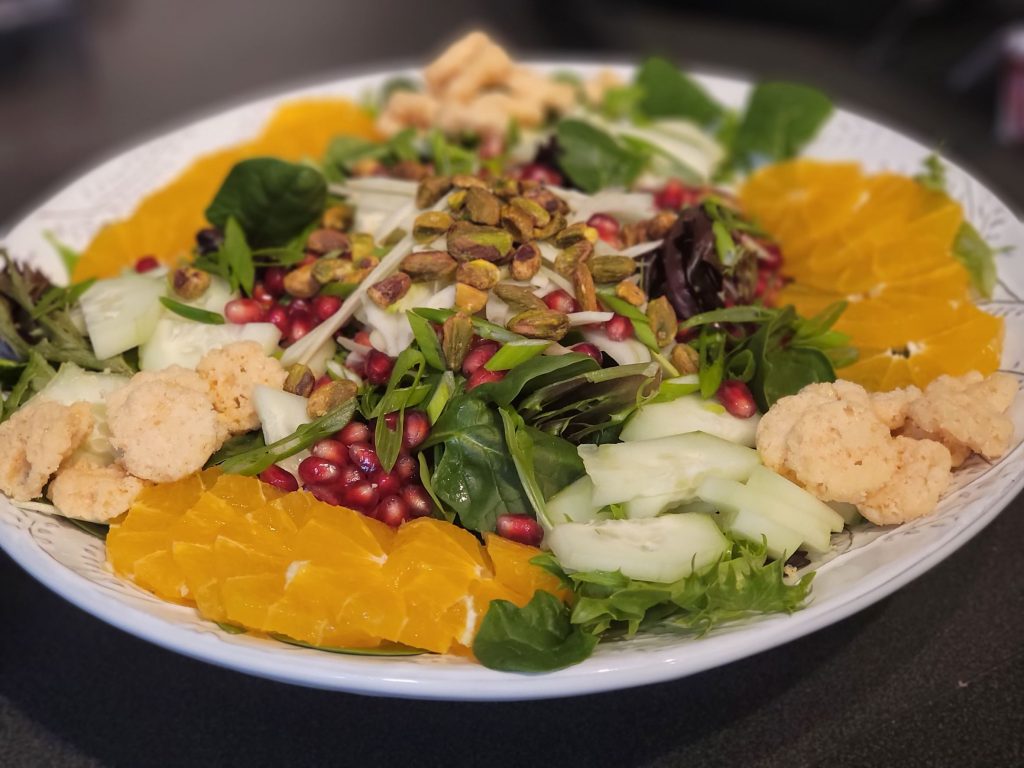 Seafood risotto is often made gluten free
Risotto can often be made gluten free, but it always means checking with your server, because spices or thickeners can be added to the broth it's cooked in.
I also call for using gluten free spices in my recipes, since there could be contamination for the celiac or severely intolerant person. There is only one spice in this dish though, which is great!
Use your favorite kinds of seafood in this dish
Try this dish with your favorite seafood. These are my picks for the dish. They won't be too overpowering, because they are milder seafood choices. But you could definitely add already cooked crab or lobster meat also, fresh langoustine, or mussels.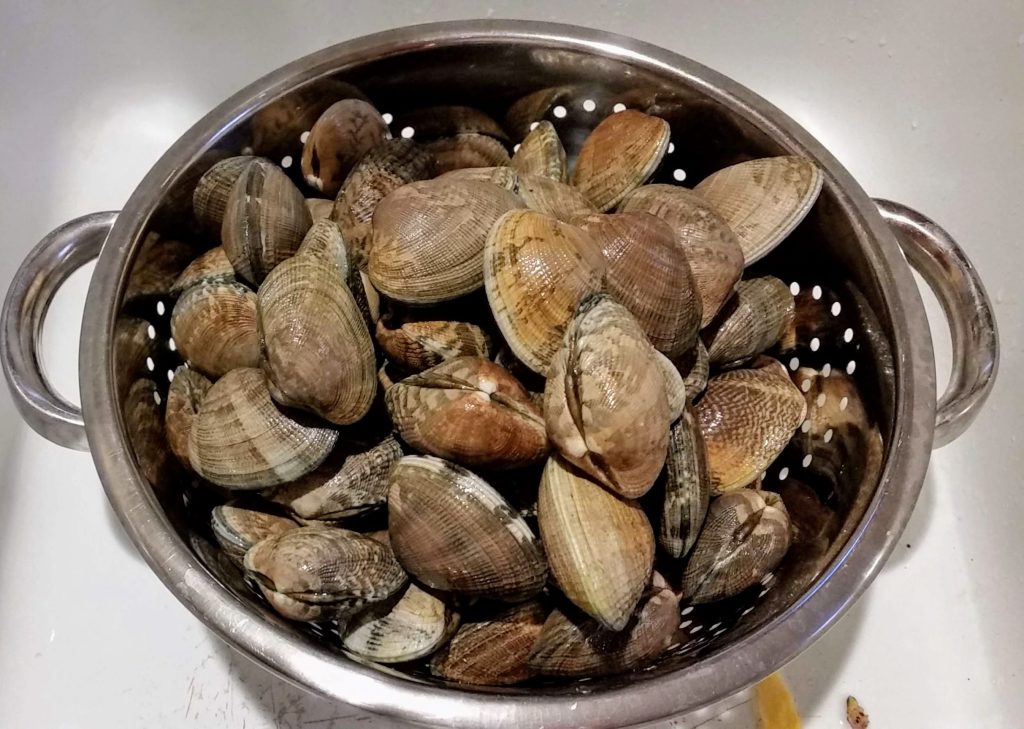 Seafood broth and clam juice
Be sure to buy seafood broth that is labeled gluten free if needed, and clam juice as well. I like using 1 cup of clam juice, usually I use Snow's Clam Juice, which is gluten free. Crown Prince brand is also gluten free and sustainably harvested, if you can find it.
For seafood broth, you could try Behler & Sacks Redi-Base Seafood Base 8 oz, No Added MSG. Gluten Free, Fat Free. Makes 2 ½ Gallons of Seafood Broth, Cooked Shellfish First Ingredient Chef's Choice or maybe Seafood Broth by Zoup! Keto-Friendly, Gluten Free, Fat Free, Non-GMO Clear Seafood Broth – Great for Stock, Bouillon, Soup Base or in Gravy – 2-Pack (32 oz). Both of these are also packaged in eco-friendly packaging.
This is a top pick for me when dining out!
I love having this dish when dining out! It's a great way to have a large selection of seafood in one dish (my other favorite is Paella). Although Risotto (made gluten free) can often be found in restaurants, it always means checking with your server, because spices or thickeners containing gluten can be added to the broth it's cooked in.
This dish is so much more cost effective to make at home and serve 4-5 people for nearly the same cost. Risotto always feels like a special dish, because it is more time consuming to make than some dishes, but when it's the majority of you meal, it really isn't a huge amount of time spent.
Enjoy!
~Laura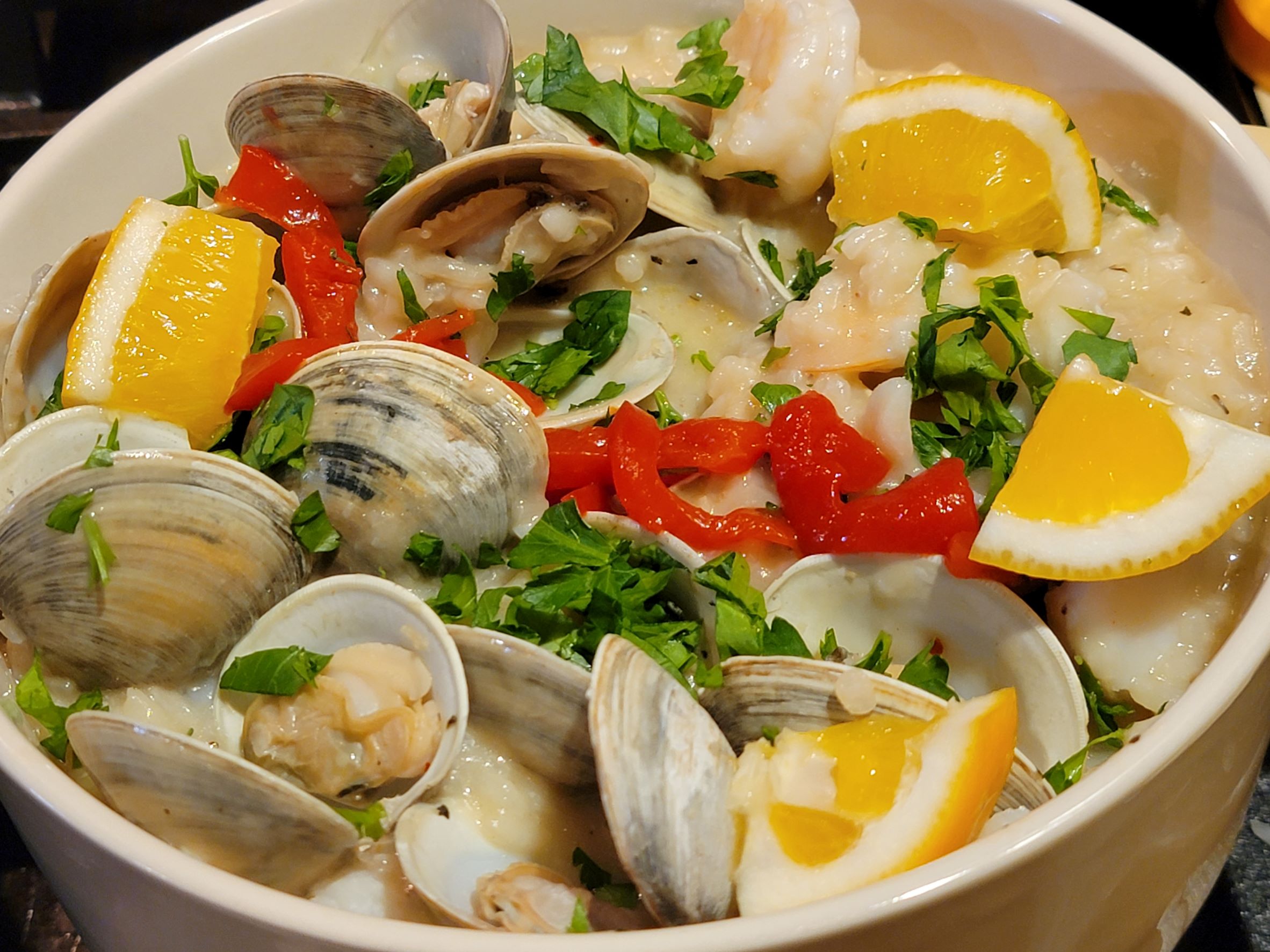 Creamy Seafood Risotto (Made Gluten Free)
This dish is always a favorite, no matter what seafood we use! I love risotto and the added seafood makes it extra special!
Equipment
1 stockpot

1-2 large saucepans
Ingredients
1

tbsp

olive oil

extra virgin

4

tbsp

butter, divided

4

large

cloves garlic, minced, divided

1

large

onion, minced

½

cup

dry white wine

¼-½

teaspoon

Aleppo pepper, gf

1¼

cups

arborio rice

5

cups

seafood broth, gf, divided or 4 cups seafood broth, gf plus 1 cup clam juice

½

lb.

cod or firm white fish, cut into bite sized pieces

1 – 1½

lb.

 clams (approx. 12-18)

½

lb.

large shrimp, peeled and tail off

1½-2

oz.

 brie or fontina cheese

½

cup

parmesan or pecorino cheese, finely grated
Salt and pepper to taste

2

tbsp

grated parmesan or pecorino, to top
Diced red bell peppers or sweet mini peppers, minced or diced, to top
Minced Parsley and basil, to top
Instructions
In a large saucepan, heat the oil and 2 tablespoons of the butter over medium low heat. Add the onions and saute until soft, stirring often. Remove from the burner. 

 Heat the broth in the microwave or in another saucepan over medium heat. Cover and turn off the burner or remove from the microwave and set aside.

In a large stockpot, bring the clam juice or 1 cup of the broth to simmer, with 2 tablespoons of butter, half the minced garlic, white wine, and Aleppo pepper. Add the shrimp and cook for 2 minutes. Remove the shrimp to a bowl. Cover to keep warm. Add the cod or fish and simmer for 1-2 minutes. Remove to a bowl and cover. Next add the clams and cook for 3-5 minutes until the clams have opened. Discard any that have not opened. Spoon the clams to another bowl, and discard any that have not opened. Cover the bowl.

Heat the saucepan with the onion and garlic back up to temperature over medium heat. Add the rice and the remaining garlic and cook for a few minutes. Add the hot broth, a half cup at a time, stirring constantly, after each addition until the liquid is absorbed. 

When all of the broth is gone, add half cup at a time of the clam/shrimp/fish broth. Cook for approximately 20-25 minutes total. Rice should be "al dente" or slightly underdone. Stir in the brie, parmesan or pecorino, fish, shrimp, and clams into the saucepan, but only for a minute. Remove from the burner. Add salt and black pepper to taste. 

Spoon into a serving bowl or individual serving dishes, dividing the seafood evenly. Add remaining two tablespoons of cheese to the top of the serving dish or to the top of each bowl. Top with diced roasted red peppers, fresh minced parsley and/or basil. 
Other yummy risotto recipes to check out:
Creamy Gluten Free Risotto with Fresh Herbs, Carrots, and Honey Drizzle
Chicken, Sun Dried Tomato and Mushroom Risotto (Gluten Free)
Pecorino Cheese and Crimini Mushroom Risotto (Gluten Free)