Jump to Recipe
Print Recipe
There's nothing better than a cinnamon roll morning! The smell permeates every nook of the house (at least at our small house)! Just waiting for them to finish baking until you can devour a bite is all you can do! These gluten free sourdough cinnamon rolls never disappoint!
These are wonderful for an autumn or winter morning
Make these Gluten Free Sourdough Cinnamon Rolls 2 Ways on an autumn or winter weekend. Or serve for brunch or for Christmas morning. Everyone will love getting to choose their flavor. The second flavor just adds a bit of variety to the recipe.
The pumpkin spice is so delicious. Honestly, both flavors are. I like that the sweetness is balanced by the sourdough flavor, so they aren't too sweet. Sometimes cinnamon rolls can be a little too sweet for my taste!
Start the dough early morning and they will be ready for a late breakfast or brunch, about two and a half hours later.
Just be sure to feed your sourdough starter the day before. It should be bubbly and ready to use for these rolls to rise the best. They do also have some yeast and a small amount of baking soda to get them going quickly too.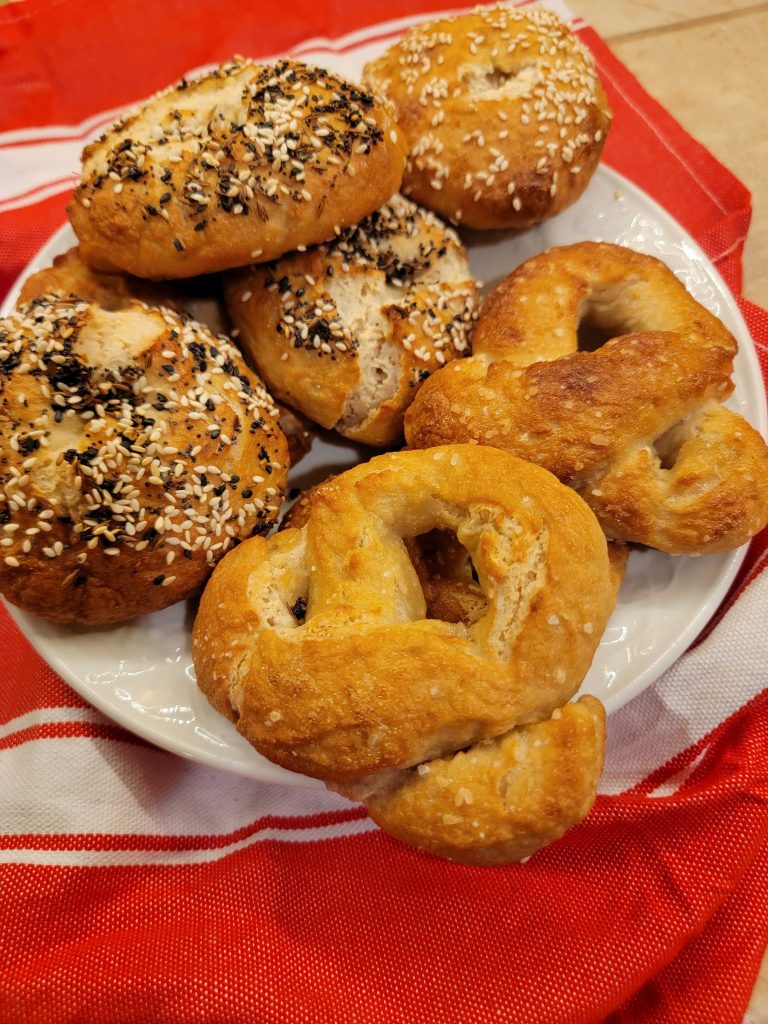 For the light cream cheese glaze
You can choose to make this a more traditional cream cheese frosting, but a little less on these seemed better in my opinion, so the other flavors can be more prominent.
A vanilla glaze with powdered sugar, milk, and vanilla would be a great option as well on the tops. It would also be a bit thinner so people could see better which roll they were choosing. The cream cheese glaze is a little thicker, but not too sweet again.
Make these cinnamon rolls dairy free
Make the rolls dairy free by following the recipe tips using dairy free butter, a dairy free and gluten free milk substitute, and a dairy free cream cheese.
I don't think you'll even miss the dairy if you choose to make them without. Please just be sure, if you need the substitutes to be gluten free as well, to check the labels thoroughly.
For best reheating any leftover cinnamon rolls
These rolls are best enjoyed warm, so I recommend heating any remaining rolls when you will eat them. Heat individual leftover rolls in a toaster oven on a tray at 375 degrees for 5-8 minutes. Or heat one on a plate in a microwave for 30-35 seconds. Add a pat of butter if desired.
If you choose to freeze the extra rolls, wrap in cellophane and freeze in freezer safe storage containers. Thaw before heating in the above method.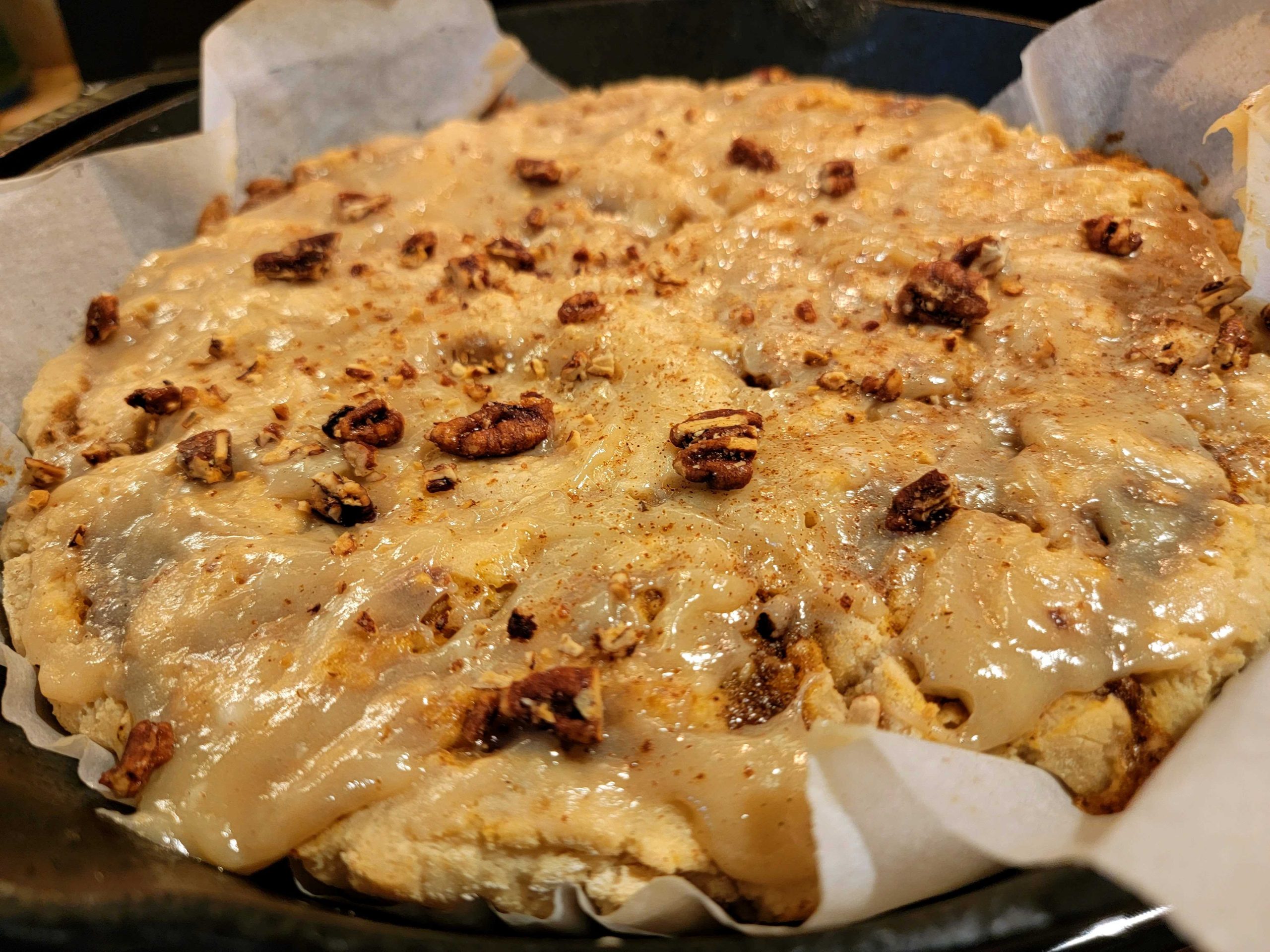 Gluten Free Sourdough Cinnamon Rolls 2 Ways – Pumpkin and Cinnamon
A quicker sourdough cinnamon roll with 2 flavors for variety: pumpkin spice and cinnamon sugar. Everyone will love getting to chose their flavor!
Equipment
1 12" cast iron or 9×13" baking dish

parchment paper
Ingredients
Sourdough Cinnamon Rolls 2 Ways
1 cup (120 gr) Bob's Red Mill 1 to 1 Gluten Free Flour

or other 1 to 1 gluten free flour with xanthan gum

1 cup (134 gr) Bob's Red Mill Potato Starch, gf

½ cup Otto's Naturals Cassava Flour, gf

1 tablespoon (11 gr) Fleishmann's Bread Machine Yeast

or other gluten free brand

½ teaspoon baking soda, gf

¼ teaspoon fine salt

1 cup gluten free sourdough starter, fed

2 tablespoons honey

½ cup plus 2 tablespoons Califia Farms Vanilla Almond milk or whole milk, warm to touch

if using whole milk add 2 tablespoons of sugar or honey

4 tablespoons butter, softened

or dairy free and gluten free butter

1 large egg

1 recipe Cinnamon Sugar Filling

1 recipe Pumpkin Spice Filling

2 ½ tablespoons butter, melted

or dairy free glute free butter for drizzling over fillings before rolling

1 recipe Light cream Cheese Glaze

1-2 tablespoons chopped pecans, gf
Cinnamon Sugar Filling
¼ cup butter, melted

or dairy free gluten free butter substitute

½ cup brown sugar

½ cup white sugar

2 teaspoons cinnamon
Pumpkin Spice Filling
½ of the Cinnamon Sugar Filling from above

¼ cup pumpkin puree

¼ teaspoon cloves

½ teaspoon ginger

⅛ teaspoon nutmeg

⅓ cup chopped pecans or chopped candied pecans, gf
Light Cream Cheese Glaze
2 ½ tablespoons butter, softened

or dairy free gluten free butter substitute

3 tablespoons cream cheese, softened

or dairy free substitute

½ cup powdered sugar

(⅓ cup for a less sweet version)

1 tablespoon brown sugar

1 teaspoon milk

or dairy free gluten free milk substitute

¼ teaspoon Nielsen Massey Vanilla or Vanilla Paste

or other gf brand
Instructions
Sourdough Cinnamon Rolls 2 Ways
In a large bowl, combine the 1 to 1 flour, potato starch, cassava flour, yeast, baking soda and salt. Add the sourdough starter, honey, warmed almond or whole milk, and softened butter. Stir until thoroughly combined. 

Add the egg and mix in completely. The dough will be somewhat soft and "shaggy" in texture, not super smooth. Cover with cellophane and let rise in a warm place for 1 hour or until the dough is about 1 ½ times the size. 

While the dough is rising make the fillings.

When the dough is approximately 1 ½ times the size, flour a board very generously with cassava flour. Scoop the dough onto the floured board. Knead the dough for 1-2 minutes adding in some of the cassava flour from the board or adding a half or a tablespoon of cassava flour. Flour a piece of parchment. Move the dough to the parchment and pat out to a 10 ½ x 9 ½ inch rectangle. 

Add the cinnamon sugar filling to half of the dough and pumpkin spice to the other half of the dough. Sprinkle the pecans over the pumpkin spice portion. Drizzle the remaining 2 ½ tablespoons of melted butter over the fillings.

Roll up on the long side, using the parchment to help roll the dough. At the end of the rolling, roll off the parchment onto the board. Cut into ¾ inch pieces and place in a buttered or oiled parchment lined skillet or baking dish. Place cut side down. Leave just a small amount of space between the rolls. 

Bake in a preheated 375 degree oven in the center of the oven, for 25-30 minutes. Make the Light Cream Cheese Glaze while the rolls are baking.

Spread with Light Cream Cheese Glaze and top with remaining chopped pecans. Sprinkle with nutmeg. Serve while warm.
Cinnamon Sugar Filling
Stir the ingredients together in a small bowl. Set aside 1/2 to use in the Pumpkin Spice Filling.
Pumpkin Spice Filling
In a small bowl, add the ingredients with the reserved half of the cinnamon sugar filling. Stir to combine well.
Light Cream Cheese Glaze
Stir together in a small bowl, the butter, cream cheese, sugars, milk and vanilla together. Add 1/2 teaspoon milk for desired thickness.