Summer is almost upon us and that means more outdoor grilling! Yay! I love to make most or all of our dinner on the grill on hot summer nights.
We can bring some plates outside and serve up dinner right off the grill. No fuss dinners! Who doesn't love them at least some of the time?!
Not only are these kebabs easy, the marinated chicken is particularly delicious and flavorful, and it it will also transport you to the Mediterranean! The union of lemon, dill, oregano, turmeric, and saffron will satisfy your taste buds.
Kebabs or Kabobs??
These Mediterranean Chicken Kebabs (or kabobs as some call them) are flavorful and simple to prepare. Just cut the chicken breasts or thighs into same size and bite sized pieces. Make the marinade and pour over. Then refrigerate for 2-4 hours.
After refrigerating, remove the chicken about 45 minutes before you want to grill the kebabs. Thread the marinated chicken pieces on metal skewers or wood soaked bamboo or wood skewers.
If you are using breast meat and thigh meat, it's best to marinate them separately in smaller bowls with the marinade divided between the bowls. Then thread the breast meat on skewers separate from the thigh meat as they will finish cooking at different times.
Vegetables on the skewers with the chicken or grill them separately?
Add some vegetables to the skewers, if you like. However, I prefer to cook the vegetables separately (on skewers if you like) since the cooking time will vary between the chicken and the vegetables.
For vegetables to grill, I love mushrooms, asparagus, and zucchini. Sliced red bell pepper or red onion is nice too, but definitely put these on the grill prior to other vegetables which don't take as long to cook.
Zucchini cut into quarters lengthwise takes about 5-6 minutes to grill, and asparagus only 3-4 minutes.
A healthy marinade with an anti-inflammatory
The seasoning for these is simple and light, plenty of flavor and beautiful color from the turmeric, which as an added bonus is very good for you. Turmeric is an anti-inflammatory as well as many other health benefit properties like promoting better memory, it's thought to have antioxidant power, as well as possibly fighting viral infections.
What to serve these kebabs with?
Serve these kebabs with some grilled vegetables and saffron or plain steamed basmati rice for an excellent choice of side dishes.
Another great side dish would be a rice pilaf like this Moroccan Brown Rice Pilaf with Dried Fruit (Gluten Free.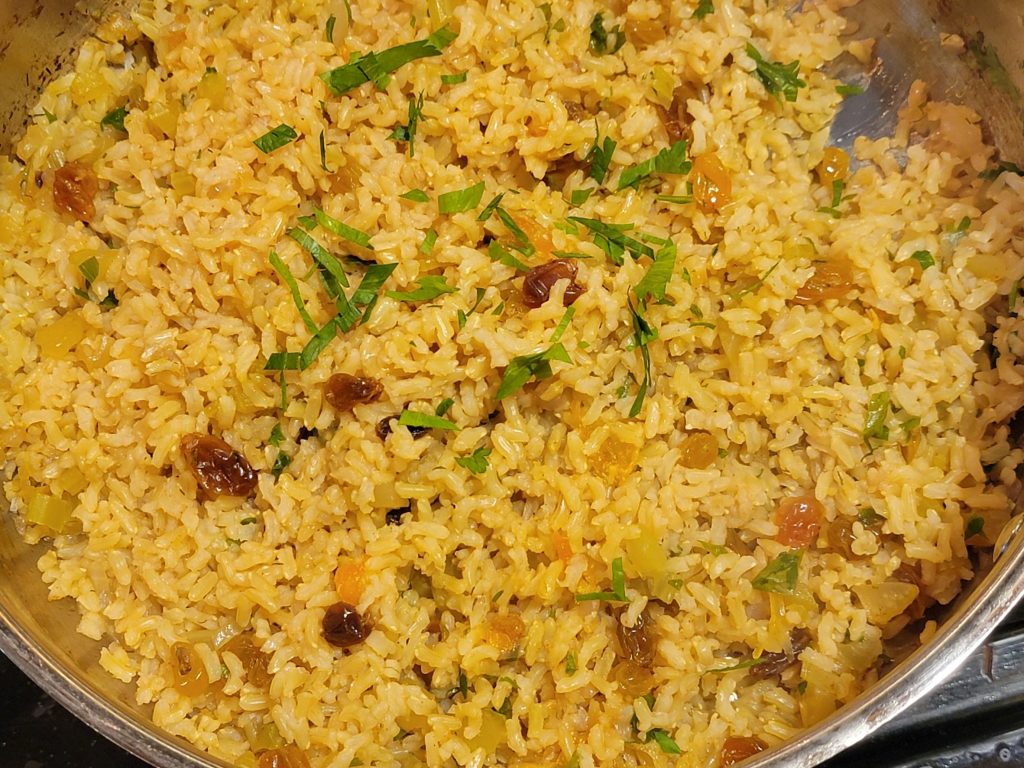 Purchase some naan bread or flatbreads or maybe make a gluten free version.
These kebabs served with our Gluten Free Sourdough Flatbreads will make for an authentic gluten free Mediterranean meal! The flatbreads are relatively easy to make but you do need to plan ahead a little. You can also make them in advance an heat on a griddle or in a skillet for enjoying later.
Not to worry if you don't have gluten free sourdough starter on hand, because you can substitute plain Greek or plain yogurt for the sourdough starter.
As well, if you need the flatbreads to be dairy free, and don't have gluten free sourdough, simply replace the yogurt with a few more tablespoons of almond milk.
These flatbreads are the perfect gluten free substitute for gluten filled naan bread!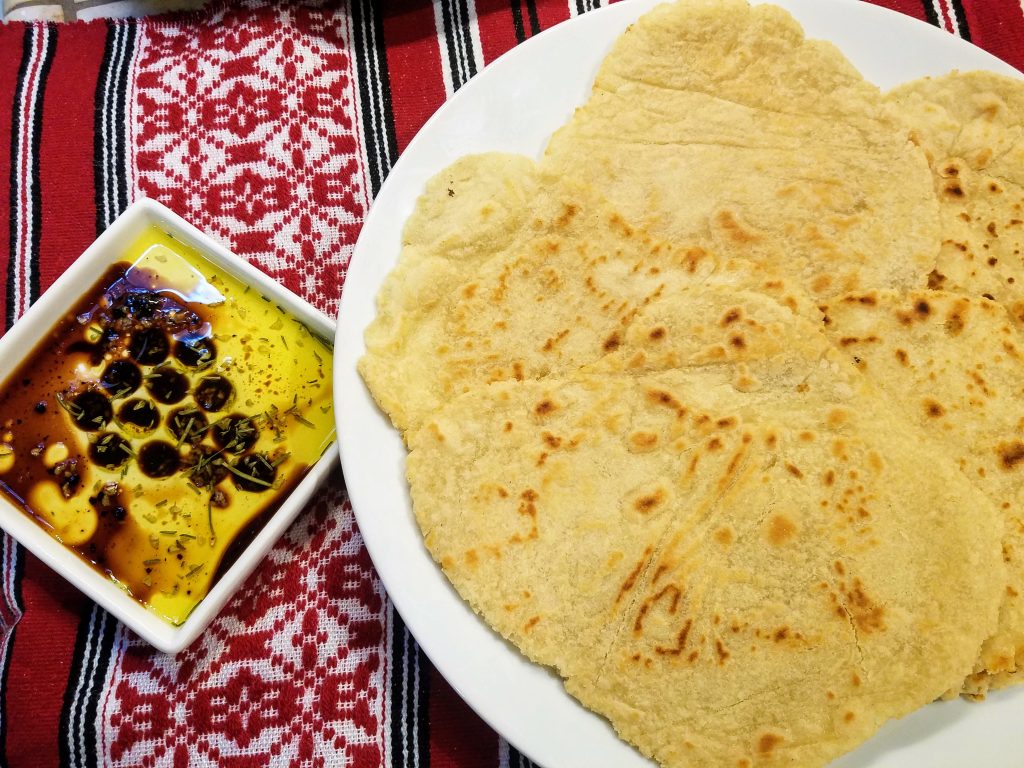 Laili Restaurant in Santa Cruz, California
There's a restaurant I love in Santa Cruz, Laili Restaurant, to which I regularly bring my own gluten free flatbreads to enjoy with my dinner. The great part about Laili is that all of their entrees are gluten free! It seriously the closest thing to heaven for me! However, they do serve glutinous naan bread that I have to stay away from.
If you get the chance, try Laili for dinner. They have a beautiful outside garden area or their main dining area inside. The service is great and the food fantastic!
The sauces to serve these with
I love the Apricot Dipping Sauce (recipe below)! It's sweetness works well with the other flavors of the chicken, to me.
The Cilantro and Jalapeño Dipping Sauce is also very delicious. You can make it as spicy or as mild as you like.
You might also just serve the chicken with a lemony yogurt sauce. Each of the sauces can also be used to dip the naan or flatbreads in.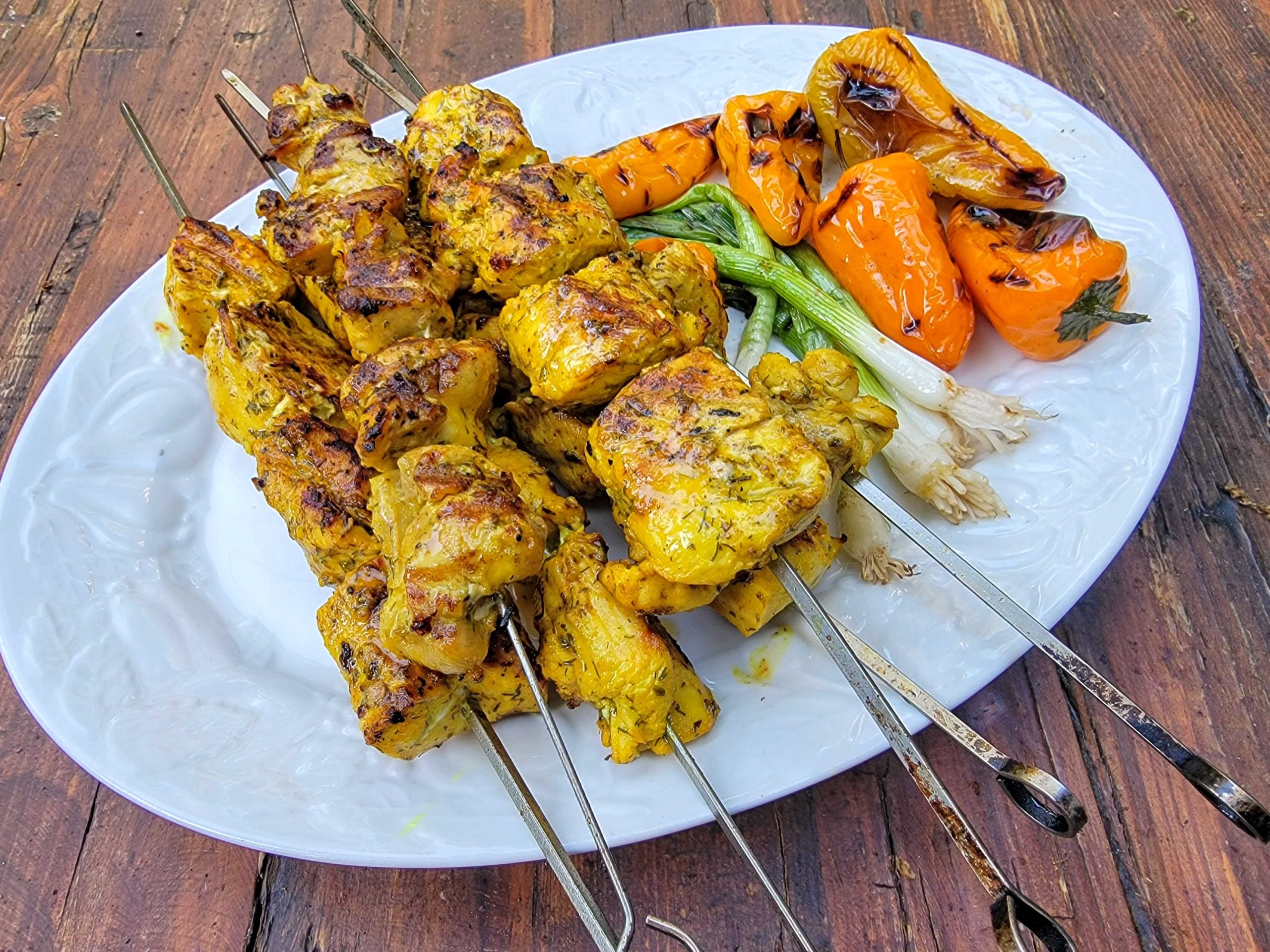 Mediterranean Chicken Kebabs (Gluten Free Kabobs)
Flavorful easy grilled chicken kebabs are a great spring or summer dinner! These delicious skewers of chicken are both gluten free and dairy free.
Equipment
metal or bamboo skewers

for grilling
Ingredients
3 large boneless and skinless chicken breasts or 4 large boneless and skinless chicken thighs**

cut into same size bite sized pieces (1 1/2 inch cubes

⅛

cup

plus 1 tbsp olive oil

extra virgin

3

cloves garlic, minced or pressed

½

small

lemon, juiced

about 2 tbsp

½

teaspoon

lemon zest

1

tbsp

white wine vinegar

or rice vinegar, gf

¾

teaspoon

teaspoon ground turmeric

gf

½

teaspoon

dried oregano

gf

¾

teaspoon

dried dill

gf

20-30

threads

saffron

gf

¾

teaspoon

Kosher salt or ½ teaspoon fine salt
Apricot Dipping Sauce
3/4

cup

apricot preserves

3

tbsp

orange juice

1

large

clove garlic, minced

1

tbsp

Grand Marnier or Cointreau

optional
Cilantro and Jalapeño Dipping Sauce
1-2

large

jalapenos, seeded, membrane removed and diced

2

cups

cilantro leaves

3

cloves

garlic, crushed

2

tbsp

yogurt

3

tbsp

olive oil

2

tbsp

lemon juice

salt to taste
Instructions
Cut into large bite sized pieces. Pour marinade over. Cover and refrigerate for 2-4 hours.

About 45 minutes before grilling, remove the chicken from the refrigerator. Thread the chicken pieces on metal skewers (or soak wood or bamboo skewers for 30 minutes prior to threading chicken on). Leave a small amount of space between the pieces.

Grill over high heat 5-6 minutes. Turn over and grill another 4 ½-5 minutes, continuing to turn until all sides are golden brown. Serve with dipping sauce. 
Apricot Dipping Sauce
Simmer over low heat in a small saucepan for 5-10 minutes, stirring often. Serve chilled or warm.
Cilantro and Jalapeño Dipping Sauce
Using a Vitamix or a blender, combine the ingredients and blend until smooth. Spoon into a small bowl and chill before serving.
Notes
The cooking times are just estimates as the time will be determined by the size of the chicken pieces and the temperature of your grill.
I open the lid sometimes if there are any flames due to the oil in this marinade. You can keep it closed for most of the cooking.
I also would recommend using an instant meat thermometer, so you don't overcook or undercook these. The chicken should reach 165 degrees for safe temperature, but chicken thigh meat should be cooked to 175 -185 for more tender meat. 
**Chicken thigh pieces will take longer to cook and should be threaded on skewers together so the grilling is easier.