Sometimes a flatbread is all you need for a simple and delightful dinner. Or sometimes you might enjoy this as an appetizer to share with others and as a precursor to a larger dinner.
Enjoy this with a glass of wine and some apple or pear slices, a charcuterie board loaded with cheeses and meats, nuts and other goodies.
We love pizza here and although this flatbread uses a gluten free pizza dough, it is completely different than a pizza! Try this with your own favorite gluten free dough recipe or my Laura's Favorite Gluten Free Pizza Dough recipe or my Gluten Free Sourdough Pizza Dough recipe.
Usually I say to roll or flatten each dough ball to a 9 1/2 or 10″ round, but this flatbread you could roll to a 12″ if you like for a thinner crust.
Often I make a full recipe of Gluten Free Pizza Dough, use one for our pizza night and save the other wrapped in cellophane in the refrigerator and remove an hour before I want to put a flatbread together.
You can get creative with toppings, using any you like. We had roasted chicken the night before which was perfect on this. You could also use a rotisserie chicken. I usually drizzle olive oil on the rolled crust before I add the rest of the toppings.
I hope you like it!
~Laura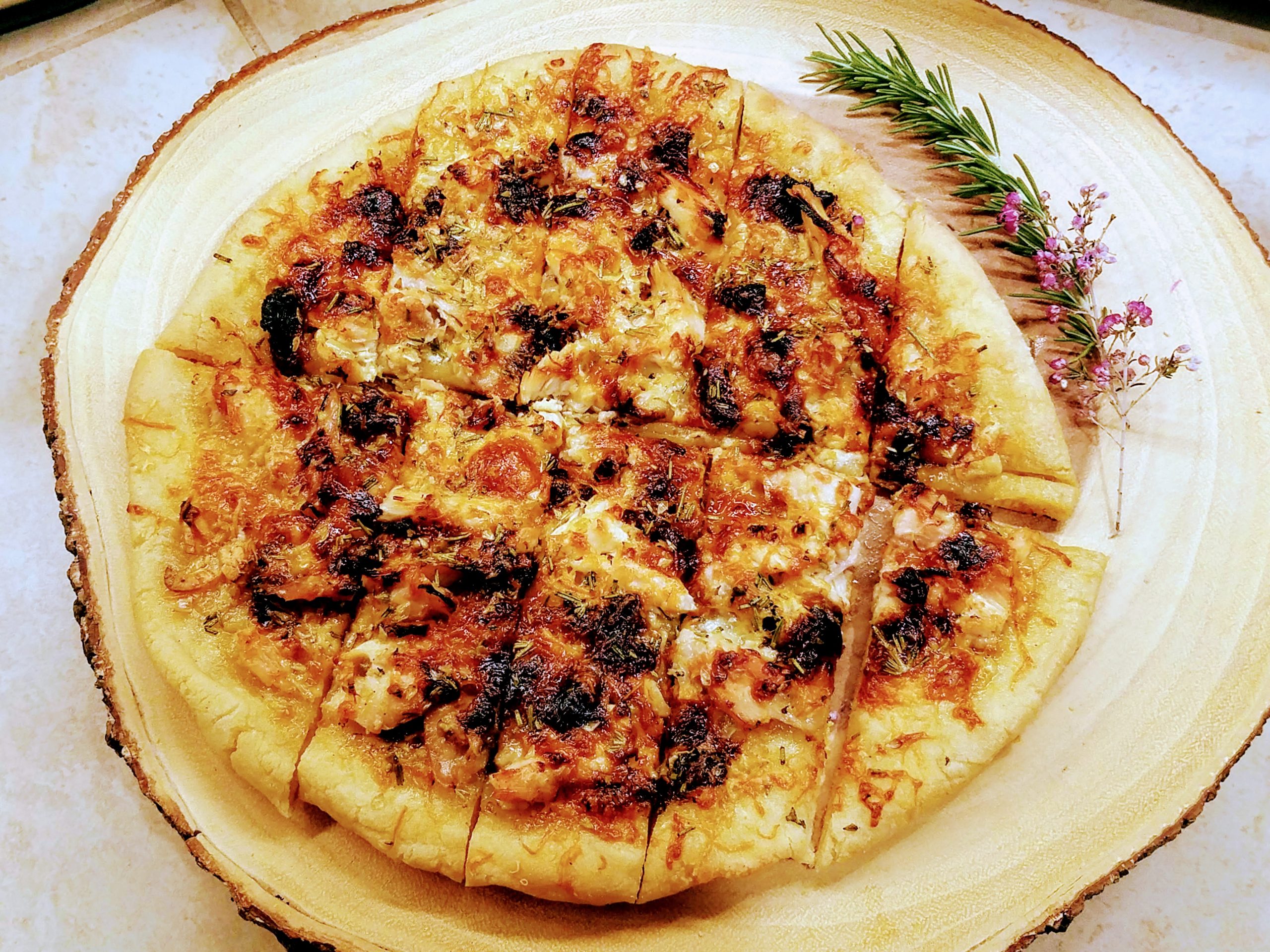 Gluten Free Flatbread with Dubliner Cheese, Roasted Chicken and Sun Dried Tomatoes
Serves 2 as a dinner compliment or 3-4 as an appetizer
Ingredients
1 dough ball from Laura's Favorite Gluten Free Pizza Dough Recipe or Gluten Free Sourdough Pizza Dough Recipe

2 tablespoons

olive oil

1/2 – 3/4 cup

cooked chicken

cut into pieces or sliced (leftover roasted chicken works well)

1/4 cup

sun-dried tomatoes

packed in oil, drained and cut into small pieces

1/2 cup

grated Dubliner cheese

1/2 cup

grated Mozzarella cheese

1/4 cup

grated Pecorino cheese

4 large

garlic cloves

sliced fine

2-3 short sprigs

fresh rosemary

stems removed and minced or 3/4 teaspoon of dried rosemary, gf

3/4 teaspoon

dried oregano

gf

1 1/2 tablespoon

honey

drizzled on top

gluten free cornmeal

for sprinkling on baking stone
Instructions
To Prepare:
Remove one dough ball 45 minutes to one hour before you want to put the flatbread together.

On a well floured board, roll or flatten using your fingers to push the dough out to a 10 – 12" round (or make this oval….there are no rules). Poke a few holes in the dough with a fork.

Preheat the oven to 450 degrees. (You can also preheat a pizza or baking stone, but these will cook fine without that step).

Prepare a stone or baking tray, by greasing with a little olive oil, and sprinkle gluten free cornmeal on the center (roughly as large as the flatbread is).  

Slide the dough round onto the baking sheet before topping. Add a drizzle of olive oil on the crust. Mix the cheeses together in a bowl. Add half of the total cheese across the crust evenly. Add the sun-dried tomatoes, chicken, and garlic, spreading evenly. Add the remainder of the cheese to the top. Sprinkle with the herbs and drizzle with another tablespoon of olive oil. Drizzle the honey over the top. 

Bake in the center of the oven for about 10-15 minutes, until the crust is starting to brown on the outside edge. The cheese will also be starting to brown, and the bottom crust will golden brown.

Remove to a cutting board and cut in half and slice in strips or cut as you would a pizza in 8 slices.
Notes
We are in love with pizzas and flatbreads here! This one is without red sauce, but has lots of flavor non the less. You can use leftover chicken or cook a chicken breast or thighs for this. The chicken doesn't need to have a lot of flavor, but it certainly can. We like to make Corinne's Favorite Roasted Chicken and Crispy Potatoes the night before and use the leftovers for this flatbread. For sun-dried tomatoes, I usually use Trader Joe's Julienned Sliced Sun Dried Tomatoes in Olive Oil.