Everything's coming up pumpkin pie and cheesecake! These 'lil minis are a perfect fall dessert, full of spice flavor but also traditional cheesecake flavor. The simple gluten free graham cracker and pecan crust pairs perfect with the pumpkin pie spice flavor. Try fooling your gluten eating guests on this dessert! They will never guess it's made gluten free!
How to remove them and serve them
After cooling completely on the counter on a wire rack, prepare these for serving. To easily remove the cheesecake when the guest is eating, simply run a knife gently around the edge of the ramekin to loosen the mini cheesecakes before serving. This will make it easier for this dessert to be enjoyed.
If you baked in the 6 hole cupcake pans, run a knife around the edge of the cheesecakes. Then gently use the knife to loosen the crust, going under it a little. Remove and place gently in a ramekin. Sprinkle chopped pecans around the edge covering any space between the ramekin and the cheesecake.
Decorate with piped sweetened whipped cream or a sprinkle of pumpkin pie spice or nutmeg. Chill these covered in the refrigerator with cellophane or in an airtight container for 3-4 hours before serving.
Easy to have these ready to pull out after dinner
Then, when it's time to serve, just pull out of the refrigerator and set out on a dessert table or bar. You can also set them out on small dessert plates if you like. Lightly sweetened whipped cream dolloped on the edge of a plate is always perfect too if you don't want to pipe whipped cream.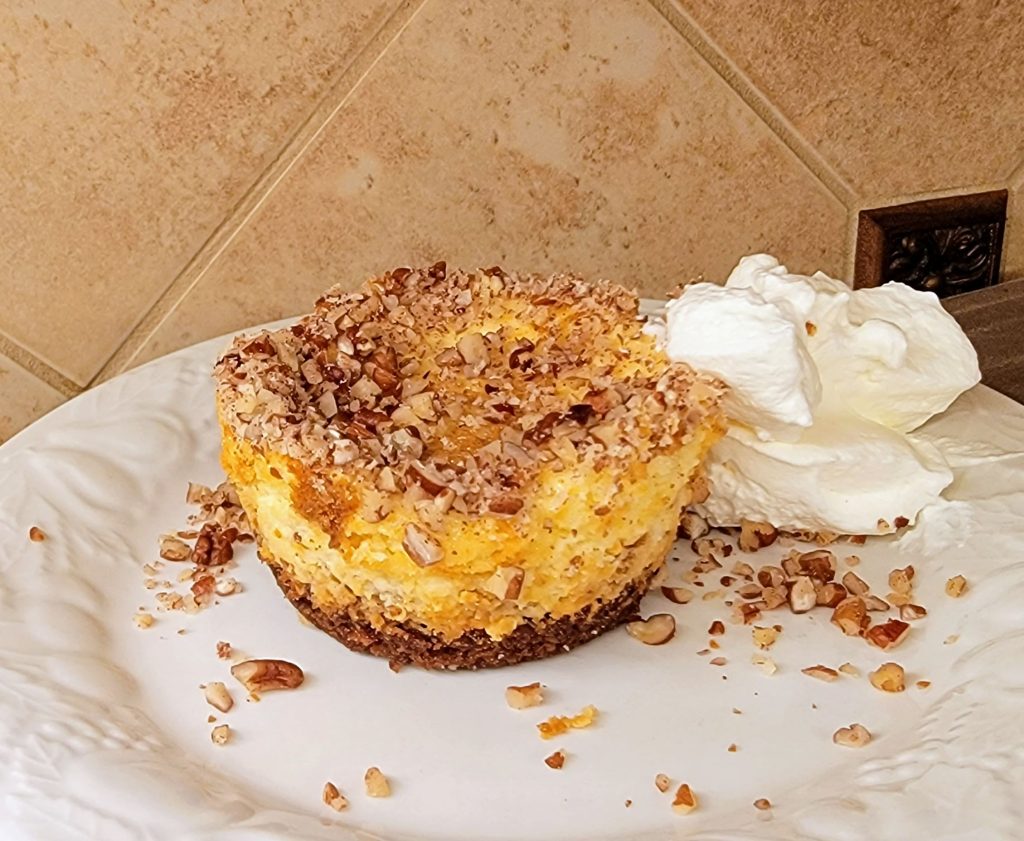 Make these for a fall party, holiday, or any day
I love making mini desserts! They make it easy for grab and go desserts at a party. The items can be free of cross contamination easier, since knives won't be moving between glutinous desserts and gluten free desserts.
Other tips for a dessert bar when you have a larger crowd or gathering:
Use cake stands of different heights to display desserts on a dessert bar.
Label gluten free, dairy free, vegan items, and those that contain nuts.
Set the allergen free desserts on a separate table or if that's not convenient, maybe on a pedestal higher than the gluten filled items, so crumb won't be accidentally dropped over causing contamination.
Don't forget that even ice cream scoops or whipped cream spoons can cause cross contamination for the celiac or gluten intolerant or nut allergy guest. Consider letting the guests with allergies go first through the dessert line.
Alternately, you could set out separate ice cream or whipped cream with separate clean scoops.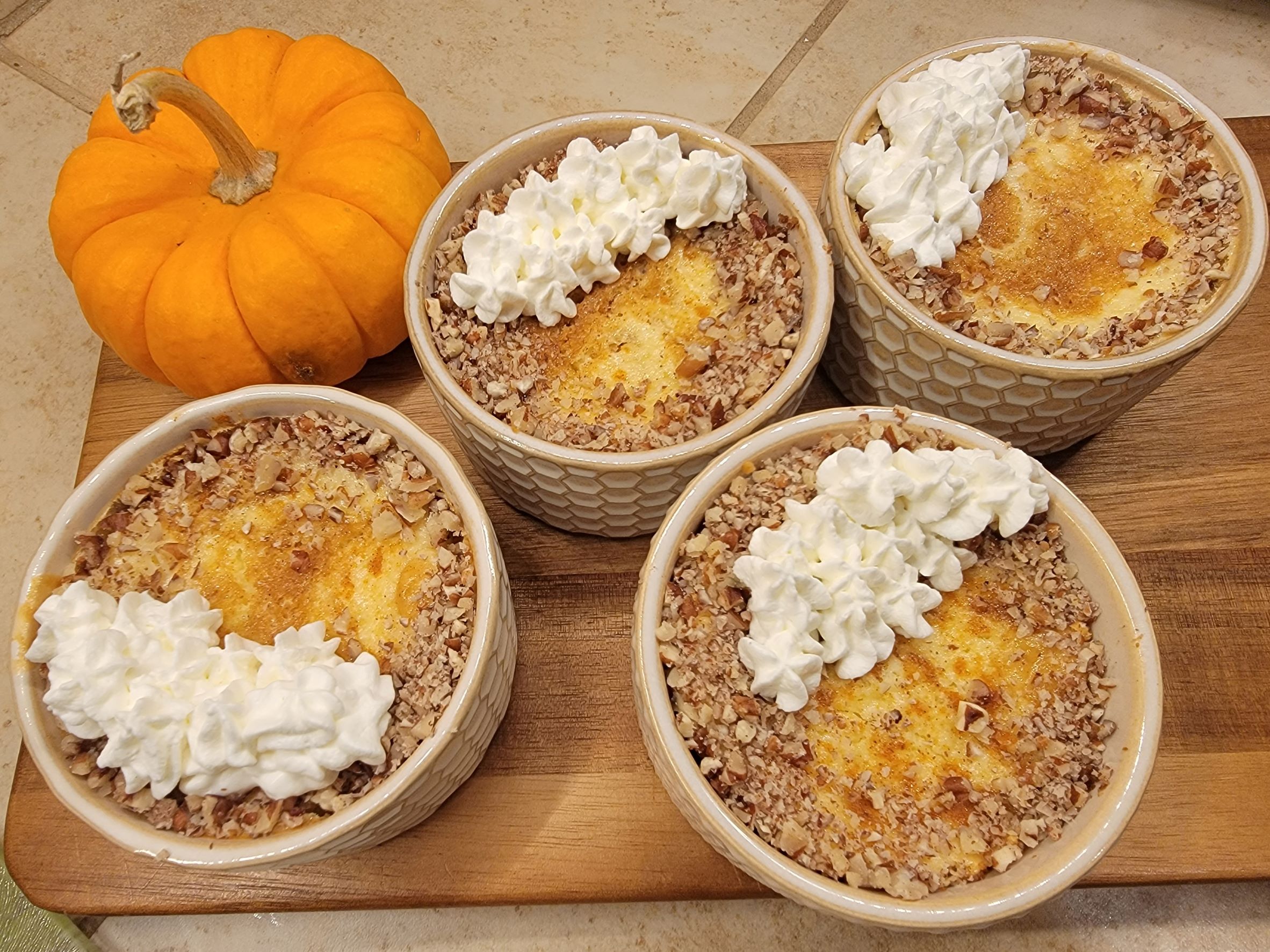 Pumpkin Pie Cheesecakes made Gluten Free
This recipe combines our favorite cheesecake and pumpkin pie flavors! Yum! The Gluten Free Graham and Pecan Crust is delicious here.
Equipment
2 6 cup large cupcake pans

or 8 – 4 or 5 oz. ramekins
Ingredients
Gluten Free Graham Cracker and Pecan Crust
½ cup pecans, unsalted

½ cup crushed Pamela's or Schar Gluten Free Graham Crackers

2 tablespoons butter, melted

⅛ cup sugar
Cheesecake Batter
2 eggs

1 egg yolk

½ cup of sugar

½ cup of sour cream, plain yogurt or plain Greek yogurt

2 ¼ teaspoons Bob's Red Mill 1 to 1 Gluten Free Flour

or other gf flour

1 teaspoon vanilla, gf

12 oz. (1 ½ packs) cream cheese
1 cup of cheesecake batter

½ cup pumpkin puree

⅓ cup plus 2 tablespoons brown sugar

packed

2 teaspoons pumpkin pie spice

gf

2 tbsp Bob's Red Mill 1 to 1 Gluten Free Flour

or other gluten free flour
Instructions
Gluten Free Graham Cracker and Pecan Crust
Preheat the oven to 325° F.

Spray two 6-cup cupcake pan lightly with oil. You can alternately spray 8 ramekins. 

In a Vitamix or food processor, grind the graham crackers. Remove to a bowl.

Grind the pecans until they are finely ground.

Combine the ground graham crackers, ground pecans, melted butter, and sugar. Divide the crumbs between the 6 cup pans or 8 ramekins. Press with a spoon. Bake in a 325 degree oven for 8-10 minutes until just beginning to lightly golden.
Cheesecake Batter
Stir the vanilla into the sour cream or yogurt. Stir a small amount of the gluten free flour until it's all added and the mixture is smooth,

Using a stand mixer, whip the eggs and egg yolk together on high speed for 2 minutes. Add the sugar gradually and whip for another minute. Move to another bowl.

Switch to the paddle attachment. Break the cream cheese into pieces and beat in gradually. Beat until smooth. Add the sour cream mixture. Then beat in the whipped egg mixture.

Make the Pumpkin Pie Batter.

Fill the cups or ramekins ⅔'rds full with plain cheesecake batter.

Add the Pumpkin Pie batter with a small measure, dividing between the cups and swirling in a little with the plain batter. The Pumpkin Pie batter will sink and be next to the crust mostly with a few swirls in the plain cheesecake batter. 

Bake for 50 minutes at 300 degrees on a cookie sheet in the center of the oven. Turn the oven off after 50 minutes and leave the cheesecakes in the oven for 15 minutes before removing to a wire rack to finish cooling.

After they have cooled, cover and move to the refrigerator to chill. Chill for 3-4 hours. Add chopped pecans or whipping cream piped or dollops. 
Pumpkin Pie Batter
In a medium bowl, add the 1 cup of cheesecake batter, pumpkin puree, brown sugar, pumpkin pie spice, and gluten free flour. Stir together until completely combined. 
Notes
Have fun decorating these Pumpkin Pie Cheesecakes. Add a little caramel and some piped whipped cream to the tops. I always leave one or two plain or add chocolate ganache inside or on top for a fun variation.