Gluten Free Eating While Away From Home and Other Fun Travel Points
My husband and I love to travel. To Europe, to Mexico, to Eastern Europe. We love to explore and we love to eat! Sometimes, though, as a person who is severely sensitive to eating even a crumb of gluten, it can be a challenge. In some countries, or even in some areas in the states, they know little of gluten intolerance or Celiac disease. There may also be a language barrier. When we are in a foreign country, we never want to be rude, or demanding, but ask politely to see if we can be accommodated, but sometimes, they just aren't aware of what things contain gluten. This combination can make eating while traveling (especially out of the country) very challenging. There are many people who don't understand this sensitivity. They believe that it's really not that bad, that we might be sick for a few hours if we eat something that contains gluten. I can tell you from my own experience, it literally takes 2 or 3 weeks to get gluten out of my system, after I accidentally ingested it. It's weeks of feeling sick, not sleeping, severe stomach pain, heartburn (GERD), joint pain, and intestinal problems. This is a horrible combination for any travel, whether it's a few hours from home, or across the world while you are trying to enjoy an adventure, exploring. When people who don't have this sensitivity, make comments that I should "just eat the bread in Europe" because the grains are not the same, whether they are not processed in the same manner or are non-GMO, it just about makes me crazy! Honestly, consider this request. Sure, I could try it, but I may have to be sick in bed in my hotel for my entire trip. No thanks.
Thankfully there have been many places where I've enjoyed incredible food! When we are in Mexico, we have found many places where the staff knows if the food contains gluten. There are so many wonderful foods there that are naturally made without gluten in Mexico….fried cheese, pure corn tortillas and chips, delicious al pastor pork and carnitas, salsas and guacamole, and grilled fish tacos.
And recently while in Scotland, we found so many gluten free choices that were all delicious, even at the hotel restaurant, where we were staying.The staff at most of the restaurants we visited were also educated on allergies, gluten intolerance and Celiac disease. We found amazing soups from the traditional Scottish Cock-a-Leekie Soup (a Scottish version of chicken soup), to Cullen Skink, a yummy smoked haddock fish chowder, to delicious pulled pork at Oink Hog Roast and gluten free fish and chips at Bertie's, both in Edinburgh. I didn't get sick once in Scotland, which is amazing! And you can listen to bagpipe music as you stroll the streets!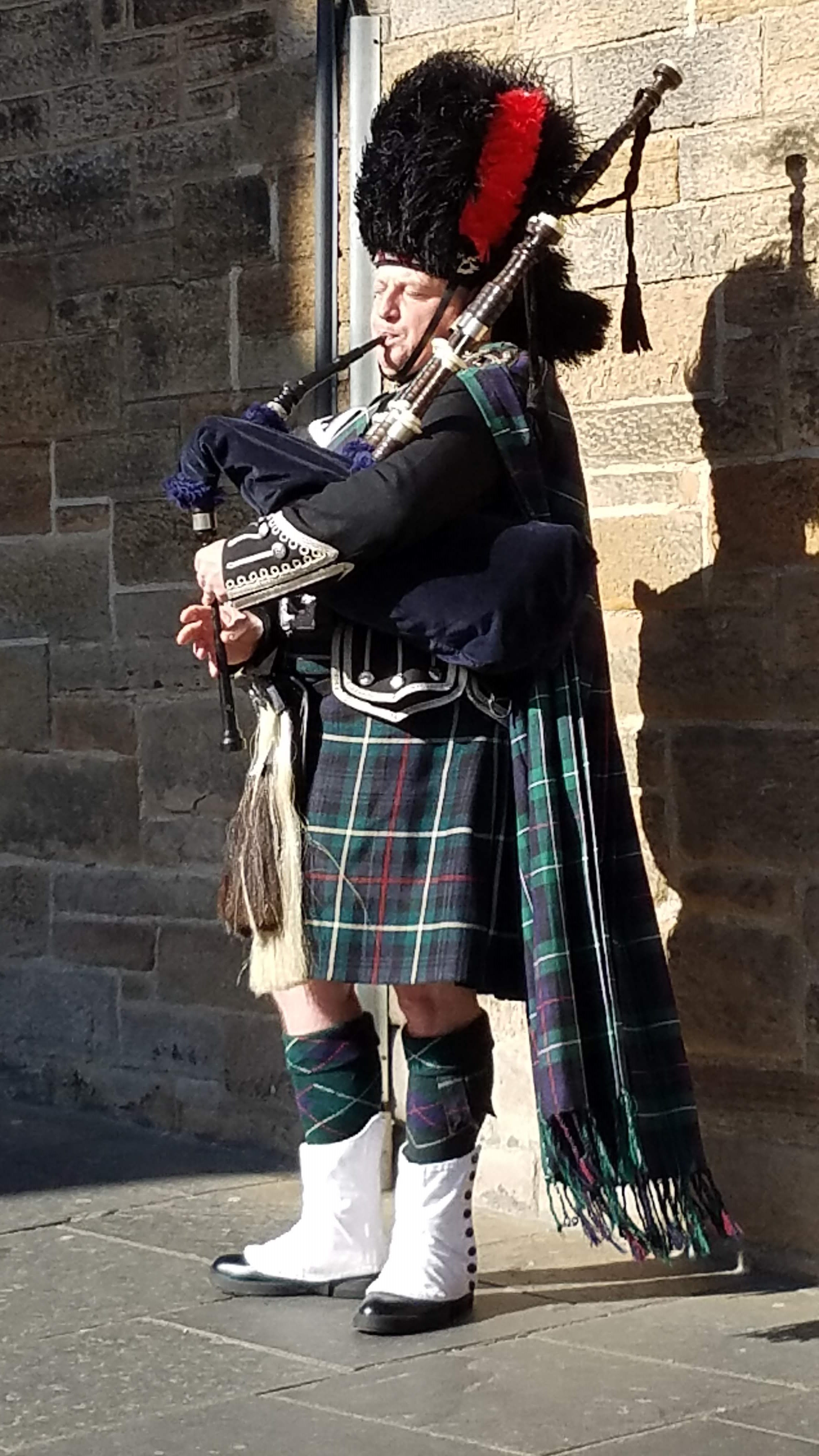 Bagpiper on the streets of Edinburgh, Scotland
The people are so wonderful, welcoming and kind, and we had the best time ever. Edinburgh is beautiful and with so much history all around you. Walking the Royal Mile, the area connecting Edinburgh Castle to the Palace of Holyroodhouse, is a lovely walk, either through the Old Town or through the garden walk. Narrow staircases connect the cobbled streets of many different elevations. Cute shops and eateries in colorful buildings, line the streets. Be sure to visit the Edinburgh Castle. The castle is built high on the rock called Castle Rock, and the oldest part of the castle dates back to the 12th Century.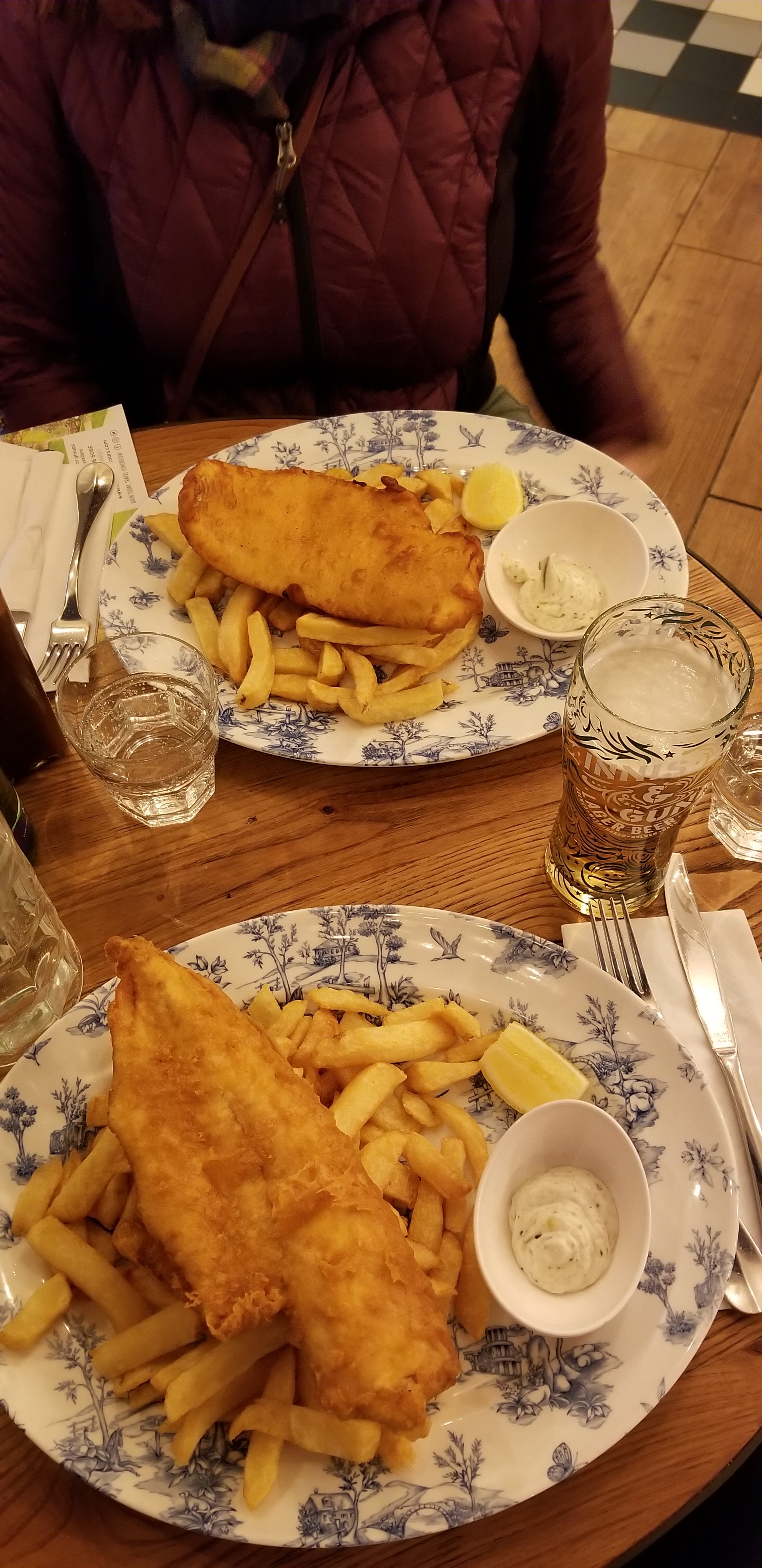 Gluten Free Fish and Chips (mine is the far one) at Bertie's in Edinburgh
After staying a few days, we made our way by car to see Stirling Castle in Stirling. The castles of Scotland have amazing history and have incredible displays and artifacts. From there we traveled to St. Andrews, to visit friends for a few days. Again we had plenty of good food, from pub food to a wonderful farm to table cafe, where I enjoyed gluten free Cullen Skink Chowder and gluten free bread made on site. The town is a full of pubs and coffee houses, relatively quiet in September, when we visited. We saw the University of St. Andrews, the world's first golf course (although we didn't play even put put, as it had just closed for the day), St. Andrews Cathedral ruins, and walked along the ocean. The town is small and quaint, and easy to walk.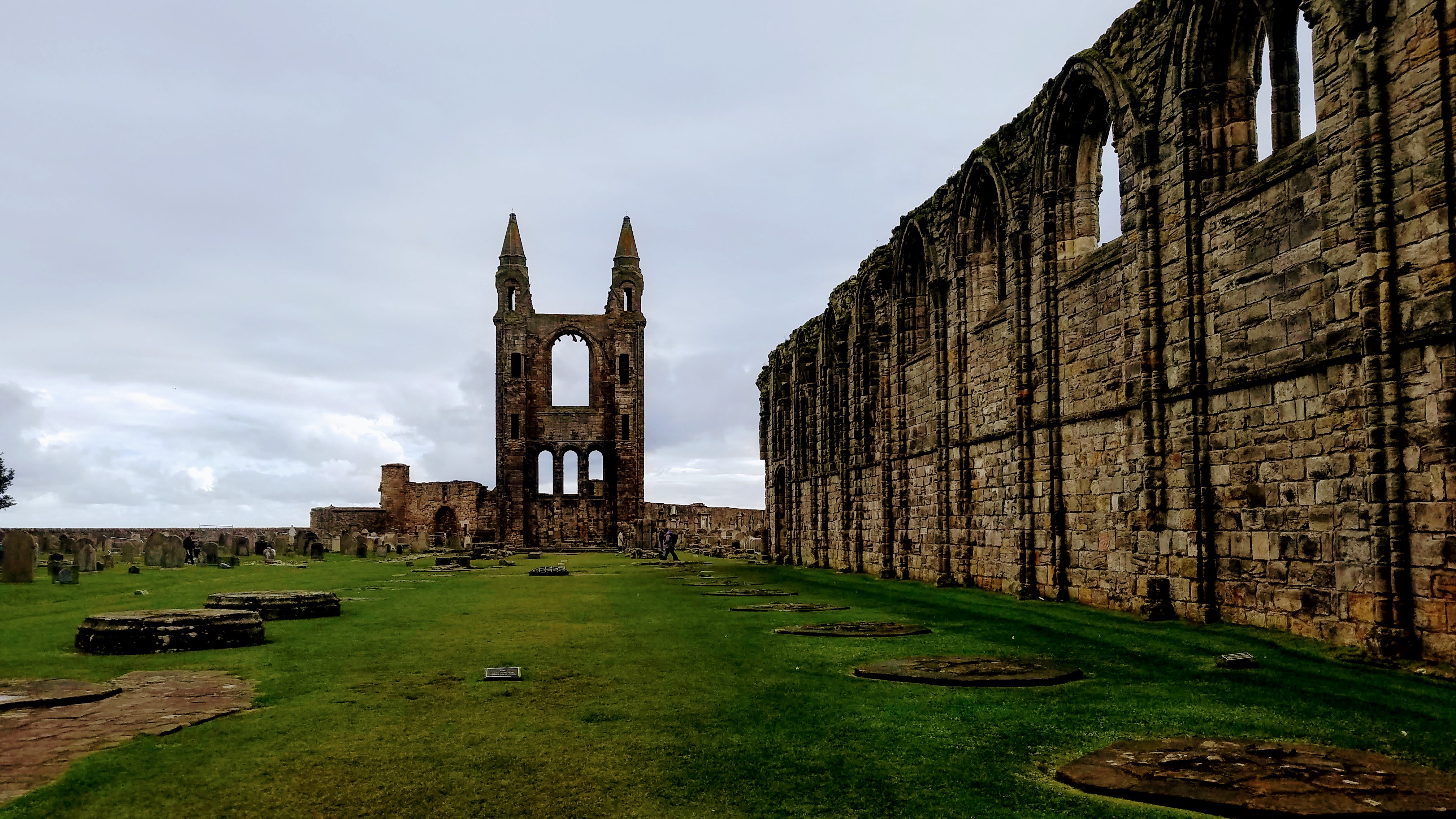 St. Andrews Cathedral Ruins
We traveled a bit north west from there, and stayed outside of Inverness in the Highlands of Scotland, at a nice bed and breakfast or traditional Scottish guesthouse, Glenan Lodge, where Kay, our hostess treated us like family. She served a scrumptious spread of foods, from eggs with smoked salmon, to wonderful cereals, fruits and pastries (those I couldn't eat, but there was plenty of gluten free options I could have). She also was so sweet to offer to make dinner as well if we were not wanting to go to town (15 miles away). She made a delicious salmon dinner for us one night. Kay had a fun Scottish accent that made us smile, especially when she would say "Aye" and "Ta-ta". Plus, staying in bed-n-breakfasts, you meet so many interesting people from all over. She had a group of ladies from Australia visiting and we enjoyed hearing their stories. If you ever make your way to Inverness, make sure to see the museum of the Battle of Culloden. This was the final battle in 1746, of the British defeating the Jacobites, after the uprising of the clans began in 1745. The clans, although not all clans participated, were attempting to put a ruler from the Stuart line, Bonny Prince Charlie, back on the throne. But they were beaten horribly and that was the end of the Scottish clans. The museum is heart wrenching because of what took place in history, but the displays and movies of the battle in 3D around you are so moving. My dad is Scottish and I wanted to see this place where the clans met their end.
Eating gluten free safely in France was for me a bit more challenging. My husband and I don't speak French, but I had learned a few phrases around needing to eat gluten free. In a country where there are baguettes flying around and being served everywhere, it's no wonder I had so many days where I felt sick. My husband, Paul was so happy to grab a "demi" baguette at every boulangerie (bakery)! Our hostess Valerie, at our bed and breakfast in Bayeux, Logis de St.-Jean, was very kind and accommodating when I told her of my gluten allergy. She went out of her way and purchased gluten free bread and treats for me for each of our mornings there. Combined with the freshly made yogurt and fruit, I had an amazing breakfast! She was a wonderful hostess and her bed and breakfast is very comfortable if you are ever in Bayeux. She helped us plan our day trips to the memorials and beaches of WWII. There are also beautiful museums of history in Bayeux, The Bayeux Tapestry Museum and The Museum of Art and History (MAHB). The Cathedral, Notre Dame de Bayeux, was a lovely experience to visit, we even attended a Sunday Mass there. The sites were all amazing.
Eating dinner out was a bit more challenging in Bayeux. We did find a great crepe place that had gluten free crepes and I found lots of fish, which was perfect. However, several times over the week in France, I was very sick from eating various things that I was told were gluten free but did contain either some gluten or some cross contamination. At one wine bar,  we ordered a platter of cheeses but mentioned my gluten sensitivity and asked the bread could be on a separate plate, and we upset the owner of the wine bar, "you come to France and you can't eat the bread!" And off he went. I think it did come on a separate plate, though. And, I could eat the cheese which was delicious!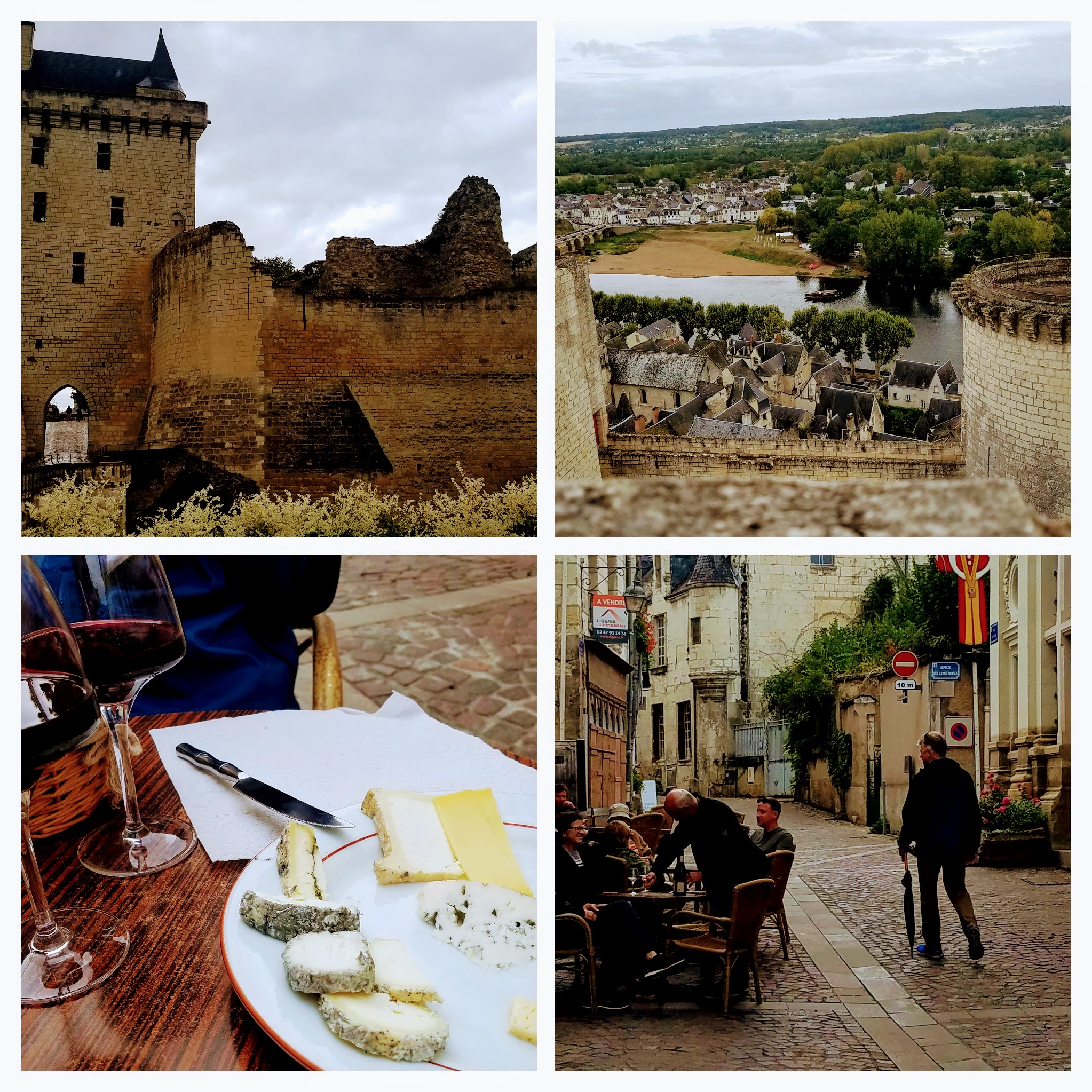 The town of Chinon and the Chinon Royal Fortress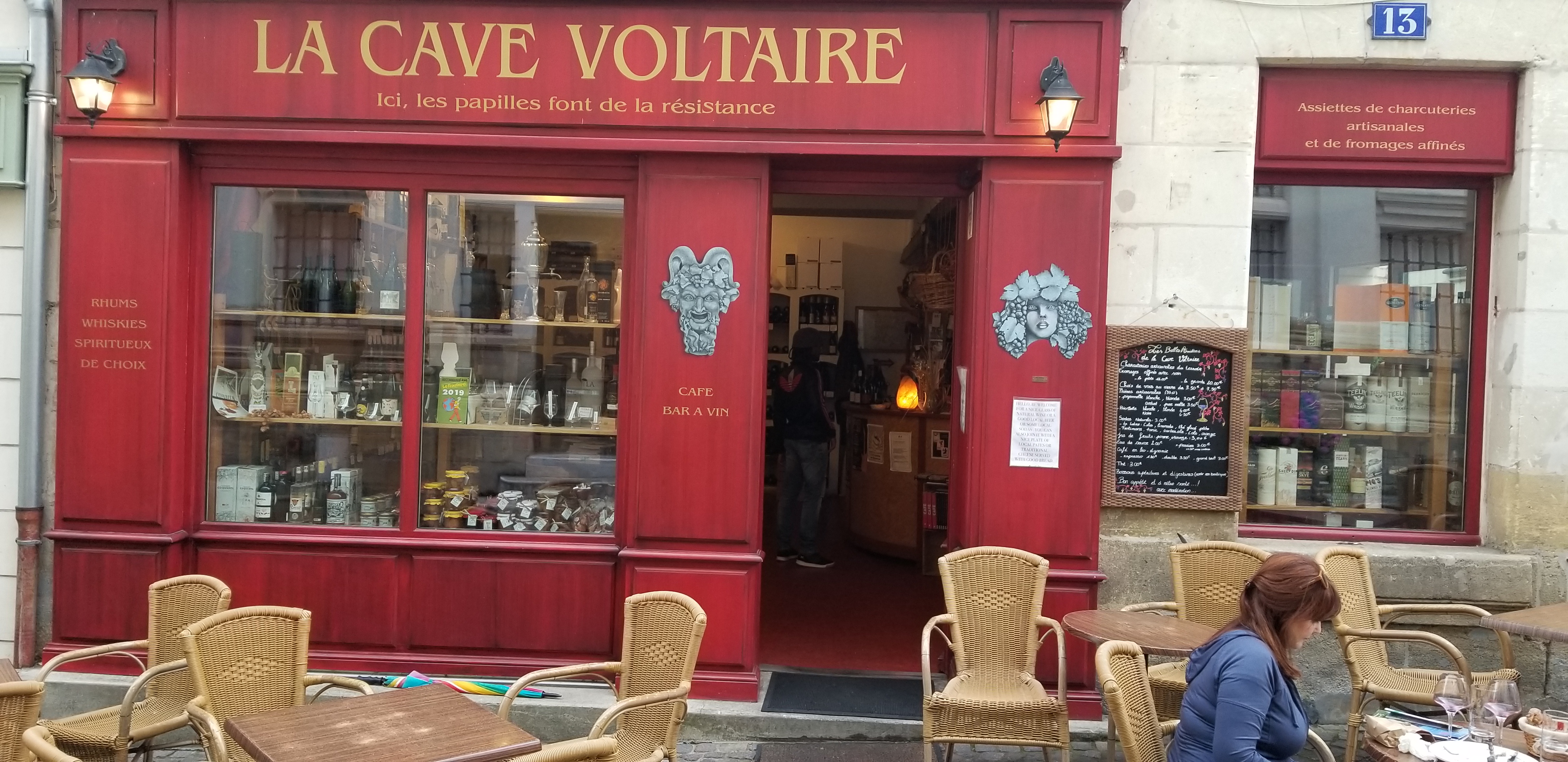 La Cave Voltaire ~ Chinon Wine Bar
Be sure to visit some wineries if you are heading to Chinon or the the Loire Valley. We went to one winery where our host, Jean Paul, served us. The winery grounds were in a restored chateau, and beautifully landscaped. They also host retreats and conferences there I believe. There are many beautiful chateau in the Loire Valley. We visited Villandry Chateau and a few others in the area. Staying at bed and breakfast Inns in France, we met some wonderful people from England and Netherlands. It was fun to compare sites and itineraries with our newly made friends and the hostess.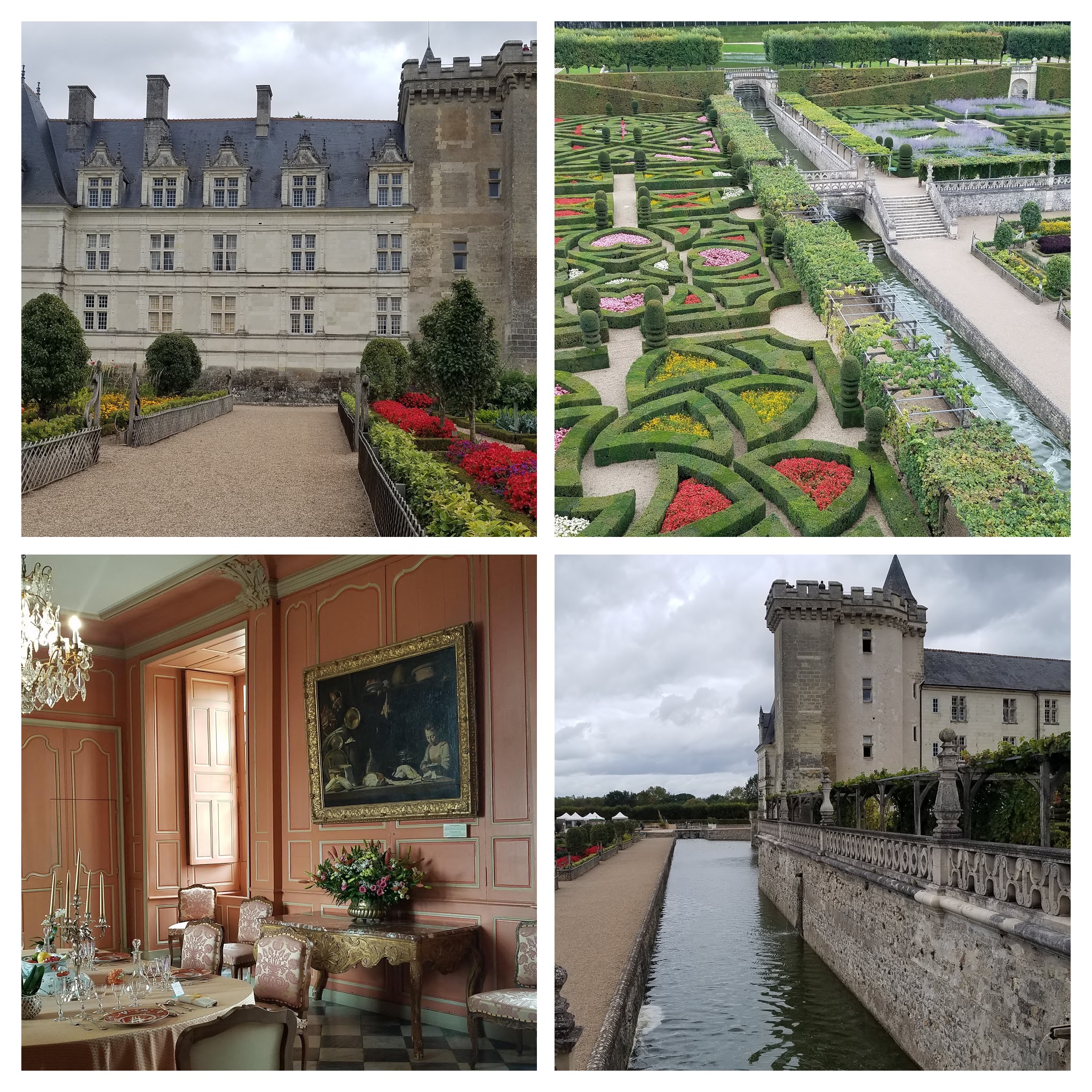 Villandry Chateau of the Loire Valley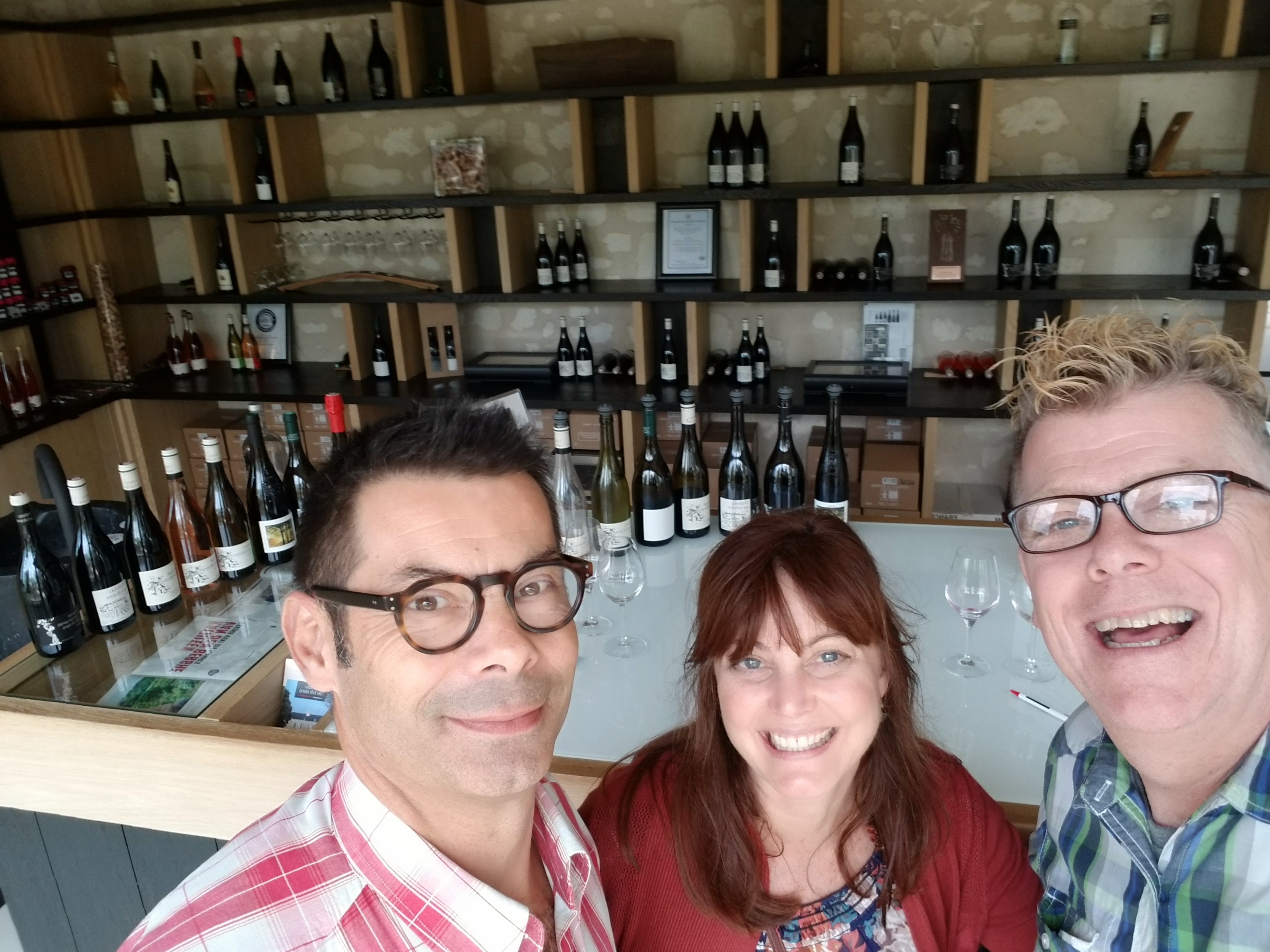 Jean Paul our wine host
One of the greatest finds of France for gluten free eating, was in Paris, a bakery and cafe that was exclusively gluten free with several vegan options as well. Helmut Newcake Bakery, which is located near the train station, Gare Saint Lazare, has wonderful, beautiful pastries and treats, sandwiches and other lunch entrees. I even went back a second time before heading to the airport for Edinburgh, Scotland, and stocked up on chocolate mousse filled cream puffs, lemon tarts and baguettes, ALL GLUTEN FREE! I was in heaven!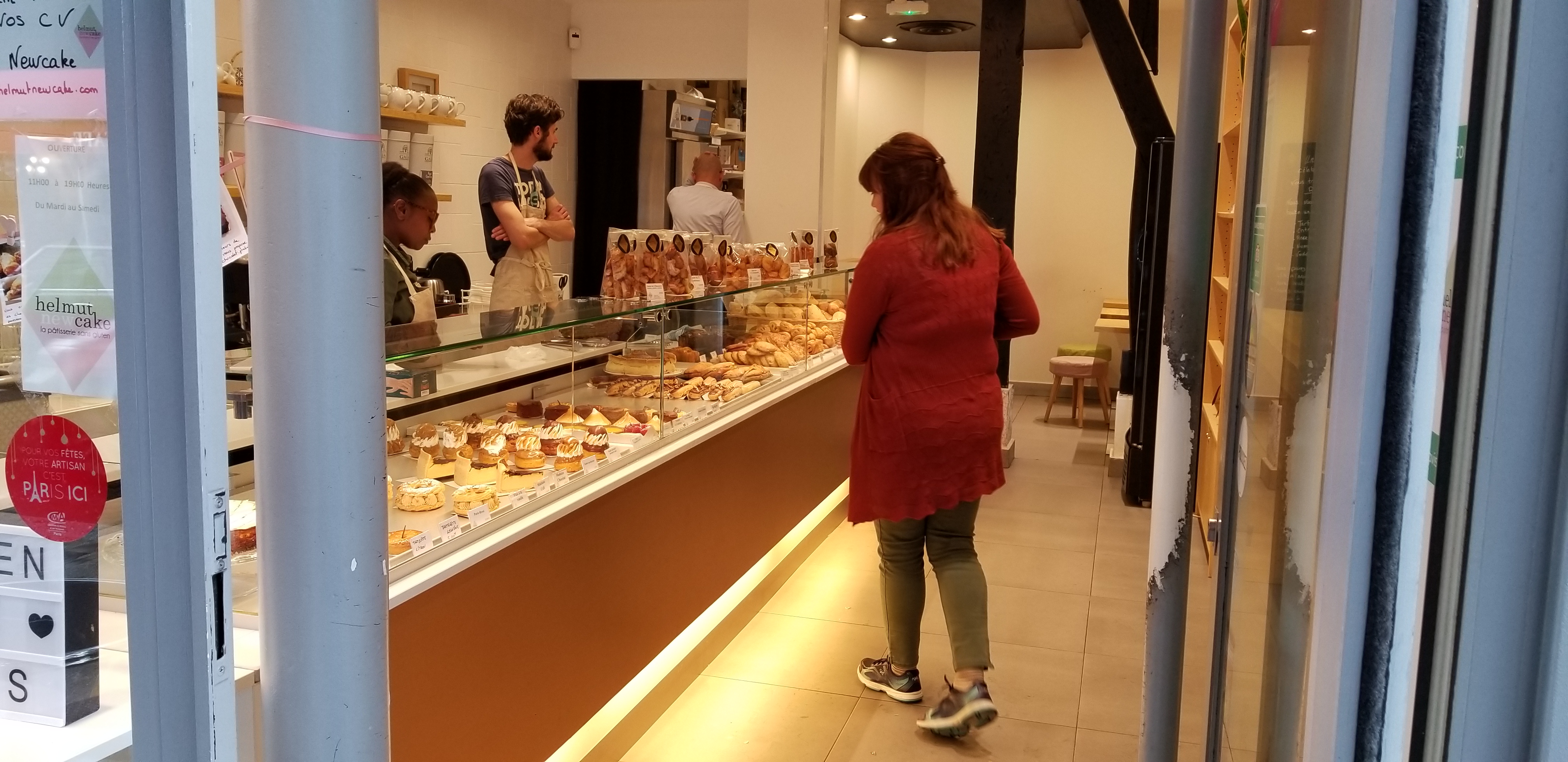 Inside Helmut Newcake Bakery in Paris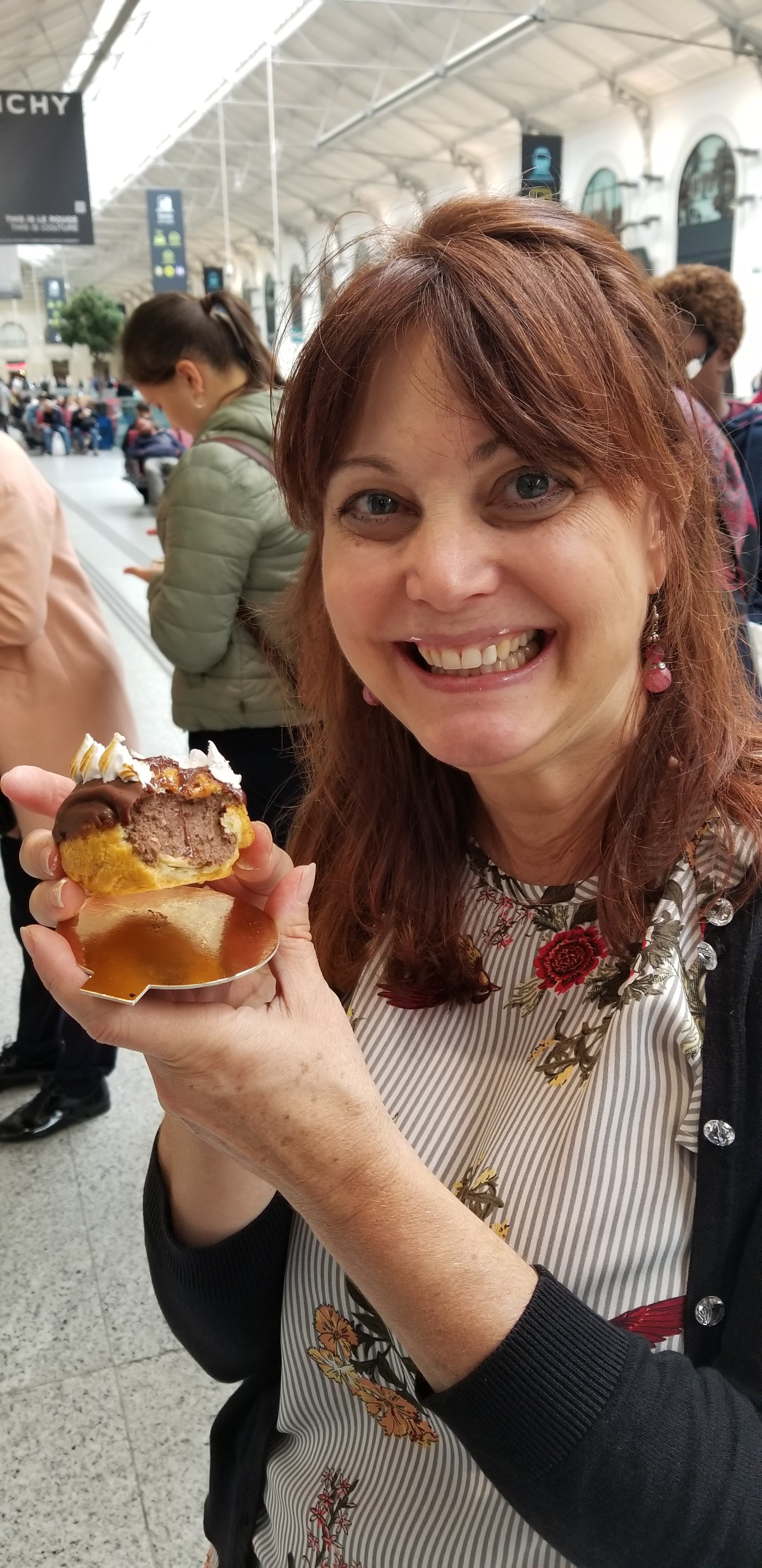 Laura enjoying treats from Helmut Newcake Bakery
When we are going on a trip we always try to learn a few words, because many places not many people speak English. On one trip to Italy, a few years ago, we ended up at a restaurant where the staff did not speak any English. We shouldn't have been surprised with this, but it just meant that I had no idea how to order! And it was our very first night in Italy on the outskirts of Rome.
So, there we were, trying to speak a bit of Spanish to our waiter, when a very nice Italian woman came over to our table and introduced herself. She had heard us trying to speak with our waiter about my gluten allergy, and had come over to to help translate for us! What a welcome to Italy that was. Soon her boyfriend and son had joined us at our table and we had a wonderful night with them! I had the best grilled seafood platter there and salad, and I was so happy to enjoy food and drink and not worry about being ill. It was also our first night, so I literally wanted to cry because I felt so loved by our new Italian friends. We still keep up with Francesca and Tony on Facebook are indebted for the kindness in welcoming us into their country with open arms. 
In Italy, we found gluten free pasta at many trattorias or cafes, gelato that did not contain gluten, risotto that was gluten free, as well as many fish dishes that were free of any gluten. You do need to ask though, especially on the gelato, as many does contain gluten (especially found this to be true in Spain).  If I couldn't find something gluten free when we were out, I'd ask Paul if we could stop at a Autogrill, a stop along the highway where you can not only get fuel for the car, but you can use a nice restroom and have a freshly steamed cappuccino at the cafe bar area. Paul could also get a panini or other sandwich or snack. These places are amazing! Wish we had them in the states!! We frequented these a lot when we were traveling on the highways of Tuscany, exploring towns and cities of the beautiful Tuscan Wine Countryside. 
Remember when traveling and needing to eat gluten free, to communicate the need you have to your server. You might consider printing and bringing an Allergy Card for Gluten Intolerance, in the language of the country you are visiting. These are readily available online, and are very helpful to show your server, in case you don't speak their language. And the other important thing, is to pack some of your own food. I bring lots of RX bars, nuts and gluten free cereal, which saves me when I can find something in the town we are visiting. Happy Traveling! Well, after the pandemic is over anyway…we sure are looking forward to our next trip overseas!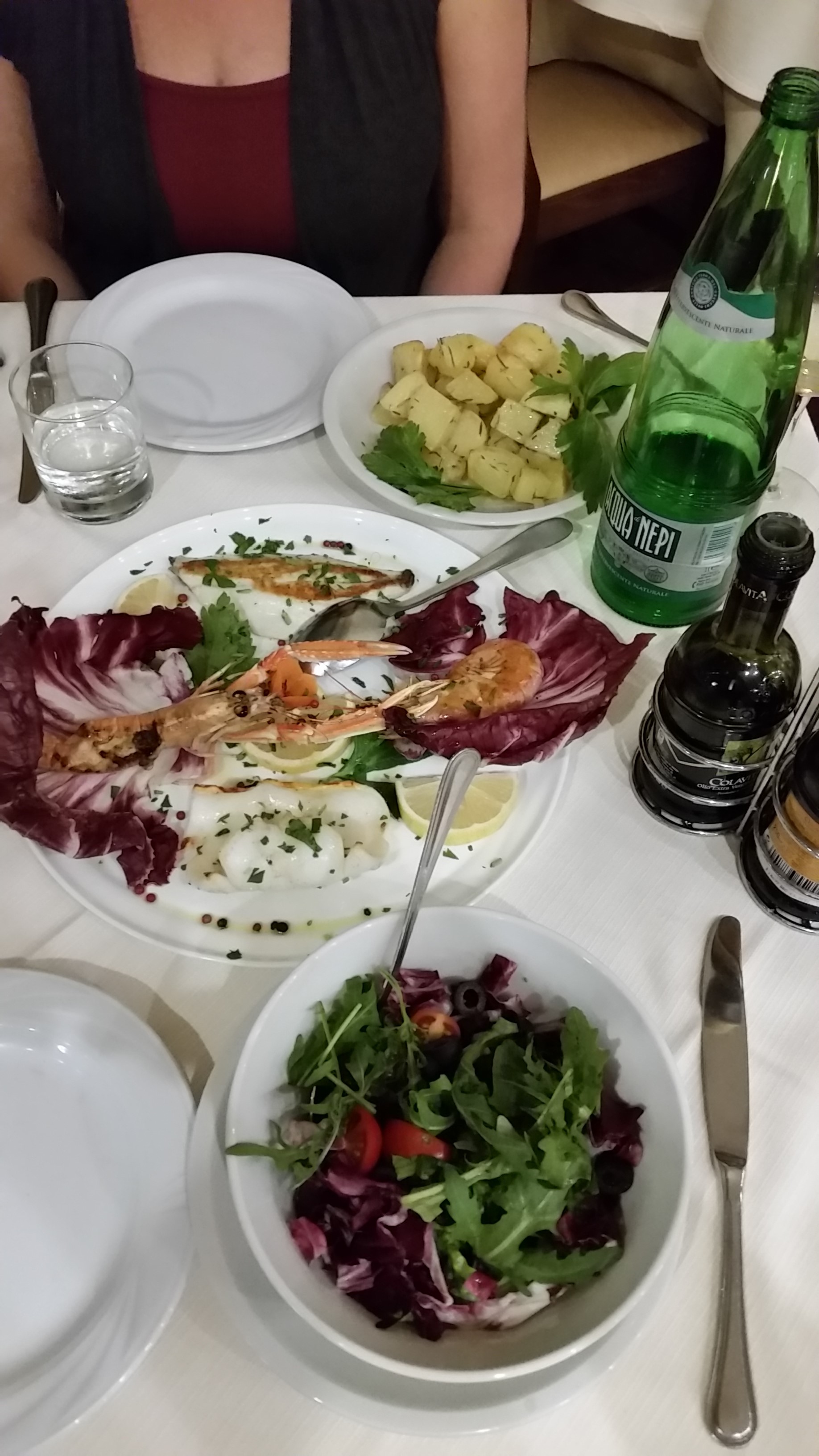 Beautiful grilled seafood dinner in Rome