Jump to Recipe
Print Recipe
Delicious waffles ~ after being on Whole 30 and cheating to have a sweet potato waffle (which wasn't allowed even though everything it contained was allowed), it was a treat to make these Gluten Free Sourdough Waffles again, which are incredible. My husband, who typically doesn't like gluten free baked goods, loves these! They are light and airy, so crispy and have a slight taste of sourdough (for those of you that don't like sourdough taste).
We make these at least once a week at our house! It's the perfect thing to make with your discard of sourdough starter, easy to put together the evening before you want to enjoy for breakfast. Even though there are just two of us, I make a whole batch and refrigerate or freeze them. They are always amazing as a leftover, toasted or reheated. I'll top with lemon curd, or fresh berries, a berry compote, pure maple syrup, whipped cream, or maybe even homemade ice cream. Even just hot out of the waffle iron with or without a smothering of butter, they are so yummy. And we've not found a waffle that beats them in taste and texture.
There are many versions to sourdough waffles. This is a modified recipe from King Arthur Flour's Classic Sourdough Waffles or Pancakes. I found that the recipe doesn't work well with gluten free flours. The addition of sparkling water in our recipe makes a big difference, creating a very light and airy texture, especially if you are making these with a dairy free milk. You could also use a gluten free beer in place of the sparkling water.
I have been known to decide I want to have waffles for breakfast the next morning. At eleven p.m. I'll run downstairs to throw the ingredients together! Yes, ridiculous, I know! It really is quick to put the overnight rise items together though, and if you need waffles, you need waffles!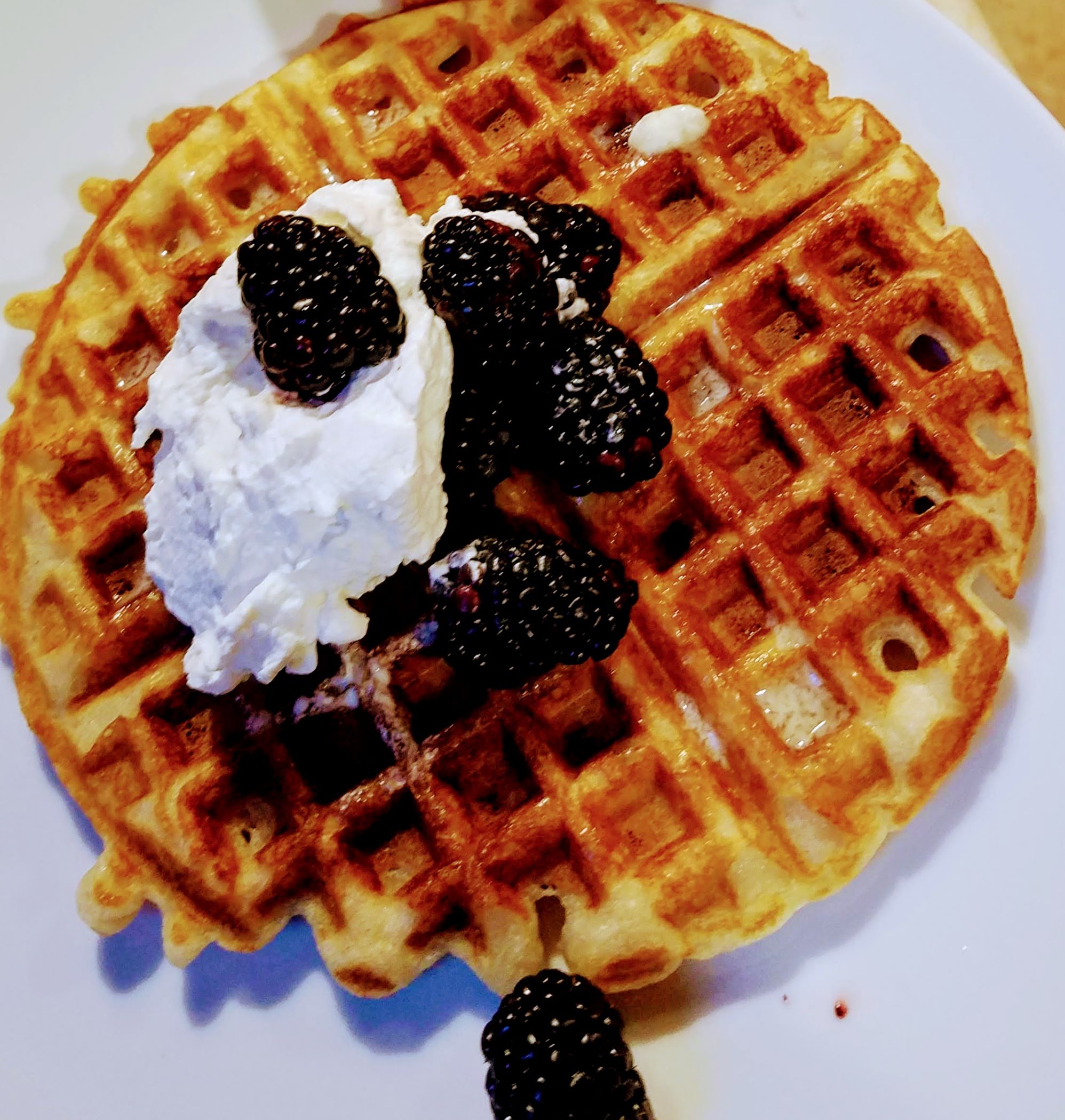 Gluten Free Sourdough Waffles 
The most airy and light waffles you'll ever eat! You could just eat them plain, they are so amazing!
Ingredients
1 cup

unfed Gluten Free Sourdough Starter

(this can just be your discard of your starter when you need to feed)

2 cups

gluten free flour blend

(I like to use 1/2 Ryze Gluten Free Rice Flour Blend and 1/2 Bob's Gluten Free 1 for 1 All Purpose, blue bag)

1 cup

milk

buttermilk, half and half, whole milk, or dairy free milk

1 cup

sparkling water

(or a flavored sparkling water, like Clementine or Blood Orange)

2 tablespoons

honey or granulated sugar

2 large

eggs

1 teaspoon

baking soda

3/4 teaspoon

salt

1/2 cup

vegetable oil

1 teaspoon

vanilla

(gluten free brand)
Instructions
Mix together in a large bowl, the night before you want to make your waffles: sourdough starter, flour blend, milk, sparkling water, honey. Stir the ingredients in a large bowl until well blended. Cover lightly with a towel and let rest and rise overnight. I feed my starter at the same time, which works quite well.

The next morning, mix in these ingredients to your sourdough sponge: eggs, baking soda, salt, vegetable oil and vanilla. Stir to combine with the sourdough sponge, the eggs, baking soda, salt, vegetable oil, and vanilla. Do not over stir. Let sit for 5 or 10 minutes, until the mixture is bubbly.

Preheat your waffle iron. Use approximately 1/2 cup of batter for each 8" round waffle. Cook as directed, according to your waffle iron. I like to use the "3.5" setting on my Cuisinart Waffle Maker. After the light goes off, let the waffle sit for 20 seconds before opening the lid.

Serve as a waffle bar with toppings of your choice. We always include whipped cream, berries and fresh fruit, and pure maple syrup for the food purists in your house. 
Notes
Make a brunch waffle bar for a festive time. Load the bar with all kinds of toppings, fruits and berries, chocolate chips, maple syrup, nuts, whipped cream; you can even have ice cream to top them! Or for a fall event, make a pumpkin spiced whipped cream by folding in a tablespoon of canned pumpkin to heavy cream that has been whipped already. Instead of sweetening with sugar, sweeten with pure maple syrup and add pumpkin pie spice (or cinnamon, cloves, and nutmeg) to the cream as it's whipping. YUM!