Jump to Recipe
Print Recipe
Bolognese sauce, thick and meaty, there's not much that beats it in my opinion! You can use whatever meat you like, or even replace some or all of the meat with some or all of the meat with Portobello and Crimini mushrooms.
You can serve it on regular pasta for those who can eat it or gluten free for those that need it. Try it with a homemade pasta, or purchased fresh pasta like one of Taste Republic brand, or on soft polenta or firm, baked polenta. Perfect for a crowd. But a simple meal with just a salad and some Gluten Free Puffy Yeast Breadsticks. Yum! Perfect for leftovers too. If you had it on pasta the first dinner, serve it over polenta the second night. No one will complain with this leftover, I promise!
If you don't want to bother with roasting the tomatoes, you can find a fire roasted canned tomato or just use a stewed variety.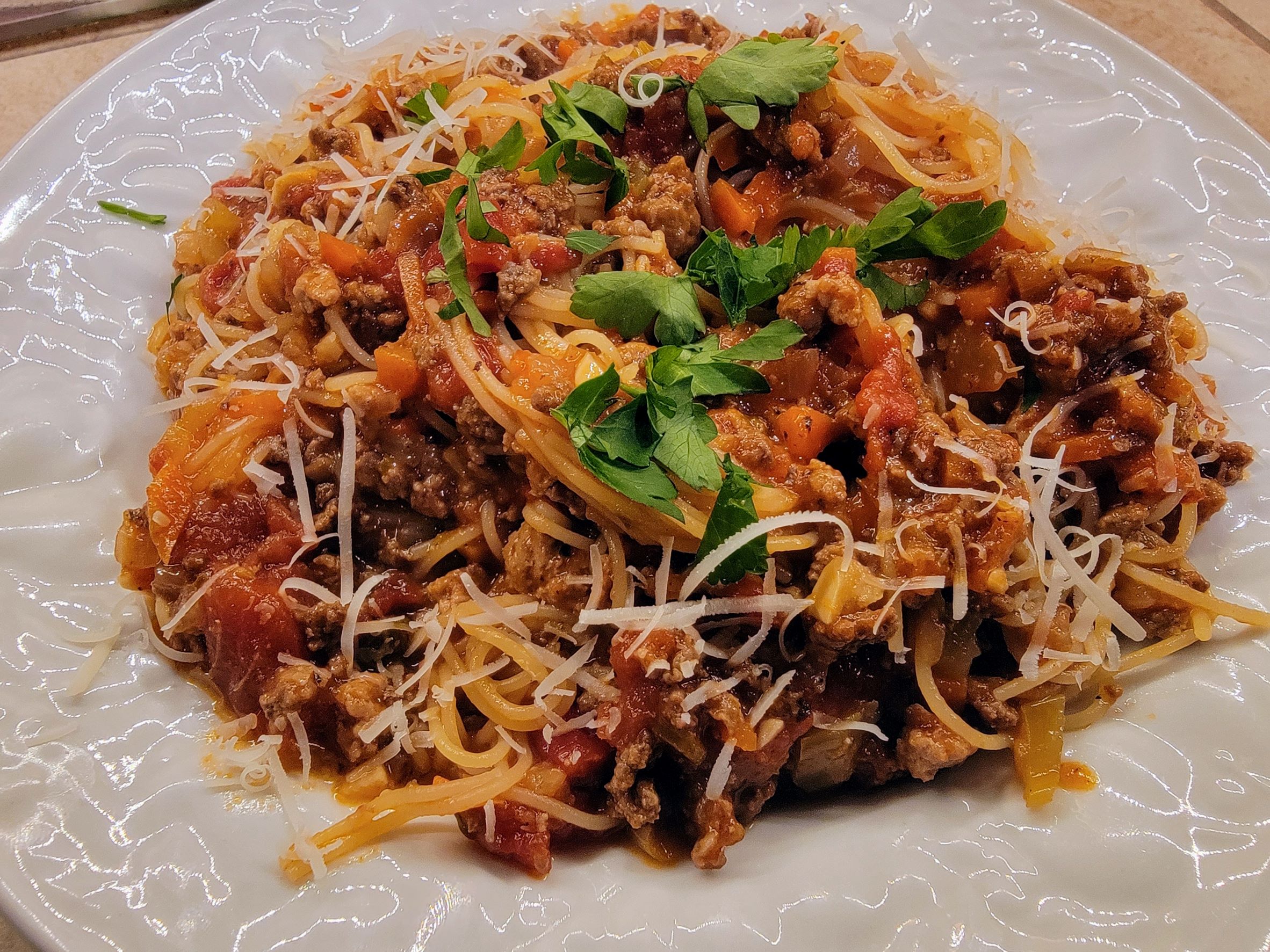 Roasted Tomato Bolognese Sauce (Gluten Free)
Roasted tomatoes gives this Bolognese a beautiful depth and distinction. You can't go wrong with Bolognese!
Ingredients
3

tbsp

extra virgin olive oil

1

lb.

ground beef, 7% fat or more

½

lb.

ground turkey, 85% fat free, turkey sausage below, or substitute pork italian sausage, gf

¾

teaspoon

Kosher salt

¼

teaspoon

crushed black pepper

¼

teaspoon

dried basil, gf

2

lbs.

Roma tomatoes, fire roasted, peeled, and chopped See below

1

large

onion, minced

2

carrots, finely minced

1

large

stalk of celery, finely minced

1

handful

celery leaves

½

large

shallot, finely minced

5

large

cloves of garlic, finely minced

½

cup

milk

¼

cup

heavy cream

1"

piece

parmesan cheese rind

1

cup

Sauvignon Blanc or other dry white wine

1

tbsp

balsamic vinegar

1

teaspoon

anchovy paste

6

oz.

tomato paste

1 ¼

cups

water

1

dash

nutmeg

salt and pepper to taste

minced fresh flat leaf parsley to top

minced fresh basil to top
Turkey Sausage Recipe
½

lb.

ground turkey, 85%-93% fat free

½

teaspoon

fennel seed, gf

½

teaspoon

anise seed, gf

¼

teaspoon

fresh ground pepper

¼

teaspoon

kosher salt

½

teaspoon

water

¾

teaspoon

honey
Instructions
To roast the tomatoes, line a baking sheet with foil. Wash the tomatoes and score the bottom of the tomatoes with an "x". Drizzle 1 tablespoon of olive oil over the tomatoes. Add a sprinkle of salt. Roast under an oven broiler about 4 inches from the flame.

When charred, turn over and roast the other side. Remove from the oven and cool until cool enough to handle. 

Dice the tomatoes and set aside.

Make the turkey sausage using the recipe below.

To a Dutch oven or large saucepan or stock pot, heat 2 tablespoons of olive oil. Add the minced onion, carrots, and celery and saute until slightly soft. Add the garlic and shallots and continue cooking until soft. Remove to a bowl. 

Add the ground beef and ground turkey or prepared turkey sausage. Brown over medium high to high heat, breaking the meat into small pieces as it browns.

Add the wine in and stir well to remove the meat pieces from the bottom of the pan. Add the onion mix back in, followed by the diced tomatoes, anchovy paste, milk, cream, tomato paste, water, balsamic vinegar, nutmeg, and parmesan. Stir and simmer covered with the lid partially cracked for 1- 1 ½ hours.

Serve over gluten free pasta or gluten free polenta. Top with freshly grated parmesan cheese and minced parsley and basil.
Turkey Sausage Recipe
Stir together all ingredients in a bowl. Use in recipe in place of ½ lb. ground turkey.
Notes
You can substitute Portobello mushrooms or Crimini mushrooms in place of some or all of the meat in this recipe. Portobello have a meat like texture and you may not miss the meat if you want to make this "meatless". Just chop and saute them as you would the meat and cook it with the sauce for a lovely taste. 
Substitute canned fire roasted tomatoes, if you like. I love roasting my own vegetables, and it's really pretty simple and doesn't take long. You can also just use diced stewed tomatoes if you like. 
My family loves pasta and pasta sauces, and this one is definitely one of our favorites!
Hello, Thank you for your comment/question on our Gluten Free Sourdough Pizza Dough Recipe. Yes, apparently you found a typo…

I can't wait to try this. I think there might be a typo though for the 1/4 cup gf flour…

Thank you for the review. We are happy you liked the flavors and the recipe. We hope you'll try some…

I made this recipe and was very happy with it and would totally recommend it. All the flavors go together…

Thank you for the review! These are definitely a favorite, even though peanut butter cookies are not one of my…