Sometimes, you might want something a little extra special for dinner. Maple Brandy Pears over Grilled Pork Chops (Gluten Free) will hit all the flavors and feel like you're eating out in a fancy restaurant! Savory seasoned pork chops, deliciously grilled and topped with sweet and buttery pears.
Why pears?
While other fruit is delicious with pork, there is something special about apples and pears. The gentleness of the fruit does not compete with the pork. I make homemade chunky applesauce often to top pork chops as I grew up eating pork with applesauce and I still love it. Still, these buttery Bosc pear slices with maple and brandy are pretty amazing.
The first time I made this recipe, I used my recipe for Grilled Porterhouse or Center Cut Pork Chops with a Peach Compote (Gluten Free), and subbed the Maple Brandy Pears for the peach compote. The second time, I used a rub that I've included in this recipe, which if so flavorful. I use it on many of my pork dishes, including pork tenderloin and ribs. If you prefer, use the marinated recipe version above for the pork chops!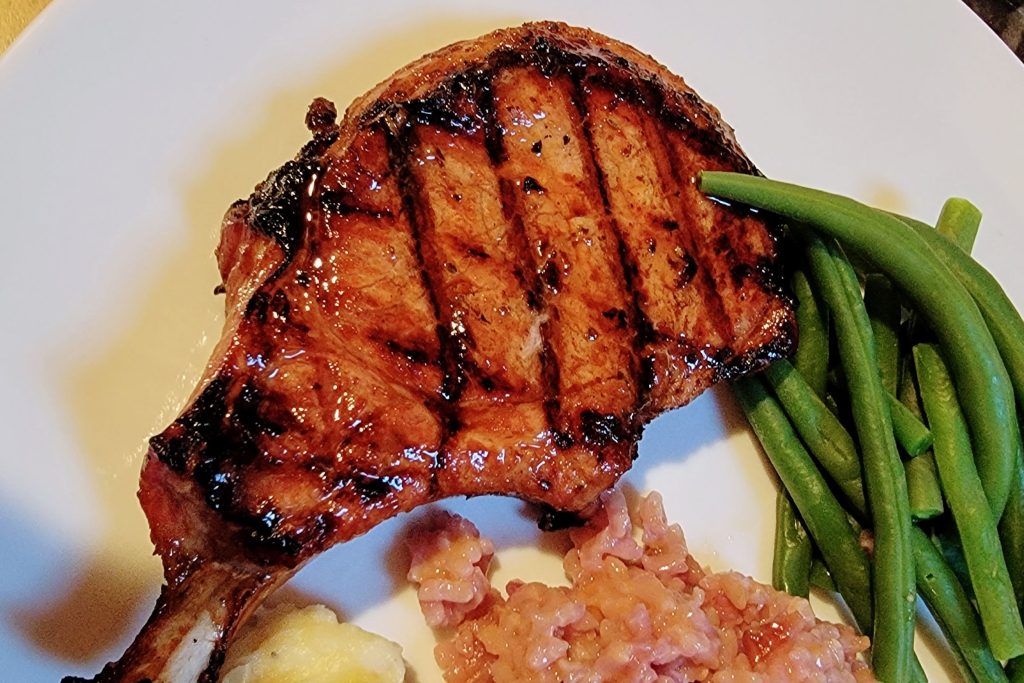 Why buy a $40 pork chop in a restaurant?
With the price of pork being so reasonable still, and the ease of making these at home, I'm not sure why anyone would spend $35-40 ordering in a restaurant! Two really nice pork chops will only cost a fraction of this (and often these are way more tasty).
What temperature should I take my pork chops off the grill at?
I like to shoot for about 148 and they will go up after you remove from the grill to approximately 151-153. Be sure to check the pork chops using an accurate meat thermometer.
I prefer the instant digital type, like a ThermoPro or a Polder Safe Serve Instant Read Thermometer. There are many styles and types to choose from. There are more sophisticated meat thermometers, such as the Meater Wireless Thermometer. You simply insert the probe and connect to your phone and easily check the temperature and have it give alerts to your phone when it is done.
When using a meat thermometer, make sure to check the temperature several places, including near to the bone and in the thickest part of the meat.
Because guessing is honestly too difficult, I always use my instant meat thermometer now!
What to serve with these pork chops?
Serve this with a simple salad and vegetable and you need nothing more!
That said, if you are like my husband, the meal is not complete without a starch! There are several potato dishes that would work well here.
To name just a few, a potato gratin or scalloped potatoes would be a great side. Creamy and cheesy, would be a nice contrast to the sweetness of the pears. You could also do a garlic mashed potato or mashed potato rosettes (for a bit fancier take on the mashed potato).
As a topping on vanilla ice cream
Besides the Maple Brandy Pears being delicious on pork chops, they would be equally as delicious over ice cream! I think vanilla or maybe a maple pecan would be a perfect choice.
You could also spoon any leftover pears, heated over waffles or French toast. Always add a spoon of whipped cream!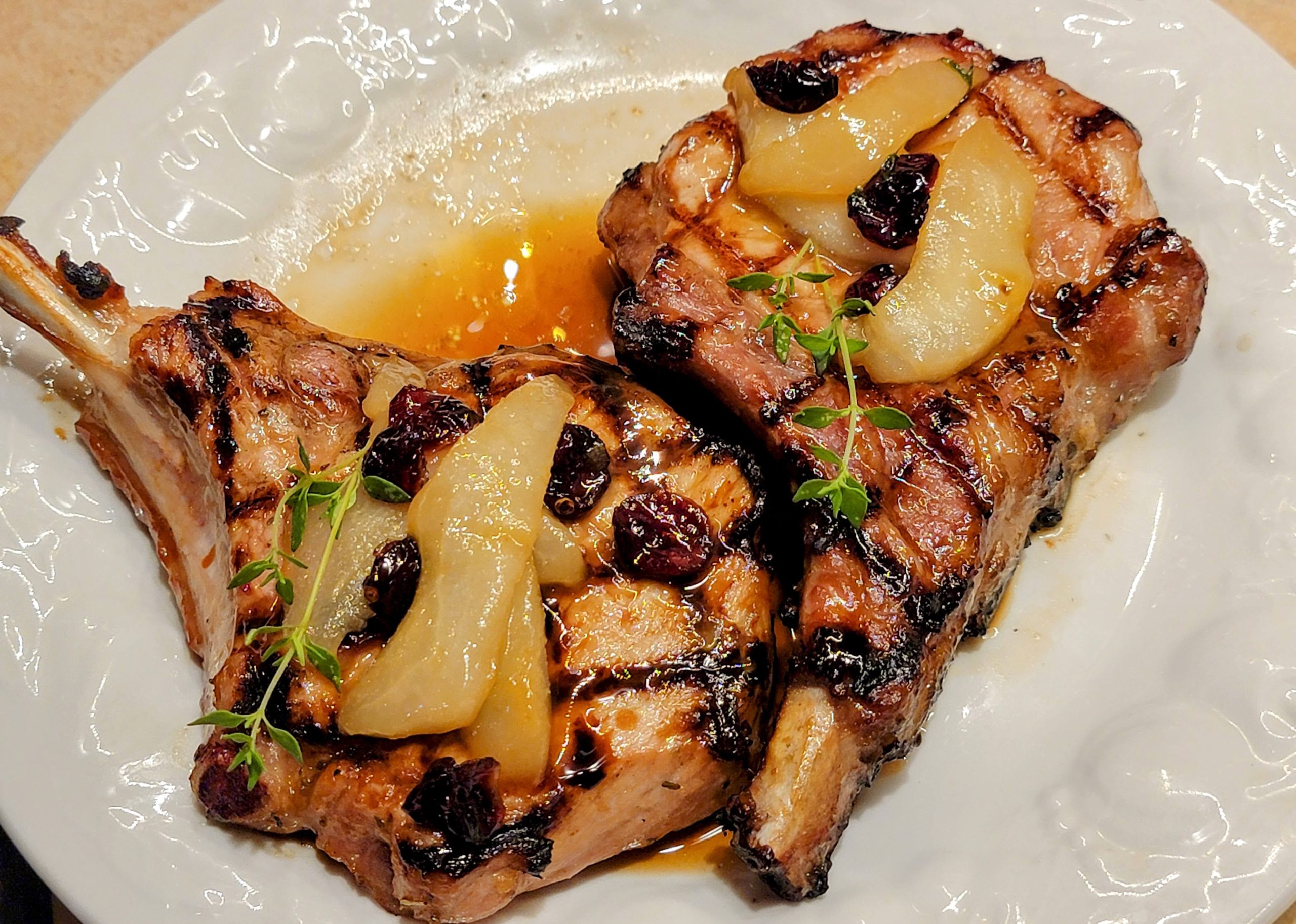 Maple Brandy Pears over Grilled Pork Chops (Gluten Free)
We got some favorite flavors with maple syrup and pear sweetness and spice rubbed pork chops in this sweet and savory recipe.
Ingredients
Grilled Spice Rubbed Pork Chops
2-3

French Cut or Center Cut Pork Chops

or 1" thick boneless pork chops

¾

teaspoon

Kosher salt

¾

teaspoon

crushed black pepper

½

tbsp

paprika

gf

½

tbsp

brown sugar

½

tbsp

coffee, finely ground

1

teaspoon

garlic powder

¼

teaspoon

mustard seed, crushed
Maple Brandy Pears
1½-2

Bosc pears or other pears, peeled and sliced

1½

tbsp

butter

or dairy free butter substitute, gf

1

tbsp

avocado oil or vegetable oil

pinch

of salt

1

tbsp

brandy, optional

1½

tbsp

pure maple syrup

2

tbsp

dried cranberries

4-5

sprigs

thyme

1

tbsp

orange juice
Instructions
Spice Rubbed Grilled Pork Chops
Add the ingredients to a small bowl and combine. Rub into both sides of the pork chops. Cover and refrigerate for 1-2 hours.

Remove from the refrigerator and let come to room temp for 40 minutes. During this time make the Maple Brandy Pears. Set aside to keep warm.

Heat the grill to 400 degrees F. Grease the grates and drizzle a small amount of high heat oil to the pork chops. Add the chops to the grill. Leave the cover off. Set a times for 4 minutes, but at 3 minute mark, or when the pork chop will release, turn about 90 degrees to get your crosshatch marks.

At 4 minutes, turn the pork chops over, moving them on the grill for even cooking. Set a timer for 4 minutes (3 minutes if they are thinner or boneless pork chops). At 2-3 minutes remaining on the timer, turn 90 degrees for grill marks.

When the second side timer goes off, begin checking the a few of the pork chops with a meat thermometer. When the pork is 3-5 degrees from your desired doneness (between 145-160), remove to a clean plate, using clean tongs or spatula.

Cover with foil and let rest for 5-10 minutes before serving. Serve with a few Maple Brandy Pears on top of each pork chop and pass the remaining pears to add more.
Maple Brandy Pears
Heat the butter and oil over medium heat in a small skillet. Add the pear slices and a pinch of salt. Stir to coat.

Add the brandy and flame (only if you like and if you have a gas stove), by tilting the pan slightly, then quickly pulling off the burner.

Then add the maple syrup, thyme sprigs, and dried cranberries. Simmer over medium or medium low heat until the pears and cranberries have softened and the pears are beginning to lightly turn a golden color.

Add the orange juice. Stir for 30 seconds more. Remove from heat. Serve Maple Brandy Pears warm over grilled or pan cooked pork chops.