This dessert feels elegant and special. It does have quite a few steps to the recipe and for that I apologize. There are easier options, but this one is so yummy, balancing the sweet and salty caramel with the creamy dark chocolate ganache. Finished off with some piped toasted meringue, it's pretty near perfect for all the flavor combos.
Serve small slices of this dessert! You really don't need much as it has the sweetness and the richness! I think it would be best served with a cup of coffee or cappuccino. Some might even think a whisky might be perfect with this.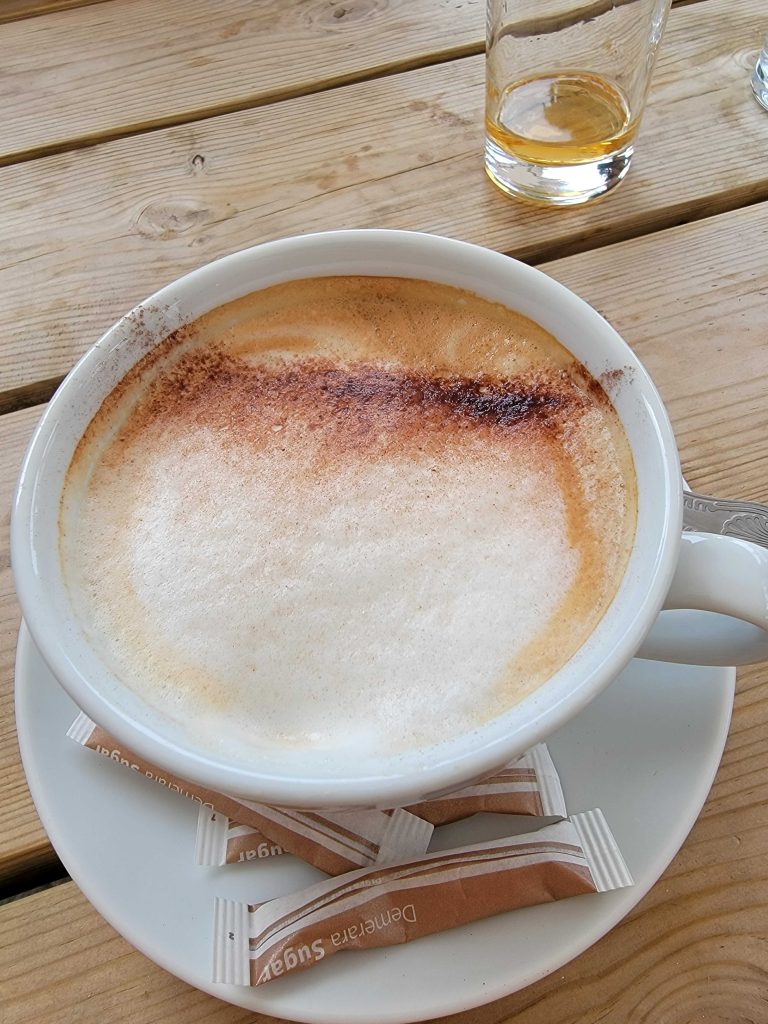 Although the recipe say it serves 10-12, you could easily serve 13-14 with this tart since it is rich. It also would be delicious with a simple vanilla ice cream on the side.
For ease of making this, you can substitute a premade crust
For saving a bit of time, consider swapping out the crust for a premade store bought crust. For a great easy gluten free pie crust, check out Wholly Gluten Free 2 Pack Pie Shells. These can be found at your local Whole Foods store or available online. A gluten free graham cracker crust or a gluten free pie crust that you bake first, as the tart filling is not baked here, would be another choice. The tart shell for this dessert is cookie like, but not as crisp as a shortbread, but most pastry crusts would be great in this tart as well.
If you don't want to bother with the meringue
If you'd rather not bother with making a meringue, or a swiss type meringue here, piping and then toasting with a kitchen torch, the alternative could just be whipped cream!
Just just whip a cup of heavy cream. Add a tablespoon of sugar and one teaspoon of vanilla. Then spoon dollops over the tart or spread thinly across the top. Piping decoratively over the top of course is another option. Whipped cream, together with the caramel and ganache is a great choice!
Make this tart gluten free and dairy free easily
Using the substitutions I've noted you can easily make this tart dairy free as well as gluten free. Hopefully all your guests will be able to enjoy it then! Your gluten eating guests won't mind suffering through eating this one! They actually will never even know it doesn't contain gluten, if you don't tell them.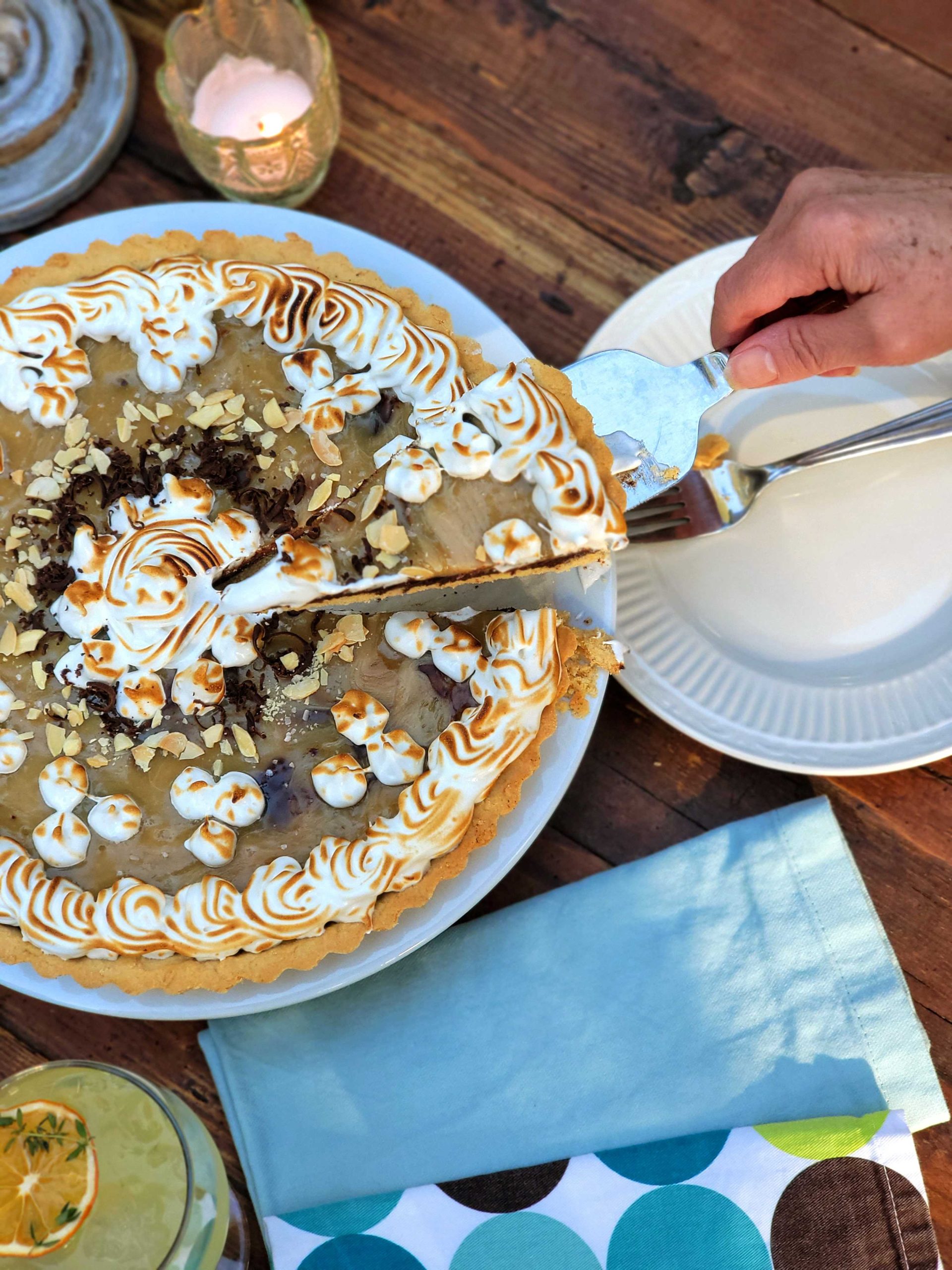 Decadent Salted Caramel Chocolate Ganache Tart (Gluten Free)
Salted caramel and dark chocolate ganache in a soft cookie like crust. These flavors are so perfect together, sweet caramel, creamy dark chocolate and a little salt.
Equipment
1 8 or 9" tart part or rectangular tart pan

parchment paper

to line tart pan

1 candy thermometer

1 saucepan fit with a bowl for a double boiler

1 hand mixer or stand mixer

1 kitchen torch

for toasting meringue
Ingredients
Tat Crust
¼

cup

powdered sugar

¼

cup

brown sugar

⅓

cup

tapioca flour

gf

⅔

cup

brown rice flour

gf

⅓

cup

plus 1 tbsp cassava flour

gf

1

tbsp

cornstarch

gf

½

teaspoon

baking powder

gf

⅜

teaspoon

fine salt

6

tbsp

unsalted butter, cut into pieces (omit salt if using salted butter)

or dairy free gluten free stick butter substitute

1

teaspoon

vanilla

gf

1

large

egg

½

tbsp

milk

or dairy free milk substitute
Caramel layer
1

cup

sugar

¼

teaspoon

salt

2

tbsp

maple syrup

or light corn syrup

¾

cup

heavy cream

or dairy free cream substitute

1

tbsp

rum

gf, optional

3

tbsp

butter

or dairy free and gluten free butter substitute

¼

cup

1/4 cup cream

or dairy free cream substitute

½

teaspoon

vanilla
Dark Chocolate Ganache Layer
4½

tbsp

butter or gluten free dairy butter substitute

⅓

cup

Califa Farms Almond Milk Creamer Vanilla or Caramel flavor 

for dairy free and gf or heavy cream if you prefer

10

ounces

dark chocolate

gf

1

ounce

bittersweet chocolate

gf

1

teaspoon

pure vanilla 

gf
Meringue
100

grams

egg whites (approximately 3 egg whites)

120

grams

superfine white sugar

¼

teaspoon

cream of tartar

gf

pinch of salt

¼

teaspoon

pure vanilla

gf
Instructions
Tart Crust
Preheat the oven to 375℉. Line the tart pan with parchment.

In the bowl of a stand mixer add the sugars, flours, cornstarch, baking powder, salt, and butter. Mix on medium speed until the mixture is small crumbs. Add the egg, vanilla, and milk and mix until the mixture comes together almost to a ball. Press together with your hands into a ball.

Flatten slightly and chill on a plate for 15 minutes . Press the crust into a tart pan bottom and up the sides. You could also roll the crust out if you prefer. Poke holes in the crust with a fork.

Bake in a 375 degree oven for 15-18 minutes or until light golden.
Caramel Layer
In a small saucepan stir the sugar, salt, maple syrup, and ¾ cup of the heavy cream. Cook over medium low heat, shaking the pan slightly to stir occasionally (or use a rubber spatula to stir without getting mixture on the sides of the saucepan) until a candy thermometer reaches 240 degrees F. It should just be beginning to turn a light amber color. Turn the burner off.

Add the butter pieces, then the remaining ¼ cup of heated heavy cream, vanilla, and rum and stir completely. Return to the burner over medium low heat for 2-4 minutes, stirring continually until the sauce is smooth again. Pour the caramel into a small bowl.

Proceed to make the Dark Chocolate Ganache Layer while the caramel cools slightly. You can reheat the caramel if needed by placing the bowl in a pan of hot water. Then pour the caramel over the chocolate ganache layer.
Dark Chocolate Ganache Layer
Heat the creamer or cream and the butter to just boiling, over medium heat. Stir in the chocolate to completely melt. Add the vanilla and stir.

Cool slightly before pouring onto the crust. Spread evenly across the crust. Refrigerate for 15 minutes before pouring caramel over the top.
Meringue
Whisk the sugar and the egg whites together. Heat over double boiler without the bowl touching the water in the pan, whisking and using a rubber spatula to stir the sides and bottom completely and often. Heat to 160-165° F.

Beat on low to start in a stand mixer or in a medium bowl using a hand mixer. Increase to medium when fine bubbles appear. Add the cream of tartar. Turn to high speed and continue beating until stiff soft, very glossy peaks appear. The meringue will want to stick to the whisk attachment. Stir the vanilla in.

Load a piping bag with a star tip and pipe decoratively over the tart. For a simple version, just add dollops to the top of the tart. Using the torch, brown the meringue evenly, until light or medium golden brown.

Add the chocolate shavings and the almonds to the tart. Lightly sprinkle the top with coarse salt.

Chill for 1-2 hours. Remove the removeable sides from the tart. Place on a cake stand and serve.
Notes
The caramel in this recipe also can be used for topping for ice cream or another dessert. I like to use maple syrup, but corn syrup works perfect too. You will need a candy thermometer to get the caramel to get to the proper temperature. 
You could also do a cold water test: Using a mug or bowl with ice and cold water, drop a teaspoon of caramel into the mug or bowl to check the ball stage. The liquid should cool in the bowl and hold its shape when pressed together in your fingers.