Dark Chocolate Gooey Lava Cakes (Gluten Free) with a Berry Cream and maybe a warmed chocolate sauce. This dessert is sure to pick ya up no matter what your day has been like! This gooey chocolatey goodness topped with raspberry or blackberry cream is a nice easy dessert.
It's not only easy to make, and will be ready to serve in about 35 or 40 minutes! Part of that time is just the time it needs to set before inverting onto serving dishes. I love putting a little more chocolate in the center of these for added gooeyness.
Add a berry to the center if you like
We love using delicious summer berries in and on top of desserts!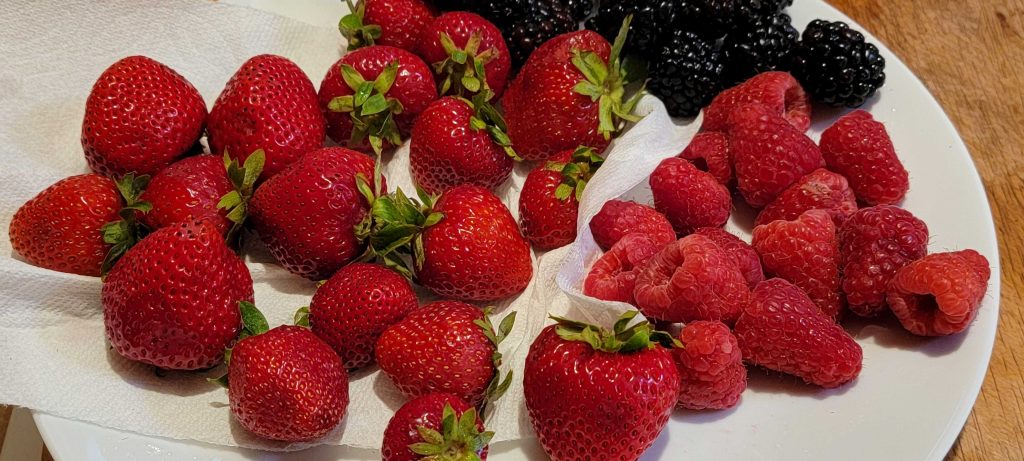 A berry (blackberry or raspberry) inserted in the center is also a nice surprise in these lava cakes (gluten free). Feel free to omit this if you don't have berries on hand or would rather it just be chocolate in the center.
Then just remove from the oven after 10-12 minutes of baking. Let set for 10 minutes before running a spatula or a knife on the inside of the ramekin, before inverting onto a serving dish.
Add warm chocolate sauce to the top or simple some cocoa powder. Then spoon dollops of berry cream or plain whipped lightly sweetened cream, or ice cream over the top, before serving. You can always add more berries to the plate or top of the dessert.
A great dessert for a small dinner party
Lava cakes are such a perfect dessert for a small party. It can be as elegant as you want. Decorate the plate with fruits and nuts, warm chocolate sauce. You can skip the cream and just serve with ice cream if you prefer.
Make these lava cakes in advance and reheat for dessert
Follow the directions in the notes of the recipe to make the cakes in advance and reheat. You can choose to reheat in the microwave for about 35 to 45 seconds each (or longer to reheat them all at one time) or reheat in the oven.
They will be gooey and still taste just as delicious as hot from the oven!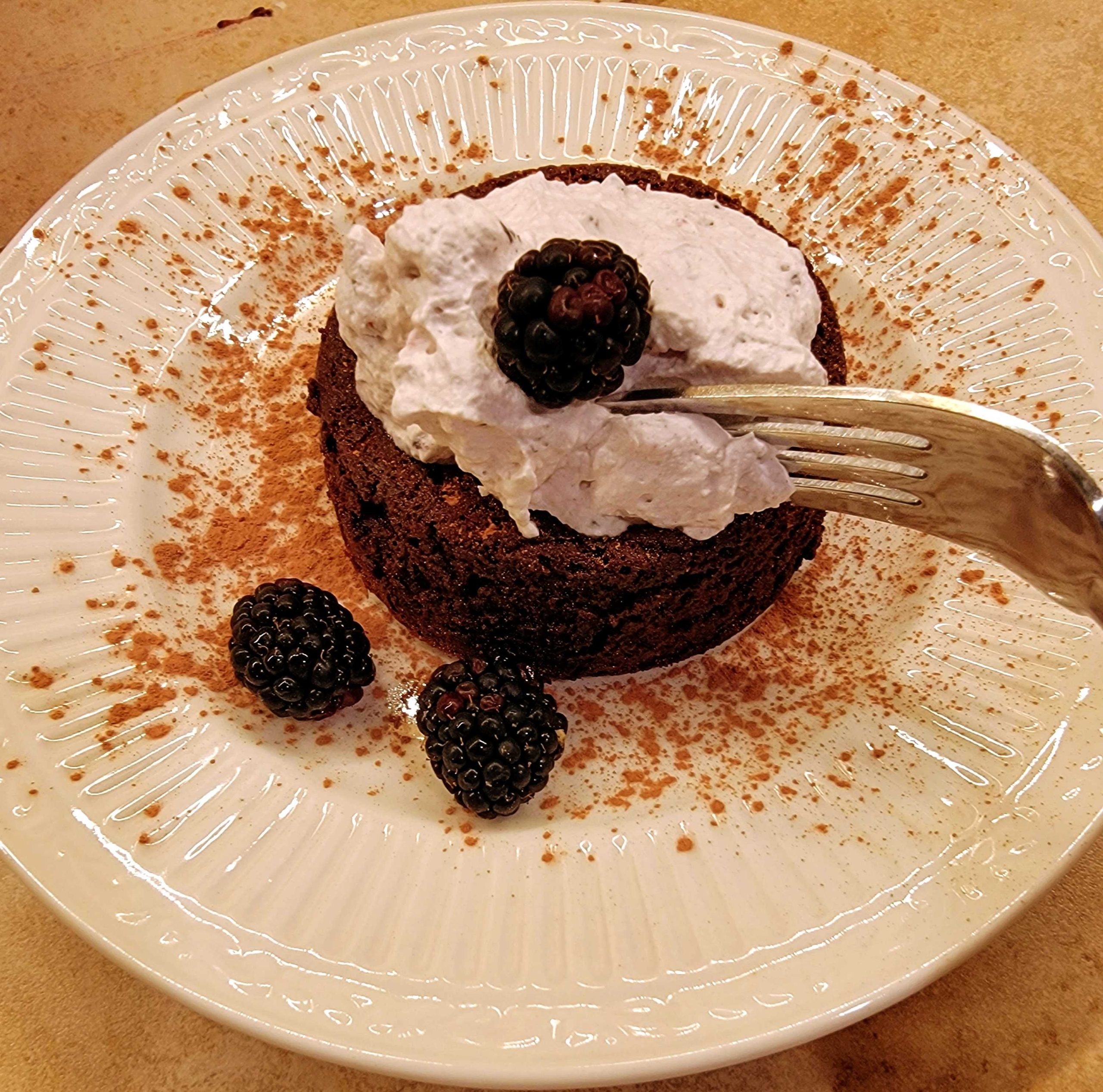 Dark Chocolate Gooey Lava Cakes (Gluten Free)
Sure to satisfy the chocolate lover! Warm and gooey chocolate brings delight! The berry inserted in the center gives a little something different than most. And topped with berry cream it's delicious! You can also make this dessert dairy free as well as gluten free. See the notes at the end of the recipe for making this dairy free.
Ingredients
1

stick

butter, unsalted

or dairy free stick butter substitute, gf

7

ounces

Trader Joe's 72% Cacoa Dark Chocolate Chips (gf and dairy free)

or other gf and dairy free if needed

3

tbsp

unsweetened cocoa powder

gf

2

large

eggs

2

large

egg yolks

¼

cup

sugar

1½

tbsp

coffee

1

tbsp

sweet rice flour

gf

2

teaspoons

Molina Mexican Vanilla Extract (gf)

or other gf brand

dash of salt

dash of cinnamon

gf, optional

4

large raspberries or blackberries

⅛

cup

Trader Joe's 72% Dark Chocolate Chips (gf and dairy free)

or other gf and dairy free brand if needed
Berry Cream
1

cup

heavy cream

1 ½

tbsp

powdered sugar

½

teraspoon

Molina Mexican Vanilla Extract

or other gf brand

6-8

raspberries or blackberries, rinsed and dried well and squished with a fork to puree
Instructions
Preheat the oven to 325℉. Grease the ramekins well with a mild vegetable or canola oil.

Melt the butter or no-dairy butter substitute with the chocolate chips, and the cocoa powder, either over very low in a saucepan on the stove or in the microwave for 30-40 seconds. Stir until smooth. Stir in the vanilla, salt, coffee.

Beat with a whisk attachment the eggs and egg yolks with the sugar, until pale yellow and thick.

Fold the chocolate mixture into the egg mixture, until fully incorporated.

Spoon evenly into the four greased ramekins. Add a raspberry or blackberry to the center of each. Divide the remaining chocolate chips between center of each ramekin. Cover the chocolate and berry with some of the batter.

Bake in the center of the oven at 325℉ for 10-12 minutes. It should just be starting set about but will have a very slight jiggle when moved back and forth.

Remove to a rack for 10 minutes. Run a knife or a thin rubber spatula around the outside of the cake, to separate from the ramekin. Then invert each onto a serving plate. Add a dusting of cocoa powder, nuts, melted chocolate, berries, and Berry Cream to the top of each to serve.
Berry Cream
Using an emulsion blender with the whisk attachment or a hand mixer or stand mixer, whip the cream until line appear from the whisk attachment. Add powdered sugar and berry puree and mix in until thick, soft peaks are visible. Refrigerate until ready to use. Spoon dollops of Berry Cream over the warm lava cakes to serve. Add fresh berries or warm chocolate sauce to the plate or top if you like to the top.
Notes
To make this dessert dairy free, sub out the butter for dairy free stick butter and be sure to use dairy free chocolate chips. You could top with a dairy free topping, whipped coconut cream or a dairy free ice cream substitute. 
To make these in advance then reheat: 
Bake the cakes as directed. Cool. Reheat for 35-45 seconds in the microwave. Run a knife or spatula around the outside of the cake before inverting onto a plate. Add Berry Cream, ice cream, chocolate sauce or berries to serve. 
To reheat the cakes in the oven, preheat the oven to 275 degrees. Reheat until ramekins are hot and softened. Run a knife or spatula around the edge of the cake before inverting.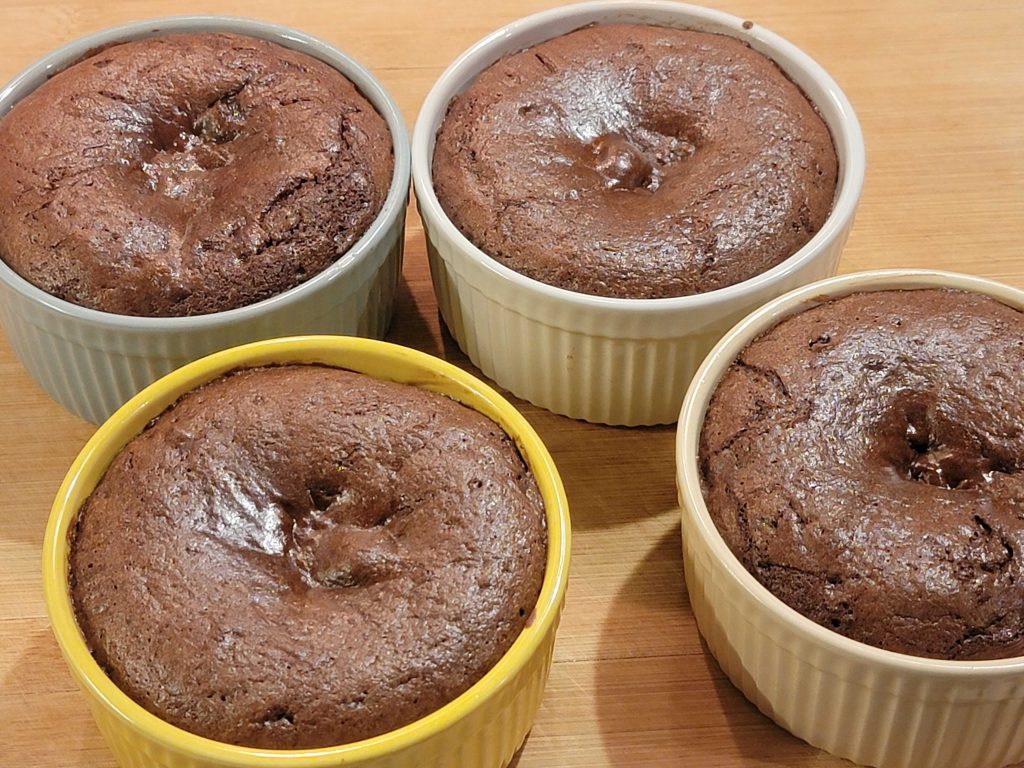 Other Berry desserts you may want to check out:
• Gluten Free Raspberry Lemon Tart
• Gluten Free Chocolate Ganache Raspberry Tart
• Simple Gluten Free Flaky Pie Crust and Mini Galettes