Here is a recipe for a gluten free, dairy free, and grain free breakfast cake. And it's loaded with flavor! The nutmeg and the fruit meld together deliciously. Sometimes you want something a little different than a coffee cake or a muffin for a brunch or a special breakfast.
Try this no guilt, low sugar cake that is a perfect compliment to a cup of coffee or tea. This cake is also delicious served as a light dessert after a heavier meal, with a bit of whipped cream or ice cream on top and while still warm!
~Laura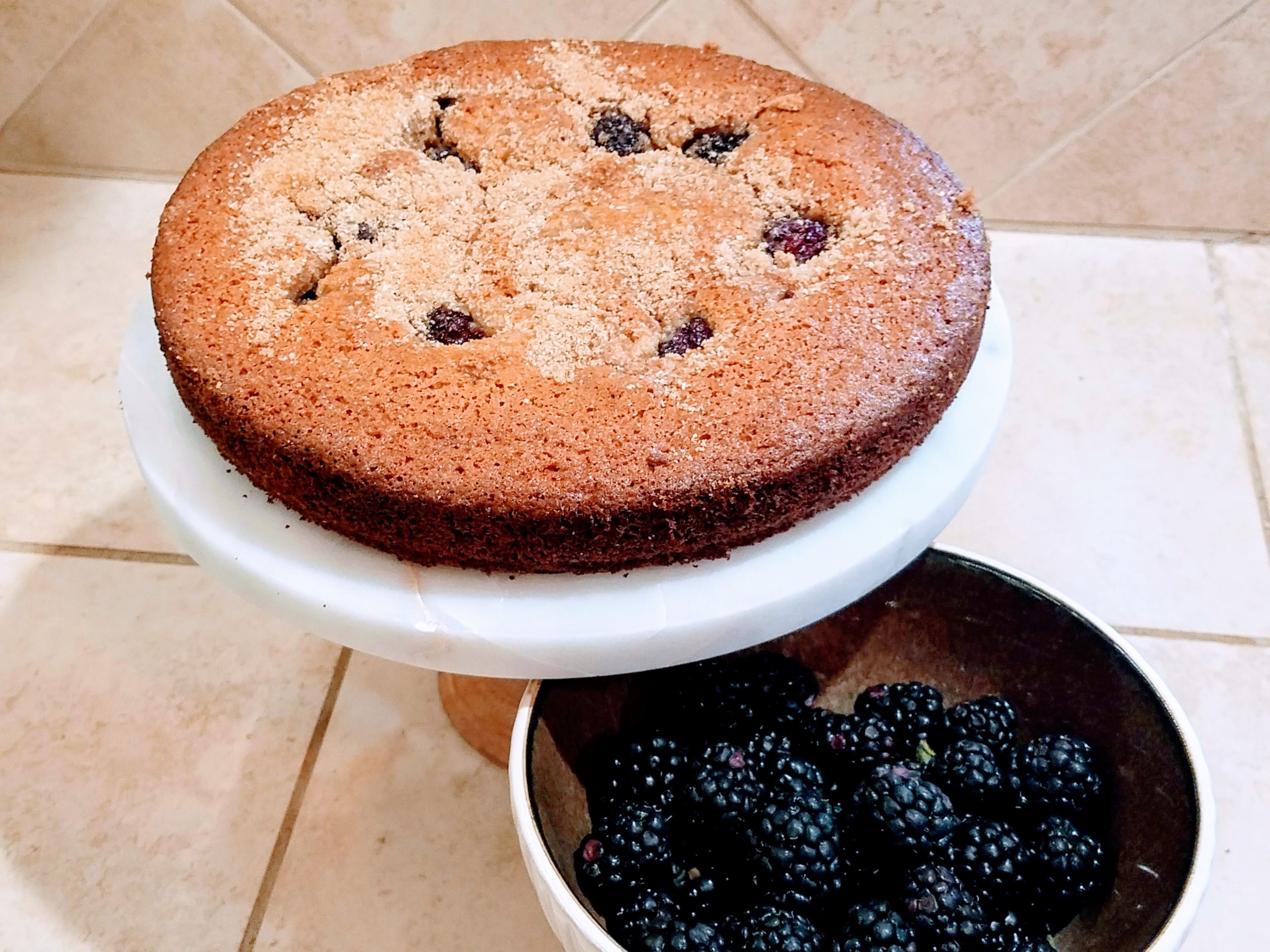 Gluten Free, Dairy Free, and Grain Free Berry Breakfast Cake
Ingredients
1 ¾ cups plus 2 tablespoons almond flour, packed, gf

½ cup tapioca starch, gf

½ teaspoon baking soda, gf

1 ½ teaspoons baking powder, gf

¼ teaspoon salt

1 egg

3 egg whites

¼ cup honey or pure maple syrup

½ cup organic cane sugar

2 tablespoons almond milk or other non dairy milk, gf

3 tablespoons of non dairy butter, gf

1 ½ teaspoons vanilla, gf

¾ cup of rinsed and dried raspberries or blackberries

3-4 rinsed and dried strawberries, sliced

½ tablespoon dairy free butter, gf
Sugar Topping (Stir Together)
4 tablespoons brown sugar, packed

2 tablespoon almond flour, gf

¼ teaspoon ground nutmeg, gf

⅛ teaspoon ground cinnamon, gf
Instructions
Preheat the oven to 350 degrees F. Prepare an 8 inch springform pan by cutting a round piece of parchment to line the bottom of the pan only. Grease and dust the bottom with almond flour.

Stir together in a small bowl the almond flour, tapioca starch, salt, baking powder, and baking soda.

In the bowl of a stand mixer, beat the egg and egg whites, sugar, and non-dairy butter until mixed. Add the bowl of dry ingredients and mix on low to combine. Add the non-dairy milk and vanilla and beat on medium low until just combined. Spoon into pan.

Top with berries, reserving ¼ cup and sugar topping mixture, reserving 2 tablespoons. Top with ½ tablespoon of non-dairy butter, cut into small pieces. Place in the oven on the center rack.

After baking for 25 minutes remove from the oven and add the remaining berries to the cake and top with the remaining sugar topping. Return to the oven and continue baking for 10-20 minutes more, for a total of 35-45 minutes or until a toothpick comes out clean and the edges are very golden brown. Let cool for 15 minutes in the pan before removing the parchment and sliding onto a cake plate to serve. Serve warm or cool.
Notes
Package uneaten slices individually in cellophane and refrigerate for up to 3 days or freeze for up to 3 weeks.