The Buche de Noel, or Chocolate Roulade Cake, were always favorites of mine when I was growing up. It felt so special when we had this cake, although the chocolate roll cake is not difficult to make and is so versatile.
I make a vanilla roll cake also, but the chocolate is still my favorite! I love it filled with berries and whipped cream, but this one I made is both gluten free and dairy free, so no whipped cream filling inside.
I made these for my kids' birthday parties many times, ice cream cakes filled with any flavor of ice cream, for many grown-up parties and get-togethers also over the years. They rarely disappoint.
Although yesterday's dairy free mousse filling didn't hold it's shape as much as I would like, (I rushed chilling the mousse), it still looked fine and tasted delicious. Here's a gluten free version of the cake, which is also dairy free. As I normally do, I've noted the ingredients that you need to look for a gluten free certification or gluten free facility when making this cake for the gluten intolerance or Celiac person.
Gluten Free and Dairy Free Chocolate Roll Cake​
ingredients:
4 large eggs
1 cup cane sugar or granulated sugar
1/3 cup water
2 teaspoons vanilla, gf
3/4 cup plus 2 Tablespoons gluten free flour blend with xanthan gum, gently spoon into cup to measure
1 teaspoon baking powder, gf
1/2 teaspoon baking soda, gf
3/8 teaspoon salt
1/4 cup Guittard Cocoa Rouge Unsweetened Cocoa Powder, gf or other unsweetened cocoa powder, gf
Powdered sugar, gf
Dairy Free Gluten Free Chocolate Mousse, recipe below
or Dairy Free, Gluten Free Ice Cream
Dairy Free Chocolate Ganache Glaze

directions:
Step 1:
Preheat the oven to 375 degrees.
Step 2:
Line a 10 1/1 x 15/1/2 x ½ inch baking sheet or stone bar pan with parchment paper and grease the parchment with cooking spray or oil, then sprinkle with gluten free flour and shake the pan to distribute.
Step 3:
Sift the gluten free flour, baking powder, baking soda, salt, and cocoa powder into a medium bowl, three times.
Step 4:
Beat the eggs in the bowl of a stand mixer with the whisk attachment or in a medium bowl using a whisk or beater attachment on high speed until thick and lemon colored. Change to the beater attachment and gradually beat in the sugar. Add the vanilla and mix in. Add the flour mixture and water alternately. Mix until just smooth. Pour into the prepared pan and smooth the top, moving the batter into the corners of the pan from the center.
Step 5:
Bake in the center of the oven for 12-16 minutes or until the cake springs back when pushed with a finger and a toothpick comes out clean. The cake will be puffy and just starting to brown along the edges. Set a clean dish towel out on your counter and sprinkle with powdered sugar until well coated.
Step 6:
Let the cake cool for 3-5 minutes. Invert the pan onto the dish towel.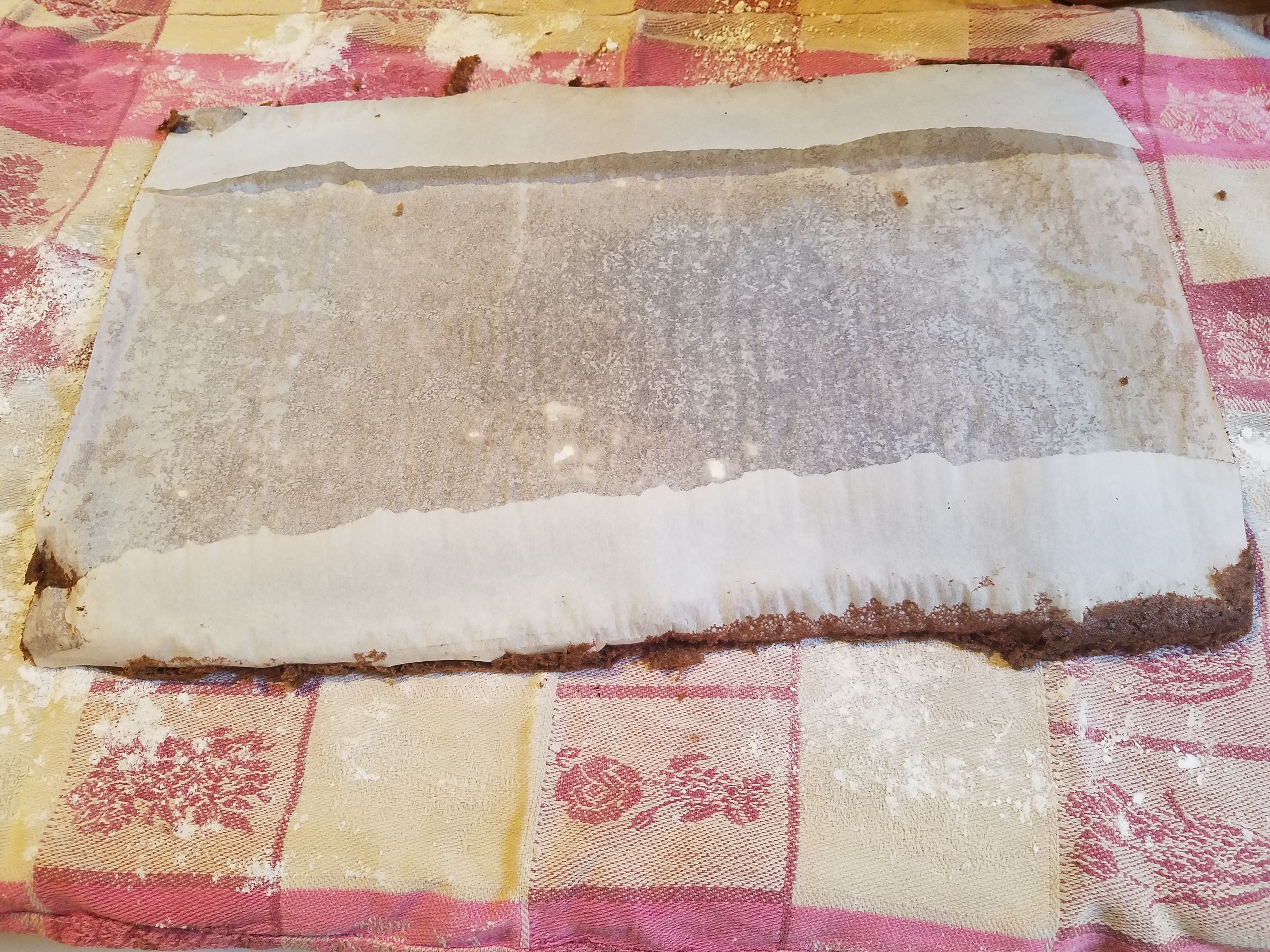 Remove the pan and unpeel the parchment paper from the cake.
Cut the edges smooth.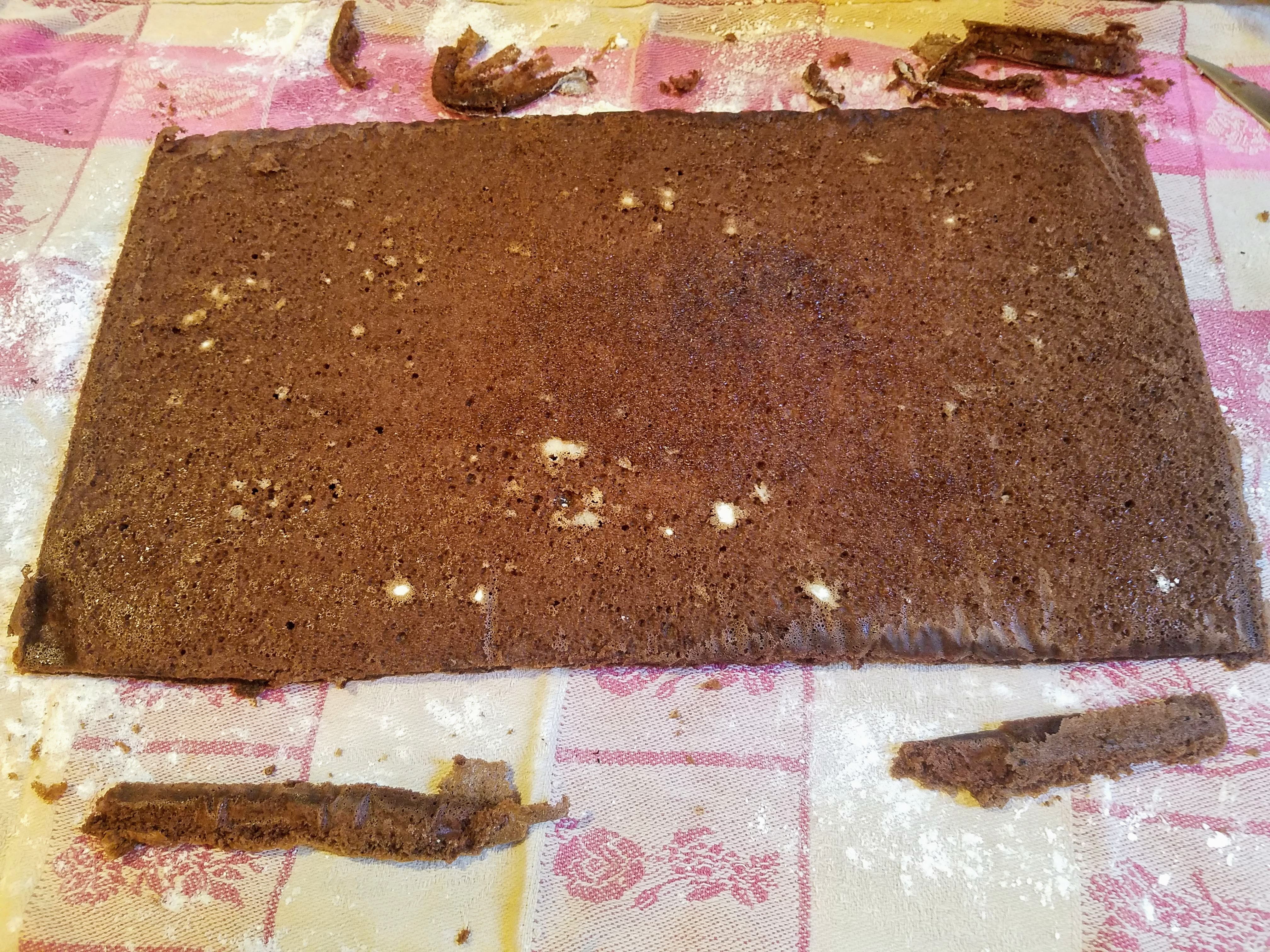 Sift cocoa powder over the cake. Then roll up the cake with the towel from the short end of the cake. Set on a wire rack to cool completely.
Step 7:
When ready to fill, gently unroll the cake on a cutting board or other flat surface.
Fill with berries and lightly sweetened whipped cream, if not needing dairy free, or Dairy Free Gluten Free Chocolate Mousse, leaving a ½ inch edge free of filling. Roll the cake back up from the same side it was previously rolled. Slide onto a large platter. Spread with Dairy Free Chocolate Ganache and decorate with organically grown, washed and dried fresh flowers or dairy free and gluten free sprinkles. Refrigerate until ready to serve, up to 8 hours. Slice into ½ – ¾ inch slices.
For an ice cream roll, soften 1 ½ pints of dairy free and gluten free ice cream.
Spread over the cake, leaving ½ inch edge free of any ice cream. Roll up the cake from the same side it was previously rolled up. Slide the towel out from under it. Slide gently onto a piece of cellophane and wrap up completely and freeze for 4 – 4 ½ hours. When ready to serve, remove from the freezer, unwrap and slide onto a cake plate. Spread with Dairy Free Chocolate Ganache.
Top with edible, washed organically grown flowers or dairy free gluten free sprinkles and slice into ½ – ¾ inch slices.
Dairy Free Gluten Free Chocolate Mousse
ingredients:
7 ounces dairy free dark chocolate, broken into pieces or dark chocolate chips (gf brand)
2 tablespoons rum (gf brand), Cognac or brandy, optional
2 tablespoons strong coffee or espresso
3 large egg yolks
3 tablespoons sugar
¼ teaspoon salt
3 large egg whites
1 tablespoon sugar
directions:
Step 1:
In a stand mixer or a medium bowl with a hand beater, using a whisk attachment, whisk the egg yolks and the 3 tablespoons of sugar and ¼ teaspoon salt on high speed for 3 minutes or until lemony yellow and thick. Set aside.
Step 2:
Melt the chocolate with the strong coffee or espresso, in a bowl over a saucepan or a double boiler, with an inch of water simmering, not allowing the bowl or saucepan with chocolate and coffee, to touch the water. When it is finished melting add in the rum or Cognac and stir until smooth. Quickly whisk in the egg yolk mixture and continue to cook over the simmering water until an instant thermometer reads 150 degrees. Remove from the double boiler and cool the chocolate mixture. Pour into a medium bowl to cool.
Step 3:
In a clean, dry bowl of the stand mixer with the whisk attachment (or in a large bowl with a hand mixer) beat the egg whites on medium until fine bubbles appear. Gradually add in the 1 tablespoon of sugar, and beat on high speed until stiff, glossy peaks form.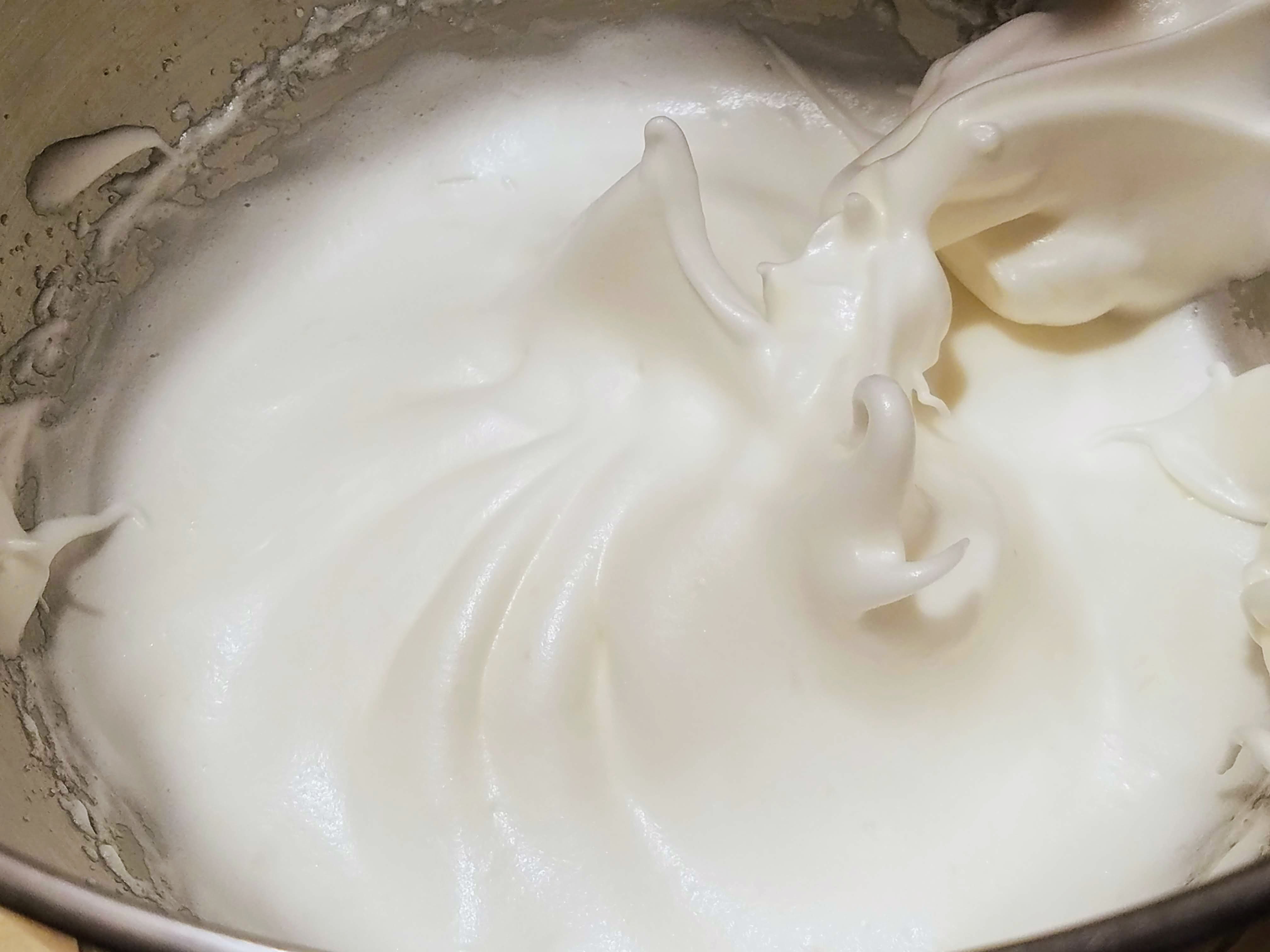 Step 4:
Fold the meringue into the chocolate, a third at a time, folding gently after each addition to not lose aeration of the egg whites.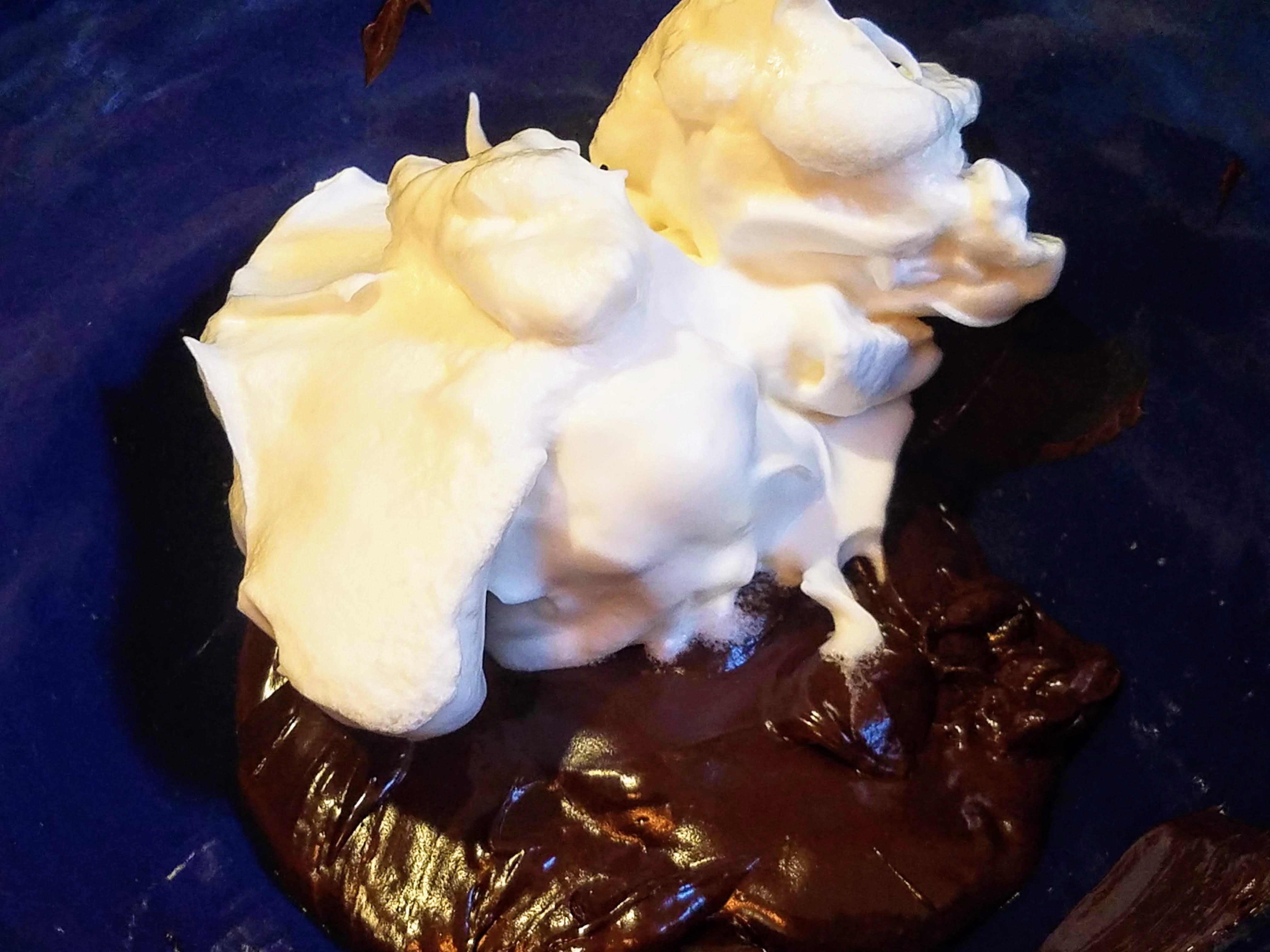 Step 5:
Chill for 1-2 hours for using as a cake filling. Or spoon or pipe (using a pastry bag) into small glasses or ramekins or fill a chocolate crust for a chocolate mousse pie. Chill completely for 3 to 4 hours, or overnight. Top or pipe with lightly sweetened whipped cream, raspberries, a small gluten free cookie, or whatever else you like. Sift a bit of cocoa powder over the whipping cream. Makes 6, 3 1/2 or 4 oz. cups or enough filling for a roll cake or 9" layer cake or chocolate torte.
Dairy Free Chocolate Ganache Glaze
ingredients:
3 ounces of dark chocolate, dairy free and gluten free (Trader Joe's 72% Cacao Chocolate Chips (dairy free and gluten free), Guittard Extra Dark Chocolate Baking Chips or Endangered Species Dark Chocolate Bar (most are dairy free and gluten free)
2 ½ tablespoons of coconut milk or coconut cream
1 tablespoon of dairy free butter
1 tablespoon of honey
1 tablespoon of port or brandy
directions:
Melt over a double boiler the dark chocolate, coconut milk or cream and the dairy free butter. Stir often. Remove from the heat when smooth. Stir in the port or brandy. Let before spooning over the filled cake roll and spreading to smooth along the top, sides and ends of the cake. Refrigerate for 1 hour to set.