I love lemon poppy seed cake! I make it often, but sometimes I want a variation of gluten free lemon poppy seed cake. My daughter, Corinne, and I came up with recipe during one of our baking sessions over zoom one day. She lives in San Diego so we don't get to bake very often in person, but we found this to be a fun way to still bake together.
Lately, I (and she) have been out of lots of ingredients and haven't wanted to run to the store, so substitutions are great! This cake using mandarin oranges is perfect! And I happen to have some on hand! There are many recipes for poppy seed cake, some I think are a bit on the dry side. This version feels a bit dense at first glance, but balanced with the other flavors and textures, it works very well. I traditionally make lemon poppy seed cake for birthdays and bridal showers for the citrus lovers, but this new version is going to be a "go to cake" for me now.
I typically like to reduce the amount of flour in my cakes, substituting a small amount of almond flour in it's place. I also reduced the amount of processed sugar, replacing half the sugar with maple syrup. The mandarin orange has a unique sweeter taste than an orange, but you could also substitute any type of orange or even "cutie" if needed.
This cake is perfect with tea or for topped with lightly sweetened whipped cream for dessert. I have been known to eat this for breakfast as well! The cake itself is not too sweet, so the icing in the layer makes it perfect.
The little mini layer cake is made of one 6″ cake and one 3″ cake. You can also just make one single 8″ cake from this recipe. The layer cake came so pretty as a little birthday cake. And the flavor on this is lovely, especially with whipped cream frosting, spread thin as a "naked cake".
-Laura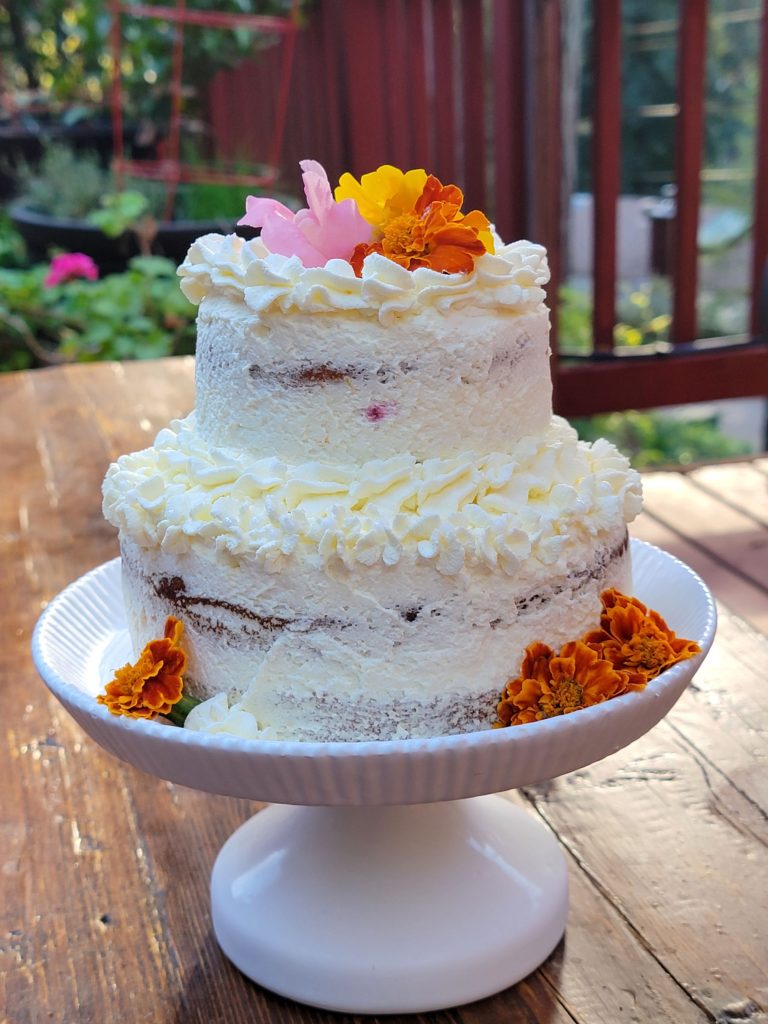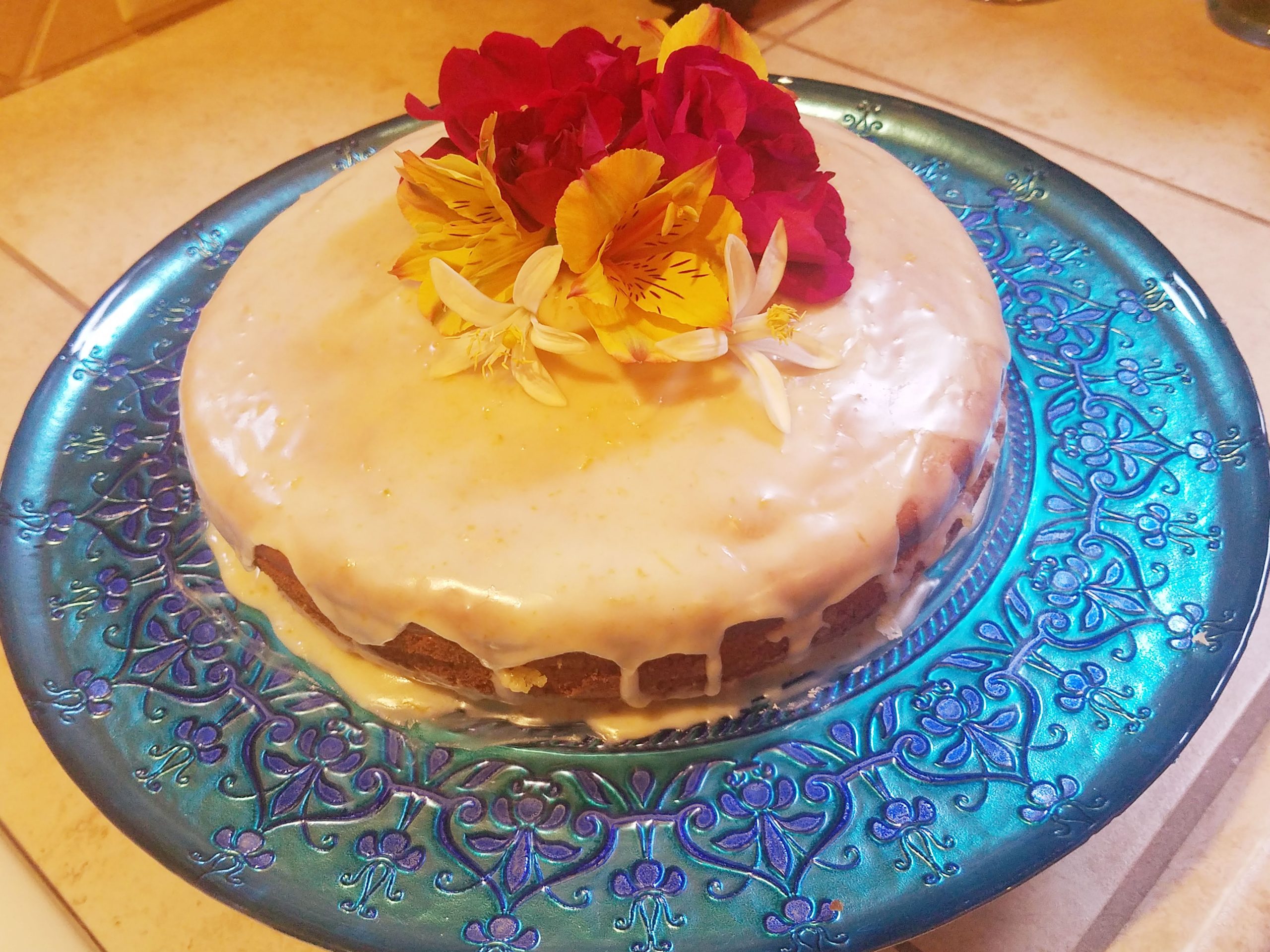 Laura and Corinne's Gluten Free Mandarin Orange Poppy Seed Cake
Makes 1 –  8" cake 
Equipment
1 8" spring form or cake pan or 6" cake pan plus 3" cake pan for a two tiered cake
Ingredients
For the Cake:
1 1/4 cup All Purpose 1 For 1 Gluten Free Flour (if not using a blend with xanthan gum, use 1/2 teaspoon)

1 cup of almond flour

3 tablespoons of tapioca starch

1 teaspoon baking powder

1/2 teaspoon baking soda

1/4 teaspoon salt

3 eggs, plus one yolk

1/2  teaspoon gluten free vanilla

1/2 cup, plus 2 tablespoons organic cane sugar

1/2 cup maple syrup

1/4 cup of olive oil or vegetable oil

zest from 4 mandarin oranges

2/3 cup mandarin orange juice

2 tablespoons of poppy seeds
For icing (glaze) – for center and top of cake:
1 cup powdered sugar

zest of 1 mandarin orange 

2 1/2 tablespoons milk

1/2 teaspoon of gluten free vanilla
Instructions
Directions for Cake:
Preheat oven to 350 degrees. Grease and flour an 8" spring form or cake pan or parchment line an 8" spring form or cake pan, then lightly grease. Set aside. 

In a medium bowl, combine 1 for 1 gluten free flour, almond flour, tapioca starch, baking powder, baking soda, and salt. 

In a separate mixing bowl or Kitchen Aid bowl, put eggs and yolk, together with sugar and maple syrup. Beat on medium high until slightly aerated and a little fluffy. 

Add flour mixture, oil, mandarin juice, zest and vanilla. Blend on medium speed of mixer or hand mixer, until well combined and smooth. Add poppy seed and stir in on low. Pour into the prepared pan.

Bake for 25-35 minutes or until a toothpick inserted comes out clean. Cool on a rack for 15 minutes before turning out unto a cake plate.  

While cake is cooling, make icing (glaze). Stir ingredients together until smooth.

Once completely cool, split the cake into two layers, by scoring around the edge first, then continuing to cut all the way into the center as you turn the cake. Remove the top of the cake. Drizzle icing on the bottom layer. Replace the top of the cake, then continue to use the rest of the glaze to ice the top of the cake, drizzling icing down the sides and smoothing across the top. I like to use a simple arrangement of fresh (pesticide free and lightly rinsed, then dried) cut flowers. You could also choose to frost with lightly sweetened whipped cream.