Baking day today with my daughter and with the chilly windy, stormy weather the past few weeks, I think tea is in order too…so, how about some Gluten Free Blueberry Vanilla Scones served with some of our homemade Meyer Lemon Curd. Or maybe some decadent Gluten Free Dark Chocolate Chip Scones with a café au lait, maybe with a half of tirimisu truffle and whipped cream on top?! Hmmm….both sound delicious.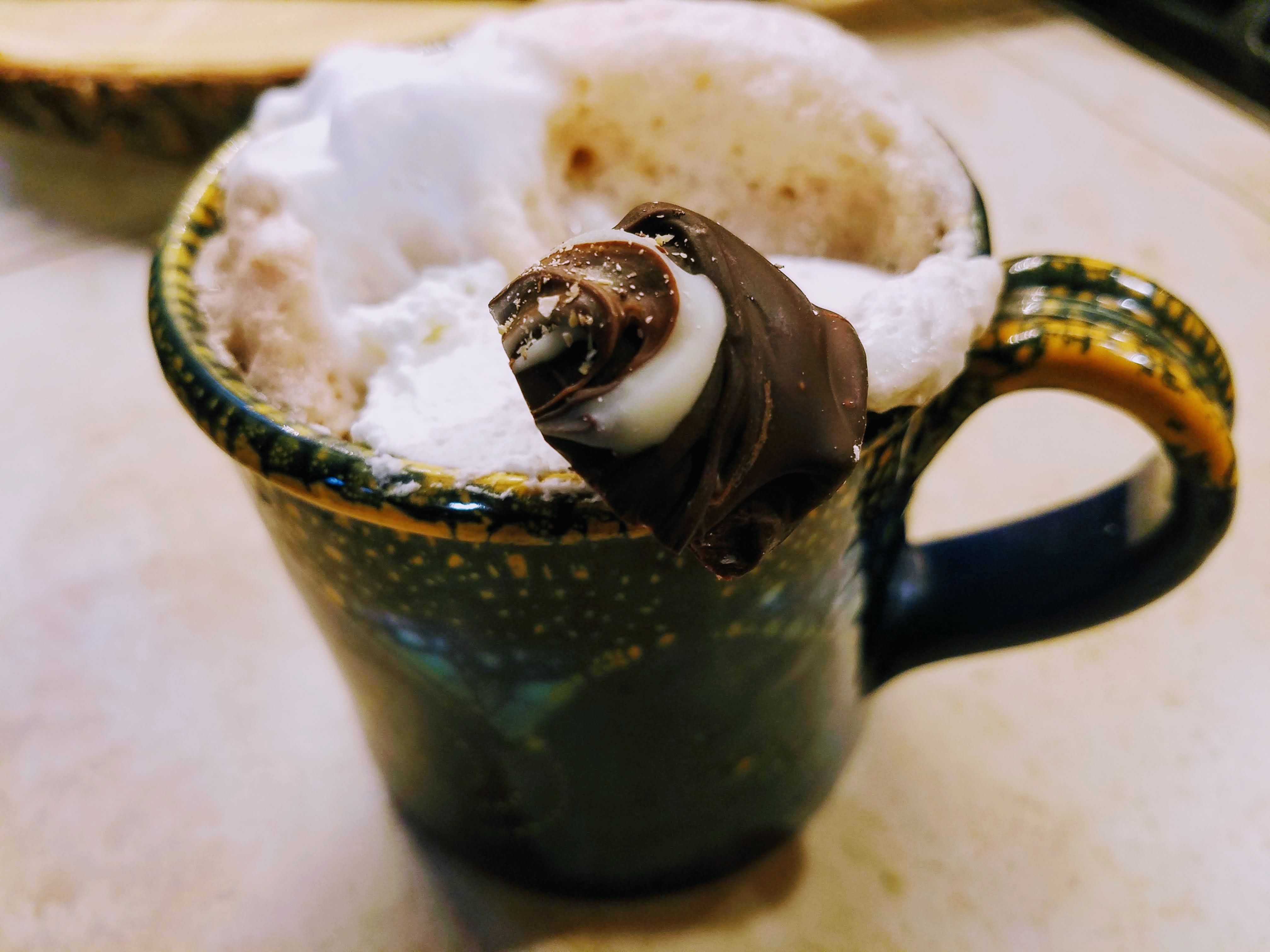 These wonderful pastries are a perfect bite with tea in the afternoon or for breakfast. You can make these mini scones or make them twice as large, round or triangular, serve with traditional Devonshire like cream, (that's hard to get that here in the States…) lemon curd, or butter. For a gluten free purchased lemon curd, try Mackays Lemon Curd. Many purchased lemon curds are gluten free, but aren't noted as such from the manufacturer. So, check the labels for celiac or extreme sensitivity.
The gluten free scone here is not dry at all, since it does have 7 tablespoons of butter for the recipe! No, on the contrary, it's more like a buttery pastry. It still pulls apart easily, but doesn't crumble in your hands. Just be sure not to overwork the dough. Stir the ingredients together quickly and then bring together using your hands. Add the fruit or chocolate chips and form into a ¾ inch thick piece of dough. Then choose to cut into your triangles or use a biscuit cutter to punch out. Pop on the parchment lined sheet and bake for 13 – 20 minutes,  on the lesser side for the mini scone. You can also substitute the butter for a non dairy stick of butter (7 tablespoons), just be sure to freeze it and grate it in.
Enjoy for breakfast, afternoon tea, or just a snack. Anyway you serve them, they are sure to be devoured!
~Laura
(updated 09/2022)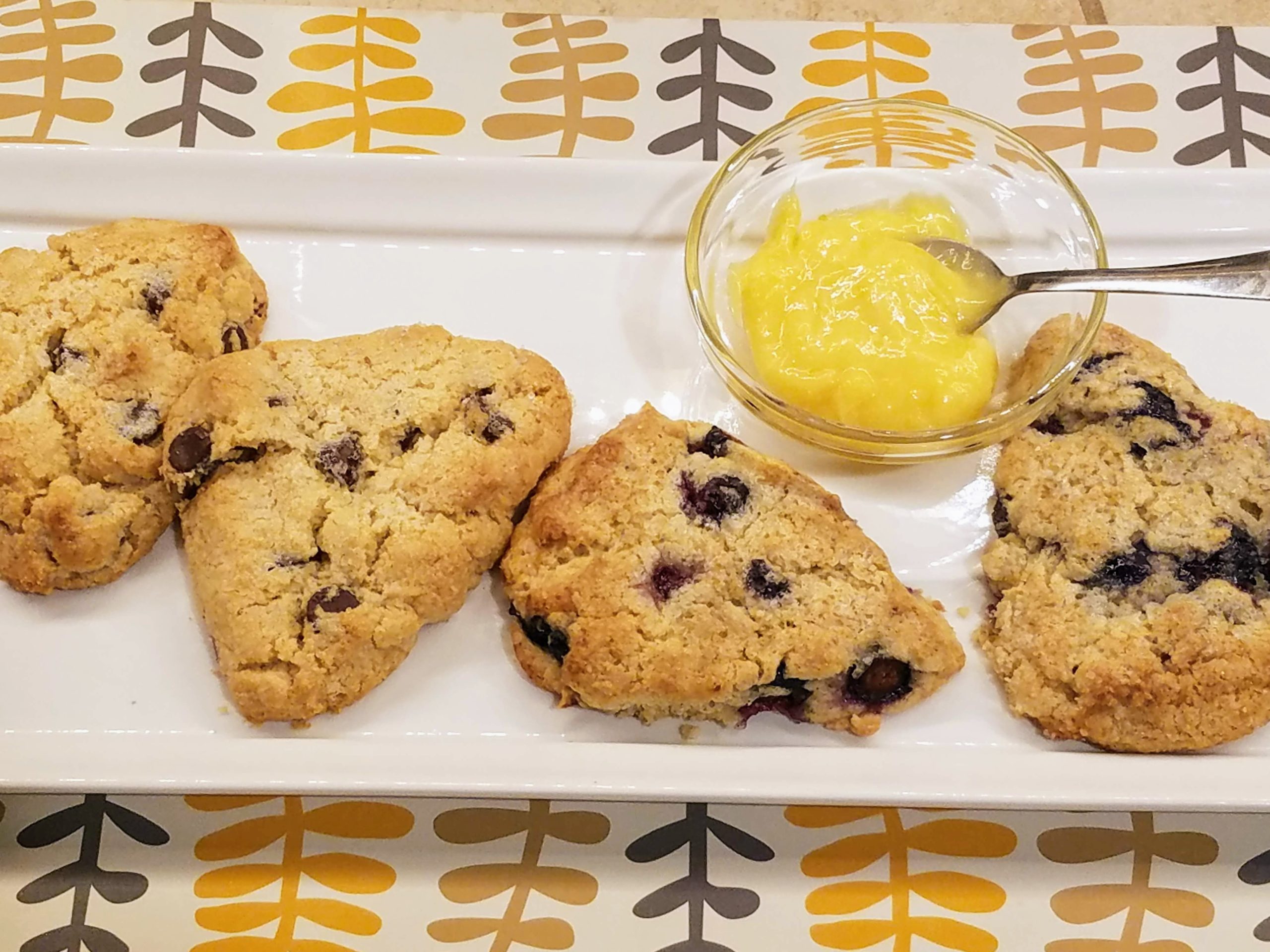 Gluten Free Blueberry Vanilla Scones or Gluten Free Chocolate Chip Scones
Ingredients
7 tablespoons

butter

or non-dairy butter, salted, frozen and grated (if using unsalted, add 1/4 teaspoon of salt)

1/8 cup

milk

or almond milk, gluten free

1/8 cup

heavy cream

or a non-dairy creamer substitute like Califa Farms Better Half Unsweetened Coconut Creamer

1 tablespoon

vanilla paste

gluten free or pure vanilla extract, gluten free

1/2 cup

almond flour

1/3 cup

tapioca starch

gluten free

1/2 cup

millet flour

gluten free

1/2 cup

Bob's Red Mill 1 for 1 Gluten Free Flour Blend

1/2 teaspoon

guar gum

or xanthan gum

1 tablespoon

baking powder

gluten free

1/4 cup

cane sugar

organic

1/2 cup

blueberries or blackberries, fresh, rinsed and dried well or 1/2 cup Guittard Extra Dark Chocolate Chips**

(or 1/4 cup of berries and 1/4 cup of chocolate chips for a half recipe of each flavor) **for a gluten free, non-dairy chocolate chip try Trader Joe's 72 % Cacoa Dark Chocolate Chips
Instructions
Preheat the oven to 400 degrees F.

Line a baking sheet with a piece of parchment.

Stir together the heavy cream, milk and vanilla paste or vanilla in a small bowl.

Sift the almond flour, tapioca starch, millet flour, Bob's Red Mill 1 for 1 Gluten Free Blend, guar gum or xanthan gum, and baking powder into a medium bowl. Add the sugar to the flour mixture and stir to combine.

Grate the frozen butter into another bowl (if frozen for more than 4 hours or overnight, take out of the freezer at least a half hour before this step). Add to the flour mixture the grated butter and stir into integrate completely. Then use your fingers to combine the butter into the flour mixture, until it looks very even and no large lumps remain.

Add the cream mixture in two additions, giving a few stirs after each addition.

Add the blueberries or chocolate (or if you would like to make two flavors, divide the dough in half, adding berries to one half and chocolate chips to the other half). Then use your hand to bring the dough together in the bowl.

Turn onto a lightly floured parchment paper and form into a square approximately ¾" thick. If making one kind of scone, form the dough into one square, cut the square into quarters, then cut each rectangular piece into 2 triangular large scones by cutting down the middle, or cut each again for 4 triangular mini scones. If making two kinds of scones, simply make 2 equal sized squares, cutting each square into triangles by cutting on the diagonal, each way. You may also cut the triangles again to make 8 mini scones for half the dough. The recipe will make 8 larger scones or 16 mini scones.

Place each scone (taking the scone off the floured parchment board with a spatula if needed) on the parchment lined baking sheet, spacing apart 1 1/2 or 2 inches.

Bake for 13 – 16 minutes for mini scones and 15-21 for larger scones. Remove from the oven when golden brown and still slightly soft to the touch. Let sit for a minute before moving to a wire rack to cool. Best when enjoyed when still warm.