A chocolatey cake is perhaps one of the best cakes ever! This one is not too sweet and although it's called Chocolate Mousse Cake it is not a true mousse as it does not contain any egg whites in the mousse, only in the cake.
The cake in this recipe, by the way, melts in your mouth! Fluffy and light with whipped eggs whites. Folding in some of the chocolate mixture into the egg whites and saving some for the mousse saves a bit of time also, which was what I was going for.
Even if you want to make a true chocolate mousse (one with egg whites) to fill and cover the cake with, this cake would be perfect. It is even much lighter than a chocolate torte!
Use a good quality, dark or bittersweet chocolate
One necessary: be sure to use a good dark chocolate in this cake. I like to use a a 72% dark chocolate or near that. Guittard's Extra Dark Chocolate Baking Chips and Trader Joe's 72% Dark Cacao Chips are both dark and gluten free. The link for the Guittard chips is for 12 count, for the chocolate lover like myself! This cake also has cocoa powder for lots of chocolate taste!
If I had to say what's this cake is similar to, I guess the cake would be a cross between a genoise and a torte. The cake is pretty low in sugar, but does contain a fair amount of cream (although no butter).
Just a note, the cakes will sink a bit after baking, during the cooling. This will not have an effect on the texture. It's still light and airy. It just doesn't contain any leavening, baking soda or baking powder as it uses the whipped egg white as the leavener, through the air bubbles which are formed during the whipping process.
Decorating your cake
If you enjoy decorating you can make a pattern on top with your berries. You can also just scatter berries on top! It will be just as pretty and make a statement. You can save a little time there too.
I normally would choose raspberries to pair with chocolate, but this day my local store didn't have any so I went with mostly strawberries. The blueberries are from my Mom's garden, which was super fun! The extra whipped cream stars and the colors of the berries and cream, were supposed to make this look perfect for the 4th of July.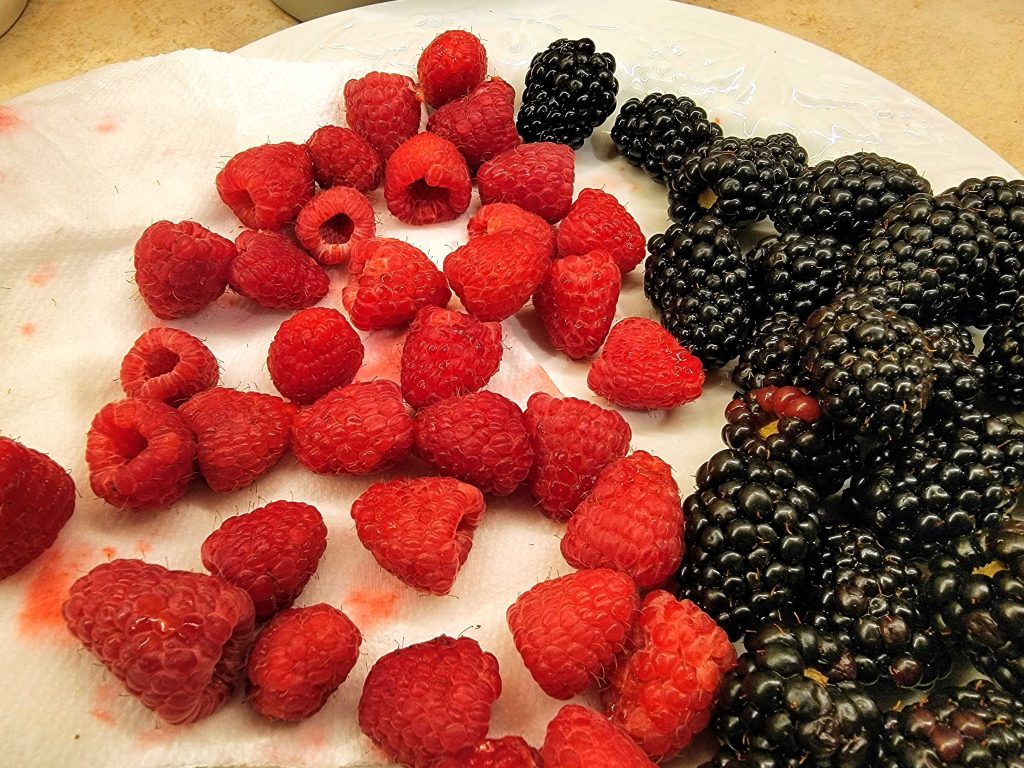 We have many berry growers in our area and berries are prevalent, so we use a lot of berries. However, but this cake could also be topped with nuts or drizzled with caramel, or scattered with chopped small pieces of chocolate, either white or dark (pick a gluten free bar if needed). Even chopped dark peanut butter cups would be delicious on top for the non berry lover!
Don't worry, if you have leftovers. Just cover and refrigerate any. The cake will keep for 1-2 days (longer if there isn't berries on it). I've know some people who have even eat this leftover for breakfast! It is, after all, mostly eggs (and chocolate!). Be sure to grab an espresso or strong coffee to enjoy with it. Coffee and chocolate were meant to be paired.
I hope you enjoy this one! When you make it, enjoy a slice for me, since this is one of my favorites! Also, if you don't mind reviewing for me I'd really appreciate it.
~Laura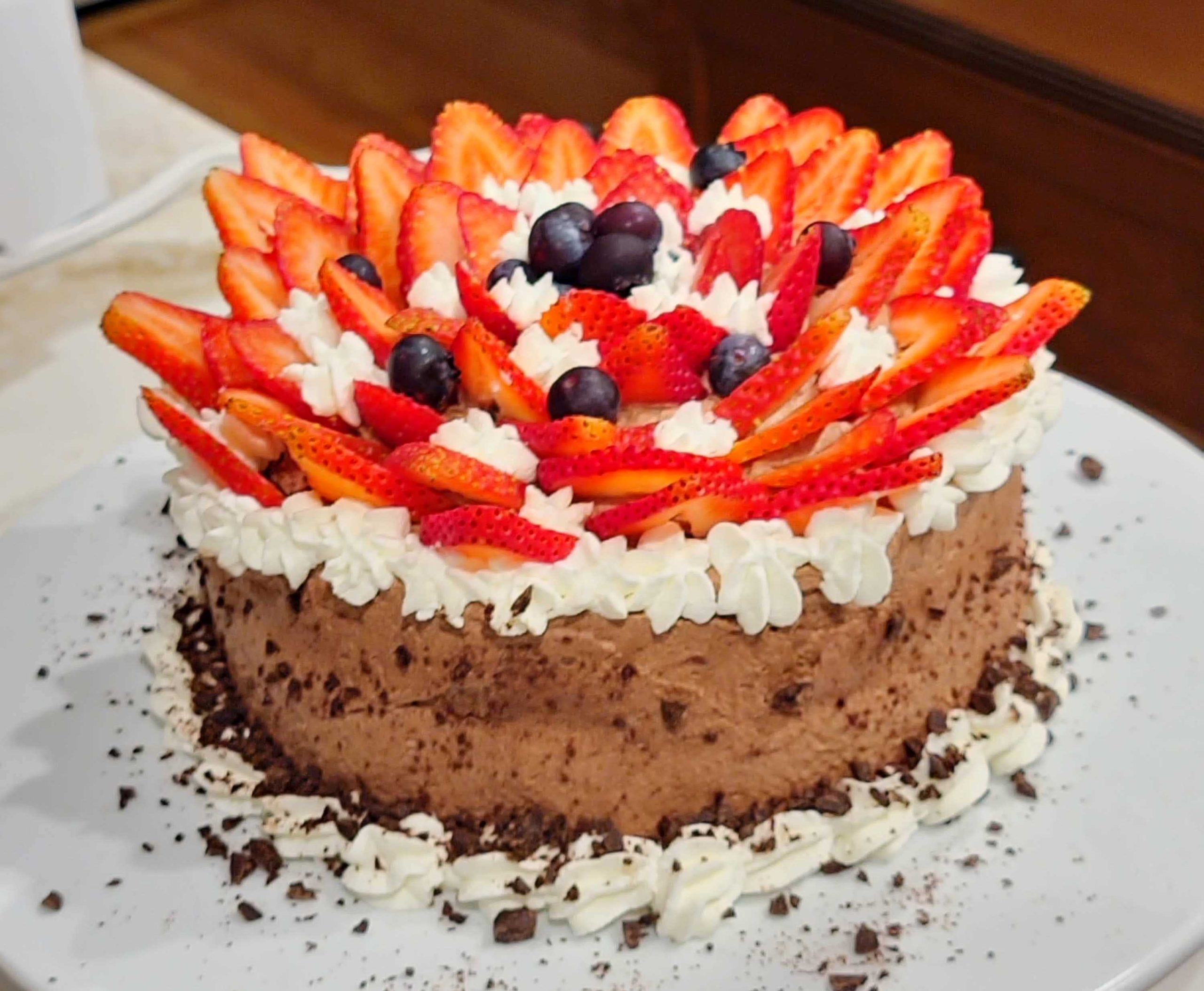 Simplified Chocolate Mousse Cake (Gluten Free and Grain Free)
This recipe is an easier simplified recipe for Chocolate Mousse Cake. It's fairly low in sugar, gluten free, and grain free. This cake will melt in your mouth! The fresh berries add a delicious element also in contrast to the light cake and fluffy, creamy mousse.
Equipment
2, 7" springform cake pans or 1, 9" or 10" springform cake pan

parchment paper

Stand Mixer or Hand Mixer
Ingredients
½

cup

warm water 

½

cup

melted dark chocolate chips, gf

¾

cup

cocoa powder, unsweetened and gf

½

cup

 sugar

⅛

cup

maple syrup

1

tbsp

tequila

, optional * use ½ tbsp more of vanilla, gf

1

teaspoon

vanilla, gf

⅛

teaspoon

salt

2

tbsp

almond flour, gf

4

eggs, separated

1

egg white

1

tbsp

sugar

½

teaspoon

cream of tartar, gf

2-3

pints

of assorted berries, rinsed and dried
chopped dark chocolate, sprinkles (gf) or chopped toasted almonds
Chocolate Mousse
1¼

cups

heavy cream

1

tbsp

sugar

½

cup

reserved chocolate mixture from above
Instructions
Parchment line 2, 7" or 1, 10" springform cake pan. Grease the paper and lightly flour with gluten free flour or almond flour. Preheat the oven to 325 degrees F. Gather your ingredients.

Mix the chocolate, cocoa powder, and warm water. Add in the tequila, maple syrup, and vanilla. Reserve ½ cup of this chocolate mixture for the mousse. 

Beat the egg yolks with the sugar until pale yellow and thick. Add the remaining chocolate mixture and mix in. Remove to a large bowl. Stir in the almond flour and salt.

Using clean dry bowl and attachment, beat the 5 egg whites until small bubbles appear. Add 1 T sugar, beating until stiff but not dry. Then mix in the cream of tartar.

Fold one third of the whipped egg whites into the chocolate mixture. Add a third more at a time folding after each addition. Do not over fold! Small flecks of white are perfectly fine.

Divide the batter between 2 prepared pans evenly or spread across one. Bake in the center of the oven for 22-27 minutes or until a toothpick comes out clean when inserted in the center.

Let cool before inverting onto a flat plate to remove the parchment. Do not attempt to invert onto a wire rack because the cake will stick! Immediately invert onto a cake stand or plate.

Whip the heavy cream until lines appear in the cream. Add in the sugar and continue beating until soft peaks form. Fold the reserved chocolate mixture in. If the chocolate mixture has hardened a bit, first warm over a bowl of hot water, before folding in. Refrigerate until ready to put the cake together. 

Slice the cake to make two layers, (if you made one cake) carefully keeping your knife at the same height. Slide the top back onto the cake pan bottom piece or another round flat surface. Spread ⅓ of the mousse across the bottom layer or on one cake if making a 7" layer cake. Add berries, pressing in.

Add a small amount of mousse to cover the berries. Gently add the second layer or second cake on top (indent side up). Add a thin layer of mousse over the top and sides. 

Sprinkle crushed chocolate or chopped almonds over the sides. Decorate with berries and pipe whipped cream on edges.  

Chill for 2 hours before serving. Refrigerate any uneaten pieces. 

** use 1½ cups heavy cream and 1 tablespoon plus 1 teaspoon of sugar to have extra whipping cream to pipe on top of the cake. After whipping, and before folding in chocolate mixture, reserve 1 cup of whipped cream to pipe on decoratively.
Notes
If you prefer to make a one layer cake, just spread the mousse on top and side and decorate. This is the easiest method for sure! It won't be quite as much work, but will taste just as delicious!