Jump to Recipe
Print Recipe
What's your tradition for Christmas morning breakfast? We love cinnamon rolls here and for me (and now my daughter and son-in-law) to be able to enjoy them, they must be gluten free. My husband goes along with making and eating gluten free cinnamon rolls now, since I can't have even a speck of gluten or wheat flour in our kitchen. These are easy to make, can slow rise in the refrigerator all night long and be ready to bake first thing in the morning. Add some fruit and maybe some gluten free bacon and you're all set for your Christmas morning (or anytime!).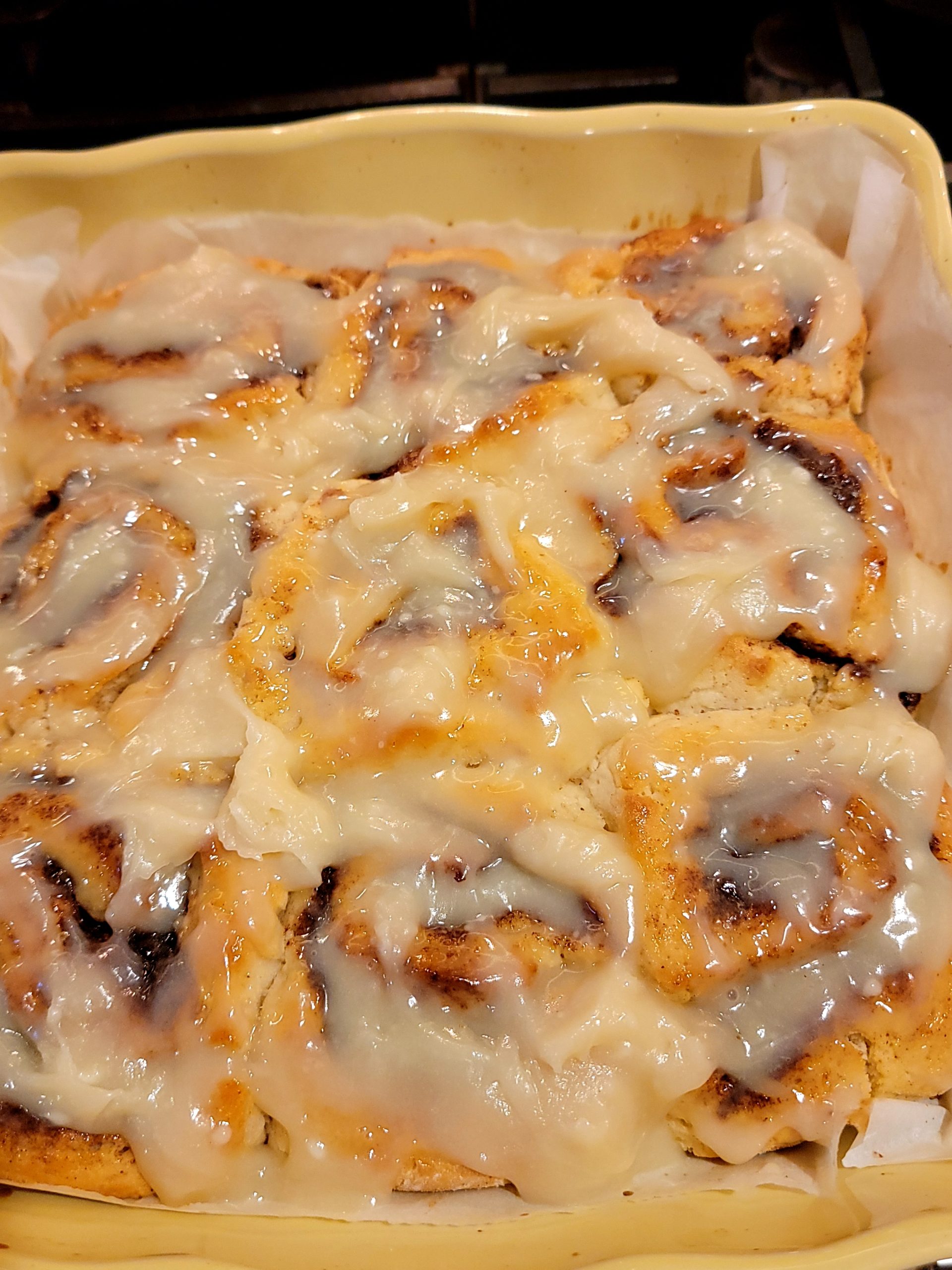 Slow Rise Gluten Free Cinnamon Rolls
Perfect for those morning cinnamon roll special days! You can simply make these in the evening, slow rise them in the refrigerator overnight, and bake them in the morning. So yummy (and gluten free)!!
Ingredients
1 cup milk or dairy free and gluten free milk alternative, warmed to touch

2 1/4 teaspoons of Fleishman's Dry Active Yeast, gf

1 tablespoon sugar

3/8 cup plus 1 tablespoon organic cane sugar

5 1/2 tablespoons unsalted butter or dairy free stick butter, melted and cooled slightly

2 large eggs

1 teaspoon apple cider vinegar or white vinegar

2 cups Bob's Red Mill 1 to 1 Gluten Free Flour or other gluten free 1 to 1 blend

1/2 cup Bob's Red Mill Tapioca Flour (also known as tapioca starch), gf

1 cup Ryze Multi-Purpose Gluten Free Flour Mix or gluten free brown rice flour

1/4 teaspoon salt, omit if using salted butter

2 1/4 teaspoons of baking powder, gluten free
Filling:
5 tablespoons butter or dairy free stick butter, melted

1/2 cup dark brown sugar, packed

3/8 cup organic cane sugar

2 1/2 tablespoons cinnamon, gf
Frosting:
3 ounces of cream cheese or dairy free cream cheese

5 tablespoons butter, or dairy free gluten free butter

1/4 cup powdered sugar

1 teaspoon pure vanilla extract, gf 
Instructions
In a small bowl, heat the milk warm to touch only, not hot in the microwave for 20-30 seconds. Add the yeast and the 1 tablespoon of sugar. Stir and let sit for 20-25 minutes until bubbly. 

Sift the flours together with the remaining sugar, baking powder and salt in a large bowl or in a stand mixer bowl. Using the paddle attachment or stirring by hand, add in the yeast mixture, butter, eggs, and vinegar. Pour into a greased bowl, cover with a towel and let rise for 1-2 hours. 

For the filling, mix together in a small bowl the sugars and cinnamon until combined.

Once the dough has risen about 1 1/2 times and is puffy, turn out the dough unto a well floured board. Line a 9 x 11" baking dish with parchment paper and lightly grease the paper. 

Roll the dough to a rectangle, about 10" X 12". Pour the melted butter over the dough, leaving a 1/2" edge free of any butter. Sprinkle on the cinnamon sugar mixture. Roll the rectangle from the long side. Cut into 1" thick slices. Lay them in the prepared pan. Cover with cellophane and let rise for an hour. Move to the refrigerator to bake them the next morning, or let rise for up to one more hour, before proceeding to baking step. 

When ready to bake, let the pan come to room temperature for a half hour or so.  Preheat the oven to 350 degrees. Remove the cellophane and bake in the center of the oven for 25-30 minutes. 

Make the frosting while the cinnamon rolls are baking. When you remove them from the oven, spread the frosting over evenly with a rubber spatula. Enjoy them right away! You can also freeze these in sealed containers for up to a month or two. Thaw, then heat in the oven or toaster oven at 300 degrees for 8-10 minutes or until hot.