Jump to Recipe
Print Recipe
There's a wonderful Mediterranean restaurant I love to go to here in Santa Cruz, called Laili. They have the best food, a beautiful garden patio, elegant atmosphere, perfect service, plenty of choices for vegan and vegetarian, and, what I love best is that all their entrees are gluten free. Most of their menu is also gluten free, with the exception of their flatbreads and a few other items.  
So when my husband wants to treat me to a special dinner out, this is where I pick every time! I love that I can eat here and not get sick from gluten ending up in my meal. And when we go, I usually whip up a batch of these Gluten Free Sourdough Flatbreads to take with me. It just makes me feel special a bit, getting to eat a "bread" in a restaurant. They also bring me a small amount of olive oil and balsamic since their dipping oil contains gluten (in the form of bulgur, I believe).
These flatbreads are easy and quick to make. This new favorite tool, the marble rolling pin made these a breeze to roll, literally with little or no effort! You may need to double the recipe though! These are also great served as an appetizer with humus. You can also make these using plain yogurt or Greek yogurt in place of the gluten free sourdough starter if you don't have one going.
Serve these flatbreads with a soup or my Mediterranean Lentil and Bean Soup (Gluten Free and Vegetarian Option), or alongside or filled with a marinated chicken with a little tzatziki sauce. Or just eat them plain!
~Laura
Print Recipe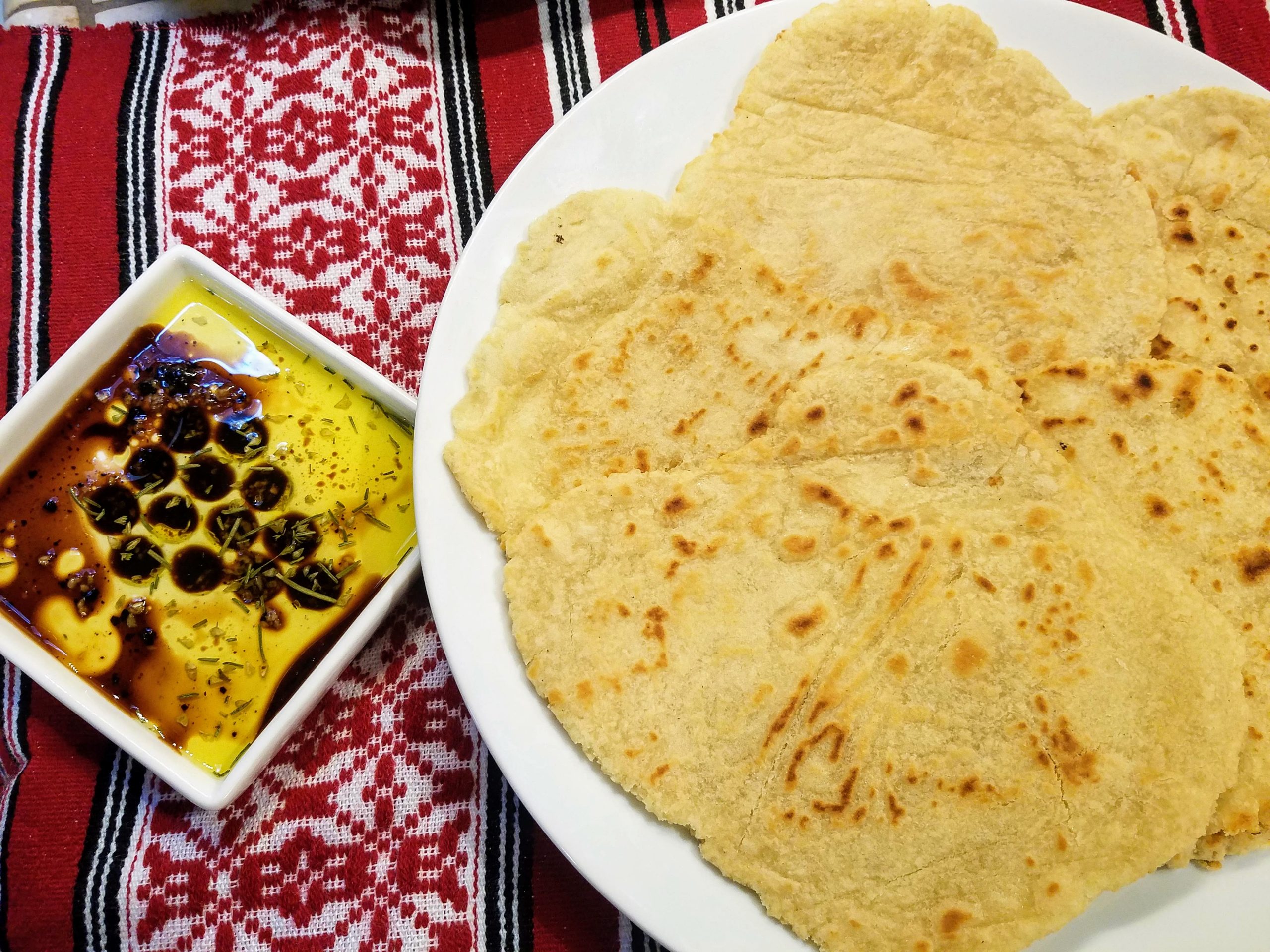 Gluten Free Sourdough Flatbreads
Ingredients
1½

cups

Gluten Free 1 to 1 Flour Blend that contains xanthan gum or Ryze Gluten Free Flour Mix, Yellow Package

4

tablespoons

"discard" gluten free sourdough starter

or plain yogurt

½

teaspoon

salt

½

teaspoon

garlic powder, gf

½

teaspoon

baking powder, gf

⅓

cup

plus 2 tablespoons of almond milk or whole milk

1

tablespoon

olive oil

extra virgin
Dipping Oil
2

tablespoons

olive oil

extra virgin

2

tablespoons

balsamic vinegar

2

cloves garlic, minced

pinch of salt

½

teaspoon

dried oregano, gf

½

teaspoon

dried rosemary, gf
Instructions
Measure the flour into a medium bowl. Add the salt and garlic powder and stir together. Add the sourdough starter, milk and olive oil. Stir the ingredients together to combine.  Using your hands, bring together into a ball. The dough should hold together, but still be soft and smooth.

Knead with your hands a few times on a board covered with parchment. Let the dough sit for 15 – 20 minutes covered with cellophane or a towel. Divide the dough into 6 – 8 balls of equal size, rolling in your hands until a smooth ball is made. Repeat for the other dough pieces. Cover the dough balls with a wet towel or wet paper towel.

Heat a skillet over medium high heat. Roll out between two sheets of parchment the first ball into an oval shape of 1/8" thickness. Lightly grease the skillet with or canola oil, and heat the oil. Remove the flat bread from the parchment gently and lay the rolled flat bread gently into the skillet. Cook for 2 minutes on one side before turning over and cooking for approximately 2 minutes on the second side, adjusting the stove temperature as needed. They will be lightly browned.

Repeat for remaining balls of dough, keeping the dough covered until you take out to roll out.
Dipping Oil
Add all the ingredients together in a small dipping bowl. Serve with the flatbreads. Pull off a piece of the flatbread and dip or spoon the dipping oil onto the piece of flatbread before devouring.