Jump to Recipe
Print Recipe
One of my favorite gluten free desserts – Chocolate Mousse! Chocolate mousse is almost always gluten free! Hooray! But you would need to verify this before enjoying if you have Celiac or are highly intolerant. It could have chocolate or another ingredient that is not gluten free.

Chocolate mousse is one of my favorites to add in a cake layer on a gluten free cake. Whether you choose to use as a filling for a chocolate torte or cream puff, use as a filling for a pie, or just serve in small fancy glasses for a special dessert, no one will be disappointed! This recipe is not only gluten free, but also dairy free, as it contains no heavy cream.

I tested the recipe using meringue powder, for those of you that are worried about eating raw egg whites. You could also use pasteurized eggs for safely eating chocolate mousse, as the eggs are heated in the pasteurization process. I have also seen recipes that make a swiss meringue, which is basically heating the egg whites with sugar and water to kill any bacteria. The egg yolks in the recipe were also heated to safe temperature.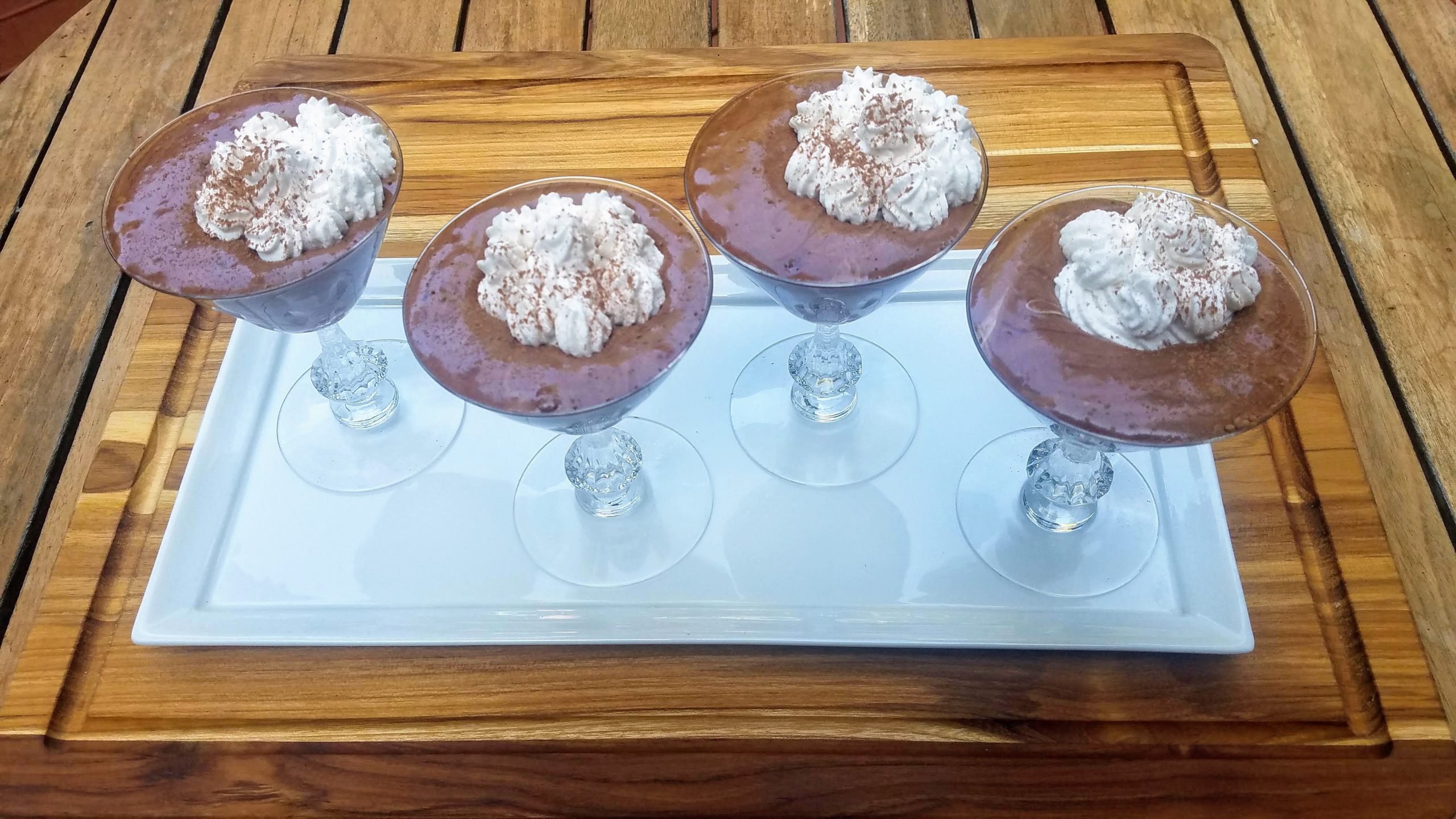 Gluten Free Dark Chocolate Mousse
Creamy, velvety chocolate mousse with no chance of getting sick from uncooked eggs. And no whipped cream or dairy.
Ingredients
7 ounces

dark chocolate

, broken into pieces or dark chocolate chips (gf brand and dairy free if needed)

2 tablespoons

rum (gf brand) or Cognac

1/4 cup

strong coffee

3 large

egg yolks

1 tablespoon

sugar

1/4 cup

water

1/4 cup plus 1 tablespoon

sugar

1/8 cup

meringue powder

(use a brand that is gluten free or is processed in a facility that doesn't process gluten)
Instructions
In a saucepan stir together the 1/4 cup water and 1/4 cup plus one tablespoon of sugar. Dissolve the sugar over medium heat and bring to a boil. Set aside to cool.

In a stand mixer or a medium bowl with a hand beater, using a whisk attachment, whisk the egg yolks and the 1 tablespoon of sugar on high for 3 minutes or until lemony yellow and thick. Set aside.

Melt the chocolate with the strong coffee, in a bowl over a saucepan or a double boiler, with an inch of water simmering, not allowing the bowl or saucepan with chocolate and coffee, to touch the water.

Once the chocolate has melted, add in the rum or Cognac and stir until smooth. Quickly whisk in the egg yolk mixture and continue to cook over the simmering water until an instant thermometer reads 150 degrees. Remove from the double boiler and cool the chocolate mixture.

Add the meringue powder to the cooled water and sugar from step 1. Stir in with a hand whisk until smooth, then pour into a clean, dry bowl of the stand mixer with the whisk attachment (or in a large bowl with  a hand mixer) beat on high speed for 6 or 8 minutes, until stiff peaks form. 

Fold the meringue into the mousse, a third at a time, folding gently after each addition to not lose aeration of the egg white. The meringue powder will make a very smooth and stable meringue. I read that it's always better to have a few flecks of the egg white than to over mix your mousse. 

Spoon or pipe (using a pastry bag) into small stemware or ramekins. Chill completely for 3 to 4 hours, or overnight. Top or pipe with lightly sweetened whipped cream, raspberries, a small gluten free cookie, or whatever else you like. Sift a bit of cocoa powder over the whipping cream.
Notes
I love serving dessert in pretty and small stemware. This recipe will make 6, 3 1/2 or 4 oz. servings. It's rich so you don't need more than that. When you use stemware you can see the pretty fluffy texture and layer in a few berries or cream if you like. You can also just serve it in ramekins, and add toppings of whipped cream, chocolate shavings, or berries. Either way, it's delightful!