Jump to Recipe
Print Recipe
Crisp, on the outside and slightly soft interior, plus buttery and peanutty is what makes these cookies wonderful! I'm not usually much of a peanut butter cookie fan, but since Paul loves peanut butter cookies. Since I don't bake with flours containing gluten, I don't make him regular ones, I wanted to create a good substitute that was gluten free. Adding the chocolate is a bonus, and for me I only want the extra dark chocolate on mine, but they sure look pretty with both colors.
Try this recipe and see if you can stop at two cookies! If you have trouble finishing a batch at your house in three days, the dough freezes perfectly in a sealed container. You can have them in the freezer in balls and just thaw the amount you want for that day, place on your cookie sheet, flatten, and bake.
Voila! Gluten free cookies are so easy to make, you never have to buy them! Or be sad you didn't get to enjoy a regular flour one at that bakery. Your homemade one will be just as delish.
~Laura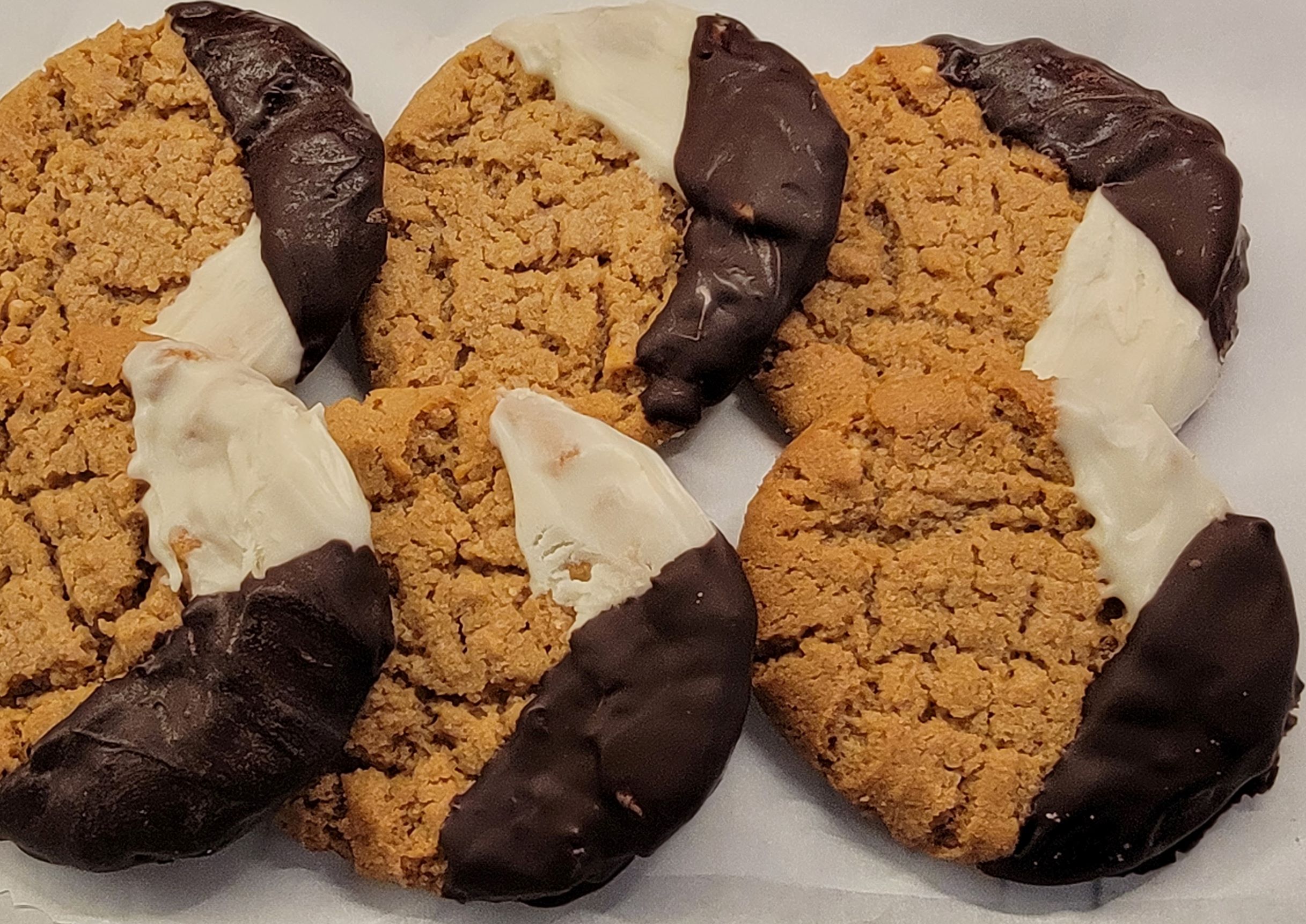 Gluten Free Peanut Butter Cookies
Ingredients
½ cup unsalted butter or dairy free (gf) butter substitute, cut into several pieces

½ cup dark or light brown sugar

½ cup cane sugar

½ cup peanut butter, natural, creamy or chunky

¼ teaspoon pure vanilla extract, gf

1 egg

¼ cup tapioca starch, gf

¼ cup brown rice flour, gf

¼ cup white rice flour, gf *

¼ cup cassava flour, gf *

¼ cup oat flour, gf *

¾ teaspoon cornstarch, gf *

⅝ teaspoon baking soda, gf

⅝ teaspoon baking powder

⅛ teaspoon salt

8 oz. dark chocolate chips, gf, melted for dipping, optional

8 oz. white chocolate, gf, melted, for dipping, optional

*If you don't have the flours above and would like to substitute a gluten free 1 to 1 flour for the rice, cassava, oat flours, and cornstarch substitute ¾ cup, plus 1 tablespoon gluten free 1 to 1 flour blend of your choice for noted flours (*). 
Instructions
In the bowl of a stand mixer or in a medium bowl using a hand mixer, cream together the butter, sugars, and peanut butter. Add the egg and vanilla and continue mixing until smooth.

In another bowl combine the rice flour, cassava, oat flour, cornstarch, baking soda, baking powder, and salt. Add the flours to the creamed mixture and mix in.

Cover and chill for 1-2 hours or overnight.

When ready to bake, preheat the oven to 350 degrees. 

Line a stone baking sheet or a cookie sheet with parchment paper. Use an #18 scoop or scoop by heaping tablespoons to form 1 ½ inch balls of cookie dough, placing the cookies 2 ½ -3 inches apart on the sheet. Use a fork to slightly flatten in a crisscross pattern. 

Bake one tray at a time for 11-14 minutes until the cookies are slightly browned but still soft in the center. Remove from the oven. Let the cookies sit on the tray for 1-2 minutes before carefully removing to a wire rack to finish cooling. 

Once cooled, melt the white in a bowl in the microwave for short 15-20 second intervals, stirring often. Stop before the chips have all melted and stir to finish melting.

Set a piece of foil on a cookie sheet or on top of a wire rack. Dip one end of a cookie in the white chocolate in a half moon shape and set on the foil sheet until the chocolate has hardened. Continue until all the cookies are dipped in white chocolate.

Once the white chocolate has hardened, melt the dark chocolate using the same method above. Dip the same end overlapping the dark chocolate dipped portion over the white chocolate in a half moon shape also. Continue to finish dipping the cookies in the same method. You may also choose to dip some cookies in dark chocolate and some in white if you prefer.

After dipping in the melted dark chocolate, place each cookie back on the foil in a cool place until the chocolate hardens. Store cookies in an airtight container for up to 3 days.