Jump to Recipe
Print Recipe

Brie and Cranberry and Brie and Figs in a Flaky Gluten Free Pastry! The day just got better! These are a perfect appetizer, but honestly you could serve them as dessert with some fresh fruit!
You could alternately fill the pastry crust with some diced ripe tomato or sun dried tomato and top them with grated Pecorino, Parmesan, or Dubliner cheese, and some herbs. I talk a lot about Dubliner Cheese because it's one of my favorites. It has a little nut flavor and a little sweetness to it. And Costco carries a huge block!
Also, have you tried the Kirkland brand Coastal Rugged Mature English Cheddar? It's delicious. We eat a lot of cheese here, thank goodness I only have a gluten allergy (severe sensitivity). You can easily make (or purchase) the pastry dough ahead of time and these are so easy to put together and bake. I like to form the pastry dough into a flat disc before wrapping and chilling for an hour, but for this recipe I would divide the dough into two pieces just after making, form into flat discs, and wrap and chill.
You can also prepare these up to baking and refrigerate or even prepare and bake ahead of time and just reheat the day of. Pair these bites with a Prosecco or a Champagne. A Sauvignon Blanc or Sparkling Rose would also go well with them. They will be a great start to any party or gathering. Especially for your gluten free guests!
Happy Thanksgiving!
~Laura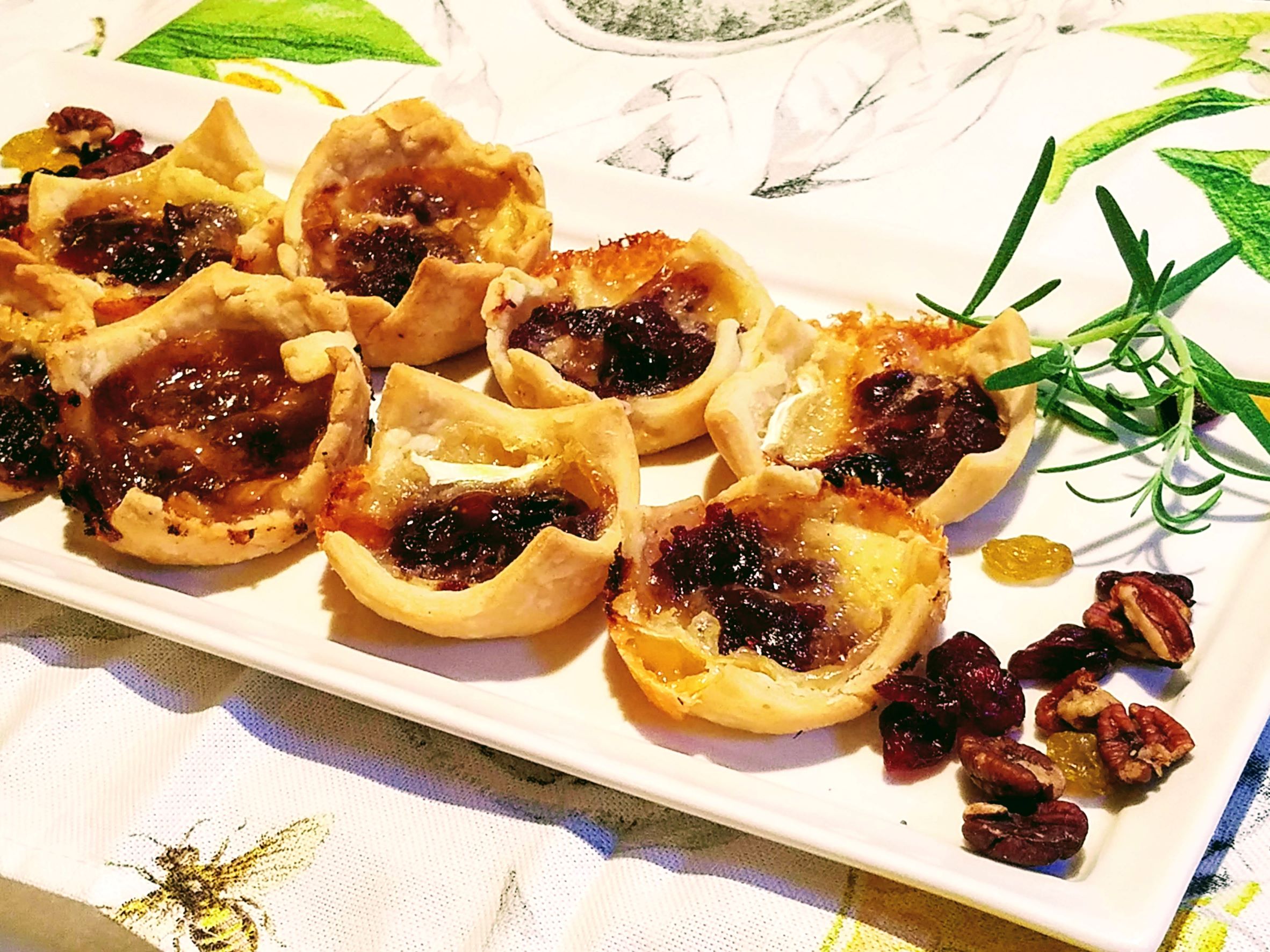 Brie and Cranberry and Brie and Fig Bites in a Flaky Gluten Free Pastry
These are your perfect holiday appetizer! Your gluten free guests will be so happy to get to enjoy one ( or more!) and your gluten eating guests will never know the difference, with the flaky crust and delicious festive filling.
Ingredients
1 recipe chilled Simple Gluten Free Flaky Pie Crust or other gluten free pie dough, 9"

¼ cup fig jelly4-5 dried Smyrna or dried Mission figs, diced or 4-5 fresh figs, diced

¼ cup cranberry sauce with whole cranberries

4-5 oz. Brie cheese, sliced 3/16" and in a rectangle that will fit at the bottom of the muffin cup

A handful of dried cranberries, optional

Fresh thyme leaves, optional
Instructions
Divide the chilled Gluten Free Flaky Pie Crust dough or other pie dough into two equal pieces.

Roll one dough to 1/8" thick on a gluten free floured board or lightly floured between parchment. Cut the rolled dough into 2.5 inch squares. 

Lay the squares of pastry dough inside the muffin tin cups. The bottom of the cup will be covered and the dough should reach up the side of the cup.

Repeat with the second disc of gluten free dough.  Re-roll any dough scraps to make additional 2.5 inch rectangles of dough. Place each rectangle in a muffin tin cup.

4. Lay a slice of brie at the bottom of each pastry piece.

Set some of the fig pieces on one tray and a few dried cranberries on the other tray. Top with a teaspoon of fig jelly or cranberry sauce. Try to keep the jelly or cranberry in the center of the pastry, covering the Brie and fruit pieces.

6. Bake in a preheated 400 degree oven for 14-18 minutes until golden brown and bubbly. Run a knife around the inside edge of the cups and using the knife, pop the mini brie cups out of the tin.

7. Plate and add thyme leaves to the tops. Serve while warm or refrigerate unbaked bites for up to 1 day before baking. You can also freeze baked bites in a sealed container or refrigerate for up to 2 days. To reheat, place baked thawed bites or baked refrigerated bites on a cookie sheet, then reheat in a preheated 325 degree oven for 12-15 minutes or until sizzling.

Makes 24 muffin size, 12 Brie and Cranberry and 12 Brie and Fig bites.