These Gluten Free Browned Butter Cookies with Dark Chocolate taste rich with caramel and chocolate! YUM!
Try this easy cookie for something different and tasty. The browning of the butter is a simple process, but just don't leave the stove as you are browning as the butter solids can burn. The browning of the butter creates a wonderful taste of toffee and nuts. These cookies are amazing with just dark chocolate chips and pecans but the dried apricots are a nice addition too. Since Paul's not a fan of apricots, I just added them to a few of my cookies.
If you don't have pecans, try toasted almonds or roasted cashews. Just make sure if you are using salted butter to eliminate the added salt in the cookie, and as well eliminate it if you are using salted nuts. We always have salted nuts on hand, so if I'm out of unsalted nuts for cooking or baking, I sometimes substitute.
You can see here, I have noted all the ingredients which need to be certified gluten free. For those ingredients which are harder to find certified, I seem to be okay with them being manufactured in a clean factory, one without wheat or gluten. For most of my recipes, I use Bob's Red Mill Gluten Free products. I use Nielsen-Massey Pure Vanilla products and McCormick Schilling Spices, which both are brands that are gluten free. For chocolate, I use Guittard Extra Dark Baking Chips or Trader Joe's Gluten Free Semi-Sweet Chips or Trader Joe's Gluten Free Semi Sweet Chocolate Chunks.
I know some of you don't need to be as strict and you can always disregard the noting for gluten free items. Some of us with severe sensitivity or celiac have to use these gluten free certified and clean ingredients for our bodies to stay well.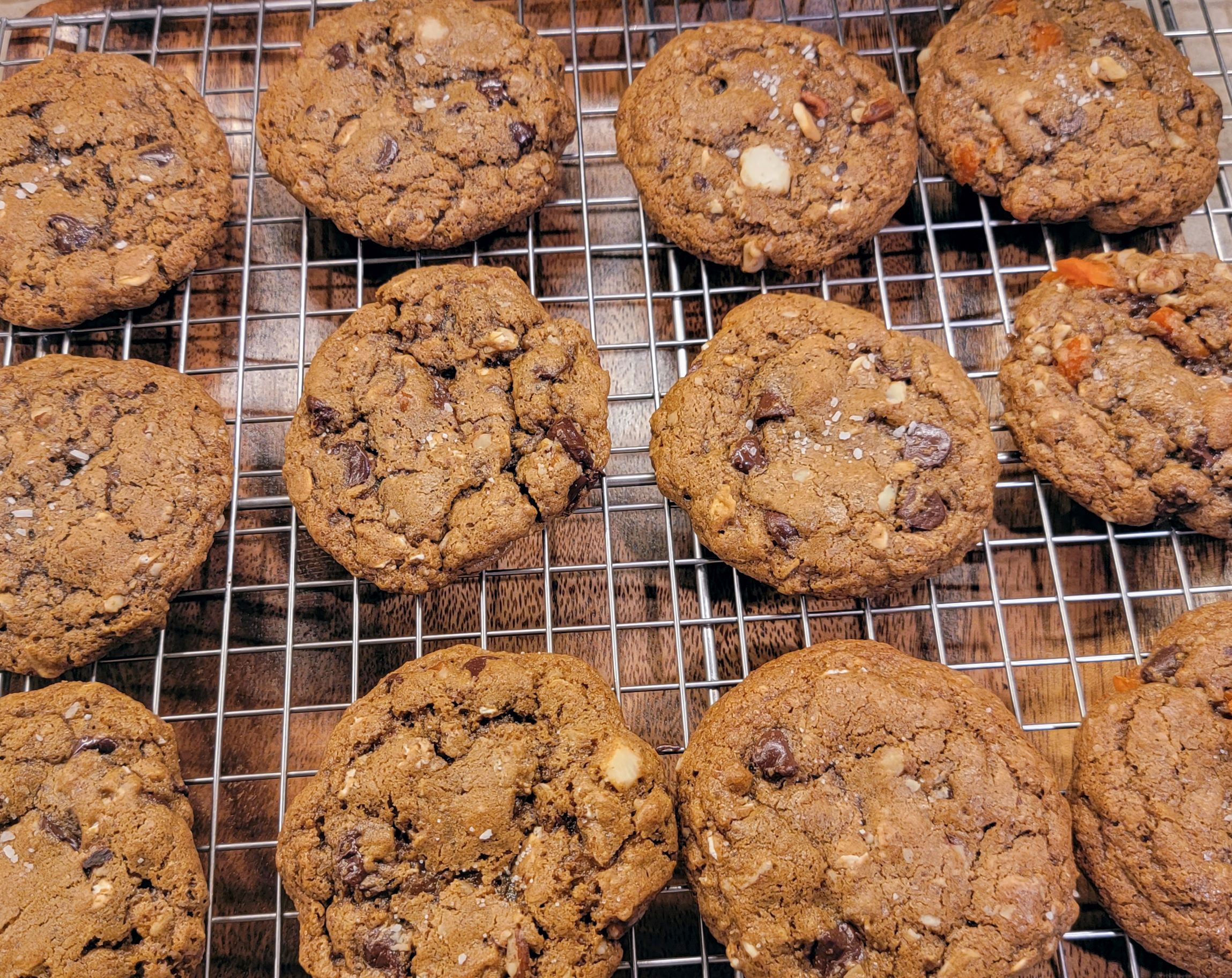 Gluten Free Browned Butter Cookies with Dark Chocolate
Ingredients
½ cup organic unsalted butter, cut into a few pieces

½ cup dark or light brown sugar

¼ cup granulated or cane sugar

1 tablespoon molasses or honey, gf

1 ½ teaspoons pure vanilla extract or vanilla paste, gf

1 teaspoon rum, gf, optional

1 egg

½ cup white rice flour, gf

½ cup brown rice flour, gf

3 tablespoons tapioca starch, gf

1 tablespoon cornstarch, gf

¾ teaspoon baking soda, gf

¼ teaspoon Morton's Kosher Salt

½ teaspoon ground cinnamon, gf

½ cup rolled oats, gf

⅓ cup pecans or other nuts, gf or "Clean" environment

¾ cup dark chocolate chips, gf

⅓ cup dried apricots, sliced and chopped fine, optional

⅜ teaspoon Morton's Kosher Salt, for topping
Instructions
In a small or medium saucepan, heat the butter over medium temperature, stirring or swirling the butter in the pan continuously until the milk solids start to separate and begin to brown. Remove from the heat and pour into a small bowl to cool. 

In a medium bowl combine the rice flours, tapioca, cornstarch, baking soda, cinnamon, and ¼ teaspoon salt. 

In a stand mixer bowl, or in a bowl with a hand mixer, cream together the sugars, molasses or honey, egg, vanilla, and optional rum.. Add the cooled butter and continue to mix together until smooth. Add the flours to the creamed mixture and beat in. Add the oats, nuts, chocolate chips, and dried fruit if using. Mix on low to combine.

Cover and chill for 1 ½ -2 hours. 

Preheat the oven to 350 degrees. 

Line a stone baking sheet or a cookie sheet with parchment paper. Use a scoop or scoop by heaping tablespoons, placing the cookies 2 inches apart on the sheet.

Bake one tray at a time for 10 minutes. Add a few crystals of Morton's Salt to the top of each and continue baking another 2-3 minutes, until the cookies are beginning to brown slightly.

Remove from the oven. Let the cookies sit on the tray for 2 minutes before removing with a spatula to a wire rack to finish cooling.