Okay, who doesn't love peanut butter and chocolate?!

Here we've taken an already delicious chocolate cookie and added dark chocolate chips and chopped dark chocolate peanut butter cups. Gooey peanut butter filling in these cookies! And melted dark chocolate as well! These double chocolate chip cookies never disappoint.
Certified gluten free candy
Always use a certified gluten free candy for these for celiac or gluten intolerant eaters. Although the Trader Joe's Dark Chocolate Peanut Butter Cups are not labeled gluten free they are on Trader Joe's website as being gluten free and do not contain any wheat or gluten allergen warnings. They are not certified gluten free though.
Need certified gluten free? Try Justin's Dark Chocolate Peanut Butter Cups or Reese's Dark or Milk Peanut Butter Cups (in the regular size). Reese's trees or eggs, however, are not certified gluten free.
As for other candies, Snickers are not labeled or certified gluten free, but Baby Ruth and Heath Bars are. The labeling of candies has been life-changing for me! Just having the gluten free certification printed on the package is super helpful, even though I don't eat them often.
If you aren't as sensitive to gluten, of course, you have more freedom and choice! I stay away from anything that is not certified gluten free or is made in a facility that manufactures gluten or wheat. You can look at the allergen information. Some candies may be safe even though they contain the warning. Per Celiac.com many of M&M's varieties tested negative for gluten even though they contain the "may contain wheat" warning.
Check manufacturer websites and labels for safely consuming candy when needing gluten free.
Andes Mints and York Peppermint Patties
These are equally as delicious with chopped York Peppermint Patties instead of the peanut butter cups! Or try Andes Mints which are certified gluten free for a colorful option!
Always use the larger sized York Peppermint Patties. They are labeled gluten free, whereas the York Peppermint stars or some of the smaller York Patties are not labeled gluten free. On the York website they do not contain any gluten, however. Use caution, because I did use York Peppermint stars in some of the cookies and after eating one cookie, I did not feel well. Maybe it was something else?
For the mint chocolate variation, I subbed out half of the chocolate chips for Trader Joe's Gluten Free White Chocolate Chips. Then I sprinkled with gluten free holiday red and white sugar sprinkles.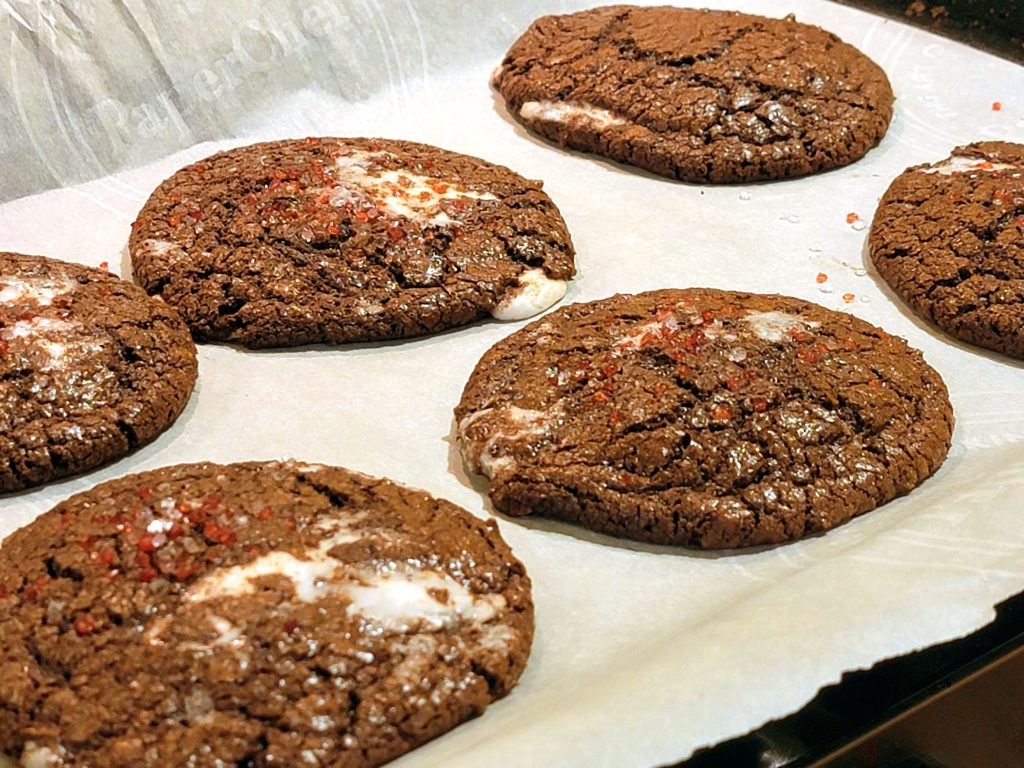 I like choices and giving my friends and family choices, so I would normally divide the mixed dough into two smaller bowls. Then I can make two different kinds of cookies by adding different gluten free candies or chocolate chips to each bowl.
Other items that need to be gluten free
For other ingredients when needing certified gluten-free, always check your vanilla or use the same brand which you know to be gluten free. I like Nielsen-Massey brand. There are other gluten free brands out there though.
Baking powder needs to be certified gluten free (although this recipe does not contain baking powder), yeast, spices and herbs as well. Check all your non gluten flour labels, even ingredients such as rice flour and oats, which don't naturally contain gluten. They can be processed in facilities where cross-contamination may occur. Whatever ingredients you end up deciding on for these double chocolate chip cookies, pay attention to the fine print.
Freeze these as balls for an easy dessert for another day
Another great trick is to form cookies and place 6-8 of these on small parchment squares (that will fit into quart sized Ziplock bags). Then freeze them and pull them out when you need something for dessert (or want to bring cookies to a friend or relative).
Just let them thaw a little, and then bake these double chocolate chip cookies for an easy "no-fuss" dessert. You can even freeze different cookie flavors this way, then bake a few of each for a "cookie assortment" gift package. Package them in cute gift boxes with pretty ribbons and they make a perfect hostess gift. Let me just say that you may have trouble saving these once they are baked though!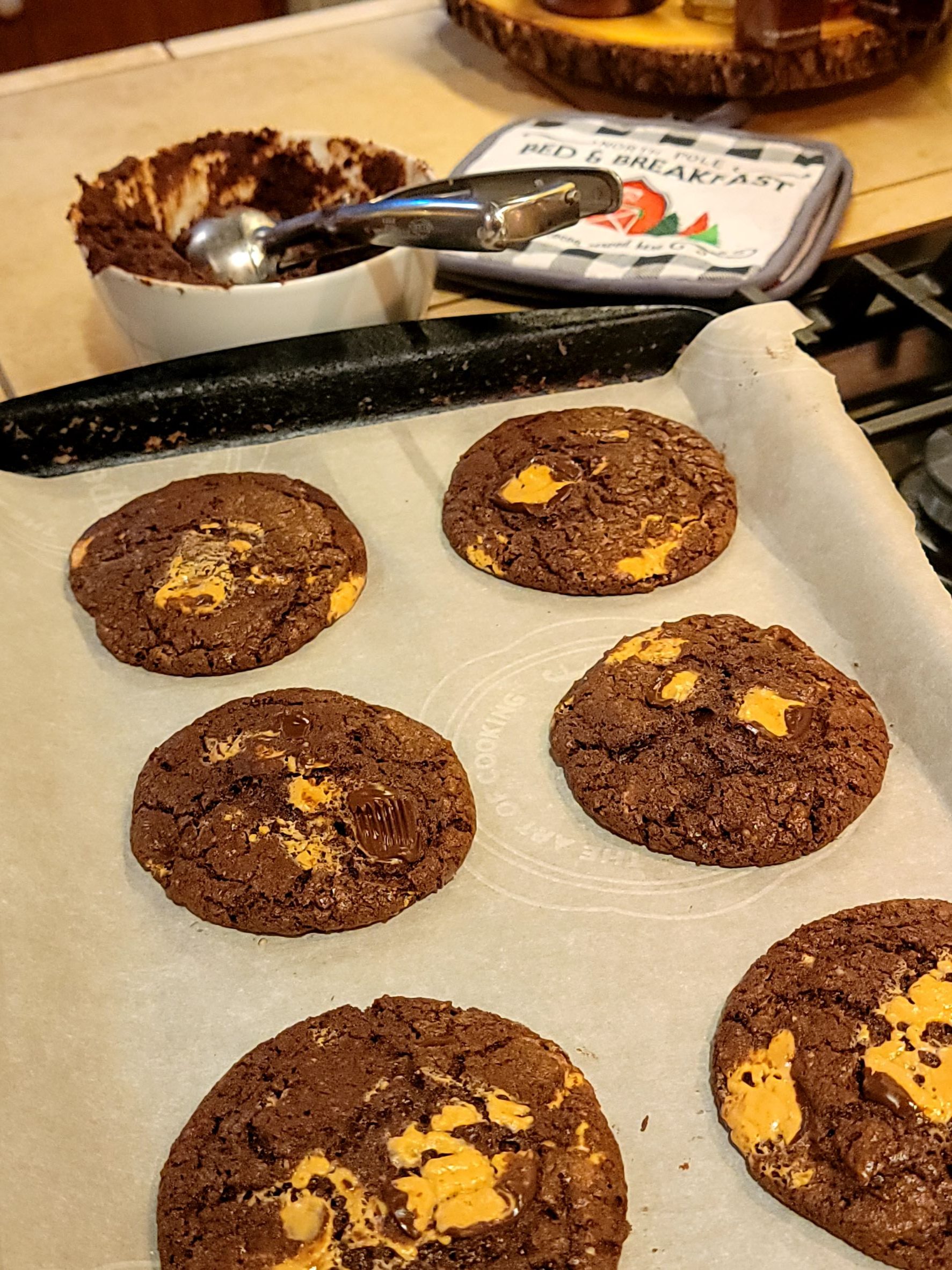 Double Chocolate Chip Cookies with Peanut Butter Cups (Gluten Free)
These chocolatey with peanut butter cup cookies can't be beat! You can also use different gluten free candies in place of the peanut butter cups. Try with cut York Peppermint Patties for the holidays!
Equipment
1 or 2 rimmed baking sheets

parchment paper
Ingredients
1 ¼ cups plus 2 tbsp Bob's Red Mill 1 to 1 Gluten Free Baking Flour

or see note* below for substituting with no xanthan

1 tablespoon cornstarch, gf

1 teaspoon baking soda, gf

¾ teaspoon salt

use ¼ teaspoon if using salted butter

¾ cup unsalted butter, cut up

or dairy free stick butter

1 cup, plus 2 tbsp packed brown sugar 

½ cup cane sugar or granulated sugar

2 large eggs

4 oz. Guittard Extra Dark Chocolate Baking Chips or other gluten free dark chocolate

for melting 

½ cup Guittard Unsweetened Guittard Cocoa Rouge Cocoa Powder or Hershey's Unsweetened Cocoa Powder, gf

1 teaspoon vanilla, gf

½ -¾ cup Guittard Extra Dark Baking Chips, gf  or other gluten free dark chocolate baking chips

16-18 mini Trader Joe's Dark Peanut Butter Cups, chopped or certified gluten free peanut butter cups reserve ⅛ of the total for cookie tops
Note* – For a softer (non xanthan gum) cookie ~ for the 1 ¼ cups Bob's Red Mill Gluten Free 1 to 1 Baking Flour substitute:
⅝ cup plus 1 tbsp Bob's Red Mill Organic Brown Rice Flour, gf

⅜ cup Bob's Red Mill White Rice Flour, gf

⅜ cup plus 1 tbsp Bob's Red Mill Tapioca Flour, gf

or other gluten free tapioca starch
Instructions
Measure into a medium bowl, the gluten free 1 to 1 flour or substitution flours, cornstarch, baking soda, and salt (if using). Stir together.

Melt the chocolate in the microwave for 15-25 seconds.

Cream the butter and the sugars together in the bowl of a stand mixer or in a bowl with a hand mixer. Add the eggs and mix in. Add the melted chocolate and mix on medium speed. Next add the cocoa powder mixing on low speed. Mix in the vanilla. 

Add the flour mixture and mix in until just combined. Stir in by hand the chocolate chips and the peanut butter cup pieces, reserving ⅛ of the amount of peanut butter cup pieces for the cookie tops.

Chill the dough for 1-2 hours.

Preheat the oven to 350° F. Scoop or form 1 ½ inch cookie balls and place six at a time on a baking sheet lined with parchment. (Or make 1" cookie balls and bake for less time). Press one or two peanut butter cup pieces to the top of each cookie ball.

Bake each tray for 11 -14 minutes. Let cookies cool on the baking sheet for 3-5 minutes before carefully removing to a parchment lined wire rack to finish cooling. Best if eaten within 3 days.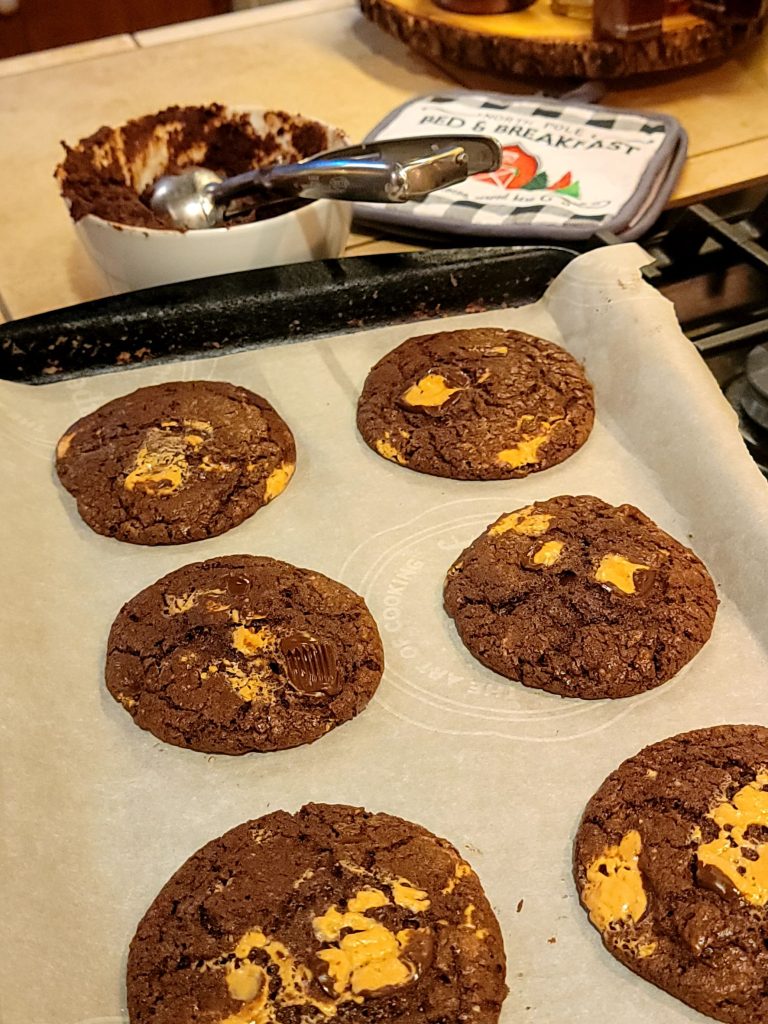 Other Mama Laura's Kitchen cookies we love:
Gluten Free/Grain Free Chocolate Almond Espresso Cookies or Chocolate Almond Cookies
Kate's Favorite Gluten Free Oatmeal Cookies
Gluten Free Peanuts and Chocolate Cookies
Italian Amaretti Cookies (Gluten Free)
Gluten Free Dark Chocolate Chocolate Chip Cookies
Delicate Gluten Free Almond Lace Cookies
Gluten Free Browned Butter Cookies with Dark Chocolate