Jump to Recipe
Print Recipe
This week's bread recipe is a Gluten Free Soft Sourdough Sandwich Bread.
It's perfect for toasting, using for grilled cheese, and enjoying straight from the oven (see if you can let it cool before slicing into the loaf) with butter.
This bread reminds me of bread my dad would make our family growing up
Most gluten free sandwich bread you can buy is honestly pretty dry and must be toasted for a while to make it edible. This moist gluten free sourdough can be eaten (within a few days after baking) without toasting it! This breads reminds me of eating freshly baked bread my dad would make for our family growing up.
It doesn't have a huge sourdough flavor. If that's what you are looking for, definitely try one of my other gluten free sourdough bread loafs. This one is light and airy and not at all dry. I use a loaf pan that King Arthur makes, called the King Arthur Perfect Gluten-Free Loaf Pan, which has taller sides and ridges on the sides which gives the bread an airier rise. It's definitely worth the cost if you are looking for another loaf pan.
Keep plenty of gluten free rolled oats on hand for grinding or making granola
Use packaged gluten free oat flour or simply make your own gluten free oat flour in a food processor or Vitamix blender, using Trader Joe's Gluten Free Rolled Oats, ground very fine. I keep bags of these oats on hand for making homemade gluten free granola, as well as cookies and oatmeal topped with nuts and dried fruit.
Discard then feed your gluten free sourdough starter
For this recipe you do want to make sure your sourdough starter is fed before using. Simply pull your starter out of the refrigerator and remove (we call this discard) ¾ -1 cup to a bowl or measuring cup. Use the discard for Gluten Free Sourdough Waffles or Gluten Free Sourdough Cheese and Herb Crackers. TNext, feed your starter 1 cup of Ryze Gluten Free Flour or 1 cup of gluten free millet or sorghum flour, plus 1 scant cup of water. I have found these gluten free flours work well in gluten free sourdough starters. Stir to combine and cover lightly with a towel for 2 -3 hours or until bubbly. At that point you are ready to start your bread recipe.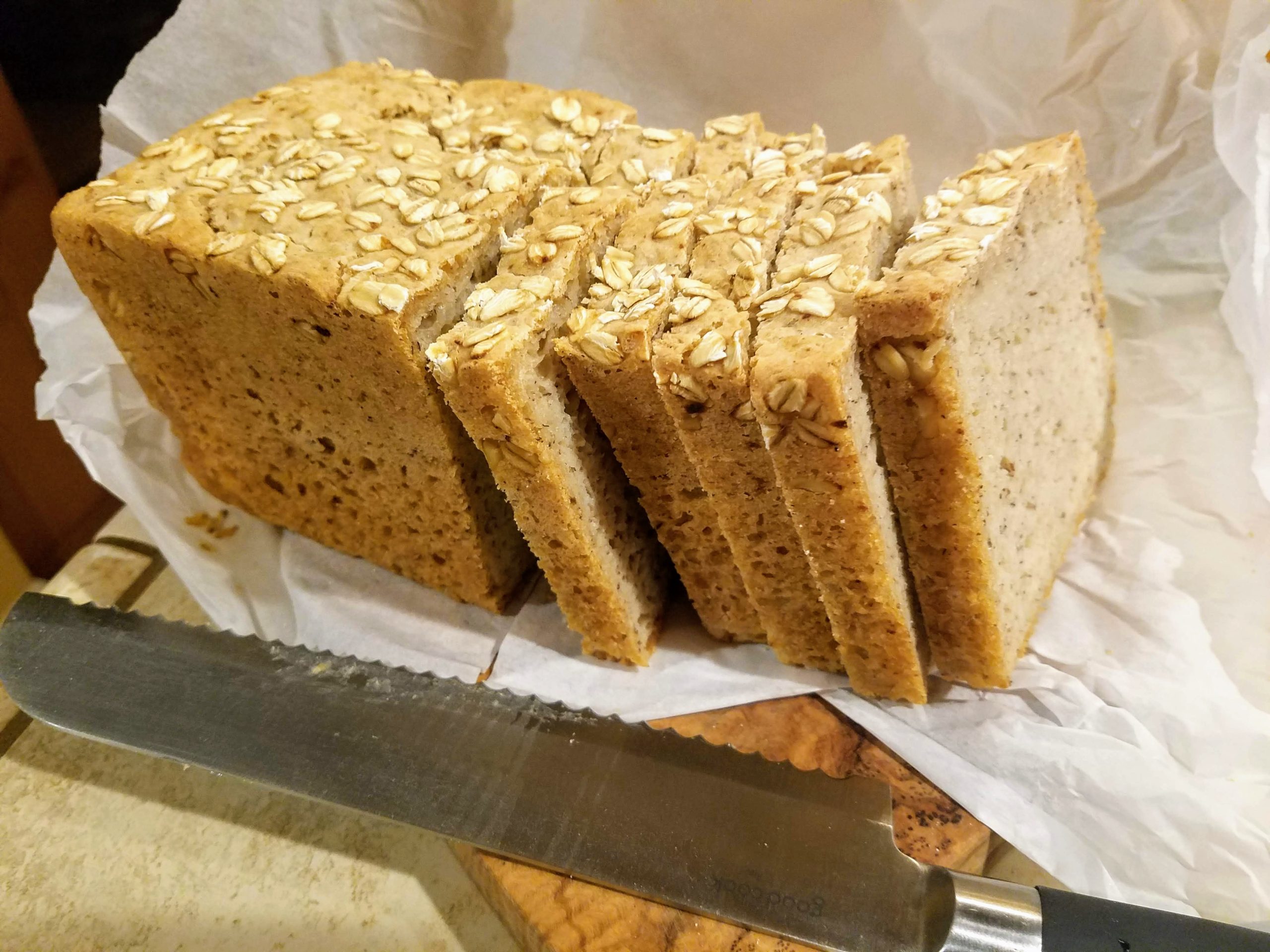 Gluten Free Soft Sourdough Sandwich Bread
Makes one 9x5x3 or 9x4x4 inch loaf 
Prep time: 30 minutes plus feeding starter time
Rise time: 1 ½ hours first rise, 1 ½ – 2 hours second rise
Bake time: 45-55 minutes
Ingredients
¾ cup gluten free sourdough starter, fed

1 ½ cups warm water

1 ½ teaspoons of Fleischmann's Active Dry Yeast, gf or other gluten free yeast

1 tablespoon sugar

¼ cup (30 grams) tapioca starch, gf

½ cup plus 2 tablespoons (78 grams) Ryze Gluten Free Flour Mix (yellow bag)

1 ½ cups (180 grams) 1 to 1 gluten free flour blend with xanthan gum

¼ cup packed (56 grams) almond or hazelnut flour,  gf

3 tablespoons plus 1 ½ teaspoons (20 grams) oat flour, gf

1 ½ teaspoons of salt

2 large egg whites

Up to ¼ cup additional (30 grams) Ryze Gluten Free Flour Mix (yellow bag)
Egg Wash
1 tablespoon egg white

1 tablespoon water

2 tablespoons of gluten free oats for top of loaf
Instructions
Stir together in a medium mixing bowl the gluten free fed sourdough starter, 1 ½ cups of warm water, yeast, and sugar. Let sit until mixture is bubbly, about 20 minutes.

Combine the tapioca starch, ½ cup plus 2 tablespoons of the Ryze flour, the 1 to 1 flour, almond or hazelnut flour, oat flour, and salt in another bowl. Stir the mixture into the yeast sourdough starter mixture. Add the egg whites to the mixing bowl and stir the batter thoroughly with a rubber spatula to combine. Stir in up to ¼ cup more of Ryze flour to make a stiffer batter. 

Let rise in the bowl, covered with a towel, until the dough is puffy and about 1 ½ times larger in size, about 1 ½ hours. I like to raise my bread dough in the oven with the oven off, but with the light on. It seems to rise better than the bread proof setting on my oven.

After the first rise, pour the dough, which will be a thick batter, into a greased and gluten free floured bread loaf pan. This fits perfectly in the King Arthur Perfect Gluten-Free Loaf pan, 9x4x4 inches, with taller sides and ridges to help it rise better. You can also use another type of 9 x 5 loaf pan. Brush the loaf with the egg wash and sprinkle 2 tablespoons of oats over the loaf. 

Cover with a towel and let rise for 1 ½  – 2 hours in a warm place. Preheat the oven to 450 degrees. 

Bake for 25 minutes in the center of the oven. Reduce oven temperature to 375 and continue baking for 20-30 minutes more and until the internal temperature reaches 206 degrees. Loaf will be golden brown. If the loaf is browning too much, cover the top loosely with a piece of foil for the last few minutes of baking.

Let cool for 15 – 20 minutes before turning out onto a wire rack to finish cooling for an hour and a half to two hours before slicing.
Notes
Will keep on the counter in a Ziploc bag for several days, or in the refrigerator for up to a week, and freezer for a few weeks. For freezing, place parchment pieces between individual slices and store the loaf or half loaf in double Ziploc freezer bags.