Jump to Recipe
Print Recipe
Sticks of Bread and Sourdough 
How many times as gluten free eaters have we been out at a restaurant and the server came round with bread, and we had to say "no", and then drool as everyone around us enjoyed delicious sourdough or ciabatta bread, or a yummy sourdough roll? I want to supply some of my favorite restaurants with gluten free bread or these, cheesy or herb bread sticks!
I used to make my family bread sticks often (but filled with gluten) with a pizza dough cut into strips, twisted and coated in olive oil and butter, sharp cheddar cheese or herbs and garlic.  Now, I am so sensitive to gluten, I try to not handle gluten flours anymore, (yes, this does seem to make me sick), so I've adapted this recipe.
I'm not saying they are quite as good as the wheat flour version, but they are really good still and my family still enjoys them (and three of us in our family need to eat gluten free, so we're happy!) These are a perfect compliment for any pasta dish or even a dinner soup, like Laura's Gluten Free Minestrone or Tuscan White Bean and Potato Soup. There's so many pasta dishes this goes well with, but our favorite is my Grandma Rose's Chicken Sauce (Pasta Sauce).
If you don't have a gluten free sourdough starter, you can find a recipe at so many sites currently. Everyone in fact is starting a sourdough starter in this quarantine time and baking their own sourdough loaves. I will be talking through some sourdough tips and adding other sourdough recipes, so if you need help with your starter, I'll post some helpful links.
Please feel free to message me if you have a  question or just need help with your starter. I'm happy to answer any questions or help in any way I can!
Gluten Free Cheesy and Herb Sourdough Bread Sticks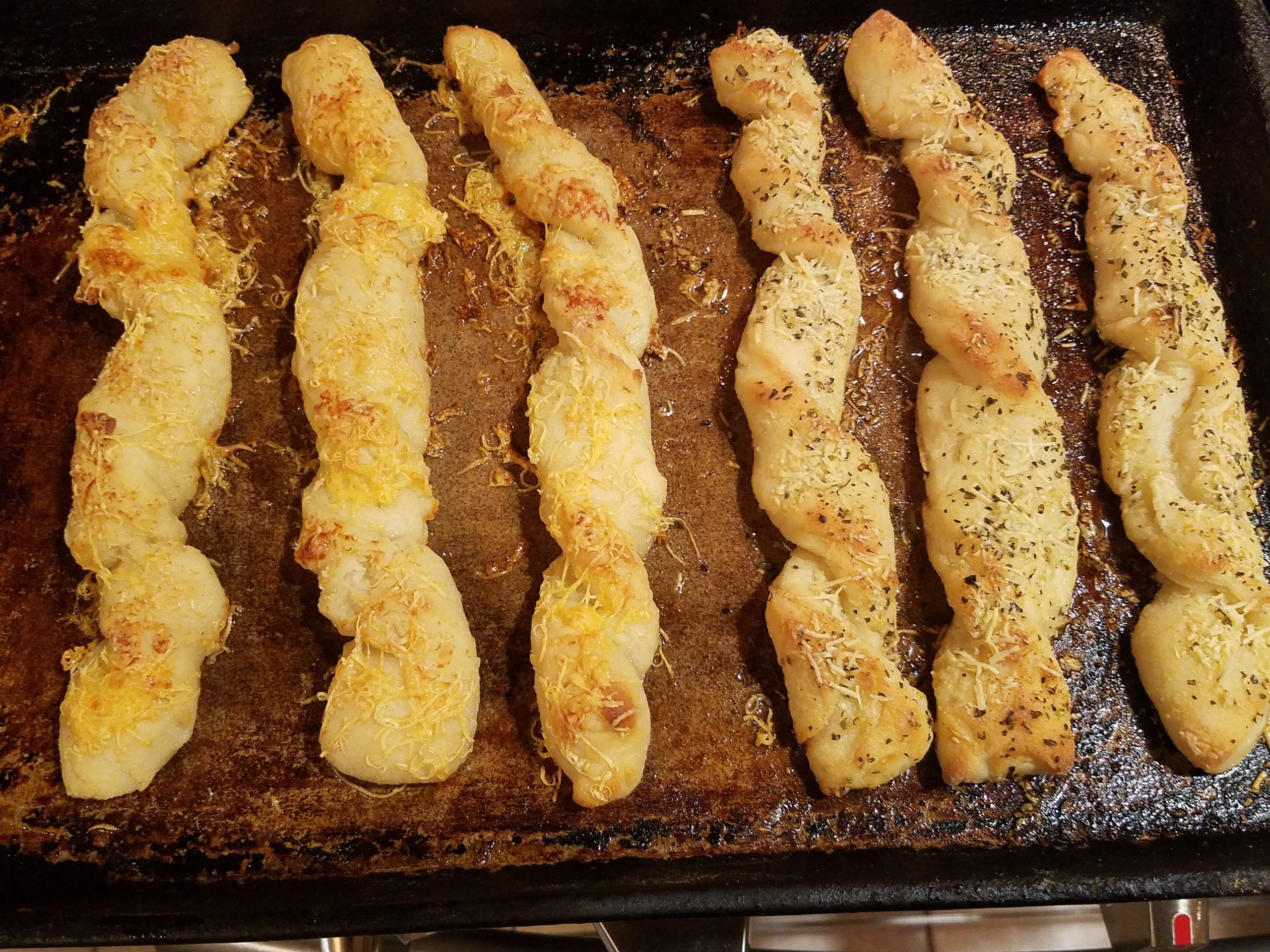 Gluten Free Sourdough Cheesy and Herb Sourdough Bread Sticks
The perfect recipe to use your gluten free sourdough in! Just feed it first then whip up a batch of these bread sticks for the family to enjoy! My husband and family love these and most of them do not need to eat gluten free. Enjoy them with a pasta or soup dinner.
Ingredients
1 cup of "fed" gluten free sourdough starter

2 cups Cup 4 Cup Gluten Free Flour

(or equivalent blend of Gluten Free flour with xanthan gum, Bob's 1 for 1 gluten free flour or King Arthur  Gluten free blend)

3/4 teaspoon salt

2 tablespoons oil

1 tablespoon plus 1 teaspoon of sugar

1 1/4 cups warm water

1 teaspoon of yeast

1/2 cup brown rice flour, plus up to 1/2 cup more to make a pliable stiff dough
Topping Ingredients
2 tablespoons of butter, melted, 

2 tablespoons olive oil

1 cup sharp cheddar cheese, grated fine

1/2 – 1 teaspoon dried oregano (Schilling McCormick is always gf)

1/2 – 1 teaspoon dried basil (Schilling McCormick is always gf)

1/4 teaspoon garlic powder or 1 clove garlic, minced

1-2 tablespoons grated parmesan cheese
Instructions
In a large mixing bowl or a stand mixer, sift the Cup 4 Cup Gluten Free Flour or other gluten free flour and salt. 

In a small bowl combine a 1/2 cup of the flour mixture, the warm water, yeast, sugar and olive oil. Stir to combine and let sit for 20 minutes until bubbly.

Add the yeast mixture to the bowl of flour and mix by hand or with a paddle attachment of a stand mixer until well combined. Cover with a towel and let rise for 2-3 hours. Dough will be soft, as another addition of flour will be added after first rise.

After the 2-3 hours, add the 1/2 cup of brown rice flour into your dough.

Combine well by stirring thoroughly until all of the flour is integrated in. Add up to 1/2 cup of additional brown rice flour and knead to get a smooth, pliable dough. The dough should not be sticky at this point. Gather your dough into a ball, and drizzle a bit of olive oil in the bottom of the bowl. Set the dough in the bowl, then turn over to coat the dough lightly with the oil. Then cover with a towel again and let rest for 30 minutes. 

In the meantime, get two stone pans (Pampered Chef Bar Pans are my favorite) or cookie sheets ready. Do not grease the pans. 

On a floured cutting board (12 x 18" size board, using gluten free flour), work the dough flattening and stretching to make a rectangle about the size of the cutting board and approximately 3/8" thick. With a sharp knife cut the dough into 1" wide strips, about 16-17 strips. 

Dip each bread stick strip in the butter/oil mixture, one at a time, and twist as you place on your stone pan or cookie sheet. Leave an inch space minimum between each bread stick. When you have finished laying and twisting them on your sheets, determine what you want to top with. I usually make half with sharp cheddar cheese and half with herbs and garlic, which is what my recipe is for here.

For the cheese topped, take small amounts of the finely grated cheddar cheese and press lightly into the dough all the way down. Continue for remaining bread sticks that will be cheesy bread sticks. For the others that you wish to make herb/garlic, sprinkle 1/2 – 1 teaspoon of dried oregano and basil down the bread stick, followed by a sprinkle of garlic powder or minced garlic. Top with a sprinkle of parmesan cheese down the entire bread stick. This isn't a science, just be creative and top with what you like 😉

Let the bread sticks rise on the pan for 30 minutes to an hour. Preheat oven to 425 degrees.

Bake for 15-20 minutes, rotating your pans to cook the bread sticks evenly or cook one pan at a time if you'd rather. 

Remove from oven when bread sticks are golden brown and cheese is slightly browned. Enjoy while hot. But if you need to these can be reheated in the oven on 350 degrees for 12 minutes or in the  toaster oven on toast.

But if you need to these can be reheated in the oven on 350 degrees for 12 minutes or in the  toaster oven on toast. Still yummy, even for breakfast the day after!
Topping
Combine the melted butter and olive oil in a shallow bowl.