Jump to Recipe
Print Recipe
Make whatever kind of pasta you like with this dough
Do you long for a specific pasta that you just can't find? I love cannelloni and it's been the hardest pasta for me to find gluten free. Yes, there are manicotti shells, made gluten free, but they are just not the same to me. Whatever you desire, you can now make with this Gluten Free Sourdough Pasta Recipe.
There are loads of options for cutting this dough to the shape you want, as well as filling and sauce choices. You better believe I will be using this gluten free pasta dough recipe for one of my favorite Italian pasta dishes, cannelloni! You can make delicious ravioli, filled with whatever YOU desire, fettucine, or pappardelle now! It's gotten easier and easier too find good quality gluten free pasta of all kinds, but now the options are endless of what we can enjoy with this homemade gluten free pasta dough.
I would recommend purchasing a pasta maker if you don't have one. There are all sorts of options out there: more manual styles or more automated. Having a pasta machine will make the task much, much easier! Rolling this dough with a rolling pin will take much patience and skill. A marble rolling pin is a great investment, also that will aid in the work. I love mine!
Use this Gluten Free Sourdough Pasta Dough for making Gluten-Free Sourdough Pasta & Three Cheeses Ravioli recipe.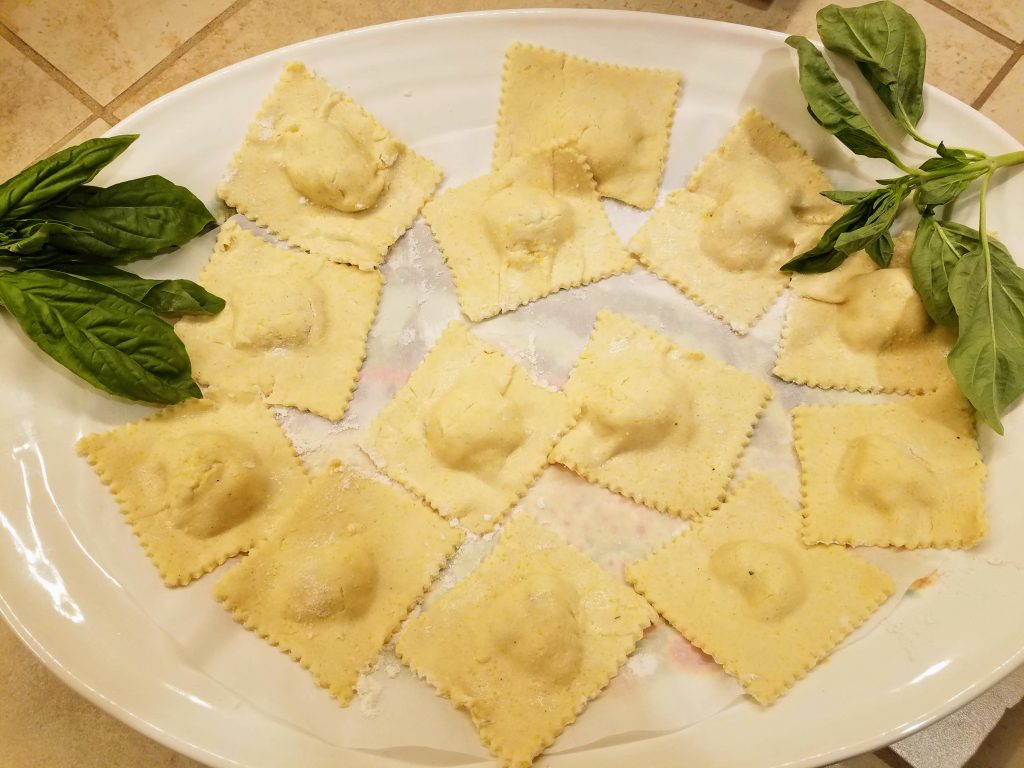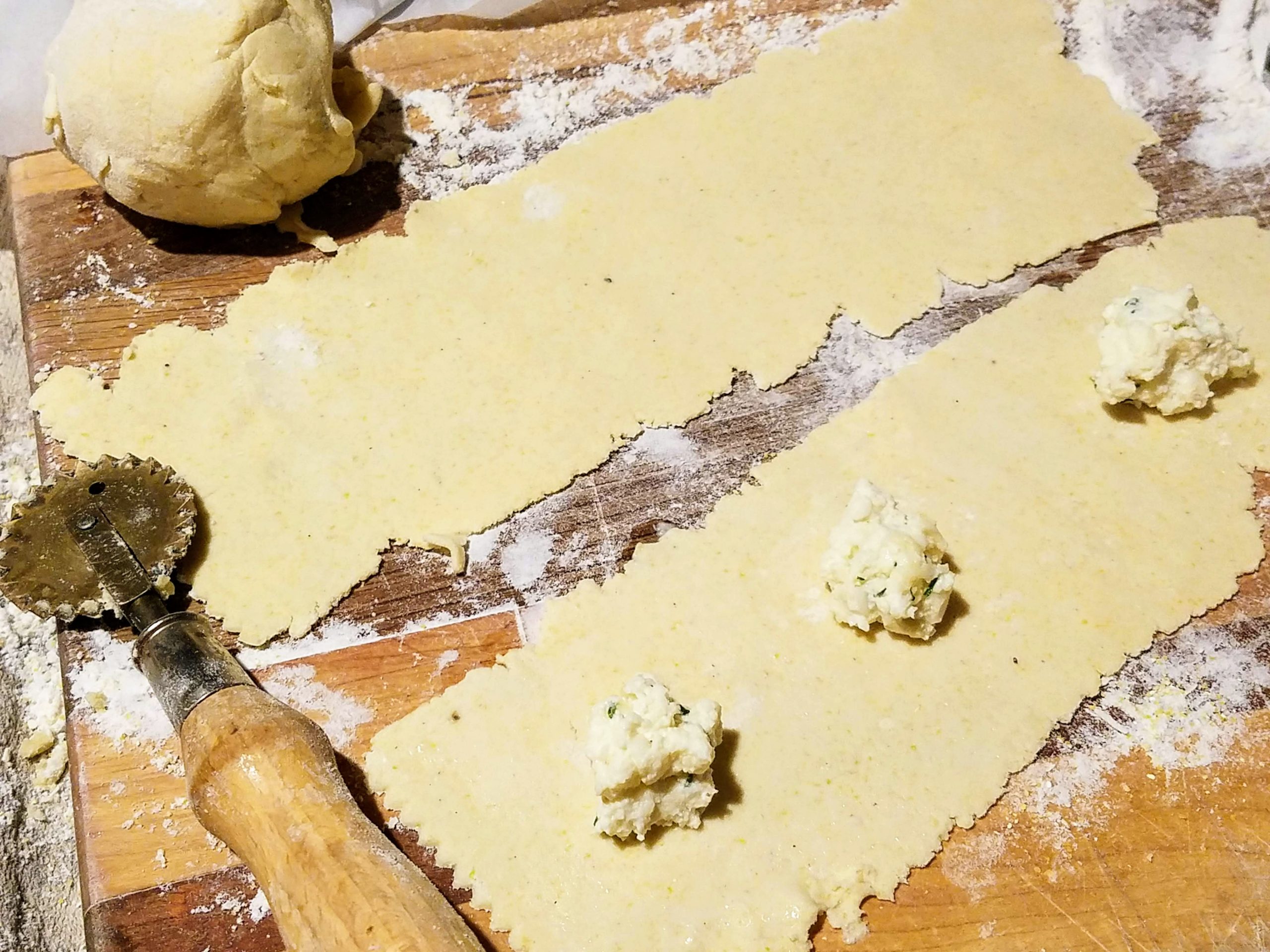 Gluten Free Sourdough Pasta
Make your own gluten free pasta with this Gluten Free Sourdough Pasta Recipe. The sourdough adds to the texture and makes it easier to work with.
Equipment
1 pasta maker

optional, or rolling pin
Ingredients
3/4 cup

plus 3 tablespoons gluten free sourdough "discard"

(100% hydration)

1 teaspoon

olive oil

extra virgin

**1/3 cup

Bob's Red Mill Gluten Free 1 to 1 Flour

or other 1 for 1 gluten free blend with  xanthan

**1/3 cup

Bob's Red Mill Cassava Flour

gluten free

**1/4 cup

cornmeal

finely ground, gluten free

1/2 teaspoon

xanthan gum or guar gum

1 teaspoon

cornstarch, gf

1/2 teaspoon

salt

1/2 teaspoon

honey

2

eggs

beaten with a fork

1/2 teaspoon

milk

**Plus more gluten free 1 to 1 flour, cassava flour and cornmeal as needed to make a firm dough.
Instructions
Stir together in a medium or large bowl, Bob's Red Mill gluten Free 1 to 1 Flour, Cassava flour, cornmeal, xanthan or guar gum, and salt. Add the gluten free sourdough starter "discard", the olive oil, honey and eggs.

Add the gluten free sourdough starter "discard", the olive oil, honey and eggs. Stir the ingredients together until well combined.

Scoop out to a board floured with a mixture of gluten free 1 to 1 flour, cassava flour, and cornmeal.

Knead the dough to make pliable and slightly firm but not dry or stiff dough. Emphasis, you do not want it to be dry! If it seems dry add a few drops of water and a few drops of olive oil and knead longer.

Divide into four pieces, using a scale if you have one to get them close to the same weight. Wrap each ball in cellophane or parchment and seal in an airtight container.

Refrigerate for 6-8 hours or overnight.

When ready to proceed with forming the pasta sheets and pasta shapes, let the dough warm up for 15 minutes. Flour your board well with a mixture of gluten free 1 to 1 flour and cornmeal. Flatten one piece of dough slightly.

Placing a piece of parchment over the dough, roll it in a long rectangle that will fit widthwise into the machine.

Next, send the piece of rolled dough through the pasta machine on the largest setting. Carefully feed it into the machine while turning the crank, if a manual type of machine. Next, move down a notch and continue with each pass.

For making fettuccini or spaghetti, move to the 2nd or 3rd setting from the smallest, and 3rd or 4th smallest for making ravioli or pasta sheets for lasagna or rolled pasta dishes. 

Proceed to make Gluten Free Sourdough Pasta and Three Cheese Ravioli or cut the pasta into the desired shape.

Repeat the process for the other pieces of dough.

Twirl fettucine, linguine, spaghetti, or pappardelle into nests, about 8-10 nests. Lay out on parchment over a wire rack. Dry for a few hours before cooking.

Fill a large stockpot with water, 1/2 teaspoon salt, and 1 tablespoon olive oil. Bring to a boil.

Drop the nests in in batches, 3-4 at a time. Cook for 3-5 minutes or until al dente. Strain, rinse gently, and add a drizzle of olive oil. Pour your favorite sauce over the top and stir gently.

Note: cooking times will vary depending on thickness of the pasta.