Jump to Recipe
Print Recipe
Finding freshly baked gluten free bread at a bakery is not an easy task. There are a few gluten free bakeries in the Bay Area, and Santa Cruz also has a few that have gluten free treats and breads, but for the most part, there just aren't many in close proximity often.
Over the years we would often take drives up the coast to Pescadero, California, on our way to Greyhound Rock. Pescadero is home to the wonderful bakery and store, Arcangeli Grocery Co. We would often stop in for some bread and deli cheeses and meats for a picnic. The smell was to die for! But I couldn't enjoy the deliciously baked fresh bread, which was full of gluten!
So, here's a run at a comparable loaf made with gluten free sourdough starter and gluten free flours (and delicious sharp cheddar and garlic). The millet or sorghum will give a more "wheaty" tasting bread than rice flours. This is really good if you have a chance to try it. Make sure your starter is "fed" and bubbly for this recipe. It has a shorter rise time for this round and if you start early in the day, you can have a fresh loaf for dinner.:) This bread would be perfect with a bowl of Minestrone or Beef Stew. Or just enjoy with your charcuterie or with dinner.
~Laura
(revised 06/22)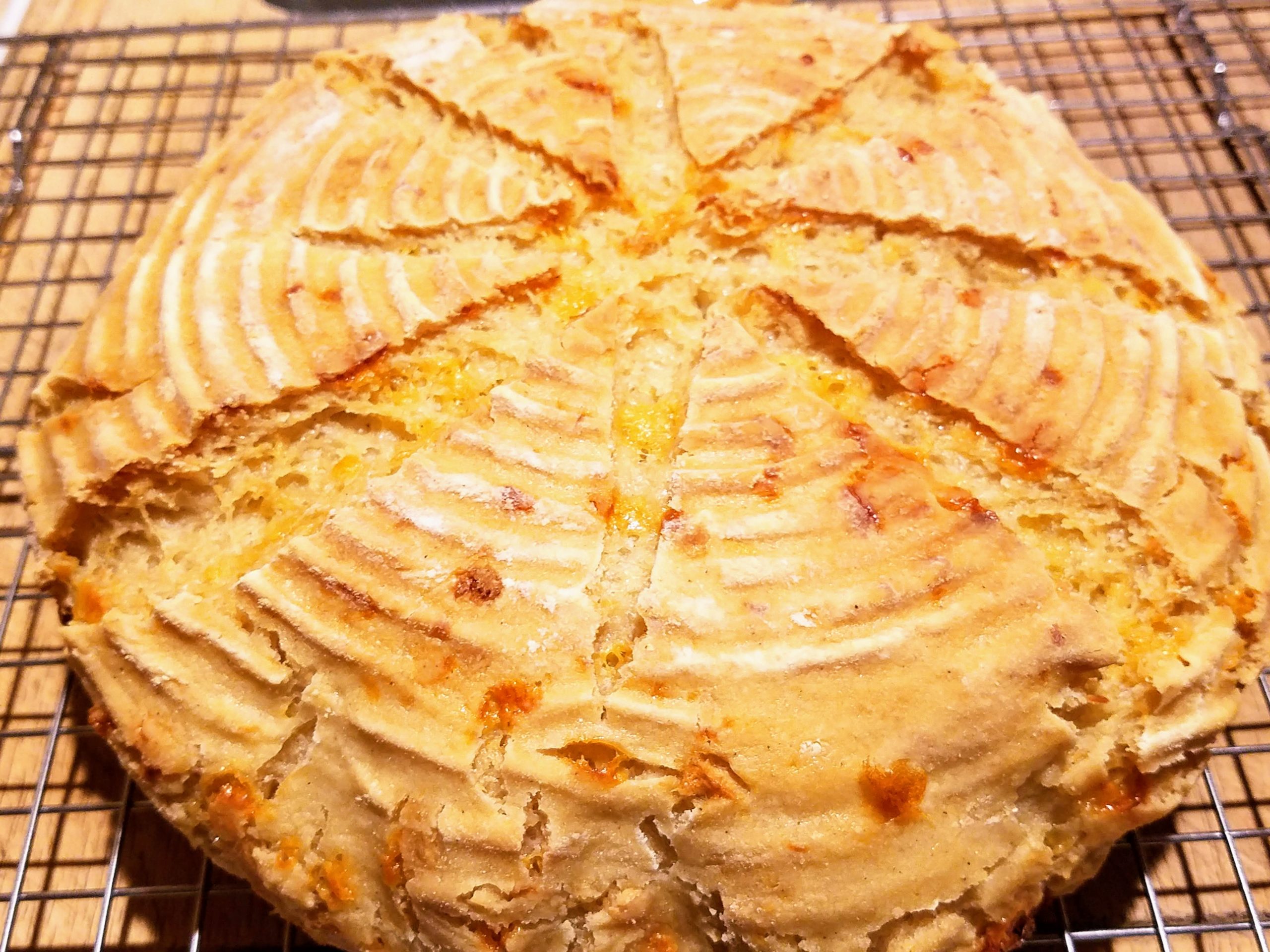 Gluten Free Cheddar and Garlic Sourdough Round
Ooh, the smell of this one baking! You will have a difficult time waiting long enough for it to cool, before diving in!
Ingredients
 1 3/4 cups (259 grams)

Bob's Red Mill Gluten Free 1 to 1 Baking Flour 

(or other gluten free brand that contains xanthan gum)

3/4 cup (105 grams)

Bob's Red Mill Unmodified Potato Starch

gluten Free

3 tablespoons (23 grams)

Bob's Red Mill Tapioca Flour

gluten Free

½ cup (60 grams)

Bob's Red Mill Millet or Sorghum Flour

gluten Free

1 ½ teaspoons

salt

¾ cup (170 grams)

fed gluten free sourdough starter

100% hydration

1 ½ cups

warm water

1 ½ teaspoons

yeast

gluten free brand

1 tablespoon

honey or sugar

½ teaspoon

apple cider vinegar

½ – ¾ cup

Ryze Gluten Free Flour Blend

or brown rice flour

two cloves

garlic

thinly sliced

1 ½ tablespoons

olive oil 

1 ½ cups (3.2 ounces)

sharp cheddar cheese

grated

1/3 cup (.6 ounces)

parmesan cheese

 or Asiago cheese, grated 
Instructions
In a large bowl stir together: Baking Flour, Potato Starch, Tapioca Flour or Sorghum Flour.

Stir together in a separate bowl: sourdough starter, warm water, yeast, honey, ½ cup of above mixed and measured flours and salt from previous step,

Let the mixture sit at room temperature for 20-30 minutes until bubbly and yeasty smelling.

Pour the remaining mixed flours into the bowl of a stand mixer with paddle attachment or another large bowl if another mixer or hand mixing is preferred.

Add to the mixing bowl: the yeasty mix from above, apple cider vinegar.

Set mixer on medium speed and mix for 3 minutes, then gradually add (in small increments) while continuing to mix: Ryze Gluten Free Flour Blend. Add only enough Ryze Gluten Free Flour or brown rice flour to make a smooth and pliable dough that holds together.

Put garlic and olive oil in small microwave proof bowl. Heat in the microwave oven on high for 25 seconds.

Stir the heated garlic and olive oil into the dough (using the stand mixer on low or by hand) as well as the cheddar cheese and parmesan cheese.

Scrape the dough into an 8" or 9" banneton rising basket moistened with some drops of water and lightly floured or a medium bowl lined with a damp towel. Smooth the top (which will be the bottom of your bread) of the dough.

Cover and let rise in a warm spot for 2 – 4 hours (or in the oven if you have "bread proof setting" or in oven with the light on and door closed). The bread should rise ¾" to 1" in the basket or bowl.

When ready to bake, heat the oven and a Dutch oven with lid, with rack in the center, to 475 degrees. Turn the round onto a large sheet of parchment paper over a cutting board, tipping upside down onto the center of the parchment. Make several ½" deep cuts (or decorative cuts) with a very sharp knife or scoring lame on the top of the bread.

When your oven and Dutch oven are preheated, remove your Dutch oven from the oven and uncover. Gently set the parchment with bread round on it, into the Dutch oven and cover. Bake covered for 25 minutes.

Bake covered for 25 minutes.

Lower oven temperature to 400 degrees and bake for 20-25 minutes more or until an instant thermometer registers 209 when inserted into the center of the bread.

Remove the bread to a rack to cool, lifting the edges of the parchment. Cool for 1 -2 hours, until completely cool before slicing.
Notes
This is delicious slathered with butter on the first day, and great for toasting after that. I slice the whole loaf on the second day and put slices between small pieces of parchment, before putting in a Ziploc bag and moving to the freezer for keeping this longer.