Jump to Recipe
Print Recipe
These are super moist gluten free vanilla cupcakes or you can choose to make a layer cake filled with your favorite filling and frosted with whipped cream or frosting. Fill the cupcakes with dark chocolate ganache and frost with espresso frosting. They are both great choices for a not too sweet filling. Or fill them with homemade Meyer Lemon Curd or bought lemon curd and frost with vanilla or lemon frosting. Then top with a few fresh berries or edible, organic flowers. When I don't have edible flowers from my own garden I like to use, Jacobs Farms Edible Organic Flowers. You can also frost with the dark chocolate ganache, if you prefer your cupcakes not as sweet.
This makes a great layer cake, layered with lemon curd and berries, and "frosted" with sweetened whipped cream. Or use the ganache as a filling in between the layers and the espresso frosting for frosting the outside of the cake.
The possibilities are endless for this recipe! I don't have a cupcake tool for "coring" the cupcake. I use a lemon juicing tool that inserts into the cupcake and pulls out a plug! But Wilton makes a tool for $1.97 at Walmart, Wilton Cupcake 2-in-1 Tool, that is a corer and a small spatula for frosting cupcakes, the Wilton 2-in-1 Cupcake Tool. Or check out this Cuisipro Cupcake Corer for $7.79. Adding a filling is so much fun and you can really get creative.
~Laura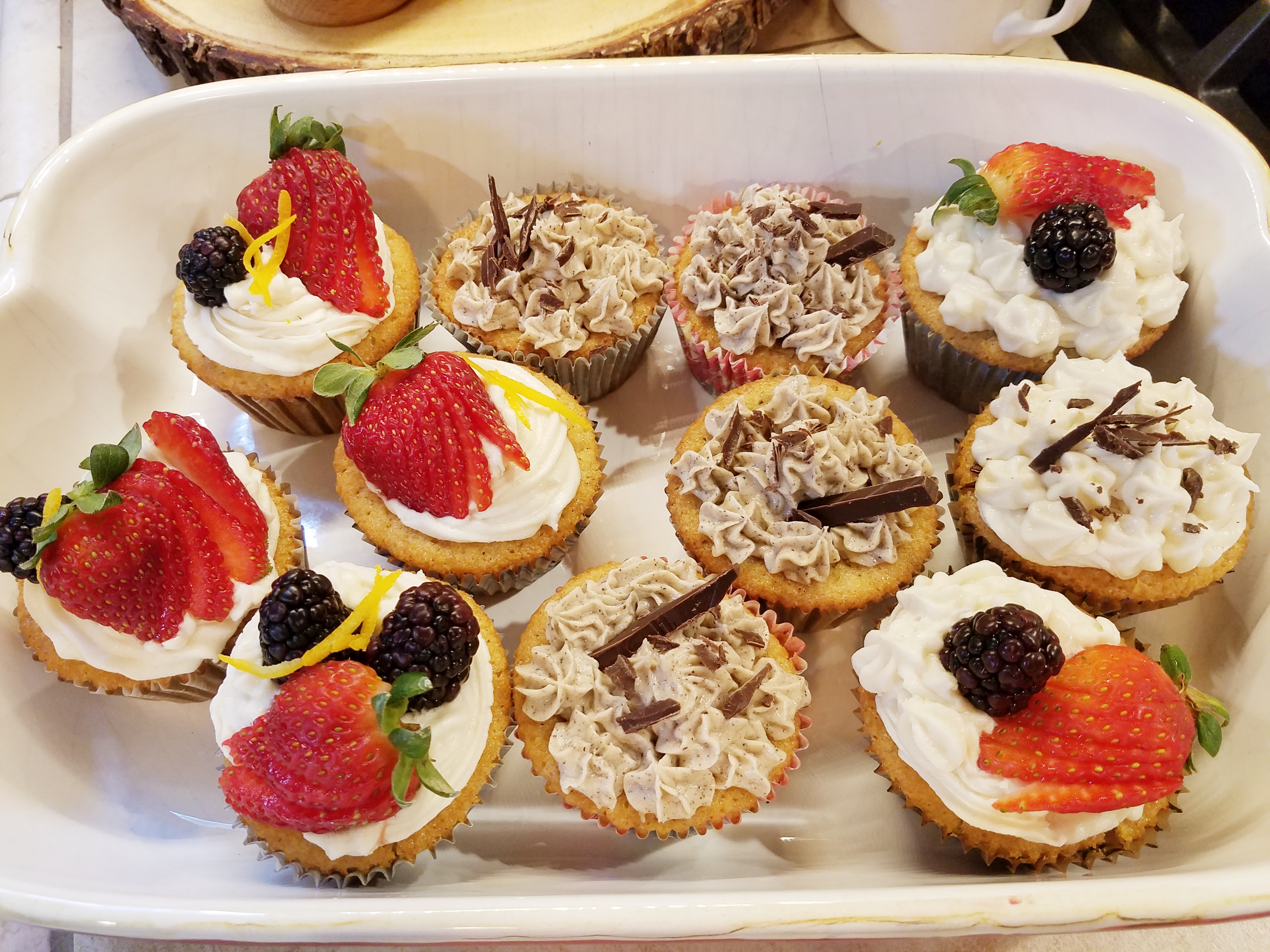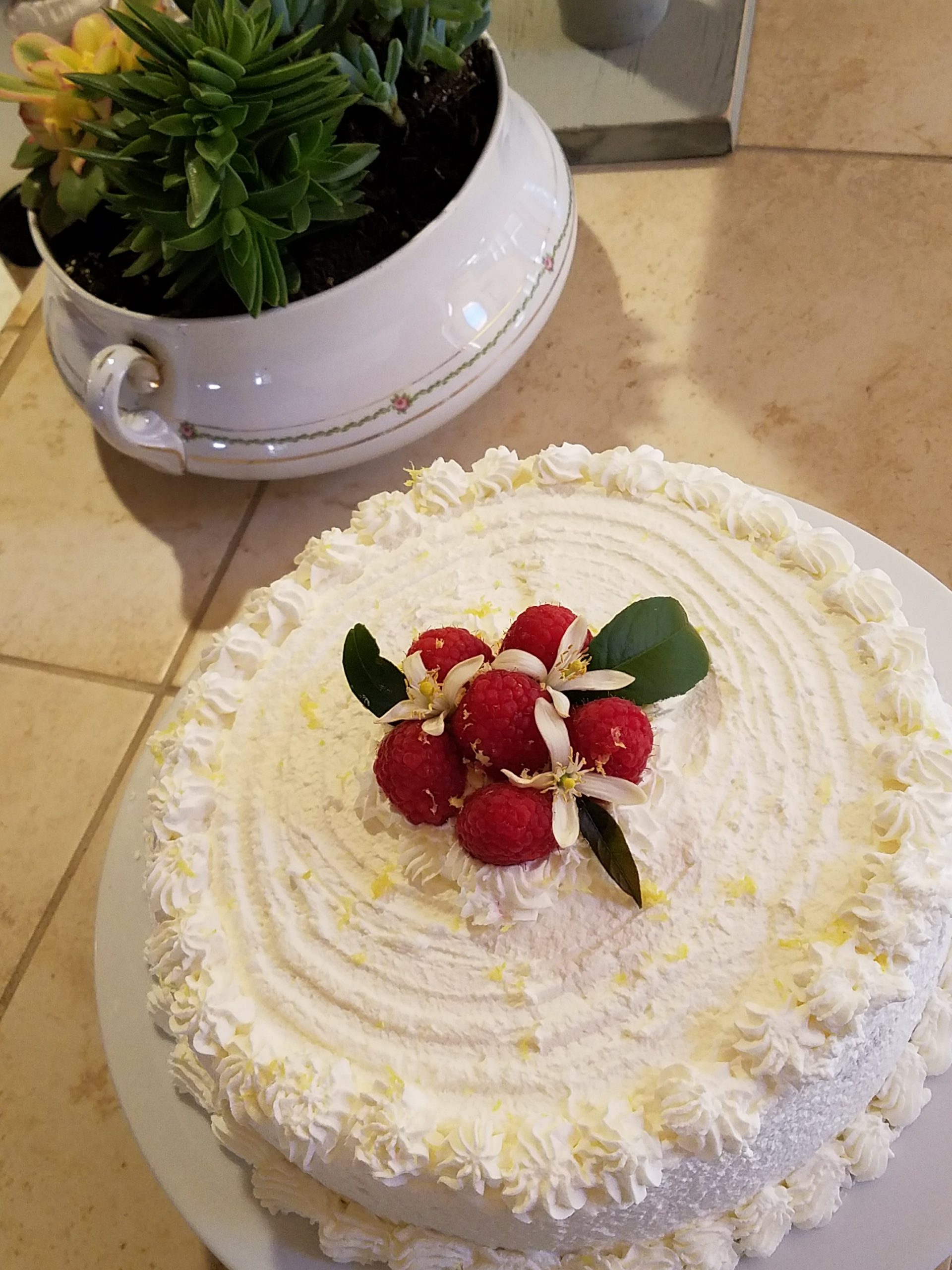 Best Gluten Free Vanilla Layer Cake or Cupcakes
Ingredients
1 1/2 cups

organic cane sugar

1/2 cup

pure maple syrup

1 cup

butter

salted and softened (or if using unsalted add 1/2 teaspoon of salt)

2 extra large

eggs

1

egg white

1 tablespoon

vanilla extract

or vanilla paste, gluten free

1 cup

tapioca starch

gluten free

1/2 cup

almond flour

1 1/2 cups

Bob's Red Mill Gluten Free 1 for 1 Flour

or equivalent blend with xanthan gum

1/4 cup

millet flour

gluten free

2/3 cup

milk

1 tablespoon

vinegar

2 1/4 teaspoons

baking powder

gluten free

1/2 teaspoon

baking soda

gluten free
Dark Chocolate Ganache:
1/2 cup, plus 2 tablespoons

heavy cream

1/2 cup

Guittard Extra Dark Chocolate Chips

gluten free
Vanilla Buttercream Frosting:
7 cups

sifted powdered sugar 

2 ½ sticks

unsalted butter

softened

2 ½ teaspoon

vanilla

gluten free

3 ½ – 4 Tablespoons

milk
Espresso Buttercream Frosting:
2 teaspoons

espresso

very finely ground

2 cups

Vanilla Buttercream Frosting (above)
Lemon Buttercream Frosting:
1 teaspoon

lemon extract

1 teaspoon

lemon zest

2 cups

Vanilla Buttercream Frosting (above)
Instructions
Sift the tapioca flour (starch), the almond flour, Bob's 1 for 1 gluten free blend, millet flour, baking powder, and baking soda, into a large bowl, three times.

In a small bowl stir together the milk with the vinegar.

In a bowl of a stand mixer or in a large bowl using a hand mixer, cream together the sugar, maple syrup and butter until fluffy, on medium high speed about 2 – 3 minutes. Add the eggs and egg white, one at a time, mixing after each on medium speed.

Add the vanilla or vanilla paste.

Mix in the flour on medium low speed, alternately with the milk mixture, starting and ending with flour mixture, and mixing in three to four additions.

Preheat the oven to 350 degrees F. Line 2 cupcake pans with paper liners or grease lightly the bottom and sides of cups. If making 9" cakes, line the pans with a round piece of parchment to for the bottom of cake pan, and lightly grease with oil. Fill the cupcake cups or papers 2/3's full with cupcake batter. Bake each tray in the center of the oven for 18 – 22 minutes or 9" cakes for 25 – 30 minutes.

Remove from the oven when a toothpick comes out clean, cupcakes or golden or spring back when a finger is pressed gently on the top.

Let cool for 10 minutes before removing from cake pan or cupcake pans, and moving to a wire rack to cool completely.

Make Vanilla Buttercream Frosting and add flavorings as desired, and make Dark Chocolate Ganache.

Plate one layer of cake on a cake plate. Add a filling and top with the other cake. Frost and decorate with your flavor choice of Buttercream Frosting.

For cupcakes, remove plug from center of cupcake using a cupcake tool. Fill and frost with desired center filling and frosting, after completely cooled. Add any sprinkles, fresh fruit, or organically grown washed and dried fresh flowers on top.
Dark Chocolate Ganache:
Heat cream to just simmering. Remove from heat, stir in chocolate chips and stir until completely melted and very smooth. Let cool slightly, before filling the insides of the cupcake using a teaspoon.
Vanilla Buttercream Frosting:
Using a stand mixer or a large bowl with a hand mixer, cream the butter for 3 -4 minutes until smooth. Add the powdered sugar, a few cups at a time, mixing for a minute after each addition. Add the vanilla and the milk, a few tablespoons at a time. Beat on medium high speed for 5-6 minutes and until very fluffy. If too soft, refrigerate for 30 minutes to an hour. Spread on cupcakes or cake layers, or exterior, or pipe onto the cupcakes using a star tip of your preference. (will frost 24 cupcakes or 1 – 9", 2 layer cake)
Espresso Buttercream Frosting:
Add 2 teaspoons of very finely ground espresso into 2 cups of the Vanilla Buttercream Frosting (will frost 6-8  cupcakes. Double for frosting 12 with Espresso Buttercream Frosting).
Lemon Buttercream Frosting:
Add 1 teaspoon of lemon extract and 1 teaspoon of lemon zest to 2 cups of frosting. (will frost 6-8 cupcakes with a medium amount of frosting. Double for frosting 12 cupcakes with lemon buttercream frosting).