Jump to Recipe
Print Recipe
This easy and delicious pie crust for these mini galettes just happens to also be gluten free! You (or your family or guests) will never know it is gluten free by either the taste or the texture, though. Won't your gluten free guests be happy they can enjoy a delicious dessert too!
You can also use this crust for any tart or pie recipe. These berry and apple galettes are not overly sweet. They can be cut in halves and shared or served as a single serving, along with some vanilla ice cream, of course! The crust bottom caramelizes with the sugar from the fruit and the small amount of added sugars, while keeping the crust perfectly crisp and flaky.
You can make a few repairs to the crust if during the folding of the edge, a tear or two appears. That's just part of being a gluten free pastry dough. We can sacrifice a little of the look, especially since a galette is typically more "rustic" looking anyway, while not compromising on the flavor, texture, and flakiness. Mix and match the fillings and give your guests a chance to try a few, cutting in halves. The next time I make them I will be using fresh apricots, which is my absolute favorite pie, but honestly any fruit in these is delicious!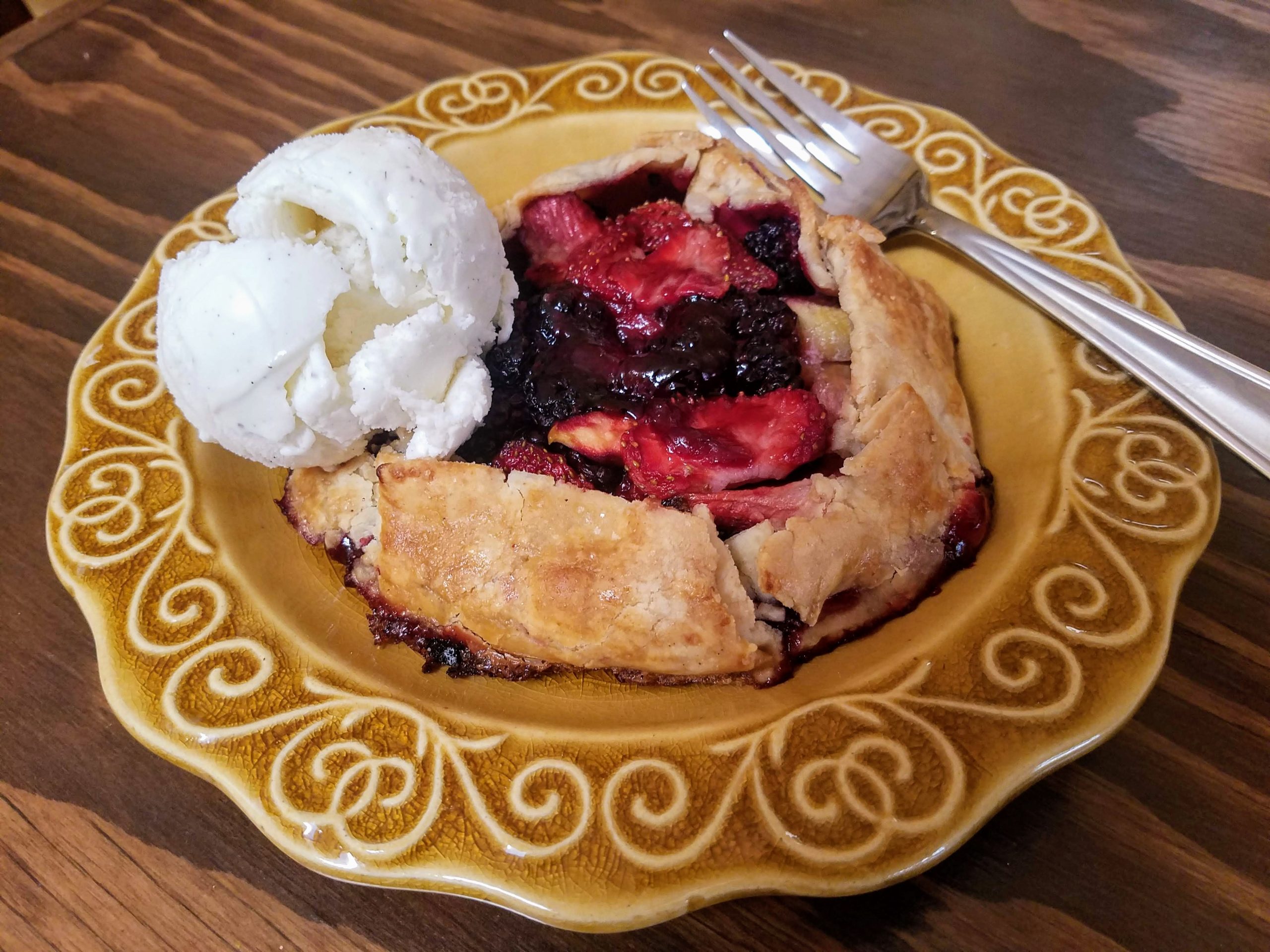 Simple Gluten Free Pie Crust and Mini Gluten Free Galettes
Pastry Dough: Makes 4-5, 8" discs, 1 large galette crust or one 9" pie crust
Ingredients
1 ¼ cups of Bob's Red Mill Gluten Free 1 to 1 Baking Flour or other gluten free blend with xanthan gum

¼ cup cornstarch, gf

¼ teaspoon salt

8 tablespoons salted and chilled butter, cut into small pieces

1 ½ teaspoons sugar

2 – 2 ½ tablespoons of whole milk

¼ cup ice water
Blackberry or Raspberry Filling
2 cups, (1 pint) blackberries or raspberries, fresh or frozen

¼ cup sugar

1 tablespoon cornstarch, gf

Squeeze of a lemon
Apple Filling:
2 cups peeled Granny Smith, Pink Lady or Pippin Apple slices, sliced very thin

½ tablespoon lemon juice

1 tablespoon sugar
Strawberry Filling:
1 ¾ cups sliced strawberries

1 ½ teaspoons cornstarch, gf

2 tablespoons sugar

Squeeze of a lemon
Instructions
To prepare the pie crust dough:
Combine the gluten free blend, cornstarch, salt, and sugar. Cut in the butter using a pastry cutter or two knives, pressing the blades against each other in opposite directions, until mixture looks crumbly and the butter is distributed throughout the dough.

Make a well in the dough. Add 2 tablespoons of the milk and the water and stir with a fork until dough begins to come together. Gather the dough with your hands and press into a ball, adding a half tablespoon of milk if needed to hold together.

Divide into two pieces to make mini galettes or leave as one for one large galette.  Flatten to a disc and wrap each dough ball in cellophane and refrigerate for 1 – 1 ½ hours.
To prepare the mini galettes:
When ready to proceed with baking, prepare each filling (filling recipe below). Roll out each dough piece between two sheets of lightly floured parchment paper.

Use a salad plate or other 8 inch round item as a template for each galette disc. You will need to re-roll the excess dough to make the fifth disc.

Place each disc on a parchment lined baking stone or baking sheet or lay two side by side on a large baking sheet.

Preheat the oven to 400 degrees F, with oven rack in center position.

Mound the filling, mixing the fruit fillings as you choose into the center of each disc and leaving a 1 ½ – 2 inch edge free of any filling. Place the apples or strawberry filling at the bottom of the crust for any combination of apple or strawberry with blackberry, to keep the filling from leaking out. Top with 2 tablespoons of butter divided between the 4 or 5 mini galettes.

Fold the pastry dough from the outside towards the center of the disc. The dough will not cover the filling, but will leave a 2 ½ – 3 inch hole without dough. Brush the dough with 1 tablespoon of egg white mixed with 1 tablespoon of water. Seal and make any repairs of cracks with the egg white mixture and excess dough pieces or a dab of gluten free flour. Shake a teaspoon of sugar over the top and crust of each galette.

Bake for 40-45 minutes each until the filling is bubbly and the crust is golden brown, rotating two trays in the oven halfway through baking. When you remove the trays to flip their position, brush the crust with a little milk or half and half. For the apple galette, drizzle 1 ½ tablespoons of honey over the filling. Return to the oven in the alternate position to finish baking. Refrigerate any galettes that will wait for oven space until others have been baked. Serve while warm or at room temperature with plenty of gluten free ice cream or barely sweetened whipped heavy cream.
Filling for Mini Galettes:
3 fillings fill 5 mini galettes
Blackberry or Raspberry Filling:
Stir berries, sugar, cornstarch and lemon together in a bowl.
Apple Filling:
Stir together apples, lemon juice and sugar in a small bowl.
Strawberry Filling:
Stir together strawberries, cornstarch, sugar and lemon in a small bowl.