Jump to Recipe
Print Recipe
This soup has been a favorite of my families for many years. It's so easy and so reasonable to make. This will change your mind if you grew up eating lentils prepared very simply. Adding the combination of flavors here, takes this lentil soup to be something completely different and so tasty!
You can leave out the sausage and use vegetable broth if you want to make it vegetarian. You can leave out the cheese if you want to make it dairy free. You feel healthy eating it, and it can be your entire meal as it is filling. But serving alongside some of my Gluten Free Cheesy and Herb Sourdough Bread Sticks, Gluten Free Puffy Yeast Breadsticks, or a crusty French bread or sourdough bread definitely notches it up a step.
Or you could serve a nice "insalata mista" salad alongside, as they say in Italy, mixed green salad, with simple greens and shredded carrots or sliced fennel, with a lemon or balsamic vinaigrette.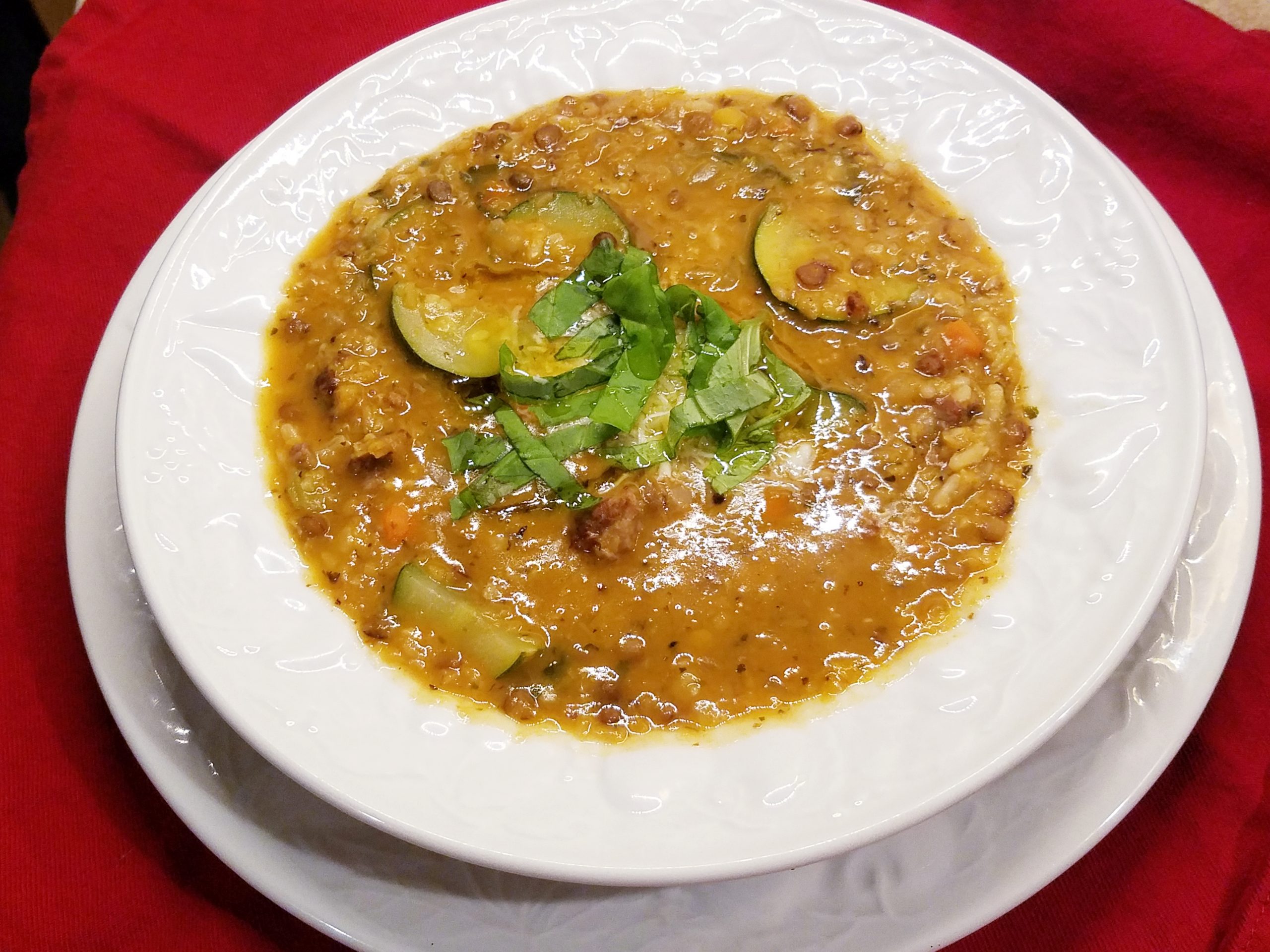 Italian Red Lentil Soup with Sausage (Gluten Free)
Ingredients
2 ½ tablespoons

olive oil

extra virgin

1 teaspoon

salt

1 medium

onion

minced

2 large

stalks celery

chopped

¼ bulb

fennel

chopped, optional

1

carrot

chopped fine

3 – 4 large

cloves

garlic

minced or crushed

2 ½ tablespoons

tomato paste

½ cup

white wine

optional

1 ½ cups

red lentils

or red mixed lentils, rinsed several times

3  cups

chicken broth

homemade or store bought, or vegetable broth, gluten free

4 cups

water

¼ – ½ teaspoon

crushed red pepper

gluten free

2 small handfuls

spinach

or kale, chopped

8 – 9 ounces

mild Italian sausage

(3 links) crumbled, gluten free

2 tablespoons

fresh Italian flat leaf parsley,

chopped or 1 teaspoon dried, gluten free

8 – 10 

basil leaves

torn or chopped

1 teaspoon

dried basil

gluten free

1 ½ – 2

zucchini

sliced lengthwise, then into ¼" thick half rounds

3/8 cup

brown rice

uncooked

A small chunk (1/2 inch x 3/4 inch)

parmesan cheese

(if you don't need it dairy free)
Instructions
In a large stockpot or Dutch oven heat the olive oil, over medium high heat, and sauté onion, carrot, celery, and optional fennel with salt for three to four minutes. The vegetables of this "soffrito" should be soft. Add the garlic and stir quickly for 20 seconds.

Remove to a bowl or plate to add back in later. Brown the crumbled sausage in the stockpot. After it has browned, turn down the heat to medium low and add the white wine and simmer and "deglaze" the pan, stirring the bits of browned meat off the bottom.

Add the broth, the water, tomato paste, lentils, the crushed red pepper, dried basil, half of the amounts of parsley and basil, the onion mixture, and the spinach or kale. Simmer over medium low heat for 30 minutes.

Add the brown rice parmesan cheese chunk and stir, and continue cooking for 30 minutes.

Stir in the zucchini slices and cook for 20-25 minutes more, until zucchini and brown rice is cooked.

Ladle into bowls, drizzle with a little olive oil, sprinkle with cheese and fresh basil strips, and be sure to pass bowls of extra parmesan cheese, and crushed red pepper flakes.
Notes
This is the best on a cool or chilly night! One of our family favorites. With lots of flavor, a little sausage, some veggies, and a little rice it's a great "meal" soup on a fall or winter evening. Try it with our Gluten Free Puffy Yeast Breadsticks.