This French stuffing recipe has been a long time favorite of mine! I don't know exactly where the recipe originated, but believe my Dad's mom (my grandma whose heritage was French Canadian) used to make it for their family. Then my Dad (and my Mom) brought the tradition to our house:
It's so simple yet so delicious! Add in more butter or cream as needed or desired. I don't really know if the original recipe had butter or cream, but it probably had milk and margarine.
The hamburger I used didn't have much fat so I added a tad bit of bacon fat. The bacon fat gives some added flavor if your ground beef is extra lean. It also makes a wonderful grilled cheese, grilled sandwich, or anything you want to brown in a skillet!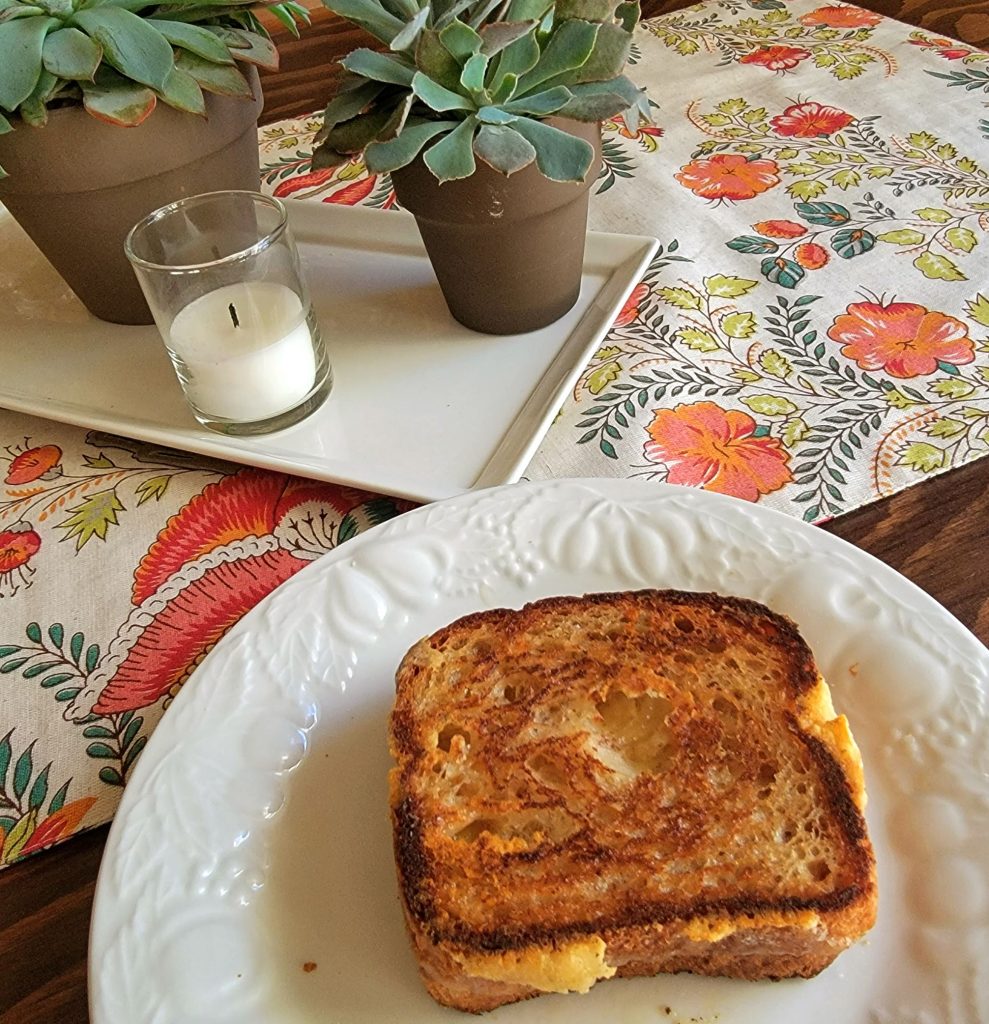 Where can I find summer savory?
Summer savory and savory are herbs that some companies don't package. I have found savory more readily than summer savory, and although they are similar in taste, summer savory has a little sweeter taste, while it's cousin, savory tends to have a slight bitter taste. Apparently, these herbs have been around awhile, with the Romans using them before pepper was readily available or used.
For a good option for a gluten free brand, try Spices Village Summer Savory. You could also use savory in place of summer savory in this recipe, but just go on the lighter side on the amount used.
You can also use this spice when roasting a whole chicken, turkey or other poultry. It can overpower your other flavors so do be careful though! It's often used in Herbs de Provence blends. If you make your own Herbs de Provence, you can add some to see what you think.
Use this for stuffing or serve as a main dish
I'll be making this French stuffing for many years more, even though Dad is no longer here to enjoy it with us. We'll be thinking of him with each bite.
You can also just make this for an easy weeknight main dish served with a large salad or veggie. You can have this ready in just about 30-35 minutes. It's definitely a no fuss dish!
To reheat the French Stuffing
Make this a day or two before your Thanksgiving or Christmas meal. It easily reheats in the oven (covered with foil in a 325 degree oven for 15-25 minutes depending on the size of the dish) or in the microwave covered with a microwave safe cover. Just cool to the touch before refrigerating. When an hour from serving, remove from the refrigerator and bring to room temperature for 20 minutes. Then add a pat of butter to the top before covering and heating. Remove from the oven and stir in the butter and a tablespoon or two more of cream, half and half or milk to get a nice creamy texture.
I love to serve this stuffed in a chicken or turkey, and it also works well to stuff a chicken breast with it. Of course, you don't have to "stuff" it at all, but just serve casserole style for an easy side dish.
This one's for you Dad!
~Laura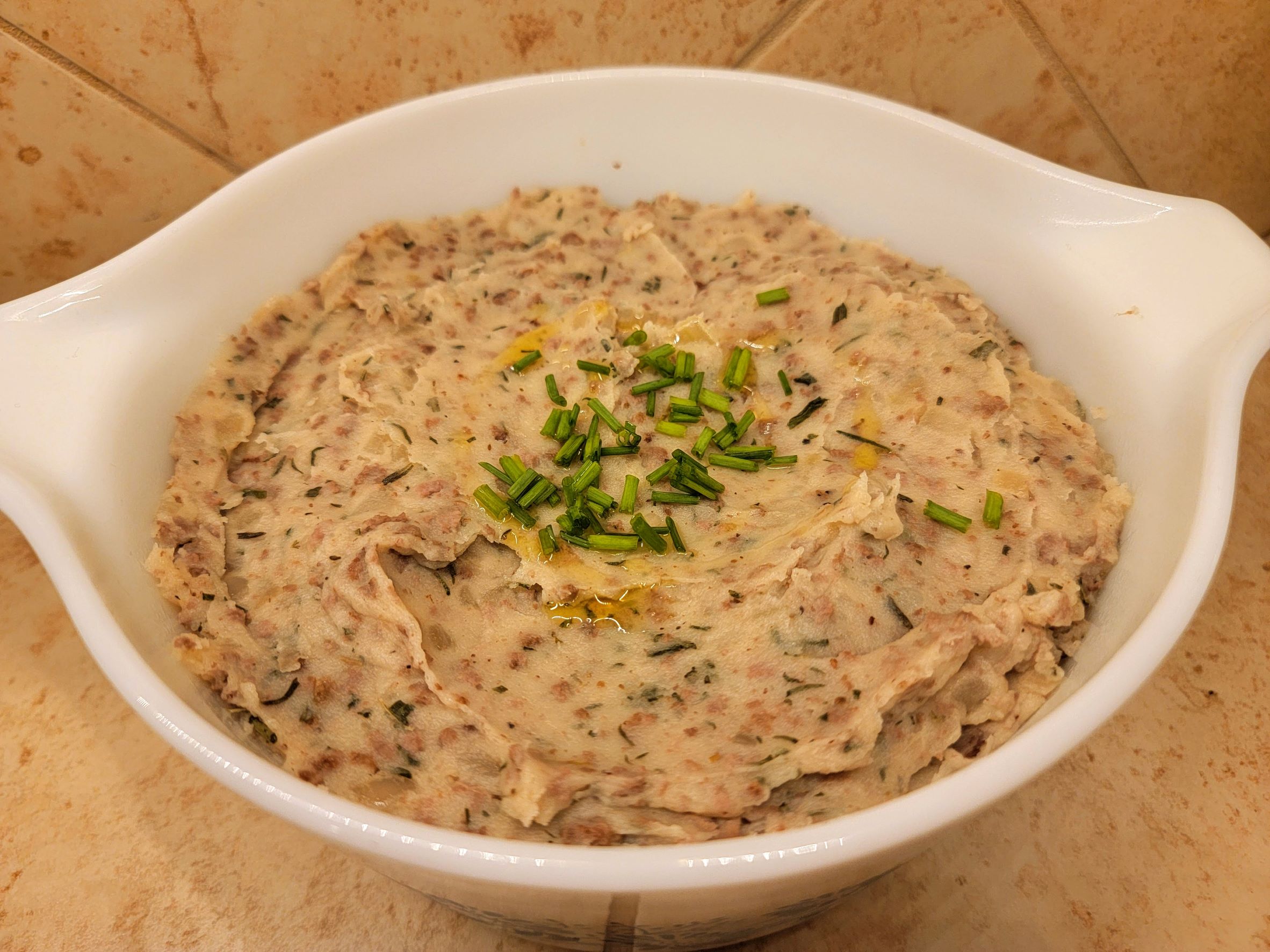 Dad's Favorite French Stuffing with Summer Savory (Gluten Free)
Here's a non traditional stuffing for you! We grew up eating this dish every Thanksgiving and Christmas and it's still one of my favorites. This one's for you Dad!
Equipment
1 large saucepan or stockpot

1 large cast iron or skillet

1 potato masher
Ingredients
5-6 medium golden or russet potatoes

1 large white onion, finely diced1 ½ tbsp olive oil¼ teaspoon Kosher salt

1 ½ tbsp olive oil

¼ teaspoon Kosher salt

½ teaspoon fresh ground black pepper

1 ½ tbsp summer savory, gf 

4-5 tbsp butter, cut up

2 tbsp heavy cream 

or substitute 4 tbsp half and half for the cream and milk

2 tbsp whole milk

More salt and pepper to taste

Cut chives for the top
Instructions
Peel the potatoes and cut into 1 ½ " cubes. Boil in a large saucepan or stockpot with water covering the potatoes and ½ teaspoon salt. Simmer until the potatoes are soft, about 20-25 minutes. Turn off the heat and leave covered.

In a large skillet, heat the olive oil over medium high heat. Add the diced onion and ¼ teaspoon Kosher salt and celery seed. Saute until soft and translucent. Remove to a bowl.

Add the ground beef and use a spatula to break into small pieces while browning over medium high heat. Drain or spoon any excess fat off and discard.

Drain the potatoes and add to the skillet. Add in the sauteed onion and summer savory. Add the butter and pour in the milk and cream in two portions, using a potato masher to combine the ingredients. 

Mash the ingredients together until you have a smooth and creamy texture. Add additional cream or butter as needed. Taste and add more salt and pepper as needed. Spoon into a serving dish. Add chives to the top.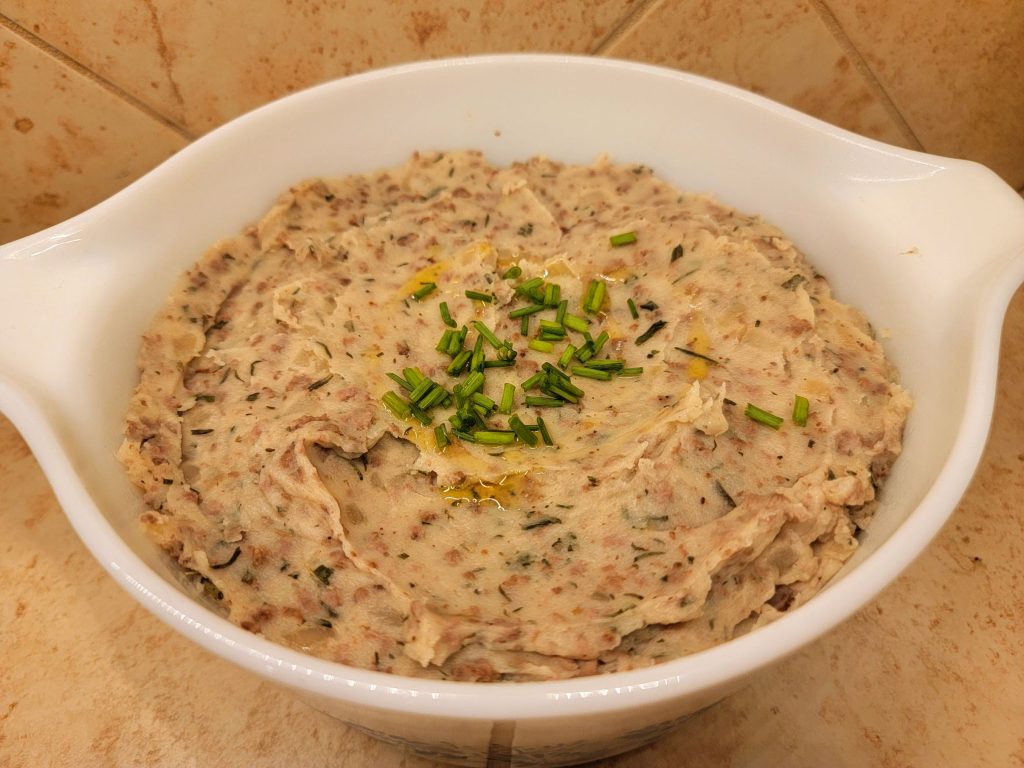 If you're not in "French" mood, check out another Mama Laura's Kitchen stuffing recipe: Savory and Sweet Rice Stuffing