Gluten Free Churros – a lighter version
Fiesta Time!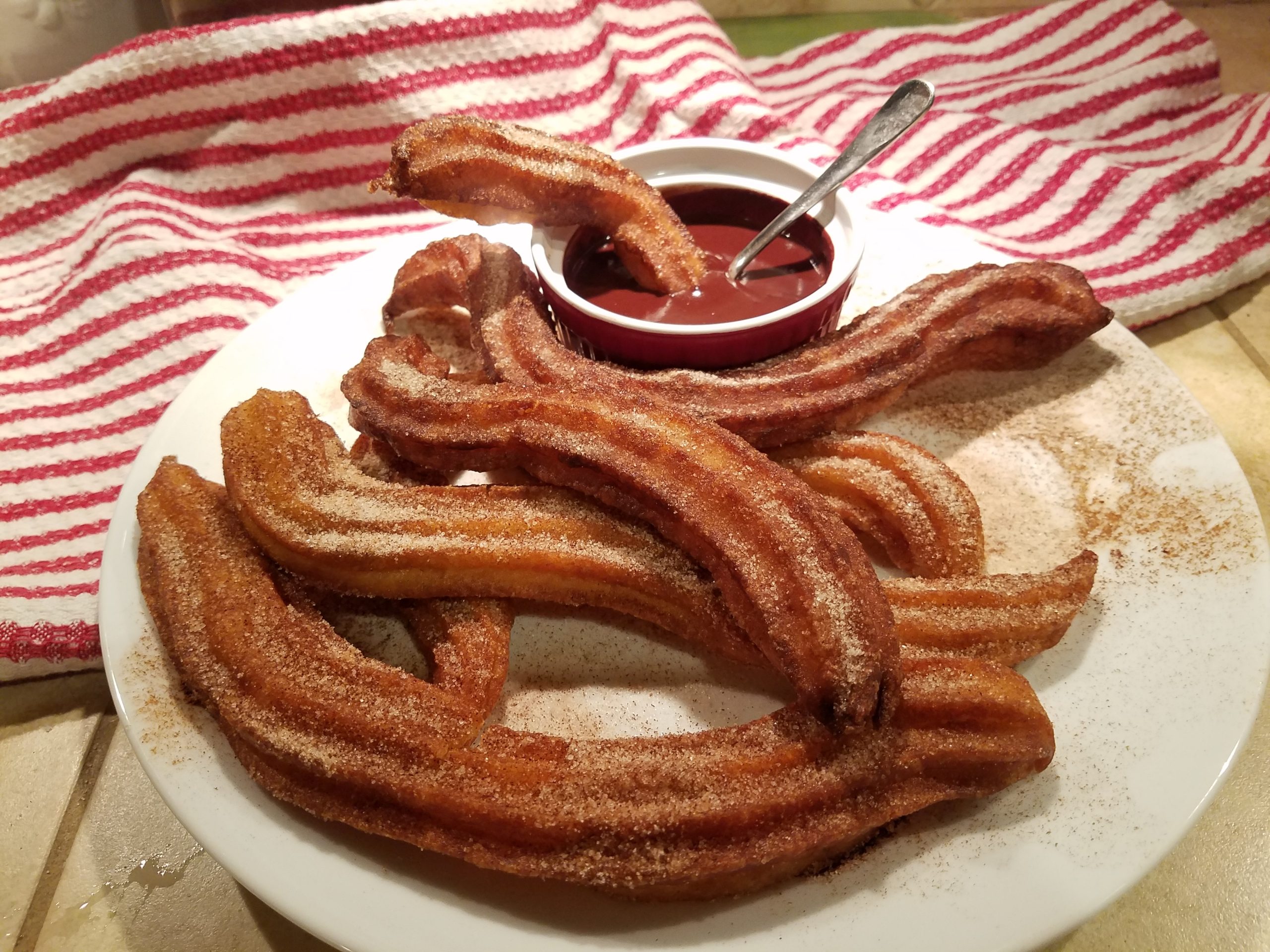 Gluten Free Churros – a lighter, airier variation of the traditional churro
Ingredients
1 cup whole milk

7 tablespoons butter

1 teaspoon Mexican vanilla

(Molina brand is gluten free)

1 cup, plus 1 tablespoon of 1 for 1 gluten free all purpose flour

(I use Cup 4 Cup brand, but use any 1 for 1  brand, which contains xanthan gum or another blend without xanthan gum with 3/4 teaspoon of xanthan gum added)

1 tablespoon of tapioca starch

1 1/4 teaspoon gluten free baking powder

2 tablespoons granulated sugar

1/4 teaspoon salt

1/4 teaspoon of cinnamon

(gluten free brand – such as McCormick Shilling)

2 eggs

2 1/2 quarts of vegetable oil

(1 1/2 – 2 inches in a saucepan or small stockpot)
Sugar For Coating
1 cup granulated sugar mixed with 2 teaspoons of cinnamon (gluten free)
Chocolate for dipping (Spanish Style) – optional
1/3 cup semi sweet or dark chocolate chips

(I use the Guitard red package for a gluten free option)

1/8 cup heavy cream

1 1/2 tablespoons whole milk
Instructions
Whisk the gluten free flour, tapioca starch, baking powder, sugar, salt and cinnamon together in a bowl to combine. Heat the milk with the butter in a saucepan. Bring to a boil and remove from the heat.

Pour into the flour mixture and stir until well combined, or use a mixer to combine completely. Allow to cool for five minutes.

Add the eggs, one a time, and vanilla and hand stir vigorously or mix with a mixer on medium until dough is smooth, fairly thick and sticky. Add additional milk to thin if needed (1 tablespoon) until dough is a piping consistency.

At this point, you can proceed with cooking the churros or refrigerate the dough for up to 24 hours. If you refrigerate the dough before frying, bring dough to room temperature before proceeding to fry.

When ready to fry your churros, over medium high or high heat, in a large saucepan, approximately two quarts of oil to 350 degrees.

Fit a pastry bag with a 1 M star tip (or what you have that is larger than 1/4″  inch wide) and fill the bag with the churro dough. Pipe dough directly into the hot oil, approximately 7 inches long, carefully, and 2 or three max at a time.

Fry for 1-2 minutes per side, or until golden brown, before removing with tongs to a wire rack seated over a plate covered with several layers of paper towels.

Let cool until you can handle, and dip in granulated sugar and cinnamon mixture, until well coated. Serve with thick dipping chocolate, recipe below, if desired, or use a brand of a packaged type of thick chocolate from Spain (which is gluten free) desire Enjoy!

After churros are cooked and very slightly cooled to handle easily, dip each one in the cinnamon sugar mixture.
Chocolate for dipping (Spanish Style) – optional
In a microwave safe ramekin or small bowl, melt chocolate with cream and milk, then stir until smooth and creamy. Set aside while frying your churros.