Yes, I know…yet another pasta dish! But they are all very different dishes even though they are pasta dishes. I guess my Italian heritage dominates my cooking, because I love pasta dishes! They are so easy to make gluten free also.
I confess, this recipe would not have been served at my grandparents table or even my parents table probably! It is not a traditional sauce of Southern Italy. But yet here it is, finding it's way into my blog. Sorry, Grandma Rose! If she tried it, she may have called it "odd". This was her polite way of saying that she really didn't like something; a phrase which would always make us laugh!
You can definitely make this dairy free if needed, using a dairy free butter and a thicker non dairy substitute also for the cream, as I know some people can't handle cream in their diet.
Normally I would serve this with a white wine, but the sausage makes it a good pairing with a nice lighter blend, a Pinot Noir or maybe a Sangiovese.
Paul doesn't mind the mushrooms in this dish. Cut them small if you have a non mushroom lover;). There are so many other flavors, I can get away with sneaking them in (because I love mushrooms!).
It was a beautiful night when we enjoyed this dinner outdoors a few weeks ago, and now the deck is just wet from the much needed rain!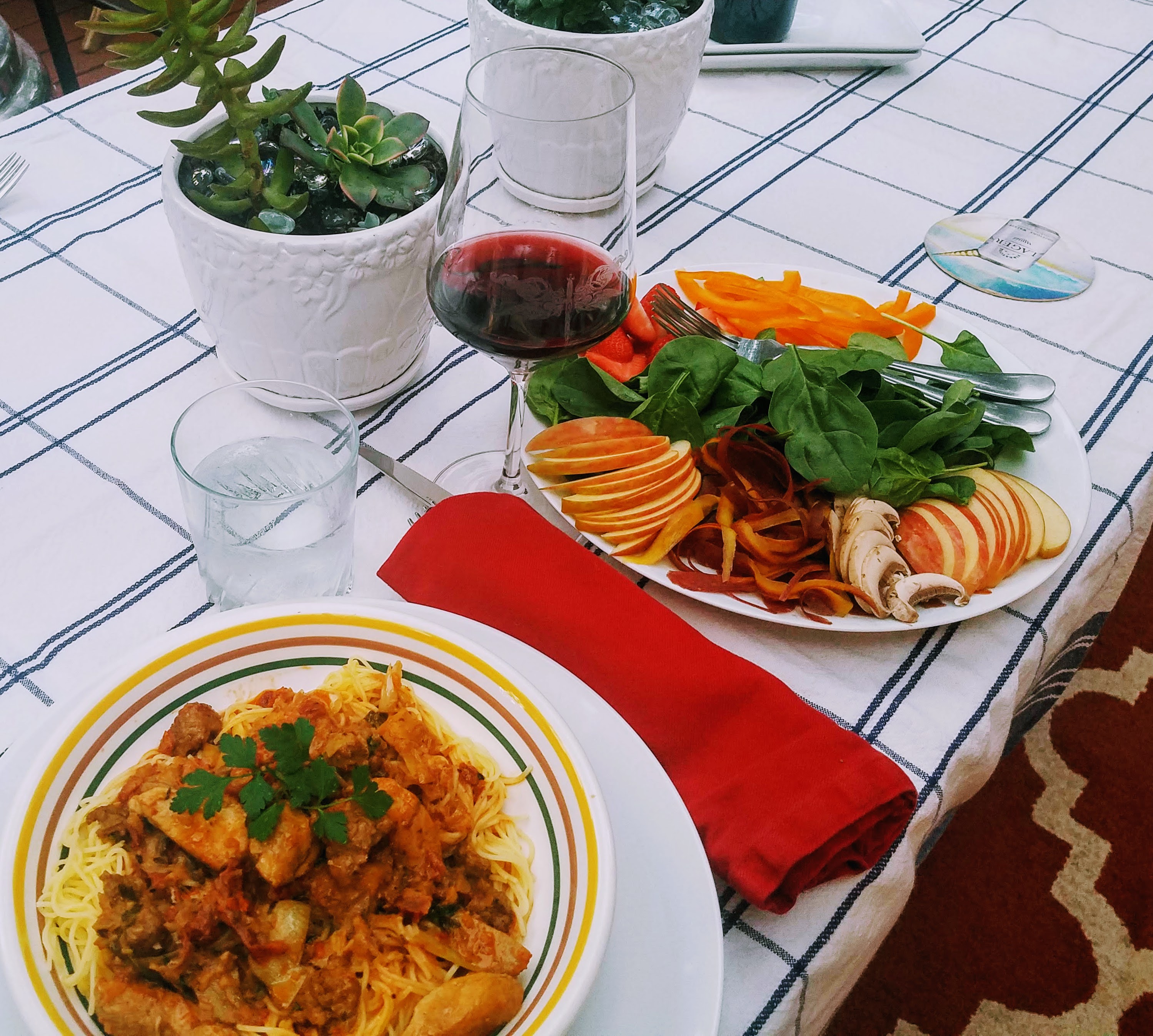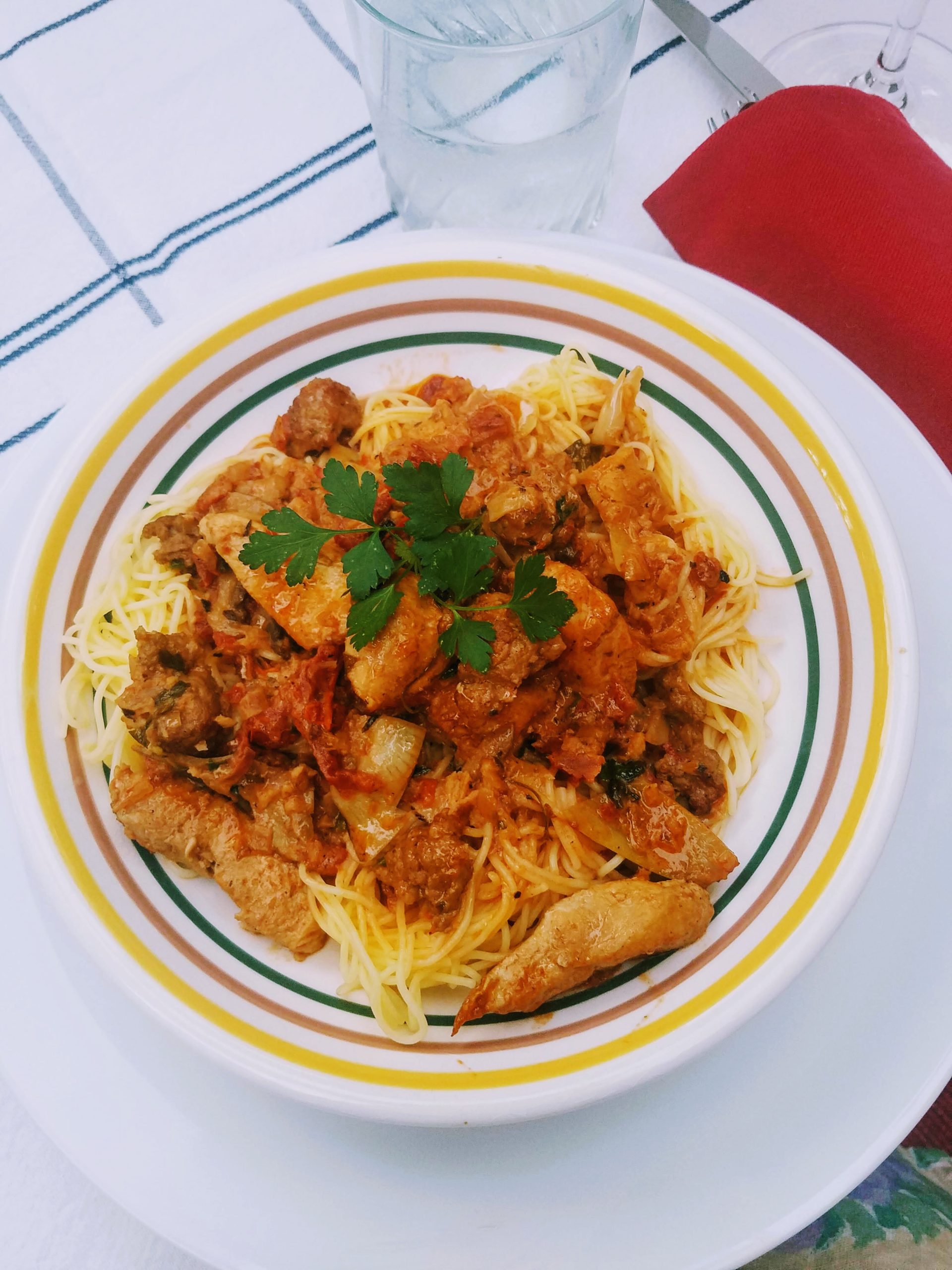 Sun Dried Tomato, Chicken, Sausage and Artichoke Pasta (Gluten Free)
A lighter sweet sauce. Yum! This is one of our favorites!
Ingredients
4 Tablespoons olive oil

1/2 large onion, minced fine

1/2 teaspoon salt

6 cloves garlic, minced fine

2 chicken breast halves, cut in half lengthwise, then in 3/8 inch thick pieces

1/2 teaspoon salt and sprinkle of pepper for chicken

2 links of New York Sausage Italian Sausages, cut lengthwise and then in 1/4 inch think pieces

or other gf Italian Sausage brand

6 or 7 baby bella (also know as cremini) mushrooms, wash, dried and sliced (optional)

1 tablespoon butter

1/3 cup of sun dried tomatoes in oil, drained and chopped small

1 1/4 cups Sauvignon Blanc or other dry white wine

1/8 cup fresh basil, chopped

1/8 cup fresh Italian parsley,  chopped

1/8 cup Trader Joe's Marinated Grilled Artichoke Halves, chopped  coarsely

1 tablespoon of tomato paste

1 cup heavy cream

3 tablespoons butter

2 tablespoons of pasta water (from the cooking gluten free pasta)

1 lb of gluten free pasta

Le Veneziane or other gf brand
Instructions
Heat 3 tablespoons of the olive oil in a large skillet. Add the minced onion and  1/2 teaspoon salt and saute over medium heat until very soft and translucent. Add the minced garlic and give a quick stir, before removing from the heat. Move the onion and garlic to a small bowl and set aside. 

Add the remaining 1 tablespoon olive oil and heat the pan on high heat. Add the chicken pieces and salt (using remaining 1/2 teaspoon salt) and pepper. Brown (in two batches so not to crowd) the chicken pieces for a minute or two on each side. They should be almost cooked through. Remove each batch when finished to a small bowl and cover. Add the sausage pieces and brown well, stirring often to evenly brown. Remove the cooked sausage to a small bowl. 

Add the 1 tablespoon of butter and heat pan over high heat. Brown the mushroom slices, turning to brown both sides. Remove to a small plate. Add the chopped sun dried tomato and stir over medium heat. With sun dried tomatoes still in the skillet, pour in the white wine to deglaze the skillet, stirring to get the bits of crispy pieces off the bottom of the skillet. Add the onion and garlic, basil, parsley, and cooked sausage back into the skillet. Simmer over low heat for 5-8 minutes. 

Start the water for the pasta over high heat in a stockpot or large saucepan. 

Add the cooked chicken pieces into the skillet and continue to simmer sauce over low heat. Add the artichoke heart pieces and the remaining 3 tablespoons butter. Add the cooked mushrooms, if using. Simmer for 8-10 minutes more. 

Cook the pasta per package directions. Before draining, reserve 1/8 cup pasta water from your gluten free pasta. Add the pasta water to you sauce and the heavy cream also. Stir the sauce into your cooked and drained pasta, and serve immediately. Pass a bowl of freshly grated parmesan or asiago.