What's on the menu for tonight?!

I'm still drooling over yesterday's Gluten Free Flatbread! Gluten free pizza dough with a drizzle of olive oil, brie, and thinly sliced apple, caramelized onions, pecorino, and topped with fresh thyme, rosemary, honey drizzle, and sliced almonds! What could be better?! I even enjoyed the remaining two pieces today.
Yes! You Can Reheat the Leftover Portion
These gluten free flatbreads or pizza reheat incredibly well in a 375 oven on a tray for 7-8 minutes. 

We make pizza or flatbread at least once a week here and sometimes more if granddaughter Maddie is here with us! She says grandpa makes the best pizza (he normally bakes our pizzas for us on the gas pizza oven).
Try this recipe with your own favorite gluten free dough recipe or one of mine: Laura's Favorite Gluten Free Pizza Dough, Gluten Free Sourdough Pizza Dough, or Easy Yeast Gluten Free Pizza Dough recipes.  Usually, I say to roll or flatten each dough ball to a 9 1/2 or 10″ round, but this flatbread you could roll to a 12″ if you like for a thinner "flatbread" crust. Often I make a full recipe of Gluten Free Pizza Dough, use one or two for our pizza night and save the other ball wrapped in cellophane in the freezer. The dough balls will keep several weeks, double bagged in freezer bags for later use. Just make sure to thaw on the counter or in the refrigerator and bring to room temperature before putting your pizza or flatbread together. And never, ever use cold or extremely heated sauce on your dough.
Enjoy!
~Laura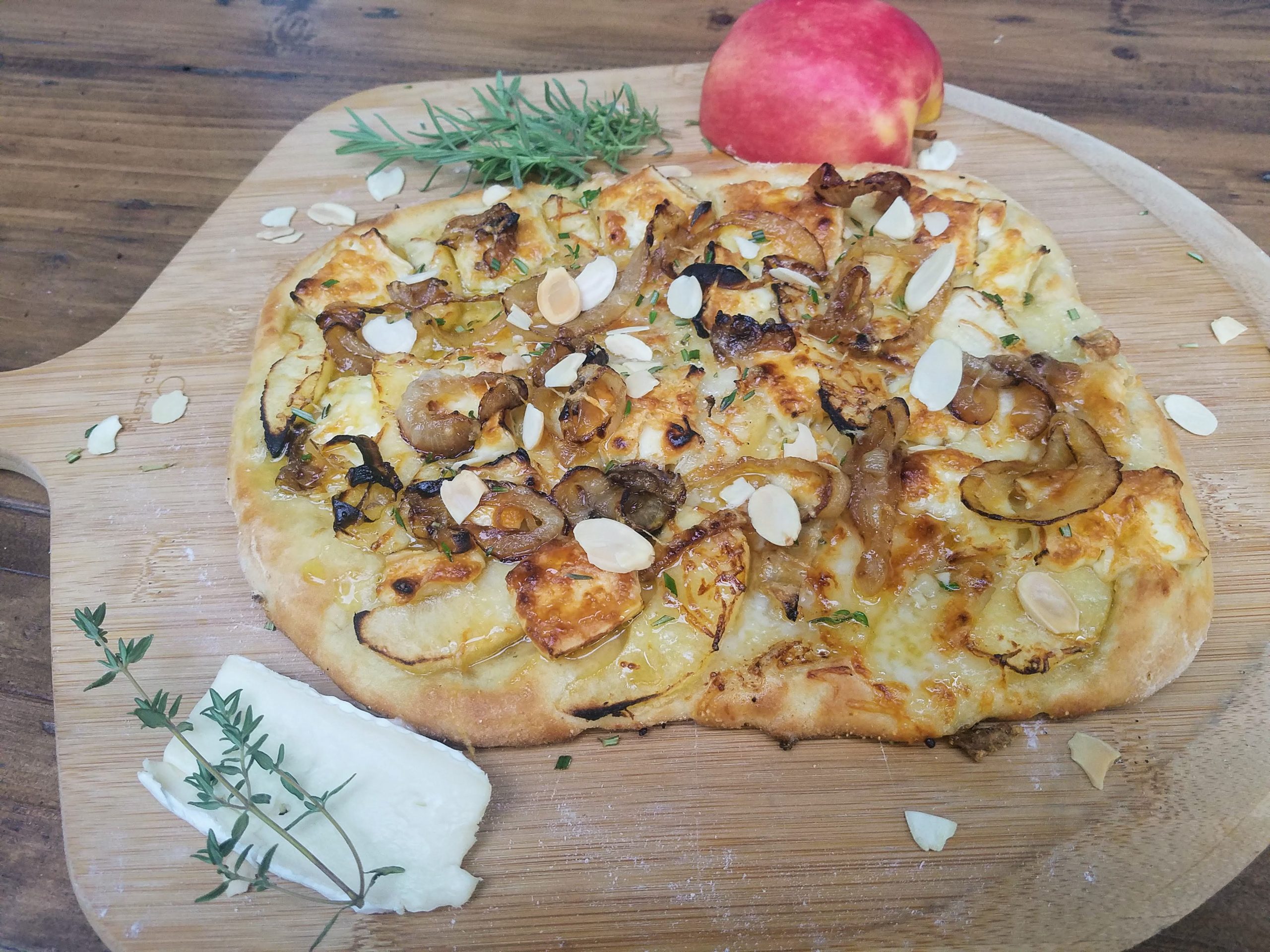 Gluten Free Flatbread with Brie, Apple, Caramelized Onion and Honey Drizzle
Serves 2 for dinner or 3-4 for appetizers
Ingredients
2 dough balls from Laura's Favorite Gluten Free Pizza Dough Recipe or Gluten Free Sourdough Pizza Dough Recipe or Easy Yeast Gluten Free Pizza Dough

3 1/2 tablespoons of olive oil

1/2 tablespoon butter

1 sweet onion, sliced 1/4" thick

8 oz. Brie cheese, sliced

1 Honey Crisp, Pink Lady, or Fuji apple, peeled and cored, then sliced 1/8" or less

1/4 cup grated Pecorino cheese

2-3 short sprigs of fresh rosemary, stems removed, minced or 3/4 teaspoon of dried rosemary

1 teaspoon fresh thyme leaves

3-4 tablespoons of warm honey, drizzled on top

gluten free cornmeal for sprinkling on baking stone

a handful of sliced blanched almonds for topping
Instructions
Remove one dough ball 45 minutes to one hour before you want to put the flatbread together. 

Prepare the caramelized onions. In a skillet or saucepan, heat 2 tablespoons of olive oil or vegetable oil. Add the onion slices and cook over medium low or low heat, stirring often to brown evenly. Cook for 10-12 minutes, adjusting the heat as needed to cook very slow, until soft and starting to brown. Add the butter and continue cooking for 5 or 6 minutes more. Remove from heat and set aside.

On a well floured board, roll or flatten using your fingers to push the dough out to a 10 – 12" round (or make this oval or rectangular….there are no rules).

Preheat the oven to 450 degrees. (You can also preheat a pizza or baking stone, but these will cook fine without that step).

Prepare a stone or baking tray, by greasing with a little olive oil, and sprinkle gluten free cornmeal on the center (roughly as large as the flatbread is).  

Slide the dough round onto the stone or baking sheet before topping. If baking in a pizza oven, prepare on a cornmeal sprinkled pizza peel. Add a drizzle of olive oil on the crust. Add slices of apple and brie slices, alternating between the two on each flatbread. Fill in any gaps or edges with brie or apple slices. Sprinkle with pecorino cheese and drizzle the edges with a bit more olive oil. 

Bake in the center of the oven until the crust is starting to brown on the outside edge and the cheese is also starting to brown. Remove from the oven and add caramelized onion slices, spreading evenly between the two flatbreads. Return to the oven to finish baking until the bottom crust is browned and the edges are golden brown, about 10-14 minutes total baking time.

Sprinkle with the herbs and drizzle. Drizzle the honey over the top of the flatbreads. Toss the sliced blanched almonds over the tops.

Remove to a cutting board and cut in half and slice in strips or cut as you would a pizza, into 8 slices.
Notes
Flatbreads or pizzas are some of my favorite things to make for dinner or appetizers! These doughs can be frozen in freezer bags and thawed when ready to use. Just be sure to allow time for the dough to come to room temperature. You can always thaw the dough and then refrigerate until about an hour to an hour and a half from the time you want to bake.