I happen to love to make desserts. Gluten free ones that I can eat, but ones that still taste delicious. So delicious your mother wouldn't know it wasn't full of gluten. There are many things I make as staples for dessert in our house.
Since I try to stay away from handling or cooking with regular wheat flour or other gluten containing flour, I've tested a lot of dessert recipes. Some can transition to gluten free relatively easily, others not so. In the process, I've learned which ones can be made without gluten and still taste delicious (maybe even beating out their gluten filled counterpart!!). 
One of these items is the shortbread tart crust. You can literally fill this shell with any  combination you like. It takes about 5 minutes to mix it up in your Kitchen Aide and about 15 to bake. Then just cool and fill with your favorite fillings! Try one of my favorites: Gluten Free Chocolate Ganache Raspberry Tart. It is amazing in this shell also.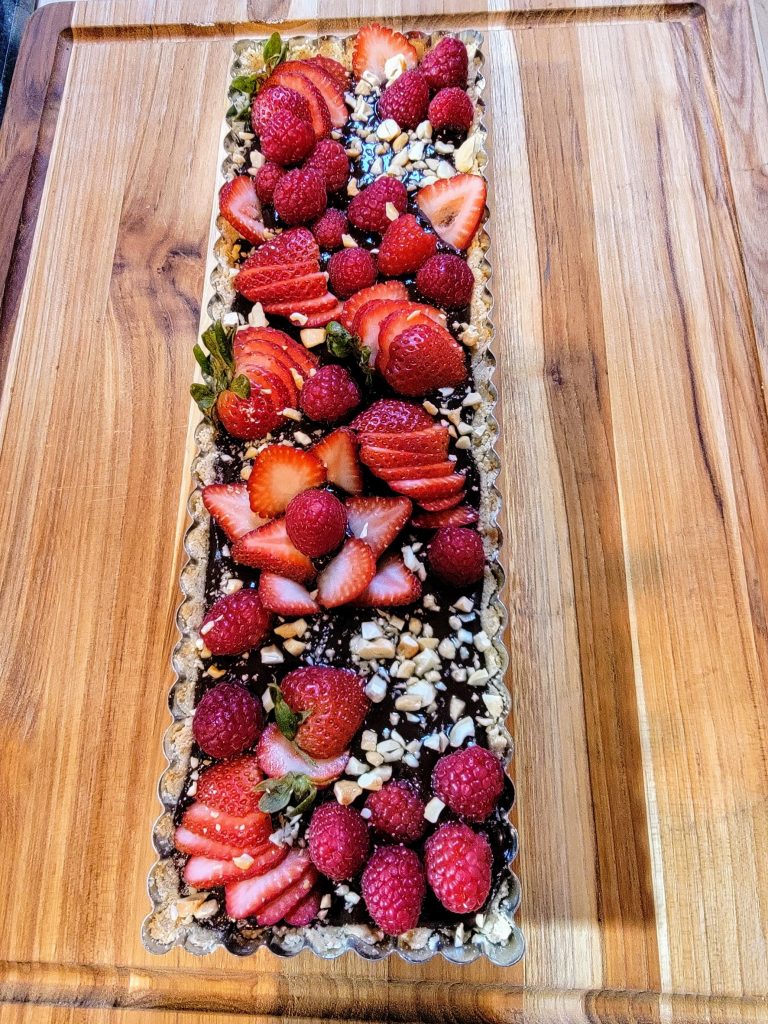 However, on a summer night, a lighter filling sounds a bit better to me. And so, the Gluten Free Raspberry Lemon Tart emerges. The only problem is that there won't be left overs for breakfast. It's too yummy!
Gluten Free Raspberry Lemon Tart
A perfect summer dessert for all your family and friends to enjoy!
Equipment
1 8" or 9" tart pan with removable bottom
Ingredients
Tart Shell:
2 Tablespoons

brown sugar

2 Tablespoons

organic cane sugar

4 Tablespoons

chilled butter

cut up a pinch of salt

1/2 cup

almond flour

gf

3/4 cup

all purpose 1 for 1 gluten free flour

(I use Bob's All Purpose 1 for 1 Gluten Free Flour)

1 teaspoon

pure and gluten free vanilla extract
Filling Ingredients:
4 oz.

cream cheese

room temp and cut into small pieces (check to make sure it is gluten free)

1 tablespoon of

heavy whipping cream

1 teaspoon

pure and gluten free vanilla extract

1/2 cup, plus one tablespoon

 powdered sugar

1/2 cup

whipped cream (from below)
For Whipped Cream:
1 cup

heavy whipping cream whipped

1 tablespoon

sugar

1 teaspoon

pure and gluten free vanilla extract
For the bottom of the shell:
4 tablespoons

lemon curd

store-bought or homemade (if you prefer) gf
To top the tart:
2 pints

raspberries

washed and dried 
Instructions
For Tart Shell:
Preheat oven to 350 degrees with the rack in the center of your oven.Combine ingredients in the bowl of a Kitchen Aide mixer (or a bowl and use a hand mixer).

Combine all the ingredients on low speed, then increase to medium low and mix until texture appears crumbly and no large pieces of butter are remaining.

Place a circular piece of parchment (does not need to go up the sides) on the bottom of a 8 or 9" removable bottom tart pan or a 8 or 9" springform pan with a removable bottom, lined with parchment that goes up the sides.

Pour the flour mixture from the bowl into the tart pan and proceed to press the tart mixture, with a spoon or spatula, evenly on the bottom and up the sides a bit.

Bake for 13-15 minutes until light golden brown on bottom and edges.

Remove to a wire rack to cool. 
For Filling:
Starting with the whipping of the cream, pour the heavy cream in your Kitchen Aide or a medium bowl if using a hand mixer. Start the mixer on low (wire whisk attachment of Kitchen Aide) and then increase after a minute or so, to medium high. When it starts to thicken and you see lines starting to form, add 1 teaspoon of vanilla and 1 tablespoon of sugar. Continue mixing until fluffy and thick. Don't over mix. Give a solid stir after removing whisk. This will set the cream.

Remove the whipped cream with a spatula, to a small bowl.

Then in the bowl of your mixer on low speed, with the paddle attachment, combine the cream cheese, 1 Tablespoon of heavy whipping cream, 1 teaspoon vanilla and powdered sugar. Mix on medium for 4-5 minutes, until smooth, stirring down off the beater often. Continue mixing until free of any lumps.

Fold in 1/2 cup of heavy whipped cream that you set aside.

Fill a pastry bag with medium star tip, with whipped cream and reserve for piping.

Heat the 4 tablespoons of lemon curd in the microwave for 20 seconds. Leaving the tart shell in the tart pan, spread the slightly warmed lemon curd on the bottom of the tart shell.

Spread the cream cheese filling over the lemon curd in the shell.

Top the cream cheese filling with the raspberries, leaving a small edge for piping. You can carefully lay the berries in a pattern or just toss on the top! Your choice. 

Remove the sides of the springform pan or the bottom of the tart pan. Slide the tart off the parchment paper and onto a cake plate.

Pipe the whipped cream on the edge of the shell. Place tart in he refrigerator for at least 2 or 3 hours to chill well.