Jump to Recipe
Print Recipe
Pot de Crème has become one of my favorite desserts. I always seem to have the ingredients on hand for this spectacular dessert and if the power is out I am still able to whip up a batch of this on my gas stove top! It was so windy yesterday here and the power was out for about five hours. We thought it would be much longer as many PG&E customers were out in neighboring areas. The power came on part way into the Giants and Dodgers game #3 play of the NLDS. And the Giants won it and now are in the lead of the series, 2-1! This Pumpkin Spice Pot de Crème pairs wonderfully with any of your fall meals.
Enjoy!
~Laura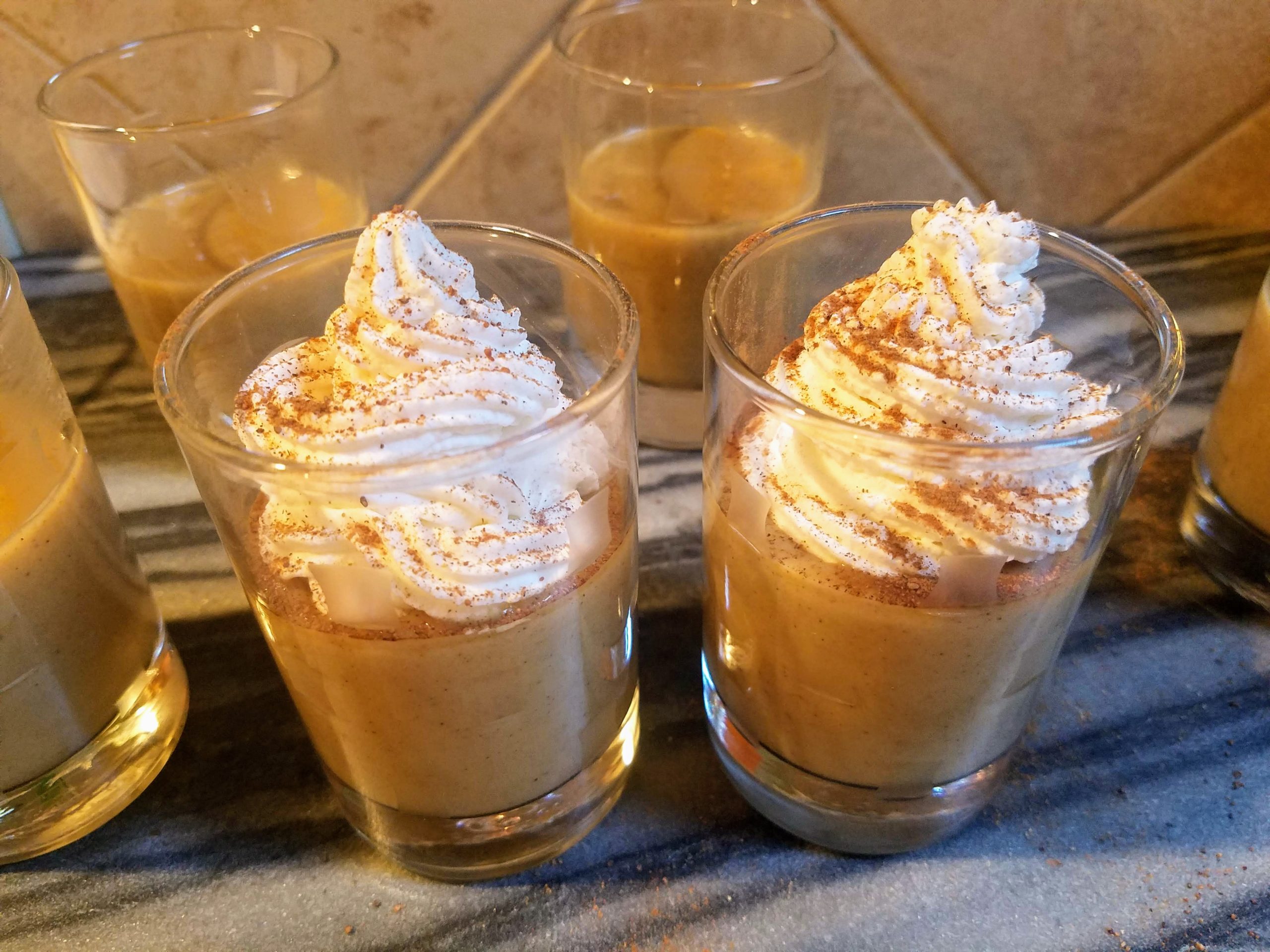 Pumpkin Spice Pot de Crème (Gluten Free with a Dairy Free Option)
Ingredients
 3 large egg yolks

1/3 cup Trader Joe's Organic Pumpkin Puree

1/8 cup pure maple syrup

1 cup Califa Farms Dairy Free Almond Milk Creamer, Hazelnut or Pecan Caramel Flavor or 1 cup Heavy Whipping Cream, or use 1/2 cup heavy cream and 1/2 cup non dairy creamer

3/4 cup milk or non dairy gluten free milk

1 teaspoon McCormick Schilling Pumpkin Pie Spice, gf

1/2 cup plus 2 tablespoons brown sugar, packed

1/4 teaspoon salt

2 ounces Trader Joe's White Chocolate Baking Chips, gf and dairy free if needed

1 tablespoon Grand Marnier Liqueur, brandy or Cognac, gf

1/2 teaspoon pure vanilla extract, gf
Instructions
Whisk together in a small bowl the egg yolks, pumpkin puree and maple syrup.

In a medium saucepan, whisk the creamer, cream, milk, brown sugar, pumpkin pie spice, and salt. Stir continuously over medium low heat until the mixture boils.

Lower heat to low and add white chocolate and stir until melted. Pour 1/3 of cream mixture into the egg mixture, whisking briskly as you pour. Return to the saucepan and cook over low until thickened, about 2-5 minutes, or until it will coat and stick to a wooden spoon. Remove from heat.

Stir in Grand Marnier and vanilla. Pass through a sieve to a clean bowl. Spoon into small glassware or ramekins for serving.

Chill for 3-4 hours before topping with a dollop or piping of lightly sweetened whipped cream and a shake of cinnamon and nutmeg. Makes 5 – 6.