Are you looking for a bowl of hearty, creamy, and healthy soup? Try our new Creamy Roasted Cauliflower and Cheese Soup (Gluten Free) tonight. It's easy to make this delicious one😋.
You can serve it as a main dish or in small cups as a starter for your entrée. Mediterranean flavors fill this soup: with paprika, chili powder, lemon, plenty or garlic, and onion.
Roasting the vegetables brings out the flavor richness
Roasting the vegetables until golden and tender, before simmering for a few minutes, brings out all the flavor notes. The caramelization makes them so delicious. I like to roast the vegetables until they are dark golden brown, but you can roast less if you prefer.
Adding the lemon juice aids in bringing the vegetables to caramelization. The acidity of the lemon takes the vegetables up a notch also!
I love roasting vegetables on my Pampered Chef bar pan. Check out Pampered Chef for many of the kitchen tools and supplies. They have some great ones! Their garlic press is also a favorite!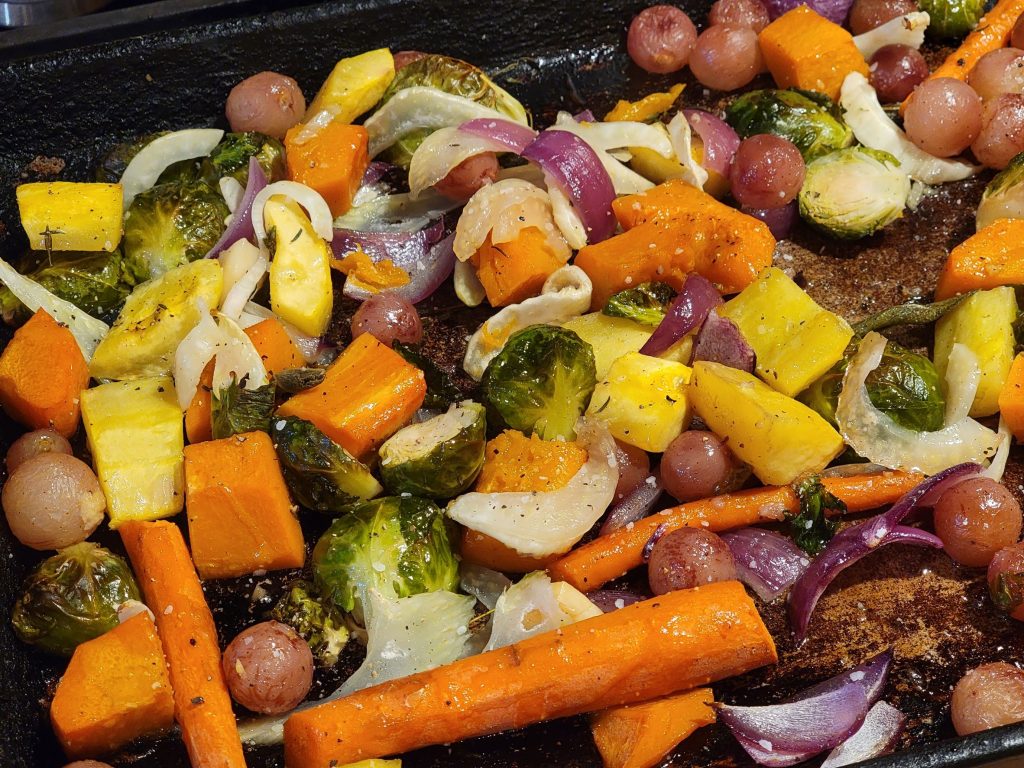 Use sharp orange Cheddar, White Cheddar, or Manchego ~ or use your favorite cheeses
I've used both sharp cheddar cheese, and also half cheddar and half Manchego, together with the small amount of Parmesan cheese. Both ways turn out fantastic! Cheddar does make the soup creamier, I suppose, but Manchego has such deep flavors and works well with the spices here.
You could literally try whatever cheese you have on hand for this recipe. Combining a creamier soft cheese with a firmer sharp cheese would work well too. Kerrygold Dubliner Cheese is a favorite and a great choice when you are looking for a sharp white cheddar. We buy two pound blocks of this at Costco, where it is very reasonably priced. Dubliner Cheese has a nutty flavor to it, while Manchego has a tangy taste.
You can make a meal out of this hearty soup
You can make this soup the main focus of your meal, served alongside a salad. You could also serve it in small cups for a starter to your meal.
I think this Citrus and Fennel Salad with its Mediterranean flavors would pair wonderfully with this soup. The acidity in the salad will balance the thick cheese of the soup. I would replace the cheese crisps perhaps with a tart fruit, maybe adding in some pomegranate arils, or maybe even some kiwi slices.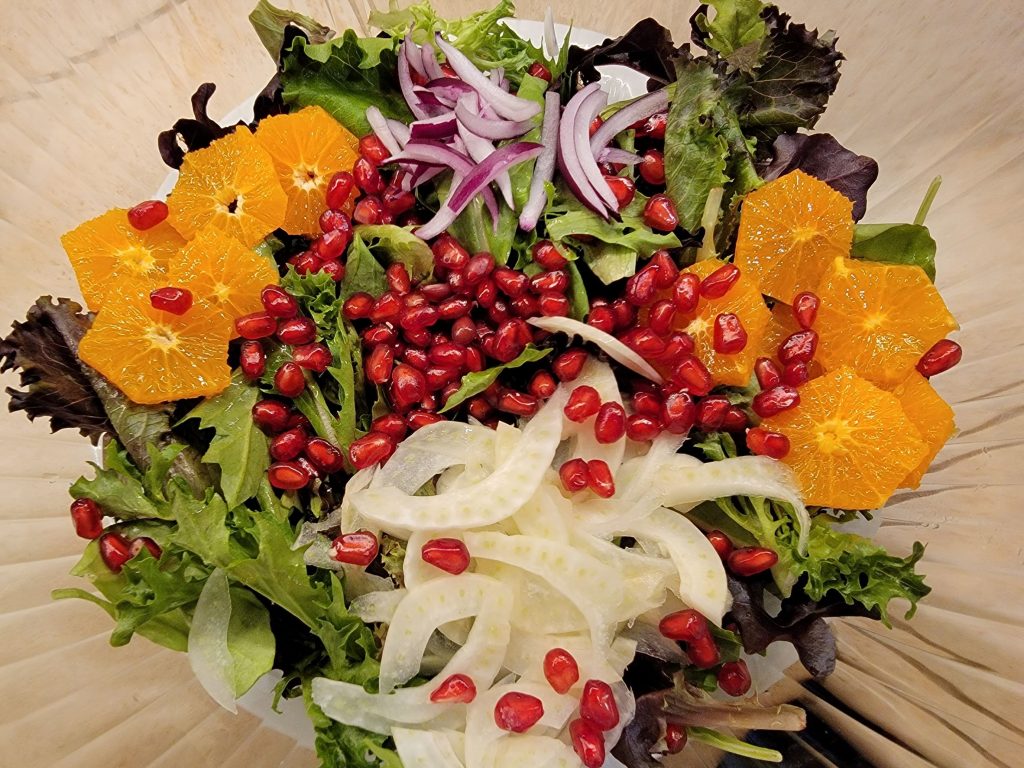 Another option for this soup is to make it vegetarian. you can do this, easily, by using vegetable broth instead of chicken broth. Just be sure to use a gluten free broth is you have any gluten free eaters.
I hope you enjoy this on one of our cool nights!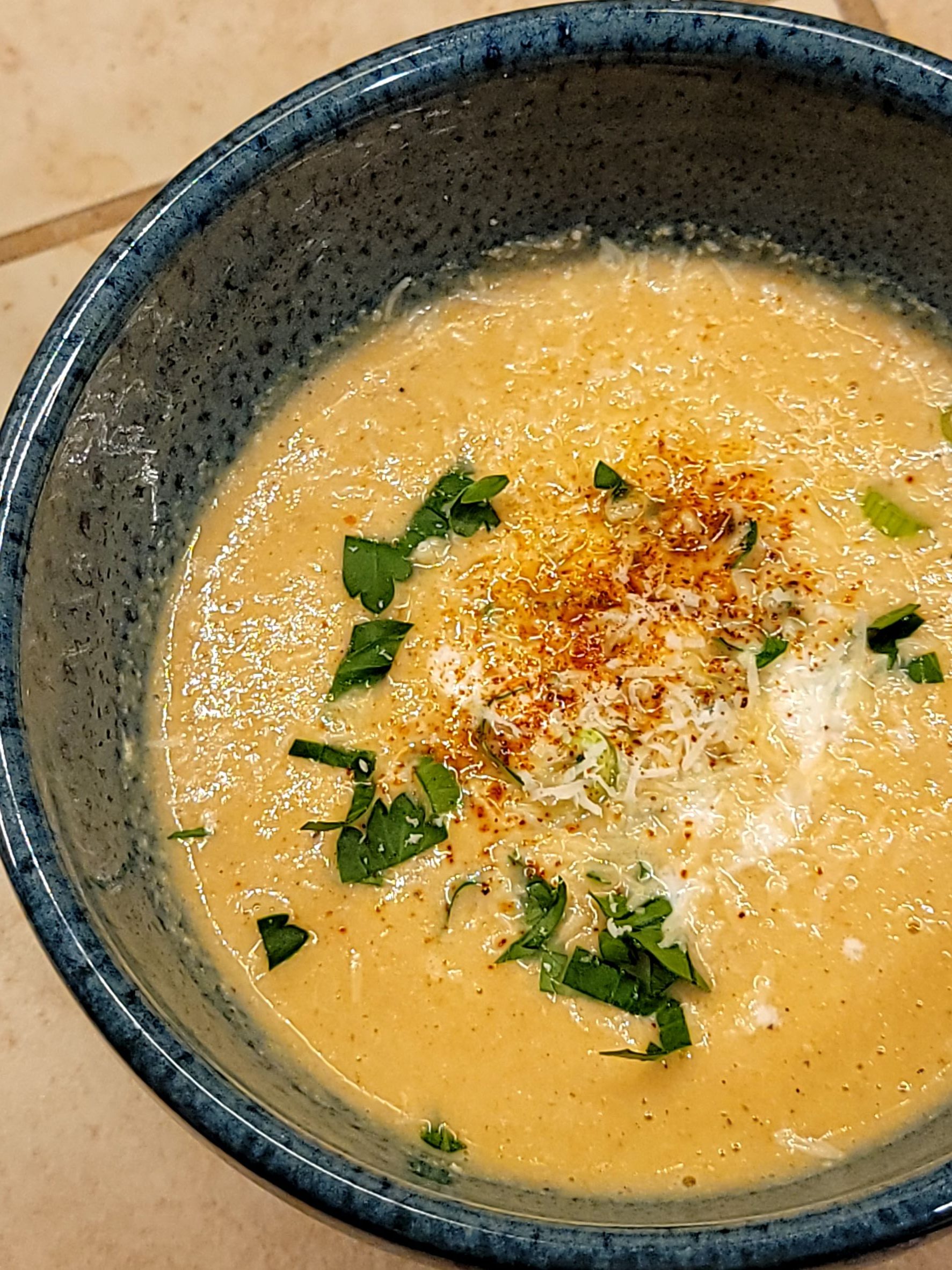 Creamy Roasted Cauliflower and Cheese Soup (Gluten Free)
This soup is both satisfying and healthy! It's also loaded with flavor and creaminess.
Equipment
1 rimmed sheet pan or stone pan

1 emulsion blender

or other blender
Ingredients
1

head

cauliflower

cut into florets

3 ½

tbsp

olive oil

extra virgin

1

large

onion, diced

3

large

cloves garlic, peeled

cut into halves

¾

teaspoon

paprika

gluten free

¼

teaspoon

chili powder

gluten free

¼

teaspoon

celery seed

gluten free

½

teaspoon

Kosher salt, more to taste

¼

teaspoon

black pepper, more to taste

½

lemon, juiced and rind roasted on pan

3½

cups

chicken or vegetable broth, gf

gluten free

1½

cups

water

2

cups

cheddar cheese, grated or 1 cup Manchego plus 1 cup cheddar

2

tbsp

parmesan, grated

¼-½

cup

heavy cream
Instructions
Preheat the oven to 425 degrees F.

On a baking sheet or stone pan, set the cauliflower florets, diced onion, and garlic. Drizzle with olive oil. Sprinkle spices and salt and pepper over and stir to coat. Add the lemon juice and set the lemon rind on the pan.

Roast for 25-30 minutes until golden brown and tender.

Add broth and water to a 5 quart saucepan. Bring to a boil. Add the roasted cauliflower, onion, and garlic. Simmer for 12-15 minutes. Remove from the burner.

Use an emulsion blender or other blender to puree the vegetables until very smooth.

Add the cheddar and parmesan cheeses (or cheddar, parmesan, and Manchego). Stir to melt the cheeses. Add the heavy cream and stir.

Serve in bowls topped with minced chives or scallions, parsley, and chili powder or paprika.