Jump to Recipe
Print Recipe
Print Recipe
On our travels to the coast of Tuscany, Italy, in and around Livorno, we were served so many lovely seafood dishes, with baccala, a salted cod, langostino (langoustines), clams, and so many other local seafood items. Ordering the grilled fish platter at a restaurant was my favorite entree and was usually gluten free. The fish was so fresh in the areas we were touring, in the coastal cities and towns of Tuscany.
Baccala is a fish I grew up eating in our Italian family. We usually had a fish stew made with baccala, which is delicious also, with tomatoes and potatoes. Traditionally we had this on Christmas Eve for the Feast of the Seven Fishes. In Italy, baccala is traditionally salted and dried in order to preserve. In order to cook it, you first have to soak the fish for many hours to remove the salt from it. While you could certainly make this dish with baccala, I don't think most people don't plan that far ahead for their dinner.
I know I had a dish similar to this one in Italy, a tomato and wine sauce, with garlic and herbs. We set it to simmer a bit before adding the cod to cook gently until it flakes apart (and almost melts in your mouth).
I have loved making more fish lately. I love how I feel after eating it; it doesn't sit as heavy as other high protein meals. Here the fish is simmered for just a few minutes in the sauce until it just flakes. Have this dish ready to eat with preparation in about 45 minutes, which is pretty great for a high quality meal.
You can serve this dish with roasted potatoes and a simple vegetable. I made it previously with skillet sauteed green beans drizzled with a small amount of balsamic vinegar and maple syrup. The sweetness paired perfectly with the fish. Then also be sure to use some gluten free French bread (or gluten French bread if you can have it!) to soak up the delicious flavored sauce of the fish!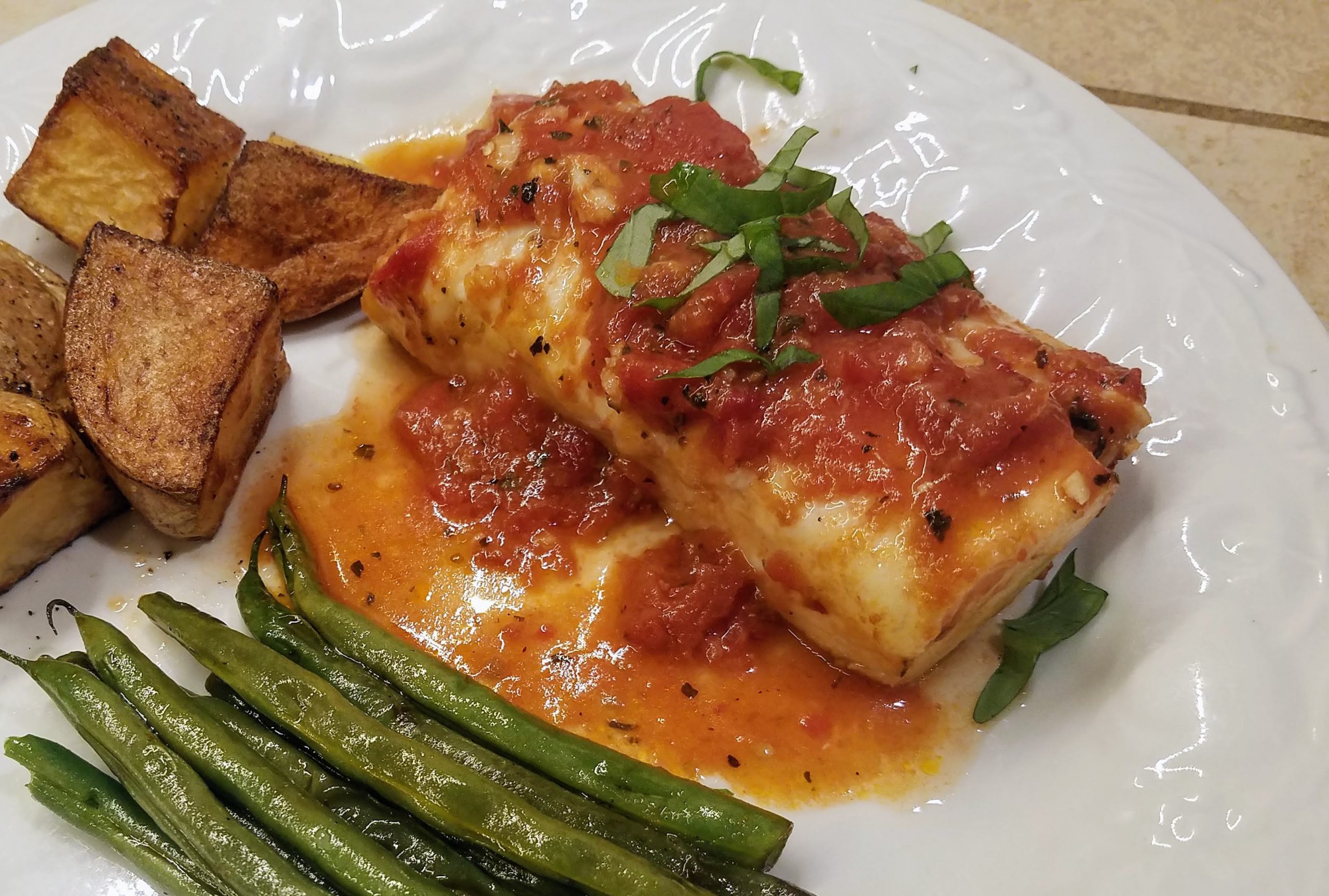 Livorno Style Cod (Cod in Red Sauce)
Traveling in Italy I had many dishes that were similar to this, using Baccala Fish, which is a type of cod fish. The gentleness of the fish pairs well with the delicious sauce here. Serve it with some gluten free bread to soak up the extra sauce. Charred Green Beans (Gluten Free) pair wonderfully with it too.
Ingredients
4 – 5, 5 – 6 ounce pieces of cod or other mild white fish, rinsed and dried thoroughly

4 tablespoons olive oil

4 – 5 large cloves garlic, minced or sliced

½  – ¾  teaspoon red pepper, gf brand

¾  cup Sauvignon Blanc or other dry white wine

½  – ¾  cup water

1 ½  – 2 teaspoons dried basil, gf brand

½  teaspoon dried oregano, gf brand

10 – 12 saffron threads

1 teaspoon anchovy paste or 1 or 2 whole anchovies

¾ of can (28 ounce size) diced stewed tomatoes

¼ -½  teaspoon salt, more to taste

2 bay leaves

A splash of balsamic vinegar
Instructions
In 2 tablespoons of olive oil, over low heat in a skillet or cast iron, slowly heat the garlic and the red pepper, to flavor the oil, while not browning the garlic. 

Add the anchovies to the oil and break down with a bit to melt, or add the anchovy paste and stir in. 

Add the tomatoes, wine, saffron, water, dried basil, bay leaves, dried oregano, and a splash of balsamic vinegar. Add salt and a sprinkle of black pepper. 

Simmer the sauce over low heat, stirring often, for 20 minutes. Crush the softened tomatoes down with a fork or spoon. Adjust the spices to your liking.

When ready to add the fish, salt and pepper the pieces very lightly. Set the fish in the sauce, and spoon some sauce over each piece. Simmer over low heat for 5 -7 minutes until the fish begins to flake. You can cover the skillet for a few minutes to help the fish cook evenly.

Carefully place fish pieces onto a serving dish or plate in individual shallow bowls or plates, and spoon some sauce over the top. Garnish with fresh basil and serve with gluten free French bread for soaking up the sauce.