Jump to Recipe
Print Recipe
Pass the lasagna (once again) please!
For years, lasagna has been a dish I love! Homemade of course! We actually had pans of this for our wedding rehearsal dinner, which my mom made (yes, she's Italian and makes delicious meals!). It was just what I wanted. Years later, when I could no longer have gluten (long before any pasta companies made gluten free lasagna noodles), I could indulge no more. I would make manicotti for the kids and my husband and make gluten free crepes for me, trying to enjoy those delicious baked cheese and sauce flavors without the gluten. It wasn't quite the same however.
Now there are so many choices for gluten free lasagna
Now there are so many makers of all sorts of gluten free pasta including gluten free lasagna noodles! Jovial Whole Grain Gluten Free Lasagna by De Boles is very good, but I find it gets a little mushy when reheated. I have not tried Barilla Gluten Free Lasagna Noodles yet, but Le Veneziane (my favorite pasta maker, and imported from Italy), makes them in the form of very thin and flat lasagna sheets. They don't need to be par cooked, the texture is perfect when put together and baked in the casserole, layering sauce and cheeses of your choice. They reheat very nicely, I think because they are so thin, they are not as starchy as other brands.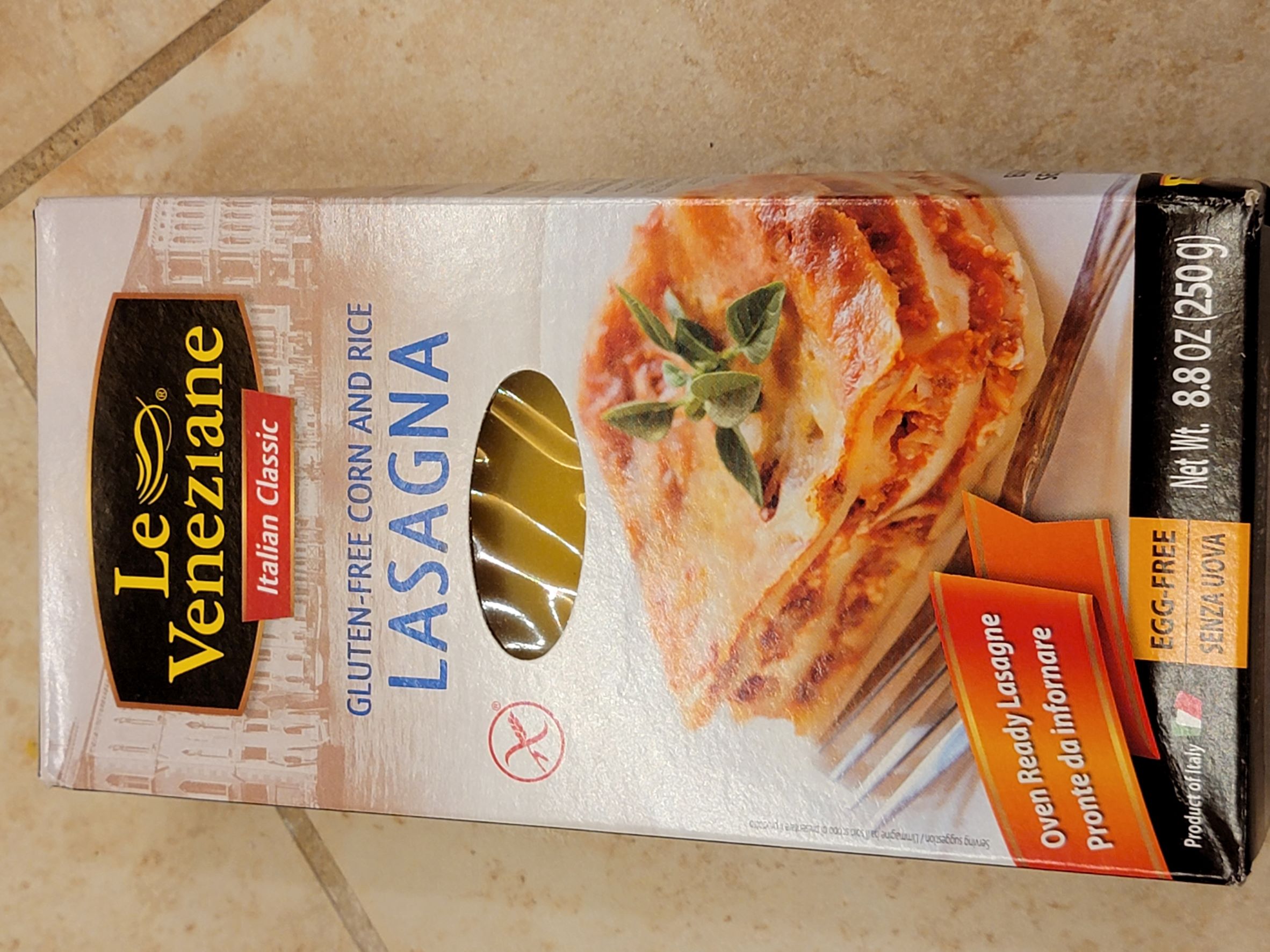 Tonight is a lasagna night and since I'm trying to use more ground turkey lately, this lasagna features a little savory pork Italian sausage and mostly ground turkey, whole milk ricotta cheese, mozzarella and parmesan. You can add or take away whatever you don't like. If you don't want to have a meat sauce, you can just as easily do a perfect marinara or a veggie sauce with crimini mushrooms, portabella mushrooms, zucchini, yellow crookneck squash, and eggplant. The portabella mushrooms will give a meat-like texture and add delicious flavor to the sauce.
Freeze the extra sauce or freeze the remaining lasagna
The sauce recipe is larger than you will need, but you can freeze the remaining two cups of sauce for another day when you want an easy pasta meal. I'm sure you could freeze the extra lasagna slices if you like also (but just thaw prior to reheating), but they never last long enough for that here! Reheat the slices in a 300 degree oven in a Pyrex glass or oven safe dish covered with foil for 18-28 minutes or until steaming hot.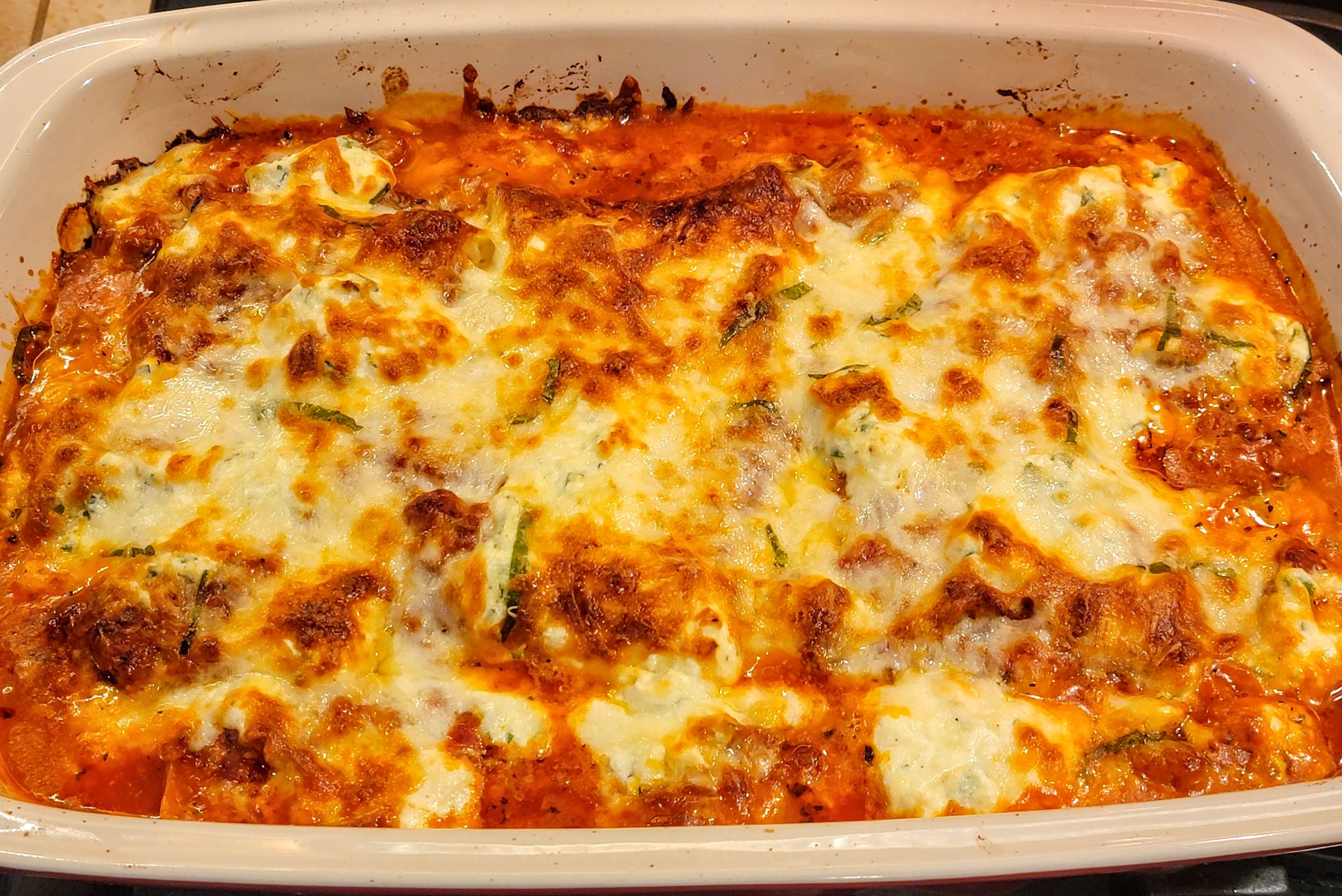 Gluten Free Italian Sausage and Ground Turkey Meat Sauce Lasagna
Makes 1, 9 x 13" tray, 6-8 servings
Ingredients
For the Italian Sausage and Ground Turkey Meat Sauce:
3 tablespoons of olive oil

1 onion, finely minced

4-5 large cloves of garlic, crushed or minced

½ teaspoon salt

2 pork or chicken Italian sausage links, gluten free brand, casing removed and crumbled

1 pound of ground turkey 85% or 90% lean

1 or 2 anchovies, or ½ teaspoon anchovy paste, gluten free, optional

2 – 28 ounce can of stewed diced tomatoes, unsalted

1 – 6 ounce can of tomato paste

1 ½ cups water

2 teaspoons dried basil, gluten free

5-6 large leaves of fresh basil, torn 

salt and pepper to taste
For the Gluten Free Italian Sausage and Ground Turkey Lasagna:
1 – 8.8 ounce package of Le Veneziane Gluten Free Corn and Rice Lasagna Noodles, uncooked

6 ½ or 7 ½ cups Italian Sausage and Turkey Meat Sauce

16 ounces whole milk ricotta

1 egg

3 tablespoons parmesan cheese

¼ cup chopped flat leaf parsley

1 tablespoon basil, chopped

¼ teaspoon black pepper

¼ teaspoon salt

16 ounces mozzarella cheese, grated

1 cup parmesan cheese, finely grated
Instructions
For the Italian Sausage and Ground Turkey Meat Sauce:
In 1½ tablespoons of the olive oil, in a Dutch oven or a large stockpot, sauté the onion with ½ teaspoon salt until soft, translucent and just starting to brown. Add the garlic and continue sautéing for another minute, while stirring. Remove to a plate. 

Heat the Dutch oven or stockpot with the remaining olive oil over high heat. Add the ground turkey and crumbled sausage, together with a sprinkle of salt and black pepper, and sauté to brown, stirring often. Remove the excess liquid fat and discard.

Add the anchovies at the bottom of the pot, or anchovy paste, breaking the anchovies up and melting them in the oil at bottom of the pan.

Add in the sautéed onion and garlic, the cans of tomatoes, tomato paste, dried basil, and water. Stir and bring to a simmer. Simmer for 1½ -2 hours over very low heat, with the lid slightly cracked. If using a Dutch oven, you can also bring the sauce to a simmer and move to a 285 degree preheated oven to cook for about 2 hours. Add the torn basil near the end of the cooking time. Add more salt and pepper to taste. Break up the larger pieces of diced tomato using a fork.

The sauce is ready to use in your lasagna now!
For the Gluten Free Italian Sausage and Ground Turkey Lasagna:
Preheat the oven to 410 degrees F.

In a medium bowl, whisk the egg. Add the ricotta, 3 tablespoons of parmesan cheese, parsley, basil, salt, and pepper and stir to combine.

In a 13" x 9" inch casserole dish, spread a layer of meat sauce at the bottom. Add layers of lasagna noodles, top with meat sauce, and drop heaping tablespoons of ricotta mixture intermittently across the sauce, top evenly with mozzarella and parmesan. Add remaining layers, reserving enough sauce and cheese for the top of the lasagna.

Bake uncovered for 28 – 35 minutes, until golden brown on the top, turning in the oven as needed to brown evenly. Remove from the oven and let sit for 10 -13 minutes before slicing and serving. 
Notes
Yum! This recipe uses ground turkey and just a small amount of pork Italian sausage (or you can use a gluten free chicken sausage), but you would never know that it is lower in fat, because it certainly doesn't lack any flavor! Lasagna has been a favorite of mine for so many years, and before they had gluten free lasagna noodles available, I went without. Now, I have so many choices of gluten free noodles, but my favorite is still Le Veneziane Gluten Free Corn and Rice Lasagna Noodles. They don't need to be par cooked before putting the lasagna together, which makes it a bit easier. The lasagna cooks quickly as well. I order mine through Amazon. They make many types of pasta. My other favorites are their Le Veneziane Rigatoni (Gluten Free) and Le Veneziane Capellini- Gluten Free Pasta "nests".