Jump to Recipe
Print Recipe
Want a little different and super easy way to make delicious seafood? These foil wrapped pouches are so easy and fun for each person to get their own little pouch to open. Perfect for summer grilling, but I've been making these all winter for something different! Serve with some rustic French bread (gluten free if you need it) and a salad and your meal is done! And a gluten free dessert of course ;). You can put as many different types of seafood in these packets. I guess for me, I don't think I'd do scallops as I really like a nice sear on them instead of a poach cook, which is what this is similar to. You could do these as appetizers also, for a creative change up to your regular appetizers. Enjoy!
~Laura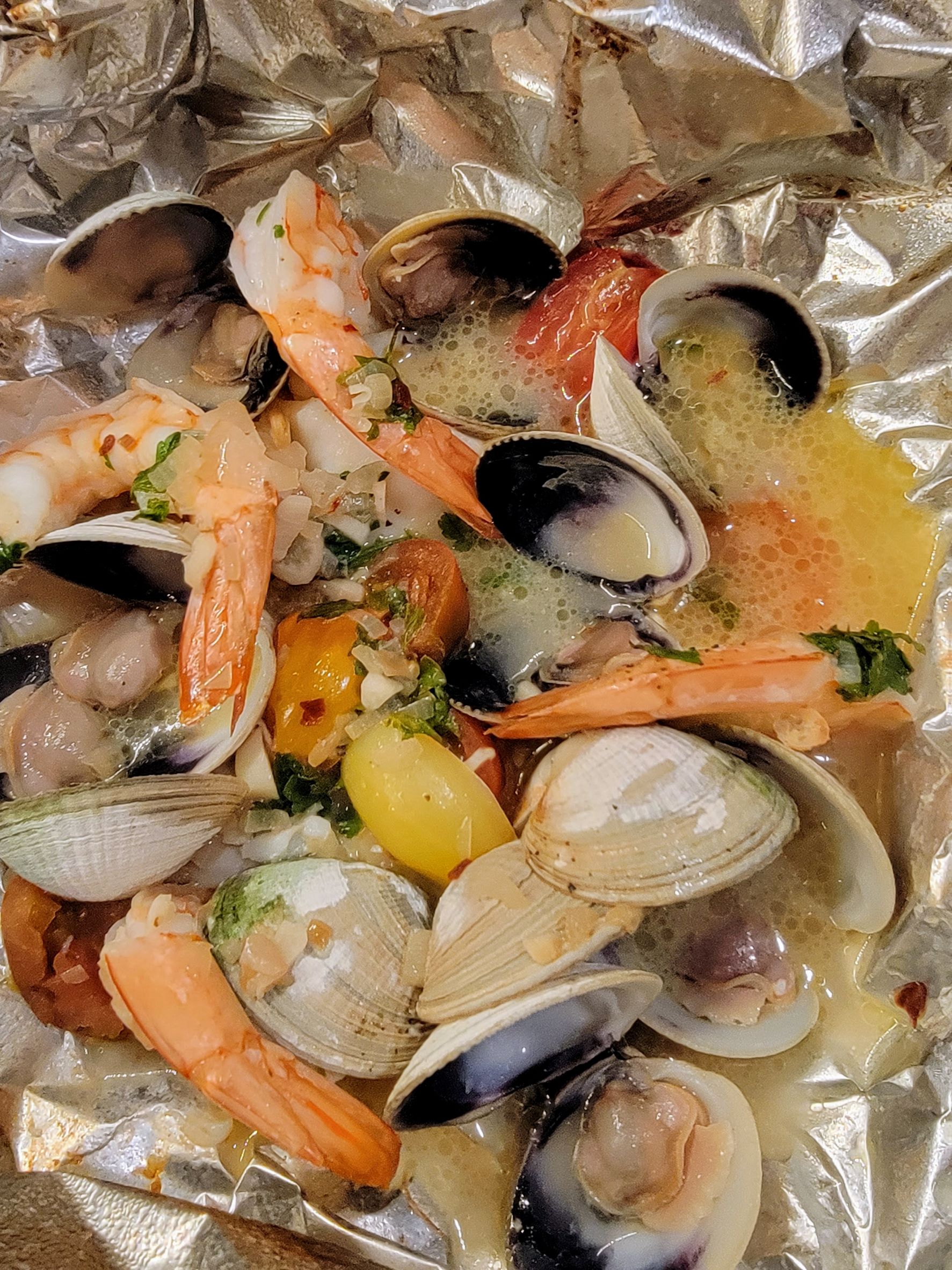 Foil Wrapped Seafood (Gluten Free)
Equipment
4 pieces of heavy duty foil 12" x 24"
Ingredients
For the Sauce:
½ large shallot, minced

3-4 large cloves garlic, minced or sliced

1 tablespoon olive oil

¾ cup dry white wine

3 tablespoons of unsalted butter

Pinch of salt

Pinch of pepper

⅛ teaspoon of crushed red pepper, gf, optional
For the Packets:
Sauce from above

4 – 3-4 ounce pieces of Halibut or Alaskan Cod

1-1 ¼ pounds of white shrimp (about 6 per person)

24 fresh clams or mussels

8 ounces baby tomatoes, cut into halves

2 tablespoons butter, cut into 4 pieces

⅛ cup flat leaf parsley, chopped

2 large cloves garlic, minced
Instructions
For the Sauce:
Heat the olive oil in a saucepan or a small skillet. Saute the shallot for a few minutes over medium heat. Add the garlic and continue to saute for another minute. Pour the wine in and turn the burner down. Simmer for 5-8 minutes, reducing the liquid.

Add the 3 tablespoons butter, salt, pepper, and red pepper. Stir for another minute. Set aside to cool slightly.
For the packets:
Lay the foil pieces out on the counter. Place one piece of white fish in the center of each piece of foil. Add a pinch of salt to the fish and a pinch of black pepper. Divide the clams or mussels and shrimp between each packet, laying them around the white fish and overlapping onto the fish a bit. 

Make a rectangular tray of the foil around the seafood by folding up the sides. Divide the sauce evenly between each packet, being sure to divide the shallots and garlic in the sauce. Divide the other ingredients between each packet: the tomato halves, butter pieces, parsley, and remaining garlic. Add a pinch of salt to each. 

Bring the two long ends of the foil toward the top, making a tent shape. Fold one edge over the other and then fold one or two more times to seal the top. Bring the end together to meet and pinch them together. The foil will look like a short box, all sealed, and about 3-4 inches tall.

Heat the grill to 375-400 degrees F. Set the foil packets directly on the grill. Rotate the packets after 7-8 minutes. Cook for another 5-8 minutes or until the clams have opened and the fish is flaking. Be careful when checking the pouches as you don't want to get a steam burn. 

Serve each packet on a plate or in a bowl, (a bowl works better) or pour the contents including the broth, into a bowl. Discard any clams that did not open. Serve with rustic bread to soak up the sauce.