Steamed Clams in White Wine. A naturally gluten free food. Often served as an appetizer in restaurants. We like these as a meal, but you do need a fair amount per person and maybe some gluten free bread to dip in the sauce.
You might think clams so weird and would be a strange thing to try, but if you never have, I encourage you to try them! My Dad loves them! He grew up in Massachusetts and would dig clams at the sea. His family would steam them or just eat them raw.
You Have to Try a New Food Because it Might Really Taste GOOD!
My daughter and son-in-law play a game with their daughter. They pretend to interview her and get her to try new foods, making a fun game out of it. They sing a little song I think my daughter made up, "You have to try new foods because they might really taste good!" We ask Maddie as the interviewer using a fork or spoon as a microphone, "So, what new food will you be trying today, Madison?" And she answers. Then tries it and delivers the answer as to whether she likes, loves, or does like so much.
As a kid and young adult, I never thought I liked clams, but then I really hadn't even tried them! We can't get six year old Maddie to try these yet but you should if you haven't! I didn't like any seafood as a kid, but started trying a few seafood items when my husband and I were dating.
Trying Seafood!
The first try was: clam chowder. I wasn't sure what I thought at first try, but now I love it! Funny because this is one dish I can rarely eat unless I make it myself. It almost always contains gluten, sadly. Next, I tried some mild fish, and that was pretty good. Then I took a big leap and ventured on to try my Dad's favorite, steamed clams! And I liked them!
We can't usually get the kind they found near my Dad's hometown. They are softshell clams. Here in California the kind we can find most often are Manilla or Littleneck clams. Now, for special dinners for my Dad or sometimes when introducing friends to clams, we make these Steamed Clams in White Wine. I haven't heard many who've tried them say they don't like them! What that means is that now we need to make more than we used to for family gatherings…as almost everyone except my Mom and brother-in-law eats them and loves them.
Try Ordering This Dish When Needing a Gluten Free Menu Item
Now, when I am at a restaurant that serves these (usually as an appetizer), it is my go to for ordering. They usually don't contain any gluten, but always confirm if you need them to be gluten free. I've ordered this so many times here in the states and overseas.
One of my favorite places to order this dish is at Bravas Bar de Tapas in Healdsburg, California. If you've never been, check it out when they are there. It's one of our all time favorite restaurants to dine at. They have a beautiful patio area and a huge gluten free menu with amazing tapas, cocktails, and wine selection. But I've also enjoyed this dish several times in several cities in Italy.
The recipe is so easy. Just make sure to get the clams at a reputable market or fish market, or Costco the day of or the day before you plan to make them. Unwrap and remove any plastic or butcher paper. Set them in a bowl, covered with a wet towel, and some ice cubes. Then keep refrigerated until an hour before you plan to cook.
Make the Sauce in Advance
The sauce can be made in advance for ease also. Follow the directions up the point before adding the clams, up to 2 hours prior to serving. Any longer than this amount of time and you will need to cool and refrigerate the sauce.
Then, before adding the clams, bring the sauce back to a boil. Add the clams. Cover the pan, and continue cooking over high heat, shaking the pan often to stir. Remove from the heat when the clams have opened. If any are still closed toss those out. Never try to pry open and eat as you may get sick.
Steamed Clams in White Wine (Naturally Gluten Free)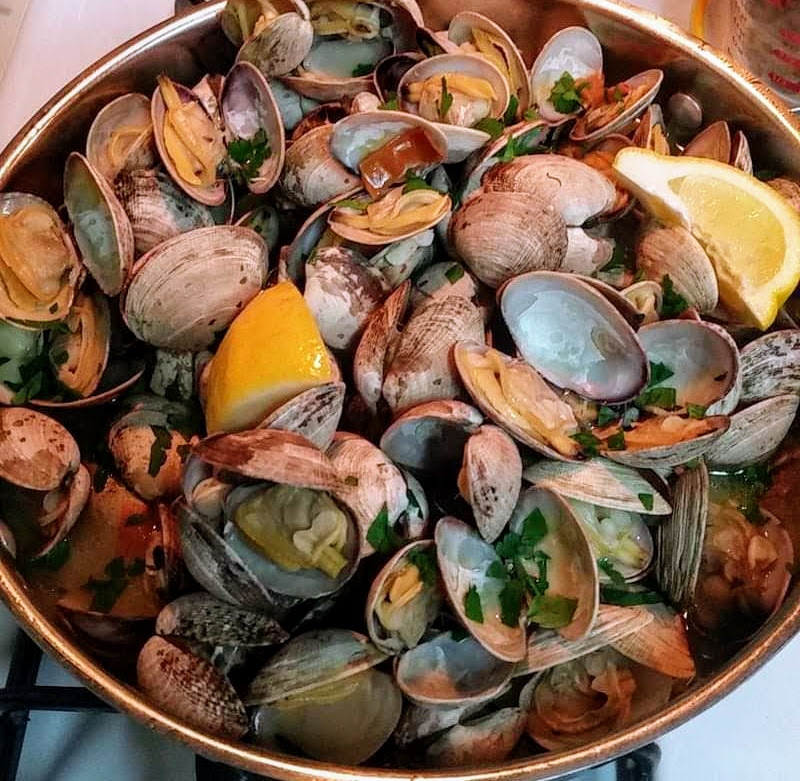 Steamed Clams in White Wine (Naturally Gluten Free)
Steamed clams is a great appetizer or main dish item. It also pairs well as an appetizer with pizza. Serves 4-5 as an appetizer or as a tapa or double the recipe for 5-6 people for dinner when serving with a second meat.
Equipment
1 large skillet or stockpot with a lid
Ingredients
3 T butter

2 T olive oil

5 – 6 cloves garlic, minced or sliced

1/4 – 1/2 teaspoon crushed red pepper, optional

1, 8 fl. oz. bottle (1 cup) clam juice

1 1/2 cups Sauvignon Blanc wine

2-3 lbs. clams, Littleneck or Manilla, scrubbed well

juice from 1 lemon

1/4 cup minced flat leaf parsley

1/2 cup diced plum tomatoes, optional

1 1/2 T butter, to top

1 T flat leaf parsley, minced, to top

lemon quarters to garnish 
Instructions
Set the clams in a colander and rinse and scrub well with a clean brush.

Heat a large skillet over medium high heat with butter and olive oil. Add the garlic and saute 30 seconds. Add the diced tomatoes, if using, the white wine and the clam juice. Simmer on medium low for 12-15 minutes, reducing the liquid.

At this point, the sauce can sit until you are just 15 minutes from serving the clams.

To continue, bring your sauce to a boil. Add the clams and give a quick stir. Cover with a lid and continue to cook on medium high until they all open, 6-9 minutes.

Note: You want to cook these quickly to keep them from getting tough. Make sure your liquid is boiling before adding the clams. The clams will cool the liquid down. If any clams don't open, remove from skillet and toss out. Squeeze the lemon juice over the top.

Gently move the clams and broth into a large shallow bowl to serve. Top with reserved 1 1/2 tablespoons of butter and reserved 1 tablespoon of minced parsley. Garnish with lemon quarters. Serve while very hot with lots of bread (Italian bread and gluten free) to soak up the broth.